For most people, the aim of studying is to get a good job and earn well. People have various plans to spend the salary they earn. Some may want to buy a house, while others may dream of visiting various places around the globe. People reaching higher levels in their careers also have expenditure plans for their income. Before they make such plans, they must know what they will earn. A person getting elevated to the post of GM will certainly want to know on which basis the salary of the general manager is allocated.
Before we get deeper into the subject of this article, it is worthwhile knowing how you can reach such a position. Attending the Executive Development Programme In General Management is an excellent way to make yourself qualified for the post. Our website has all the details of this course and how one can become a participant in this programme.
Who Is A General Manager?
Before we look at the general management salary, it is essential to know what the position is all about. A general manager is a person who supervises the employees and operations of a company to help it achieve its goals. These senior people play a crucial role in shaping the corporate culture and ensuring that everyone contributes to achieving company objectives. They work under the executives and collaborate with them to set the goals of the organisation. Their main job is to maximise the establishment's performance on all fronts.
These professionals know that good performance doesn't come from making sudden changes. They will do that when the situation warrants. But their main focus is creating a culture that promotes the consistent achievement of goals using necessary skills and teamwork. They help establish an office environment that encourages people to contribute their hundred per cent to the organisation's growth. They work towards developing managers and building the company. It is based on their efforts to develop the firm that the general manager's salary is fixed.
What Do General Managers Do?
If we want to know on which basis the salary of the general manager is allocated we must know what they do to deserve their income. The exact duties of a GM will vary with companies and industries. However, there are certain tasks that these professionals, in general, do in most firms. They collaborate with the human resource department to interview, hire and train employees. In most companies, they supervise the activities of various teams through the team heads or managers. They make the schedules for most of the other employees in the organisation.
They also assign tasks to other employees, managers and teams. They motivate employees and support them in achieving their goals. General managers also contact customers to ascertain their satisfaction levels and address problems. They set the company's monthly, quarterly and annual goals in consultation with the top management. GMs often serve as an intermediary between the management and the employees and convey messages both ways. They create strategies for the achievement of company goals. In many firms, these officials also monitor cash flow. So, on what basis the salary of general manager is allocated. The general management salary depends on the person's responsibilities and the company's size.
The Difference Between Managers And General Managers
It is common to see many managers in a company. But one would only find one general manager in most firms. There is a difference between the two. When we talk of a manager, we usually talk about a team head or one in charge of a department. A manager or a senior manager in almost all organisations works under the general manager. While the manager supervises a team and ensures work is done, the general manager oversees the work of these officials. The general manager salary depends on the number of managers the GM supervises and the firm's turnover.
How To Become A General Manager?
Let us look at the steps to become a GM before we try to know on what basis the salary of the general manager is allocated. The GM post is higher up in the hierarchy, meaning you must also have the necessary experience and qualifications.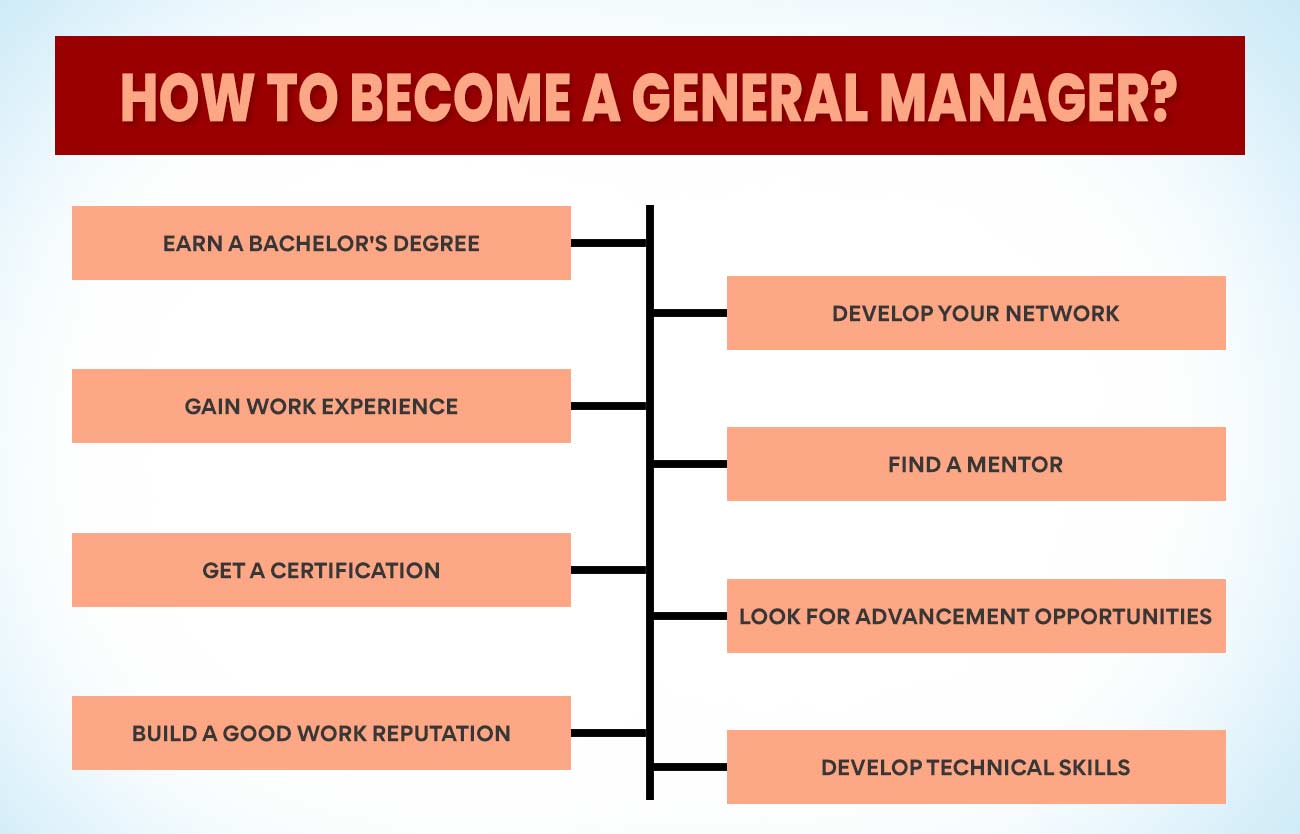 Earn A Bachelor's Degree
Earning a bachelor's degree is the basic requirement for most jobs in India. If you are aiming at a GM post, then pursuing a management course is ideal. It will teach you various skills that you will need for the job. This degree will give you insights into finance, management and business. Knowledge of all three is essential for a GM.
Gain Work Experience
As mentioned, most companies look for an experienced person for the post of general manager. If you desire to work in a particular industry, starting your career in the same industry is best. It will help you gain knowledge about the segment and how companies operate. Once you have gained experience, you can consider earning an additional general management qualification.
Get A Certification
A certification to prove that you have acquired the skills required for a general manager will make your journey to the goal faster. It will also improve the general management salary you get. Many online courses can help you gain the capabilities needed for this job. It is best to check the courses available and select one that will be more valued by employers.
The Executive Development Programme In General Management is a course that can enable you to gain the necessary knowledge and also help you get the job you desire. You can learn more about this course on our website.
Build A Good Work Reputation
Reputation is very important in the workplace. Your management doesn't just judge you by your performance. They also enquire with your colleagues and others about you. It is essential that people know you as reliable, honest, adaptable, committed to your role and have a high level of integrity. These qualities are essential for a general manager, and you must develop them early in your career. Such a reputation will carry beyond your company as your colleagues get placements elsewhere or your vendors talk about you to others.
Develop Your Network
Networking is essential in your current job and getting more opportunities for changing organisations. Nurturing good relationships with people is an investment worth spending your time and effort on. It pays you in the long run. Such connections help you get more opportunities to develop your career. Qualities like interpersonal skills, active listening, collaboration and assertiveness help build a strong network. The general manager salary can get higher when you have more opportunities through these connections.
Find A Mentor
Getting experienced in the job can take time. You can always learn from the experience of others. You can do this by finding a mentor and developing a personal relationship with that person. Your mentor can be anyone, like your professors, senior managers in your company, or anyone you know with long business experience. Getting advice and suggestions from them can positively impact your personal development. You can use them when you become a general manager and deal with tough situations.
Look For Advancement Opportunities
The higher you rise, the easier it becomes to handle your role as a general manager. You must seek opportunities to get promoted to a higher level as you continue gaining new skills. It can happen either in your organisation or in other companies. If you want to learn as much as possible about the GM's role, getting as close to that position as possible is best. Try to work as an assistant to a general manager before you rise to that post.
Develop Technical Skills
In an age when there are tools for making your tasks easier, you must become technically proficient. It is one of the necessities to make your life easier in the active role of a general manager. The skills you will need may differ with the company and industry. However, certain skills like project management, social media management, analytics, data management, etc., are required for any company's general managers. Acquiring these skills can greatly impact the general management salary that companies offer you.
Factors Affecting General Manager Salary
Let us now come to the main topic of this article and understand on what basis the salary of the general manager is allocated. Various factors affect your salary as a GM. Let us look at the most common ones.
Qualification – This is, of course, one of the main considerations for most employers when they fix the salary for a general manager. People with higher degrees are likely to get a higher salary. It is also true for those who have earned certificates and degrees from highly reputed institutions. IIMs and IITs are highly valued by employers both within the country and abroad. Getting a certification from these institutions can positively impact your salary.
Experience – These other factors affect a general management salary in most companies. A general manager must handle various departments and their managers. It means the person must have a good experience doing those tasks and handling tough situations. The longer your experience as a manager in a similar company or industry will certainly earn you a higher salary.
Skills – This is an important factor that decides how well you get paid as a GM. Anyone in that position requires many skills that help them succeed. Acquiring these capabilities before you look for a GM job can help you get a much higher salary. One must know what skills are needed and try to master them as early as possible in their career.
Also Read: What is the Process of Integrated Marketing Communication?
Industry And Company – Certain industries pay well, and others don't. It is a fact of life. In the same way, some companies pay well, and others don't. But not everyone is after a higher salary. But if you are looking at improving your earnings by getting a GM post, then you must know which industries pay well. It is not easy as the industries that earn well keep changing over the years. But there are some industries that have shown growth for a long time. It is best to choose them when starting your career.
Location – India is a vast country, and there are industries all over it. But not all locations offer the same salary for a general manager. The general manager's salary in certain states is higher than in others. There are various reasons for this, and you must look for a place that pays high if you want to earn more.
Performance – Getting selected for the post of general manager needs you to be successful in your earlier jobs. But there is competition even among such people. It means that the more success you have in your career, the better your chances of getting a high salary. Try to put yourself in tough jobs and come out successfully. This will increase your chances of getting a higher salary.
We have seen the importance of skills in getting a high salary and doing the job of a general manager well. Let us see what skills are essential to becoming successful as a GM.
Skills Needed For General Managers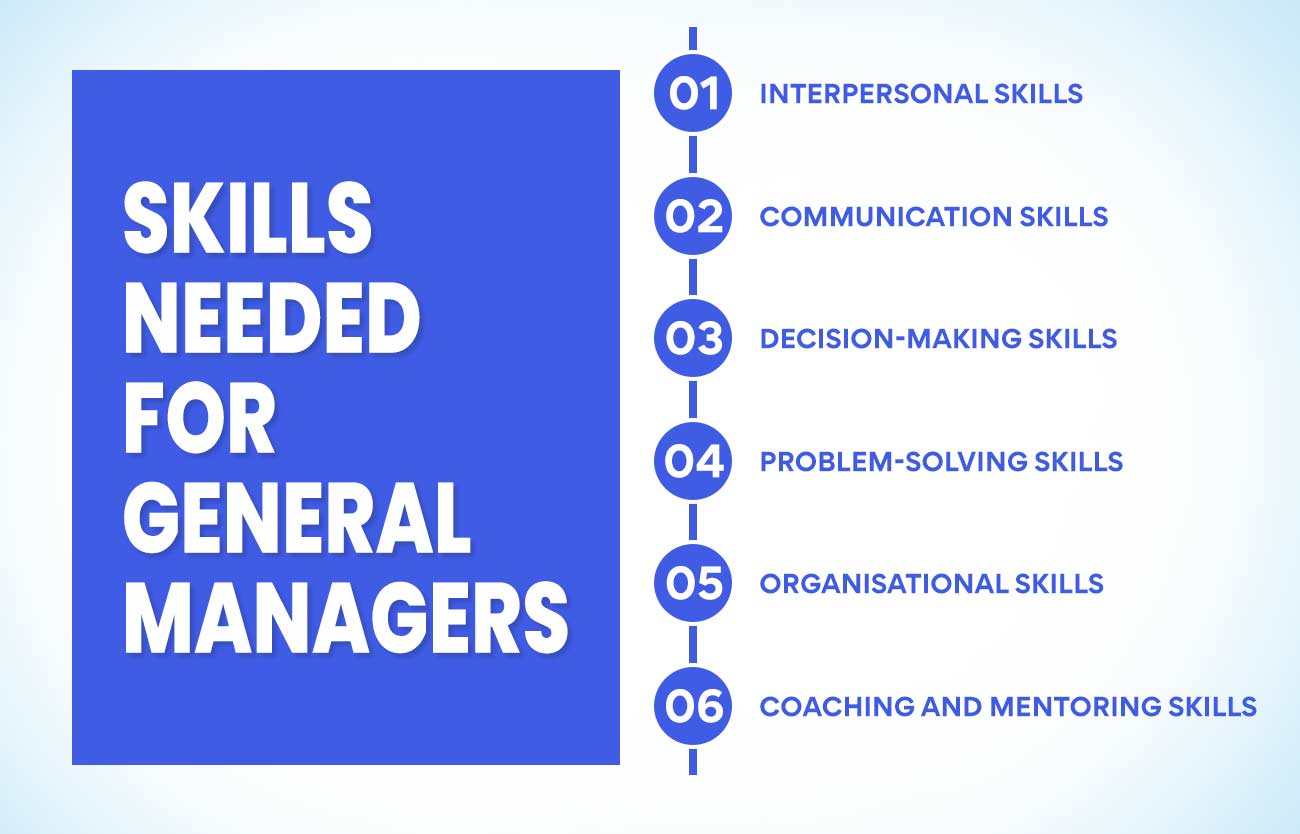 Interpersonal Skills
A general manager must interact with a variety of employees at various levels to do the job well. These professionals must also deal with people outside the firm, like clients, vendors, etc. It is easy to work if a GM develops good relationships with all these people. It becomes easy to get work done and gather the information that helps assess the work of others. It is essential to spend some time with your team members to know them well. Team building activities also help in establishing a good rapport with your subordinates.
Communication Skills
It is not enough to develop relationships. A GM must be able to make use of such relationships to convey messages clearly. Being an intermediary between employees and top management, the general manager must communicate effectively with both sides. Their communication must be clear and make others follow what is being said. A good general manager will have communication skills across different channels. These professionals will be good at communicating through phone, email, social media, presentations and discussions. One who is highly adept in these skills is sure to get a better general management salary.
Decision-Making Skills
General managers must make various decisions as part of their jobs. They will have to make decisions regarding financial matters, hiring people, and scheduling production and marketing campaigns. These professionals must be able to quickly assess the situation and see the pros and cons. Such an ability helps them make decisions quickly and correctly. Apart from making decisions in their work, GMs must also decide how other managers must work and what their teams must accomplish within a time frame.
Also Read: Top IIM MBA for Working Professionals in 2023: Choose the Right MBA
Problem-Solving Skills
General managers supervise the activity of all other managers and help them complete their jobs. Problems are a common occurrence in every company, and they must be solved quickly if work has to happen on time. If the team heads are unable to find solutions for their problems, they turn to the general manager for help. This makes it necessary for the GM to possess excellent problem-solving skills. Having such skills gets respect and regard from the team and appreciation from the management. Then, on what basis the salary of general manager is allocated. Possessing such a skill can have an influence on the general manager's salary you get.
Organisational Skills
A GM is expected to handle multiple tasks every day. It is not easy to remember all the tasks that must be completed within the stipulated time. This is especially true when new problems and issues keep appearing. It is the reason why these professionals must remain highly organised. They must keep their tasks listed clearly according to priority and ensure they are done promptly. Using organising tools can help in ensuring that no work remains pending and that work flows smoothly.
Coaching And Mentoring Skills
GMs cannot accomplish all the work by themselves. They must have full cooperation from managers and team members. It is essential that they train those under them to complete their tasks efficiently. Coaching and mentoring skills help them train their subordinates and share their workload. Another advantage of mentoring those below them is that they start feeling that the company is genuinely interested in their growth. It helps in retaining good employees and reducing hiring expenses.
The Executive Development Programme In General Management can help you acquire all the skills needed for the job. You can find more details about this course on our website.
Summing Up
Earning a high salary helps you achieve your personal goals. It makes life more comfortable and provides you with support for the future. There are various factors affecting the salary you will earn as a general manager. We have listed these factors in this article. This blog also gives you a brief knowledge of what GMs do and what skills are necessary to complete those tasks successfully. Good preparation is necessary to get a high-paying job. The first step towards this is to earn your certificate from a reputed institution.
More Information:
Business Development Manager Salary In India 2023
What Are Startup Business Models: How To Choose One For Your Startup?
Different Types of Change Management: A Complete Guide
Why Succession Planning Is Important & How To Strategize It?