Supply Chain Management is a process that involves the planning, organising, directing, and controlling of the procurement and flow of materials and products from suppliers to customers. It is a critical function in any organisation, affecting the crux of the brand and customer satisfaction. The major objectives of supply chain management are to improve efficiency, reduce costs, increase profits and keep the business going. However, supply chain management is not easy, and businesses face many challenges when trying to implement a successful supply chain strategy.
This blog post will discuss the objectives of supply chain management and illustrate case studies of brands that have put them into practice. We will add some case studies to illustrate these concepts and see how supply chain management can make or break a business.
Current Scenario of Supply Chain Management
The current prominence of supply chain management is illustrated by the Council of Supply Chain Management Professionals (CSCMP) statistics. In 2016, the CSCMP's "State of Logistics Report" found that logistics and transportation costs as a percentage of GDP had reached their lowest level since 2009.
These statistics show that supply chain management is becoming increasingly important to businesses as they look to improve their operations and control costs. In order to meet these objectives, organisations must understand the various components of supply chain management and how they work together.
Supply chain management determines how a company will get its products to market. This includes the sourcing of raw materials, manufacturing, warehousing, and distribution. In addition, supply chain management also encompasses the management of information and resources along the supply chain.
A recent study by McKinsey found that the COVID-19 pandemic has accelerated the importance of supply chain management. The study found that 80% of respondents believe that the pandemic has made supply chain management more important, while only 20 percent said it was less necessary.
In the study, it was also found that the pandemic has forced companies to re-evaluate their supply chains. Half of the respondents stated they had changed their supply chains due to the pandemic. It is happened majorly due to the fact that the pandemic has exposed vulnerabilities in many supply chains.
The importance of supply chain management's reputation will only continue to grow in the coming years. Companies should optimally utilise their supply chains to meet the needs of a constantly changing world.
Therefore, it is now more imperative than ever to prioritise supply chain management objectives to steer a company toward success despite a crisis.
Supply chain management is a flourishing career today, and it is essential to harness its optimum potential. We bring you the best certificate course for supply chain management that will give you live and synchronous learning, practice-based learning, personalised career support, and more. Check out our Advanced Certificate in Operations, Supply Chain, and Project Management to know more details.
Objectives of Supply Chain Management: An Introduction
The leading objectives of supply chain management are to ensure that the right products or services are delivered to the customers in a way that brings profitable results to the business. To achieve these objectives, supply chain management must consider all of the activities involved in the procurement, manufacture, distribution, and delivery of goods or services. This includes the management of suppliers, inventory, transportation, warehousing, and customer service.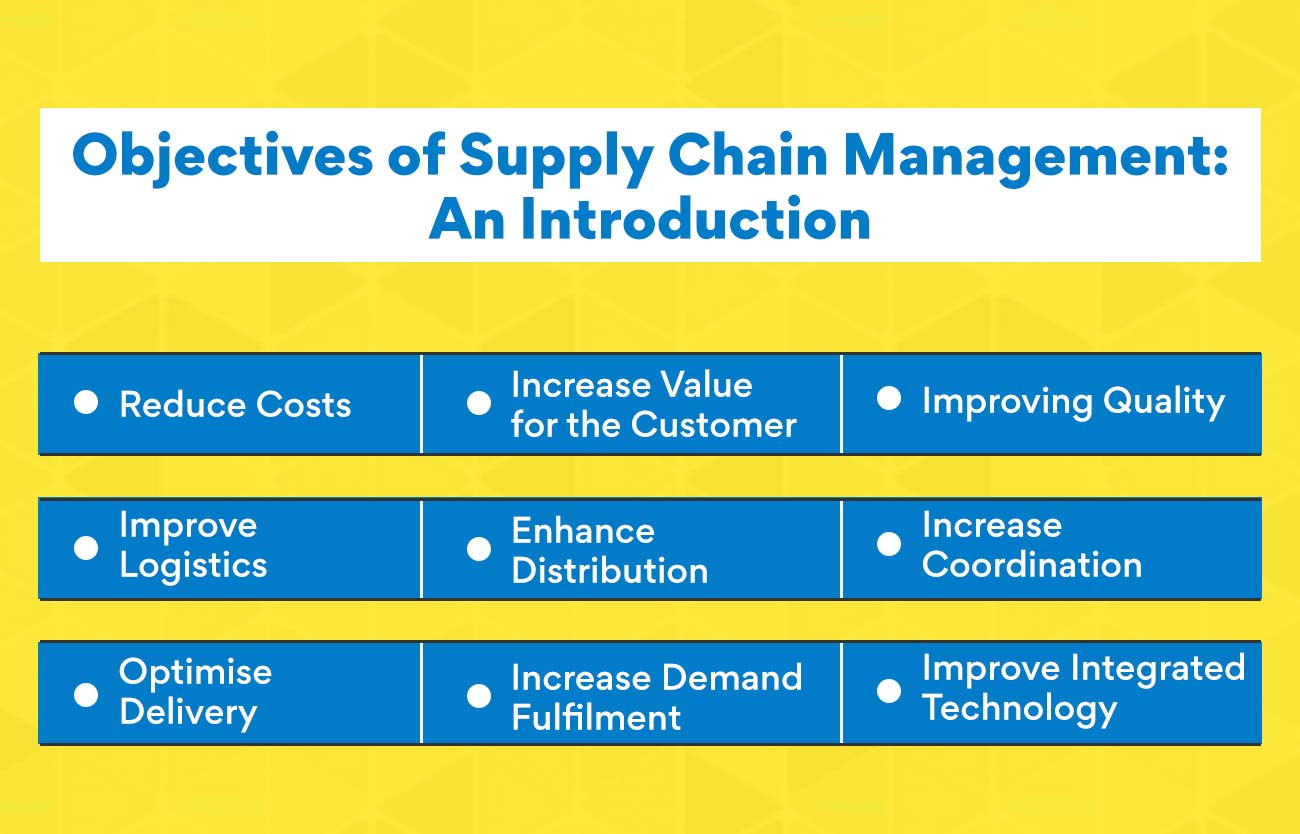 Achieving the objectives of supply chain management requires a coordinated effort from all supply chain members, from suppliers to customers. In order to be successful, supply chain management must be able to integrate all of the activities involved in the supply chain. This includes the identification of objectives, the development of plans, and the implementation of strategies.
There are many different objectives of supply chain management, but some of the most important ones include are mentioned below; let's discuss them in detail.
Also Read: Major Decision Areas In Supply Chain Management
Reduce Costs
The first and foremost objective of supply chain management is to reduce the overall costs associated with running the supply chain. This includes both direct and indirect costs. By reducing costs, businesses can increase their profits and competitiveness. There are many ways to reduce supply chain costs, such as streamlining processes, improving communication and collaboration, and using technology to automate tasks.
Case Study
One company that has been able to reduce its supply chain costs successfully is Amazon. Amazon has used technology to automate many of its processes, including order fulfilment and customer service. In addition, Amazon has developed a highly efficient distribution network that allows it to quickly and efficiently ship products to customers worldwide. As a result of these efforts, Amazon has been able to reduce its costs and pass those savings on to its customers.
Increase Value for the Customer
Another essential objective of supply chain management is to increase value for the customer that, in return, will enhance the brand value. Increasing value for customers can be done by providing them with the right product or service to the customers that will fulfil their demands and also offer them a better buying experience. Maximising the value for customers will not only make them happy but also result in repeat business and referrals. Hence, it is one of the primary and probably the central focus objectives of supply chain management.
Case Study of Increasing Value For the Customer
Nike is the world's leading supplier of athletic shoes and apparel. The company has been able to increase value for its customers by providing them with high-quality products that fit their evolving lifestyles. Nike has also been able to develop strong relationships with its customers, which has resulted in repeat business and referrals.
Improving Quality
One of the most critical objectives of supply chain management is to ensure that products or services are delivered with the utmost quality. Superior quality can be achieved through various means, such as effective quality control and assurance procedures, supplier management, and customer feedback. Quality will directly impact customer satisfaction, which is essential for any business.
Case Study
Nestle is one of the largest food and beverage companies in the world. To maintain its high-quality standards, Nestle has implemented several supply chain management practices and supplier management programs. These include supplier audits, quality control procedures, and customer feedback mechanisms. With these measures, Nestle has been able to consistently produce high-quality products and improve its on-time delivery from 85% to 95%, which has helped it maintain its position as a market leader.
Improve Logistics
In order to reduce the cost while ensuring an uninterrupted supply of goods, it is essential to streamline the logistics. This includes managing the transportation, storage, and distribution of goods. By improving logistics, supply chain managers can reduce waste and optimise resources. Logistics is the bedrock of any supply chain, and improving it can have a ripple effect on the entire system.
Case Study
In 2013, Walmart announced that it was working on a project to improve its logistics. The aim was to have goods delivered to stores within two days instead of the four days it took at that time. To achieve this, Walmart partnered with various transportation companies and invested in new technology. The results were impressive, with the company saving $300 million in transportation costs and reducing its carbon footprint by 18%.
Enhance Distribution
One of the primary objectives of supply chain management is to enhance the distribution system, so that finished goods and services are available to customers when they need them. This objective is accomplished by ensuring that finished goods are available at the right place, in the correct quantity, whenever required. With a better distribution, businesses can improve customer service and satisfaction levels, increasing sales and profits.
Case Study
Coca-Cola Refreshments Canada implemented a new distribution system. The new system included real-time tracking of inventory levels and the use of just-in-time delivery to ensure that finished goods were delivered to customers when they needed them. As a result of the new system, Coca-Cola was able to improve its customer satisfaction levels and reduce its inventory levels by 30%.
Also Read: What is Green Supply Chain? An Overview
Increase Coordination
Supply chain management objectives also include enhancing coordination between various departments and organisations that are involved in the supply chain process. By coordinating the activities of different organisations, supply chain management can ensure that the process runs smoothly and efficiently. Coordination entails planning and executing various activities such as production, transportation, storage, and distribution. It ensures that all the activities are carried out in an orderly manner and according to the schedule.
Case Study
A good example of enhanced coordination through supply chain management is the case of Dell Computers. Dell coordinates the activities of its suppliers very well so that it can receive components on time and then assemble and ship the finished products to customers within the promised time frame. This coordinated effort has helped Dell become one of the leading computer manufacturers in the world.
Optimise Delivery
Managing a supply chain entails ensuring that goods are delivered to customers on time and in perfect condition. It can emerge as a challenge, as there are many factors that can impact the delivery time and condition of goods, such as weather, traffic, and supplier issues. It is the responsibility of an efficient supply chain manager to consider all these factors in ensuring optimal delivery for the customer. In the absence of delivery efficiency, customers can lose interest in the brand and eventually switch to the next.
Case Study
A company that has managed to optimise its delivery times is Amazon. Amazon utilises a number of methods to ensure that its deliveries are made on time, such as having multiple supplier locations, cross-docking, and using advanced transportation management systems. Amazon also uses just-in-time inventory, which means that they only order goods when they are needed, so there is no stock sitting around taking up space. As a result, Amazon has become known for its quick and reliable deliveries.
Increase Demand Fulfilment
The entire supply chain exists to fulfil customer demand. By ensuring that customers receive the products or services they want, when they want them, businesses can increase customer satisfaction and loyalty. In turn, this can result in increased sales and market share. Demand is the starting point for any supply chain, and its objective should be to fulfil that demand most efficiently and effectively as possible.
Case Study
In 2015, Coca-Cola Amatil (CCA) undertook a company-wide review of its supply chain. One of the key objectives of this review was to increase demand fulfilment. CCA implemented several changes, including increasing stock levels at its warehouses and improving communication between its sales and operations teams. As a result, CCA reduced stockouts by 25% and improved customer satisfaction by 15%.
Improve Integrated Technology
One of the indispensable objectives of supply chain management is to reduce or eliminate errors in production. In order to achieve this objective, businesses need to integrate their technology platforms. By combining technology, companies can reduce the chances of human error and communication breakdowns. In addition, businesses can save time and money by automating processes.
Case Study
In 2014, Nike launched a new supply chain management initiative called "Nike ManRev" (Manufacturing Revolution). The objective of this initiative was to form a more efficient and sustainable manufacturing process. Nike achieved this goal by integrating new technology into its supply chain. By doing so, Nike could reduce waste, save time, and improve quality control.
The Bottom Line
In conclusion, the objectives of supply chain management are to reduce or eliminate errors, waste, and inefficiencies throughout the entire process while maximising customer satisfaction. By following these objectives, companies can ensure a well-run operation that meets the needs and wants of their customer base. The supply chain is the driving force of any business that can make or break it depending upon the management.
To learn the ins and outs of objectives of supply chain management as you emerge as a professional SCM manager, check out our Advanced Certificate in Operations, Supply Chain, and Project Management. This course is ideally designed for professionals and aspiring senior operations and project managers who want to develop their skills in end-to-end supply chain management. You will learn
More Information:
Green Supply Chain Management: What It Is and Why It Matters?