A human being is a primary resource for manufacturing or building everything. Every good or service is produced with the help of human intellect, effort, and labour hours (working hours). Every organisation wants to employ qualified workers who can help them become the best in their field. Hence, the objectives of human resource management are intended to make effective use of both the organisation's existing human resource and the skilled labour force that is now accessible outside the organisation.
The construction sector has been experiencing a severe scarcity of experienced workers, which serves as the greatest example of the current condition. Industry analysts fear that it will have a detrimental influence on the sector's overall productivity since it is predicted to triple from its current 30% over the next ten years. This blog will help you understand the roles and key objectives of human resource management. But first, let's understand what the aim of human resource management is.
What is the aim of Human resource management?
Human resource management aims to fill the required job positions in the company and work with job holders (employees). Vacancies need to be identified, and notifications need to be sent out with relevant job descriptions (duties and responsibilities) and requirements in order to source the best candidate for a given position ( physical and academic qualifications). The appropriate selection techniques for choosing the proper individual are used to assess the invited applicants' accuracy. Candidates who are subsequently chosen then get the appropriate instruction to carry out the duties and responsibilities specified in the announcement.
Objectives of Human Resource Management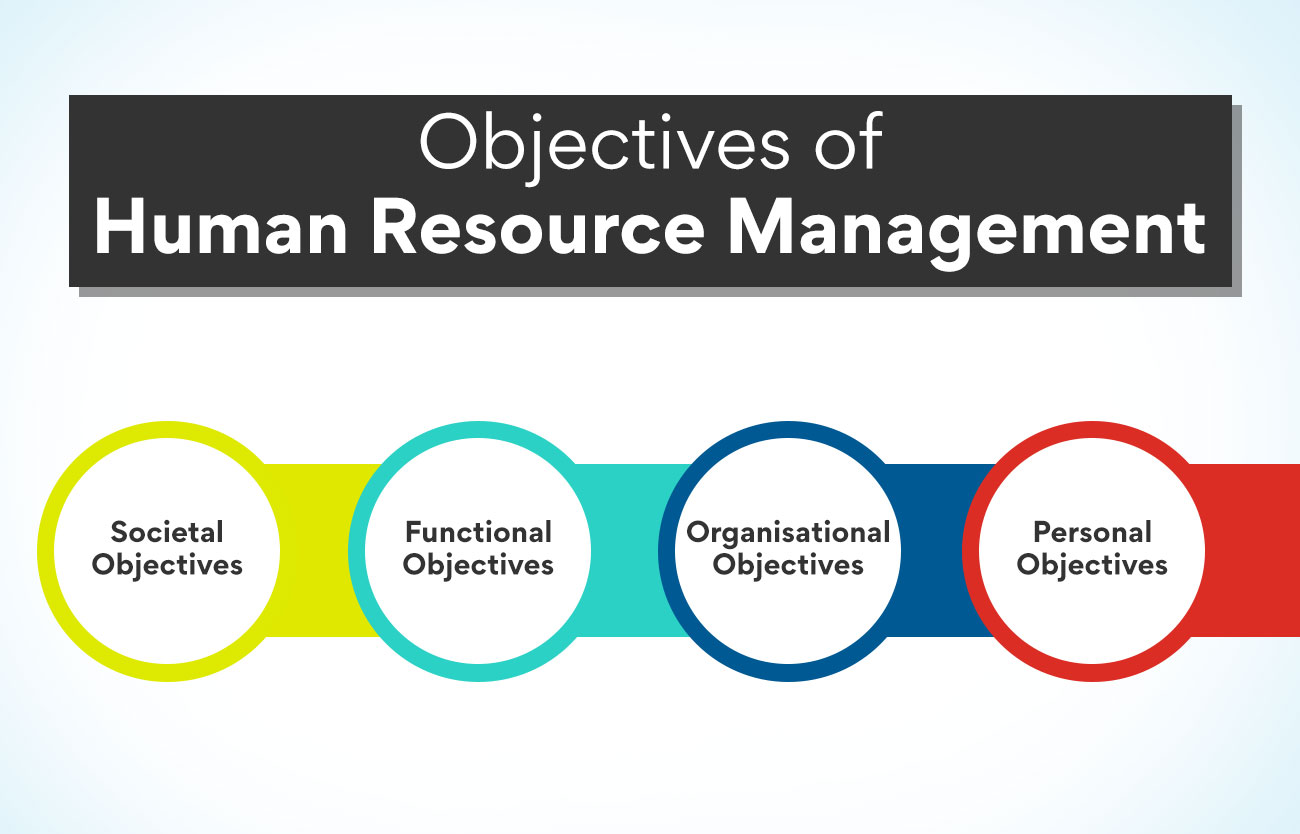 Human resource management's main purpose is to ensure that both the employee and the employer are happy. The goals of Human Resource Management include assuring compliance, convenient on-time payroll, access to data, and the accessibility of resources.
Human Resource Management aims to provide a stable workplace with centralised data and effective operations. Operational goals and verticals generally impact Human Resource Management objectives. The objectives of human resource management can be roughly divided into four categories:
While limiting the negative effects of such requirements upon the organisation to utilise its resources for society's advantages in ethical ways can lead to limitation, it is important to be socially and morally accountable for the demands and difficulties of society.
Also Read: What is Strategic Human Resource Management? Definition and Examples
Organisations should meet requirements in order to keep department contributions at a suitable level. When human resource management seems to be either more or less competent to meet the expectations of the company, resources are squandered.
Organisational Objectives
Human Resource Management should be understood as a tool to help the business achieve its main goals rather than as an end in and of itself, which is the function of an HR manager in fostering organisational performance.
Helping employees achieve their own objectives, at least to the extent that doing so will improve their contribution to the company, is another role of human resource management. Employees need to be inspired, retained and nurtured in their own goals.
There are many other additional objectives of human resource management. Take a look at some of the other major ones: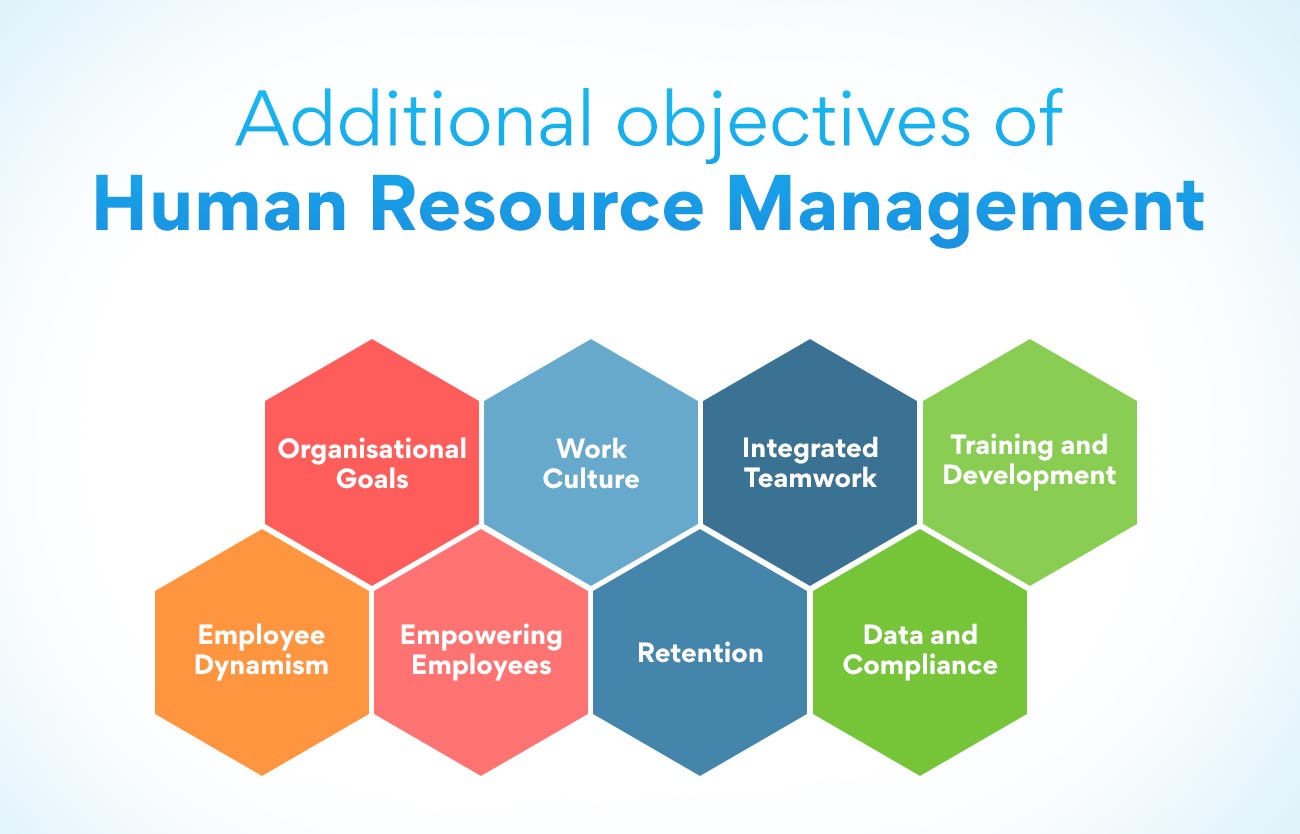 This is where human resource management begins. Fulfilling organisational goals is one of the main purposes. Employing human resources to meet organisational needs and objectives is crucial for efficient human resource management.
Workforce management and employee needs, including hiring and training, payroll administration, and retirement, are all part of an organisation's objectives. Human resource management involves effective planning and implementation in order to achieve corporate objectives. Human resource management is insufficient without predetermined objectives, missions, and resource allocations. Reaching human resource management goals is not challenging if you know your resources and strategy.
Employees and the workplace culture come first when managing human resource management successfully and achieving goals. Workplace culture is crucial in determining Human Resource Management and company performance.
An HR manager must be engaged when advocating for policies to promote a better workplace culture. You can benefit from automated processes like acknowledging reimbursement requests and approving leave. Empowerment of employees and a quick line of operations contribute to a healthy work environment. Building a positive work culture starts with cultivating and sustaining positive, open relationships across teams and team members. More than half of your work may be resolved by implementing the appropriate solutions, such as personnel management software.
Small efforts, like efficient onboarding procedures, can create a positive perception of the workplace.
Ensuring the team organises well is one of the key duties and goals of human resource management. There must be effective communication between various departments and teams in the company. Here, HR must ensure that there is a tool to simplify the integration and make it more seamless.
Streamlining tasks and operations is the goal of functional objectives like team integration. To guarantee efficiency, communication between people needs to be appropriate. You must look for better integration platforms to facilitate user access to data to manage HR successfully. The self-service portal, for example, can let employees get in touch with HR personnel.
Two crucial and fundamental factors are employee effectiveness and performance for a company to achieve its fundamental goals in human resource management. Employees feel secure and organised with sufficient training and future prospects. The training methods have a significant impact on effective employment. Giving staff opportunities is a fantastic method for ensuring workforce management.
Planning, organising, training courses, and evaluating each on-board can be challenging while dealing with employees as part of human resource management. Solutions such as training management software may provide you with auto-reminders, a simple calendar, reporting, and monitoring capabilities to alleviate the agony. The HR manager may make sure that the company has efficient training procedures.
Keeping everything on the right track is HR professionals' main goal in human resource management. Keep negative energy and distractions at a distance. The staff must be taken care of and motivated at all times in order to do this. How can HR inspire employees?
Give them authority. Consider their points of view. Invite them to meetings or decisions every week. Let them be a part of the company's integral matters, even if they are new. Keep the spirit up at all times. Employee appreciation measures like yearly performance-based appraisals can also be beneficial in human resource management.
Your staff may be motivated and productive throughout the service with the help of an automatic feedback mechanism for performance assessment management. If the workers are happy and content, nothing else will stop your company from losing sight of its aims and ambitions. Therefore, human resource management plays a key role in keeping the employees and workforce happy and content in the company.
Also Read: Breaking Down The Scope Of Human Resource Management
Another key objective of human resource management is the empowerment of employees. Nothing can work more effectively in terms of employee engagement than giving them more control. It can also save HR labour by equipping them with resources like the ESS (employee self-service) site for human resource management.
Employees can self-apply for approvals using the site and monitor them via their mobile devices. You no longer need to knock on HR's door for small inquiries. HR interaction becomes trivial for many reasons, including leave requests, payslip generation, PF account checks, remaining vacation time, future holidays, manager information, etc.
One of the main goals and objectives of HR managers is employee retention, along with offering leadership qualities and chances. Human Resource Management needs to keep employees happy and engaged as a key priority.
The largest difficulty, or goal, facing HR professionals is keeping employees on board for a long time beyond the recruiting, onboarding, and training phases. Employees frequently depart the company within two months of joining it. It can result from a poor management system or a difficult hiring procedure.
The experience of the workforce must be carefully considered. Maintaining a low employee turnover rate may be achieved by keeping your current workforce. The HR manager in human resource management must discover the top business retention advice if they want to maintain it steady.
Managing company/employee data and compliances are also functional and organisational objectives in human resource management. Managing payroll compliance requirements for HR professionals and managers and preventing the firm from receiving any fines or penalties is a major task.
Pay attention to rules and regulations before committing to projects like hiring and payroll. The goal is to prevent any unwarranted claims in order to maintain efficiency. An efficient HR manager makes sure that they take decisions which is in favour of both the company and the recruited employee. Even a minor mistake or miscalculation can result in severe fines and even the loss of respect.
Think you can manage all these responsibilities as an HR manager in human resource management?
Check out our Post Graduate Certificate in Human Resource Management and begin your journey today!
How does the HRMS system assist you in achieving the objectives of human resource management?
Human Resource Management System (HRMS) is a modern employee engagement technology and payroll software. It removes the biggest part of the documentation and human interaction, thus decreasing the likelihood of human mistakes in computations in human resource management. You may simplify HR processes, which comprise crucial duties necessary to meet the objectives, with the use of the HRMS.
Processes are made simpler and more precise by automatically generating reports and reminders. The probability of failure using an HRMS instrument is negligible. A better working atmosphere, time consumption, and data availability are some significant advantages of effective human resource management.
Curating and focusing on a set of HR goals might provide you with the competitive advantage you need to survive in the market. With the changing circumstances and expectations of people, catching up on the latest trends and HR policies might be a wiser option.
How can you make human resource management easier for HR managers?
Predicting future HR demands, managing resources, personnel management, talent acquisition, HR data, fail-safe payroll, FnF settlements, etc., are all components of efficient human resource management. Online HR software may be extremely beneficial to commit to an HR responsibility.
The essential workforce management may be made simpler and more precise with the use of effective human resource management techniques and HRMS software. Human resource management is made simple for individuals by HR software with system modules like hiring management services, timesheet monitoring, attendance records, etc.
Whatever the industry or the demands of the business, HR solutions are practical and come in two main forms: on-premise and cloud-based, giving the organisation much-needed freedom and power.
A post-graduate certification course in Human Resource Management can help you enter this promising HR management field. With Edureka's course, you can hone your skills with live classes and interactions with the best mentors in the business. With convenient class schedules, even working professionals can also leverage this course.
Conclusion
Undoubtedly, the pace of technical progress has accelerated dramatically during the historical process of industrialisation, making the workplace for employees more complicated and demanding. Roles are becoming more specialised, and a workforce that can continually upskill itself is needed to fill them.
Because of this, the function of human resource management has evolved from being a merely incidental activity—the "hiring and firing department"—to becoming a crucial management cornerstone for any 21st-century company hoping to stay at the top of its particular market.
Additionally, it explains why modern businesses must integrate key objectives of human resource management throughout the whole company. The understanding that a team's employees, communication, ongoing training, and the organisational forms promoting them are the foundation of today's competitive business is a requirement for success.
So, upskill yourself with our Post Graduate Certificate in Human Resource Management and become a skilled and successful HR manager anyone has ever seen!
More Information:
Role Of Human Resource Management in an Organization
Evolution Of Human Resource Management: Past and Future
Difference Between Personnel Management And Human Resource Management