NodeJS is a server-side scripting tool that uses JavaScript – a language that is popular with millions of developers worldwide – ensuring that it has a much lower learning curve even for complete beginners. Using NodeJS, developers can build everything from simple command line programs to complex enterprise level web applications with ease.
Open Source Support for NodeJS
NodeJS, brings with it myriad career opportunities at various levels. The fact that NodeJS has the backing of the open source community is testimony to the fact that its reach and potential spreads far and wide. As the NodeJS Wikipedia page says, "Thousands of open-source libraries have been built for NodeJS, most of which are hosted on the npm website. Its developer community has two main mailing lists and the IRC channel #node.js on freenode. The open source community developed server frameworks to accelerate the development of applications. Common frameworks include Connect, Express.js, Socket.IO, Koa.js, Hapi.js, Sails, Meteor, Derby, among others." 
NodeJS Job Roles
Some of the popular titles for jobs related to NodeJS include:
NodeJS Developer
NodeJS UI Developer
Full Stack Developer
Back End Developer
JavaScript NodeJS Software Engineer
NodeJS Salary Trend
In the US, the median salary for a NodeJS job role is 112,000 USD, which is higher than industry average for any technology job (Source: Indeed Salary Trends)

In India, for a typical UI beginner level job, basic salary begins at 300,000 INR, and increases by about 20% with every additional year of experience (Source: Payscale.com). Globally, the trend for jobs that require NodeJS skills is witnessing an upsurge.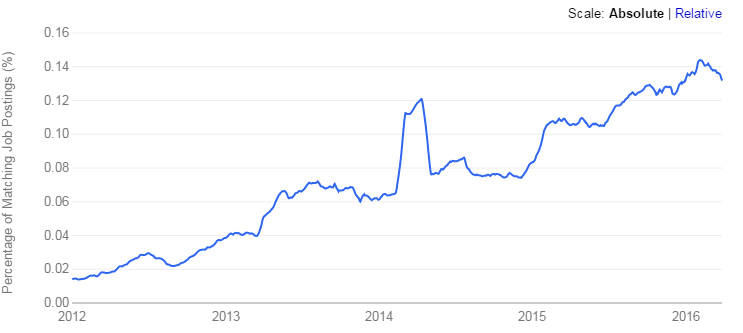 The popularity of NodeJS saw a spike around mid 2014 which was followed by a fall of an equal magnitude. However, NodeJS recovered from the slump and as of today, job opportunities around NodeJS are marginally higher than the highest tip of the 2014 surge (Source: Indeed job trends).
Endorsement From the Industry
According to tech blog  ITJungle.com, some global names have adopted NodeJS as a key for furthering their business. In particular, GoDaddy, Groupon, IBM, LinkedIn, Microsoft, Netflix, PayPal, SAP, Yahoo! have committed to NodeJS. Recently, Microsoft submitted its new Chakra JavaScript engine to NodeJS. Also, IBM recently purchased StrongLoop, a prominent player in the NodeJS space.
Got a question for us? Mention them in the comment section and we will get back to you. 
Related Posts:
Get Started with Mastering NodeJS
Top NodeJS Interview Questions