Human capital is a critical aspect of modern business. These two words describe employees as a resource or asset beneficial to the company. However, people usually aren't as simple and come with a bunch of individual and group requirements. This is where human resource management or HRM comes in. HRM is a practice that involves recruiting, hiring, training, and managing an organisation's employees. Over the years, the nature of human resource management has evolved from being a function under other areas of management to holding its position as a key pillar in the overall business strategy.

Human resource management is all about having the right people, with the right capabilities, in the right place, at the right time!
Human resource management can be your ideal job if you like to approach and encourage people. The tasks of an HR manager do not include only hiring and firing. It also involves activities such as job design, employee relations, overseeing payroll, and managing staff benefits. To successfully carry out your duties, you must know the
nature of human resource management
and its objectives. However, first, let's understand what human resource management is.
Understanding Human Resource Management
In today's competitive business world, no organisation can imagine surviving without a team of efficient employees or human resources. To retain this efficient pool of employees, it is important to manage human resources effectively. Human resource management is defined as the process of acquiring, recruiting, and retaining employees in an organisation.
HRM serves multiple essential purposes in an organisation for the growth of employees and the company. It is essential for both an organisation and its employees. For an organisation, HRM aims to maintain a positive work culture and fulfil the organisational goals. For employees, HRM provides them with a direction to achieve organisational goals, motivating them to perform more efficiently in the future.
Nature of Human Resource Management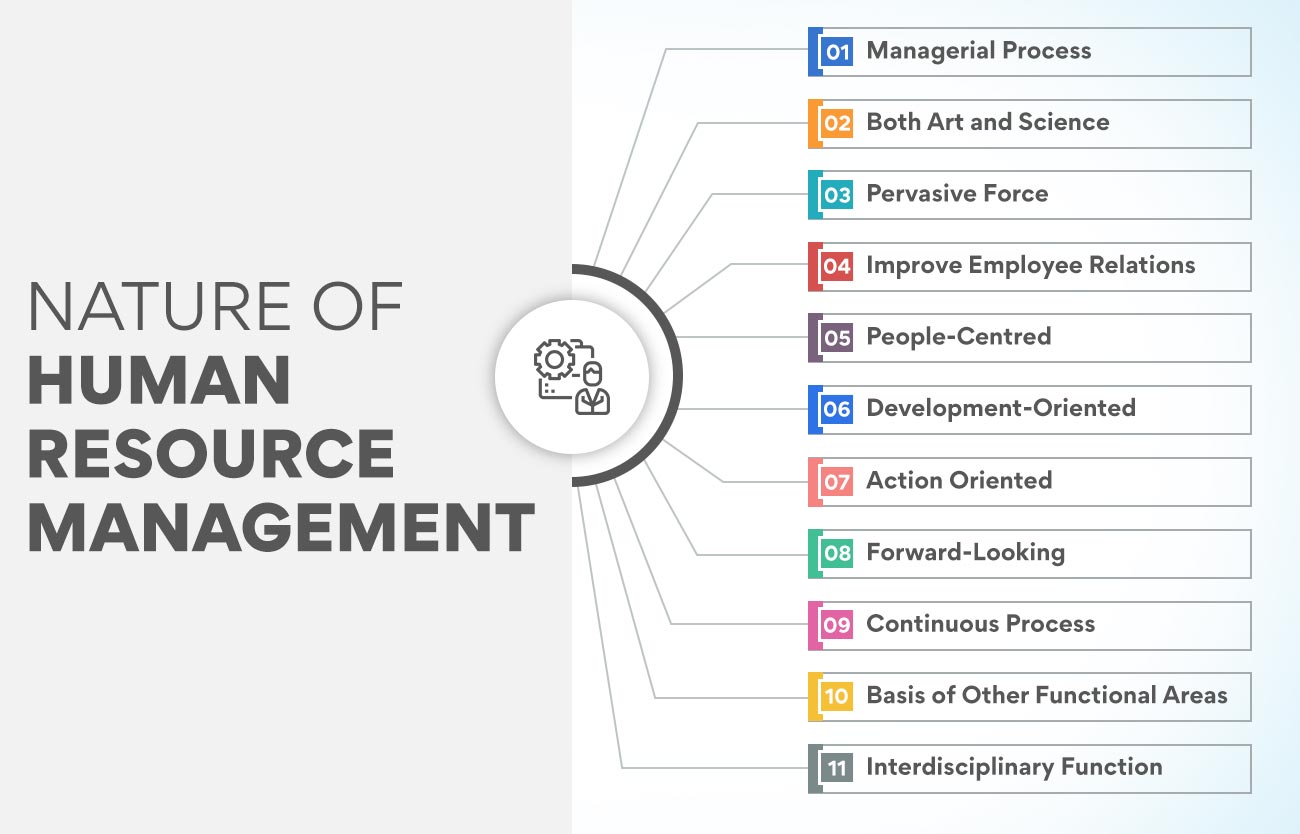 Human resource management brings people together in an organisation. Why? To make sure both individual and organisation goals are fulfilled! The following features characterise the nature of human resource management:-
Also Read: Evolution Of Human Resource Management: Past and Future
Human resource management is a vital part of management that includes planning, organising, staffing, directing, and controlling human resources to achieve organisational success. It is a managerial process that effectively utilises human resources to attain organisational goals and objectives.
Human resource management is a mixture of both art and science. It is an art as it deals with qualitative attributes like creativity, knowledge, skills, and talent of the personnel. In simple words, HRM is the art of getting things done by others effectively. HRM is a science as it requires different scientific techniques for activities like recruitment, selection, training, and appraisal of employees.
Human resource management, being an inherent part of an organisation, is pervasive in nature. It means that HRM is present in different functional areas of management, like finance, marketing, and production, in all commercial and non-commercial enterprises. Everyone in the organisation, from the top to the lowest level, must perform HRM functions regularly.
Improve Employee Relations
"In order to build a rewarding employee experience, you need to understand what matters most to your people." – Julie Bevacqua.
Human resource management is concerned with building healthy relationships between employees at various organisational levels. Every individual has different needs, goals, and expectations. HRM deals with these individual factors and motivates employees to reach their maximum potential. Moreover, it creates an organisational culture that fosters learning and growth.
The nature of human resource management is people-centred and relevant in all types of organisations. It is concerned with every employee from the top to the bottom level. HRM value people both as individuals and as a group. Furthermore, it encourages people to develop their full potential and fulfil individual and organisational goals.
The development of the workforce in an organisation is crucial to the nature of human resource management. HR managers use various tools to help employees understand their strengths and unleash their potential. Regular training programs can benefit employees by improving their skills. Also, monetary and non-monetary reinforcement can help people stay motivated to perform better.
While human resource management does follow the rules and policies, its main focus is on action and results rather than rules. A human resource manager stresses the importance of providing effective solutions for employee problems, tensions, or controversies.
Sustaining in the competitive business environment requires organisations to plan long-term strategies. HRM is a future-oriented approach that evaluates the human resource requirements and ensures the availability of required personnel in the right place at the right time. With the forward-looking nature of human resource management, managers prepare employees by motivation, training, and development to face current and future challenges in the changing business environment.
Human resource management is not a 'one-time' function. Rather, it is a never-ending process that must be performed continuously to achieve organisational objectives effectively. It involves a series of tasks, beginning with identifying the human resource requirement and continuing with recruitment, training, performance evaluation, and appraisal.
Basis of Other Functional Areas
HRM is the basis of all other functional areas of management, such as finance, production, and marketing. The effectiveness of each of these departments depends on the effectiveness of their human resource management.
Interdisciplinary Function
Human resource management is multidisciplinary in nature. HR managers utilise knowledge and inputs from various disciplines to manage the workforce effectively. The five major disciplines in HRM include management, communication, psychology, sociology, and economics. In order to effectively manage human resources, one must understand the contribution of all these disciplines to HRM.
If you want to land your dream HRM job or get a promotion, check out our post-graduate certificate course in human resource management. The course will help you understand the nature of human resource management. Moreover, you will gain the knowledge and skills needed to manage human resources effectively.
Objectives of Human Resource Management
The primary objective of human resource management is to fulfil the human capital requirements of an organisation by placing personnel in the right position at the right time. Moreover, it aims to achieve maximum employee development and contribute to realising organisational goals. The four main objectives of HRM include:-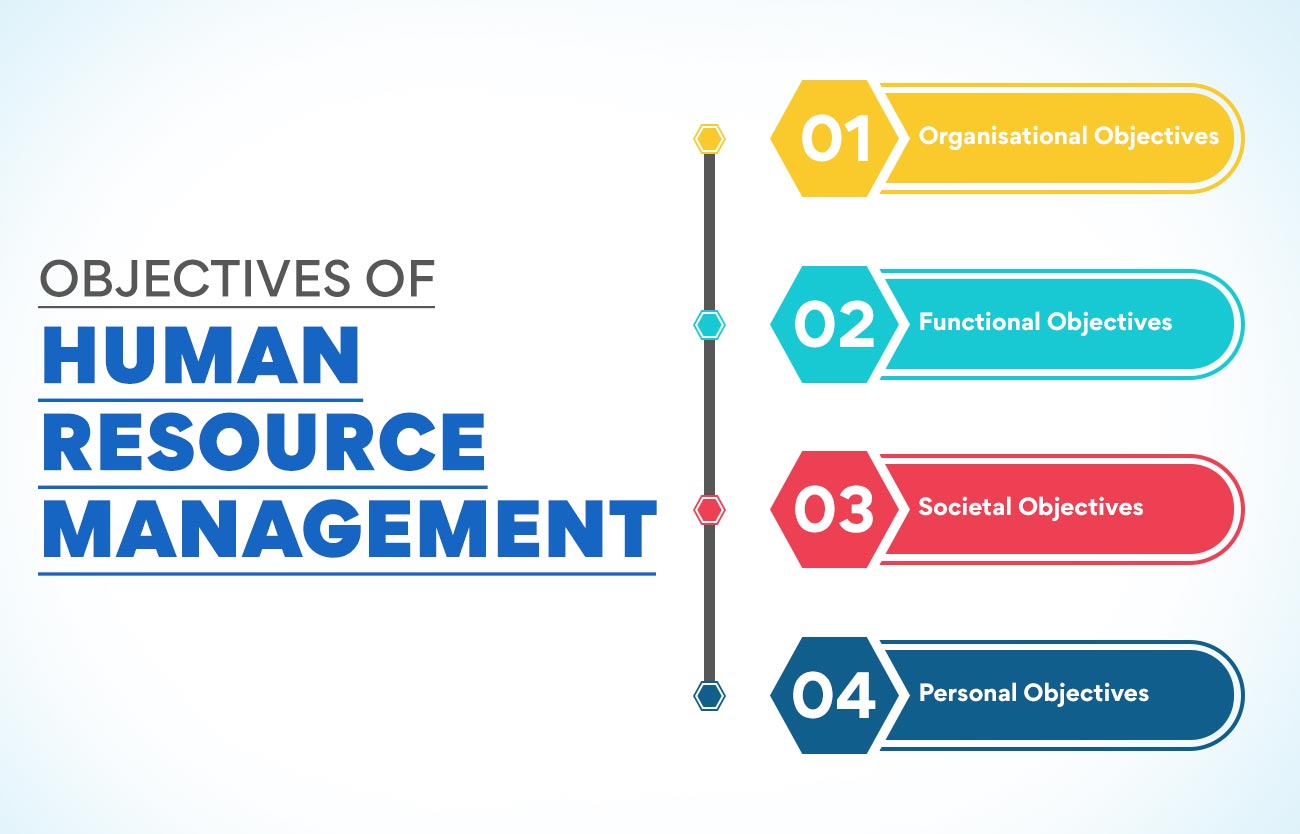 Organisational Objectives
In an organisation, HRM's objective is to maintain a competent workforce. How? By planning, recruiting, selecting, training, and developing the human resources for the organisation's growth, expansion, and survival.
Another critical organisational objective of HRM includes facilitating other departments and helping them function smoothly. The action-oriented nature of human resource management assists an organisation in achieving its goals. As an HR manager, you should ensure the effective utilisation of human resources to help the organisation reach its goals.
Human resource management is responsible for coordination within and among different functional departments of the organisation. It organises and allocates the resources to achieve business objectives effectively.
The objective of HRM is to provide every functional department with employees who possess the required set of skills and knowledge. To fulfil this very nature of human resource management, HR managers must ensure the timely completion of functions by the workforce. Moreover, it is important to continuously provide employees with opportunities and direct them toward the organisation's goals.
HRM is responsible for ensuring compliance with society's legal and ethical standards at every level of the organisation. The activities of HRM should be socially responsible and fulfil society's needs, demands, and challenges. Therefore, HR managers must ensure that the available resources are used for society's benefit.
To achieve this objective, HR managers develop programs that meet employees' psychological, social, ethical, and economic needs. Some examples of these programs include equal opportunities, compensation and benefits, and community relations. By fulfiling the societal objectives of employees, HRM aims to motivate and retain productive employees.
Also Read: Key Fundamentals of Human Resource Management
Employees' long-term association and commitment with an organisation depend on their ability to achieve personal goals. Therefore, HRM stresses the importance of fulfilling employees' personal objectives and increasing their contribution to the organisation.
To prevent employee performance deterioration, HR managers must help the workforce create a work-life balance. They should also be provided with adequate training and feedback on their performance. Why? Because it helps employees identify weak areas and rectify them.
Some other objectives of human resource management include the following:-
Foster a Better Work Culture
Improving employee relations is an inherent nature of human resource management. One of the most important aspects of employee relations is their work environment. Effective HRM requires developing strategies that promote a better work culture. Some examples of fostering a work culture include developing and maintaining healthy relations between team members, empowering the employees, and adopting quick onboarding processes.
Adopt Tools for Team Integration
Effective team coordination is one of the major objectives of human resource management. Higher productivity is the result of proper connections between employees in the organisation. How to achieve that, you ask? By ensuring easy communication between individuals and groups at various enterprise levels! Therefore, HR managers search for tools or portals that improve data availability and make integration smooth and easier.
Increase Employee Engagement
While every department in the company can and should implement employee engagement programs, HRM is vital to successful employee engagement measures. HR managers organise events, activities, and celebrations within the organisation that not only helps in team development and employee engagement but also foster employee confidence. Moreover, boosting employee engagement can help HR managers impact employee retention, well-being, and productivity.
Define an Organisational Structure
Though important, hiring the right person for the right task is only a small part of the process. Once the employee is hired, the HR department needs to define an organisational structure to nurture employee skills. The organisational structure required for a manufacturing firm varies significantly from a hospital or an academic institution. HRM is responsible for recognising the structures and practices that would work in that specific work environment.
Now that you know the nature of human resource management and the objectives of HR managers in an organisation, let's understand the scope of HRM.
Scope of Human Resource Management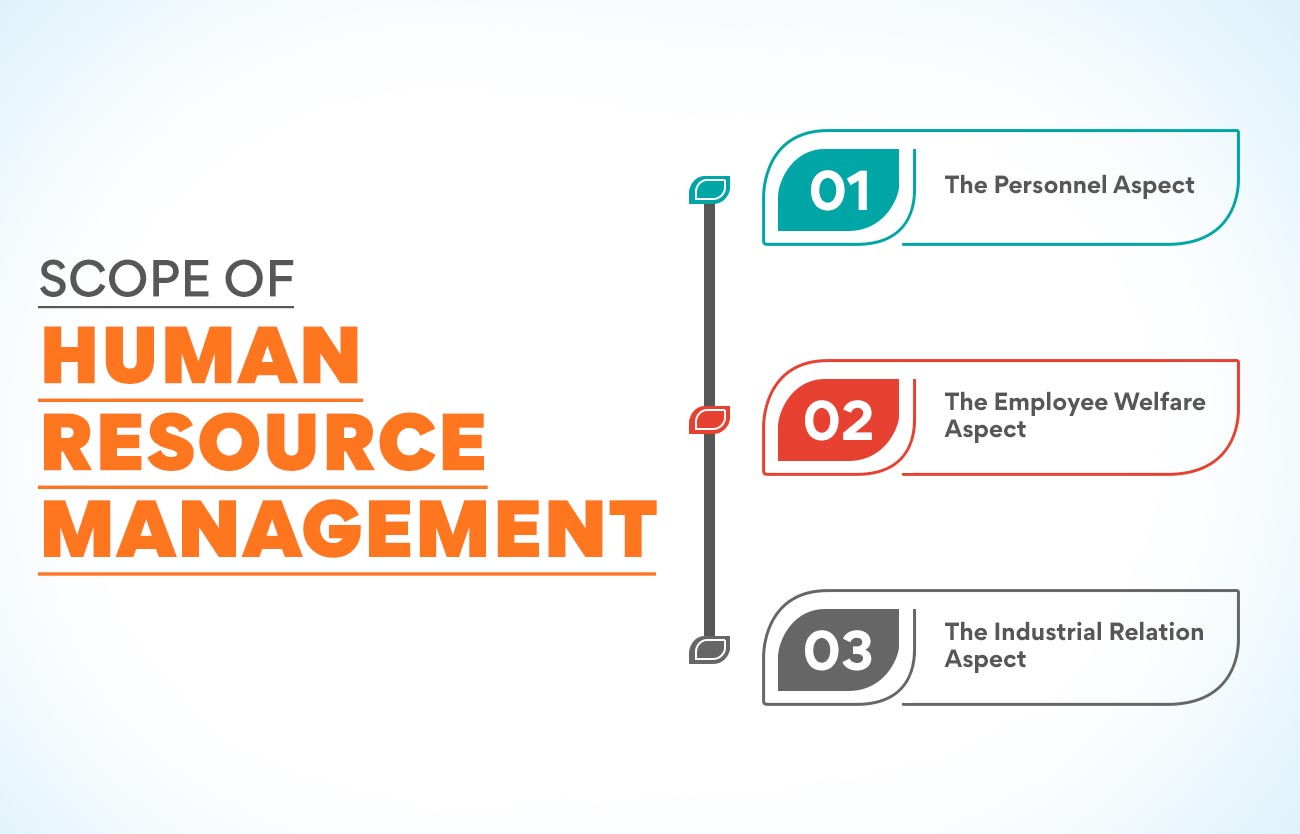 Human resource management has a wide scope. Every big and small department in an organisation needs human resources and, as a result, human resource management. The scope of HRM can be divided into three different aspects:-
Ensuring the individual growth of each employee is in the nature of human resource management, which can indirectly affect the organisation's overall growth. This aspect is concerned with activities like assessing human resource requirements, recruitment, selection, placement, promotion, training and development, transfer, incentives, remuneration, productivity, lay-off, retrenchment, etc.
The Employee Welfare Aspect
The objective is to ensure proper working conditions and amenities like canteens, creches, lunch rooms, restrooms, housing, transport, recreation facilities, etc., at the workplace. HRM is responsible for eliminating workplace hazards and providing employees with job safety, education, health and medical services, and more.
The Industrial Relation Aspect
The objective is to maintain peace and harmony in the organisation. How? By interacting with the labour union, addressing their grievances, and settling disputes! The aspect covers union-management relations, consultation, bargaining, grievance action, and dispute settlement.
Summing It Up!
HRM plays an integral part in the smooth running of an organisation. It is a complex process that requires HR managers to devise different solutions every time. With the evolving nature of human resource management, managers today require more patience, a mindful approach, and a diplomatic attitude to handle an organisation's human resources. More and more firms now realise the importance of hiring the right people for the right job at the right time.
Human resource management jobs are on the rise; thus, people are continuously looking to become more capable and professional. Due to the fierce competition in HR, only qualified people with the right skill sets can land their dream job in a company with growth opportunities. The best way to equip yourself with the relevant skills? Join our post-graduate certificate course in human resource management. The course can help you understand the current HR trends and gain exposure to critical HR skills. So what are you waiting for? Enrol NOW!
More Information:
What Is Human Resource Management System?
Difference Between Personnel Management And Human Resource Management
Areas of Emphasis: Human Resource Management