Rise of NoSQL and MongoDB as a Big Data Solution & Growing Job Opportunities
The explosion of digital social media platforms like Facebook, Twitter, Pinterest, LinkedIn and others have opened up the floodgates for Big Data to achieve colossal velocity. Increase in online-participation levels are pushing enterprises to interact and engage faster and quicker. The result: a big requirement for data expertise and technology, which can help enterprises to become more agile and scalable.The capability of NoSQL database systems in managing Big Data, using document structures for storing data in loosely defined objects has made it the most popular technology for the Big Data challenge. MongoDB is now, the leading NoSQL database solution.
MongoDB capabilities that make it a leading Big Data solution are as follows:
Leading data solution for powering Big Data
Most viable and obvious options to RDBMS
In sync with new application
Large number of companies adopting MongoDB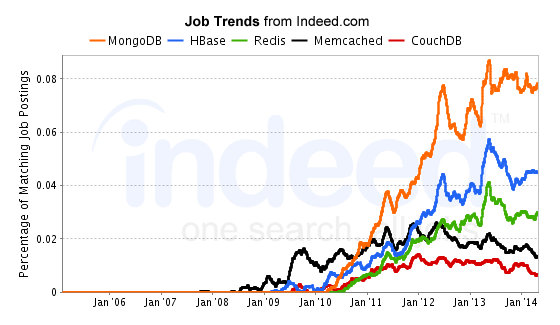 No wonder, the capabilities of MongoDB is directly having a cascading effect on the job market. The job posting for MongoDB has been showing a constant and steady growth in the last two years, corresponding to the Big Data growth.
MongoDB Tutorial Provides You the In-Demand Skills:
Opting for the NoSQL database is fast becoming an industry trend. MongoDB is popular for its powerful query language, which makes the transition from a relational database to NoSQL database smooth and easy. As the challenge of Big Data increases, it's only natural that job opportunities for NoSQL skilled professionals to multiplying correspondingly.With many big guns like eBay, The New York Times, Cisco and Disney betting big on MongoDB deployments, investing in a proper MongoDB tutorial is a smart move. MongoDB tutorial makes professionals industry-ready to capitalize on the phenomenal growing opportunity. Those who can reinforce their MongoDB skills with live project experience will naturally stay ahead in their careers.
Filling the Talent Gap with MongoDB Tutorial
MongoDB, being one of the most widely accepted industry solutions in NoSQL technology, professionals can update themselves with MongoDB tutorial that provides live project exposure, to close this skill gap. In fact, many companies are offering MongoDB tutorial program to its employees to meet this talent crunch. For other professionals, MongoDB tutorial is the best way to augment his/her NoSQL skills and become highly employable in the Big Data field.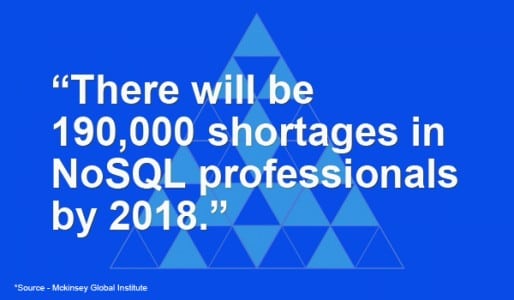 MongoDB is an Established Choice for Many Big Companies
Organizations of all sizes are implementing MongoDB. Among the Fortune 500 and Global 500, MongoDB already serves 10 of the top financial services institutions, electronics companies, media and entertainment companies,  retailers, et.c
Top companies that are using MongoDB are:
Cisco
EA
eBay
Ericsson
Forbes
Intuit
LexisNexis
SAP
Telefonica
More real world use cases of MongoDB
MongoDB's Scalability Can Boost Your Career
MongoDB clearly shows that technology is built for horizontal scalability, scaling from single server deployments to large, complex multi-site architectures with great reliability and operational flexibility.Numerous sizable enterprises are in urgent need of professionals who can leverage the use of MongoDB and create new applications, improving customer experience and cutting cost by reducing the cycle time to reach the market. However, enterprises are struggling to get the right MongoDB talent. So there are plenty of opportunities even in the current job market for MongoDB professionals.A MongoDB tutorial can give data professionals the right Big Data qualification and hands-on experience which will automatically qualify them for all the available MongoDB jobs
MongoDB is the Future of NoSQL
With clock ticking for RDBMS, courtesy of Big Data and Cloud computing, the database market is highly tilting towards MongoDB implementation by many big companies. Among the industry think tanks, there is great confidence that MongoDB will help unlock most of the data challenges that an enterprise is going to face in the future.MongoDB is also going to be used extensively used, so a MongoDB tutorial is a smart career investment that will surely pay off huge career dividends.
Got a question for us?? Mention them in the comments section and we will get back to you. 
Related Posts:
Why Big Data Professionals Need to Learn MongoDB?
Choosing the Right NoSQL Database