Microsoft BI consists of tools that assist in providing optimized solutions for Business Intelligence and Data Mining Queries. Microsoft BI uses uses Visual Studio along with SQL server, which empowers users to gain access to accurate and current information for superior decision-making. Microsoft BI allow users to discover, analyze and visualize data with powerful self-service BI in Excel and also enables collaboration and sharing of reports and data with SharePoint.
Today, Microsoft BI is a critical tool to master for anyone who wants to make a career in business intelligence. With the ability of Microsoft BI to provide a 'single version of the truth' and robust support for advanced analytics, especially for historical data, Microsoft BI has been adopted by organizations, both large and small.
Microsoft BI Job Roles
Some of the popular titles for jobs related to Microsoft BI include:
MSBI Developer
Senior MSBI Developer
BI Developer
BI Consultant
IT Analyst, among others.
Microsoft BI Salary Trend
In the US, the median salary for a Microsoft BI job role is 102,000 USD, which is higher than industry average for any technology job (Source: Indeed Salary Trends)

Source: Indeed.com
In India, for a beginner-level business intelligence job, base salaries start at around 350,000 INR, and increases by about 20% with every additional year of experience (Source: Payscale.com). Globally, the trend for jobs that specifically require Microsoft BI skills is witnessing an upsurge.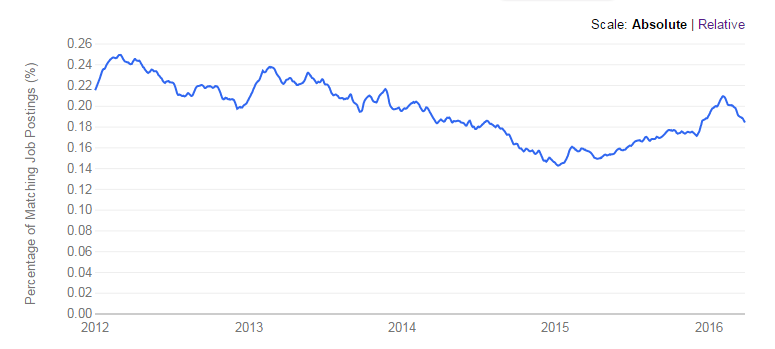 Source: Payscale.com
The popularity of Microsoft BI saw a spike around mid 2013, after which it experienced a slump that lasted over a year. However, it was quick to pick up before peaking again in the beginning of 2016, While it is experiencing a slight slip currently (May 2016), experts predict that it is a temporary phase and glory days will follow very soon (Source: Indeed job trends).
Future of Microsoft BI
According to PCMag, Microsoft BI caters to most of the top requirements from an impressive BI tool. With features that allow customizable, advanced visualizations, mobile analytics capabilities and IoT readiness, Microsoft BI is the tool for choice for most global organizations,and this trend is only going to continue.
Related Posts:
Get Started with Microsoft BI Training