Azure administrators are in higher demand than ever before, with salary packages far into the seven figures. In India, an Azure Administrator earns an average of 7.3 LPA. The range increases as you progress through the tiers. Azure salary ranges between 3.5LPA to 39.1LPA and can be considerably higher. So, in this blog today, let's start by having an understanding of the career in Azure Administrator, where we will be discussing the following topics:
Azure Administrator Salary in India
The most essential aspect that motivates individuals to pursue a profession in Azure system administration is the salary. According to Glassdoor, the national average salary for an Azure Administrator ranges from 3.4 Lakhs to 17.7 Lakhs, with a 7.3 Lakh annual average salary in India.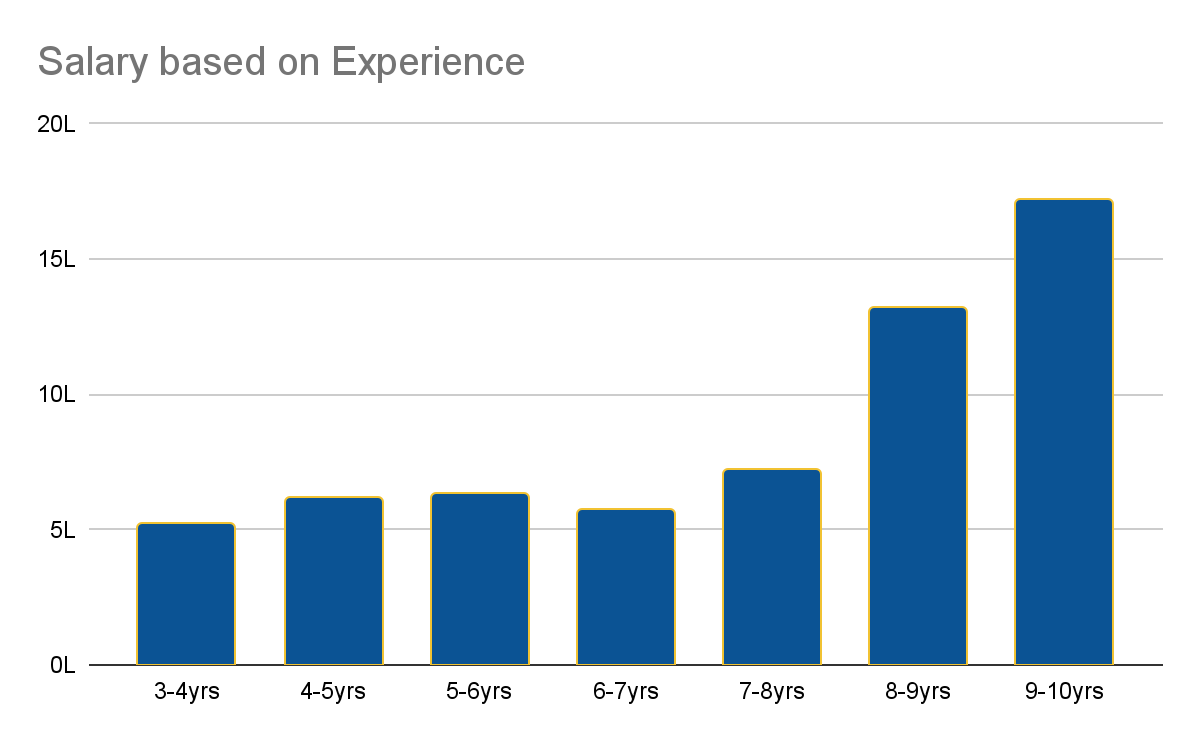 Based on experience, a junior-level Azure Administrator with 3–4 years of experience can make approximately 5.3L/year. A mid-level Azure Administrator with 4–7 years of experience can make around 7.2L per year. A senior-level Azure Administrator with 8+ years of experience, on the other hand, can earn roughly 13.2L/year. These numbers accurately indicate a bright career as an Azure administrator.
Top Skills for Microsoft Azure Administrators
To enter an Azure-based career, you must first learn some skills. You must be familiar with skills like cloud system configuration, workload balancing and deployment, and dealing with UNIX, Windows, and other operating systems, among other things. Let's have a look at the skills required to become a Microsoft Azure Administrator.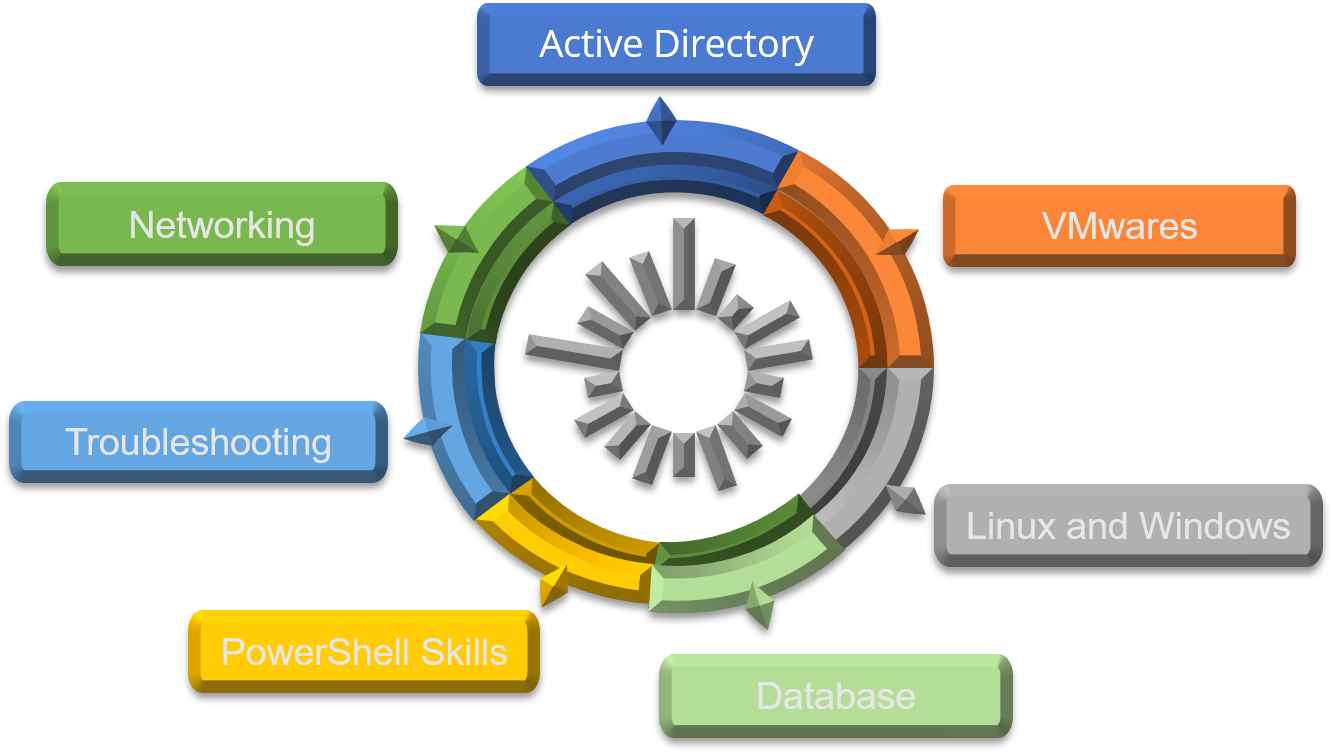 Active Directory: Active Directory is a Microsoft product that is used to manage all Windows users and devices. So you must have a strong understanding and background of working with a complex Active Directory, Azure AD, and LDAP, and the requirement of strictly following standards, procedures, and processes so as to manage Azure Active Directory (Azure AD) objects from the creation to congratulations.
Virtual Machines: You must know how to automate virtual machine deployments, such as deploying VMs into virtual networks and configuring VMs for optimal cost, performance, and security, Backing up virtual machines, and possibly giving failover recovery, etc.
Linux and Windows: Knowledge of Linux-Unix and Windows-based SW development environments and tools
Database: For administrative tasks, you must be familiar with Azure SQL Server, database, and query architecture, SQL database deployment, and Transact-SQL fundamentals. Monitoring and optimizing the Azure SQL Database's performance Maintaining the operational viability of Azure SQL resources, Procedures for migrating on-premises SQL Server databases to Azure, and Other methods for managing relational data in Azure
PowerShell skills: To automate recurrent administrative activities and work on continuous service improvement, you must have a broad knowledge of PowerShell scripts.
Troubleshooting: You must have experience in troubleshooting and resolving Azure environment performance issues, connectivity issues, security issues, etc. You should have the ability to identify and troubleshoot Azure server and PostgreSQL database-related CPU, memory, I/O, disk space, and other resources.
Networking: Networking abilities are also required in the job description for an Azure administrator. Candidates should be well-versed in networking jobs as well as the entire Azure networking stack.
Azure Administrator Job Description
Most Fortune 500 companies seek Azure Administrators with diverse expertise. Let's take a look at some of the job descriptions for Azure administrators provided by renowned companies based on the qualifications or skills we discussed above.
Azure Administrator-Tata Consultancy Services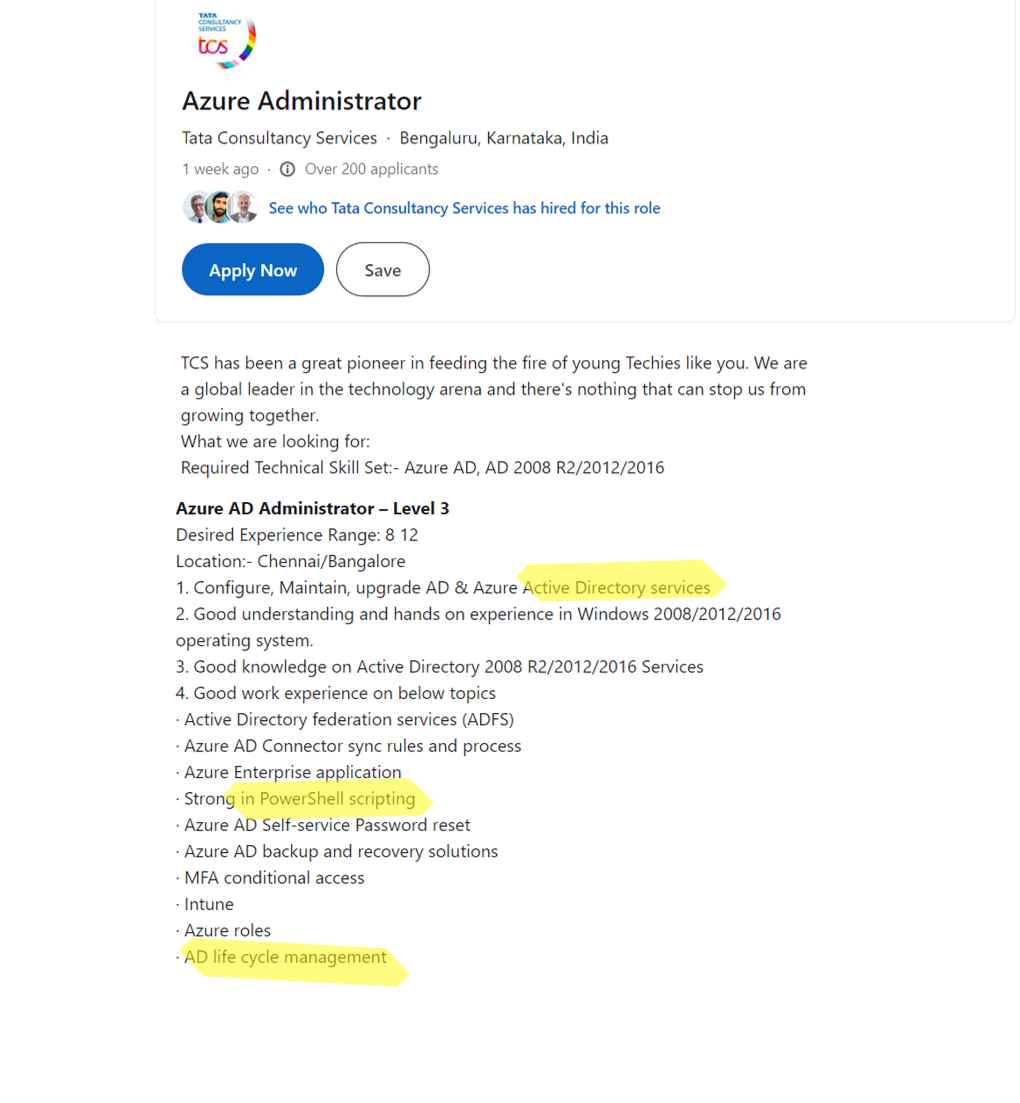 Associate Azure Administrator-RGBSI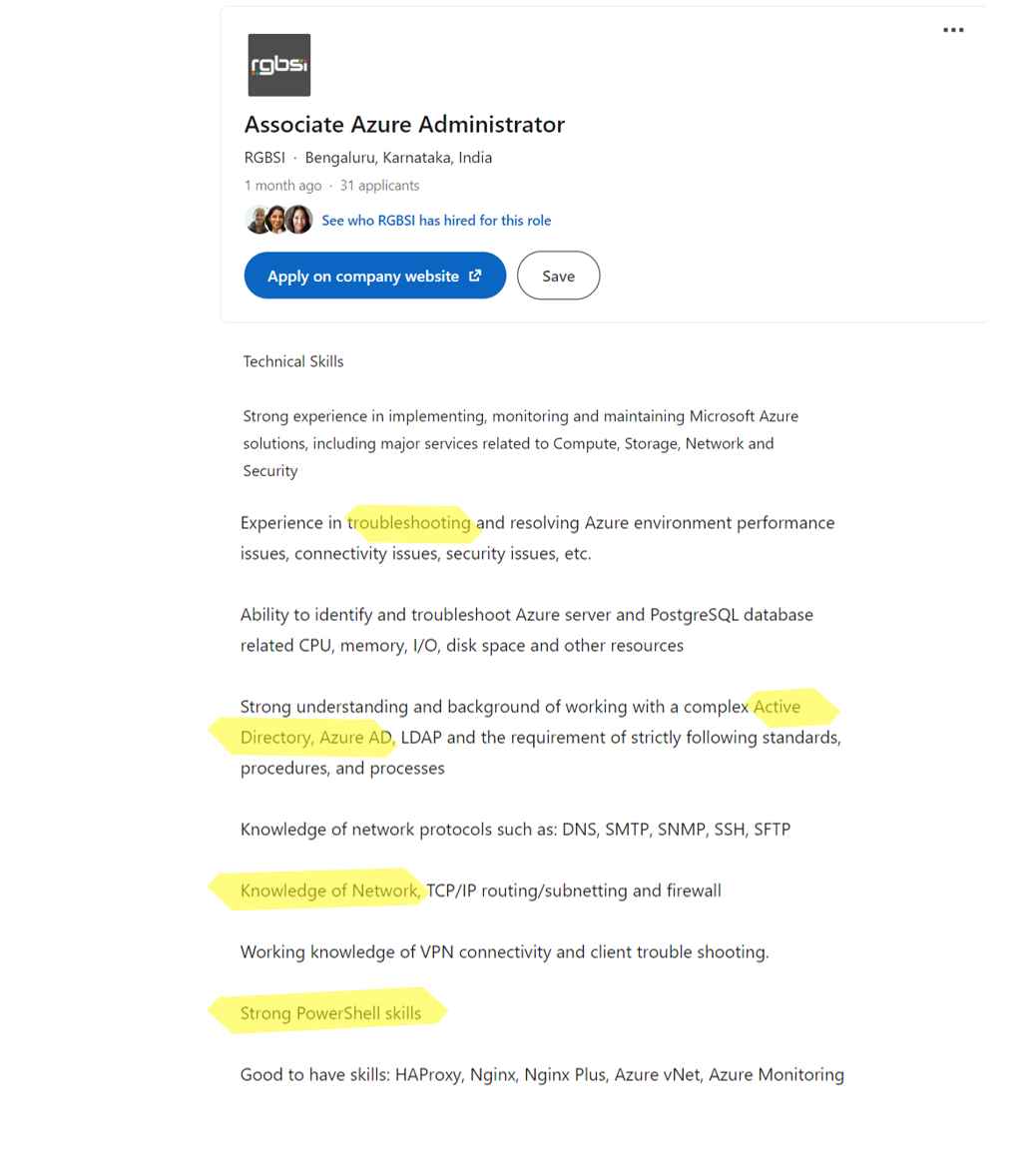 Azure Administrator-Infosys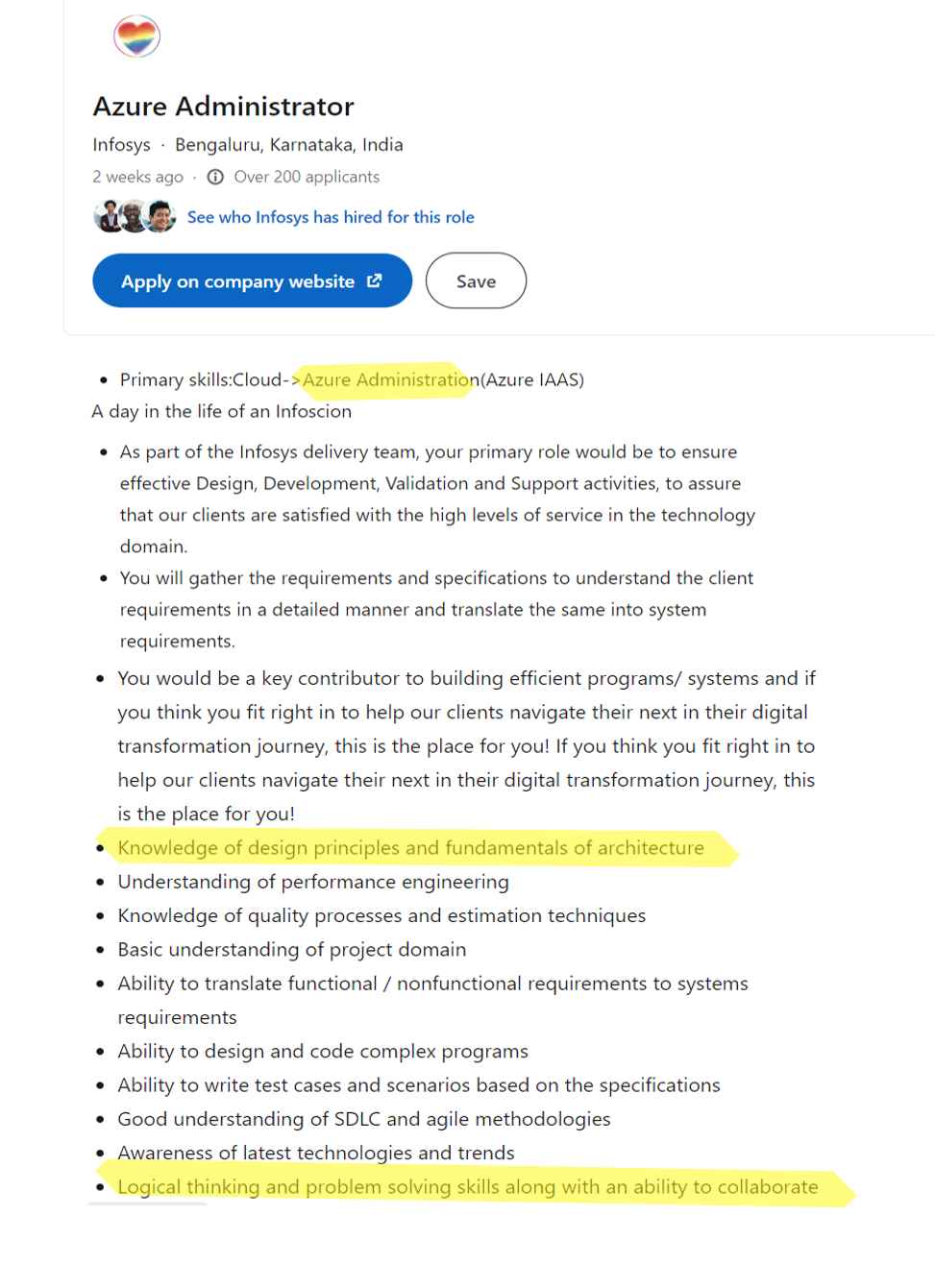 Microsoft Azure Administrator-Siemens Ltd.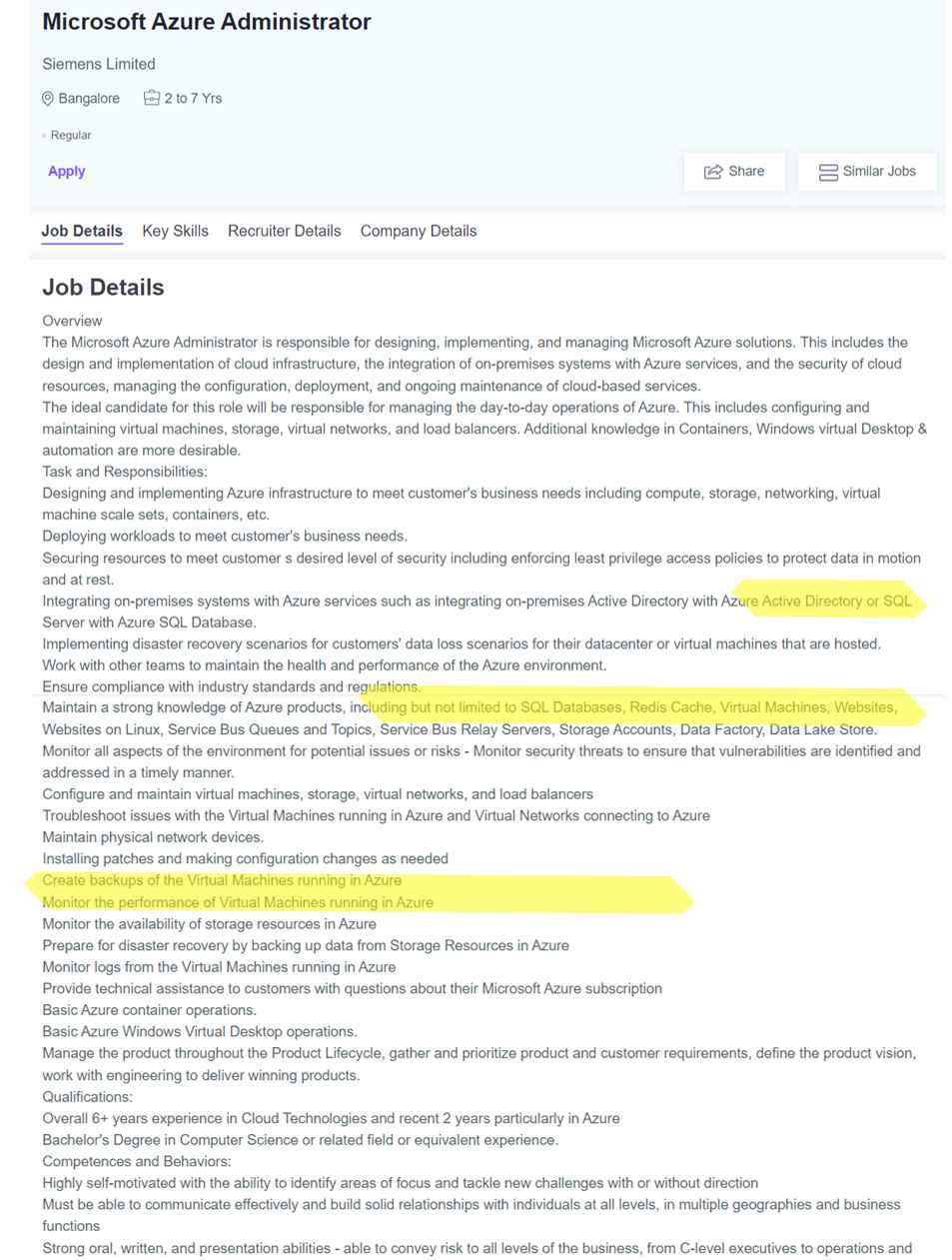 Azure Administrator Jobs roles and Salary
According to LinkedIn, there are over 51,000 Azure job openings at the top companies in the United States. In India, however, there are over 19,000 job openings for Azure expertise.
So, let's have a look at some of the most popular Azure job profiles among recruiters.
| | | |
| --- | --- | --- |
| Job Roles | Skills Required | Salary |
| Microsoft Azure Administrator | Active Directory, Azure, Linux, SQL, Automation | ₹ 7.3 LPA |
| System Administrator | SystemAdministration, Networking, Troubleshooting, Linux, Active Directory | ₹ 4.0 LPA |
| Azure Cloud Solutions Consultant | Azure, Cloud, Consulting, DevOps, Kubernetes | ₹ 13.5 LPA |
| Azure Services Sales Specialist | Azure, Windows Server, Linux Server, Azure Admin | ₹ 7.1 LPA |
| Azure Cloud Engineer | Azure, Kubernetes, PAAS, Powershell, Terraform | ₹ 6.5 LPA |
| Azure Systems Engineer | System Engineering, Linux, Networking, Troubleshooting, Windows | ₹4.0 LPA |
| Cloud Architect | Application Migration, Performance Testing, Disaster Recovery, Web Services, and API | ₹18.2 LPA |
Companies Hiring Azure Administrators
Now that we've discussed salaries and job roles, let's look at some of the top tech companies that are searching for Azure administrators, as well as their pay packages.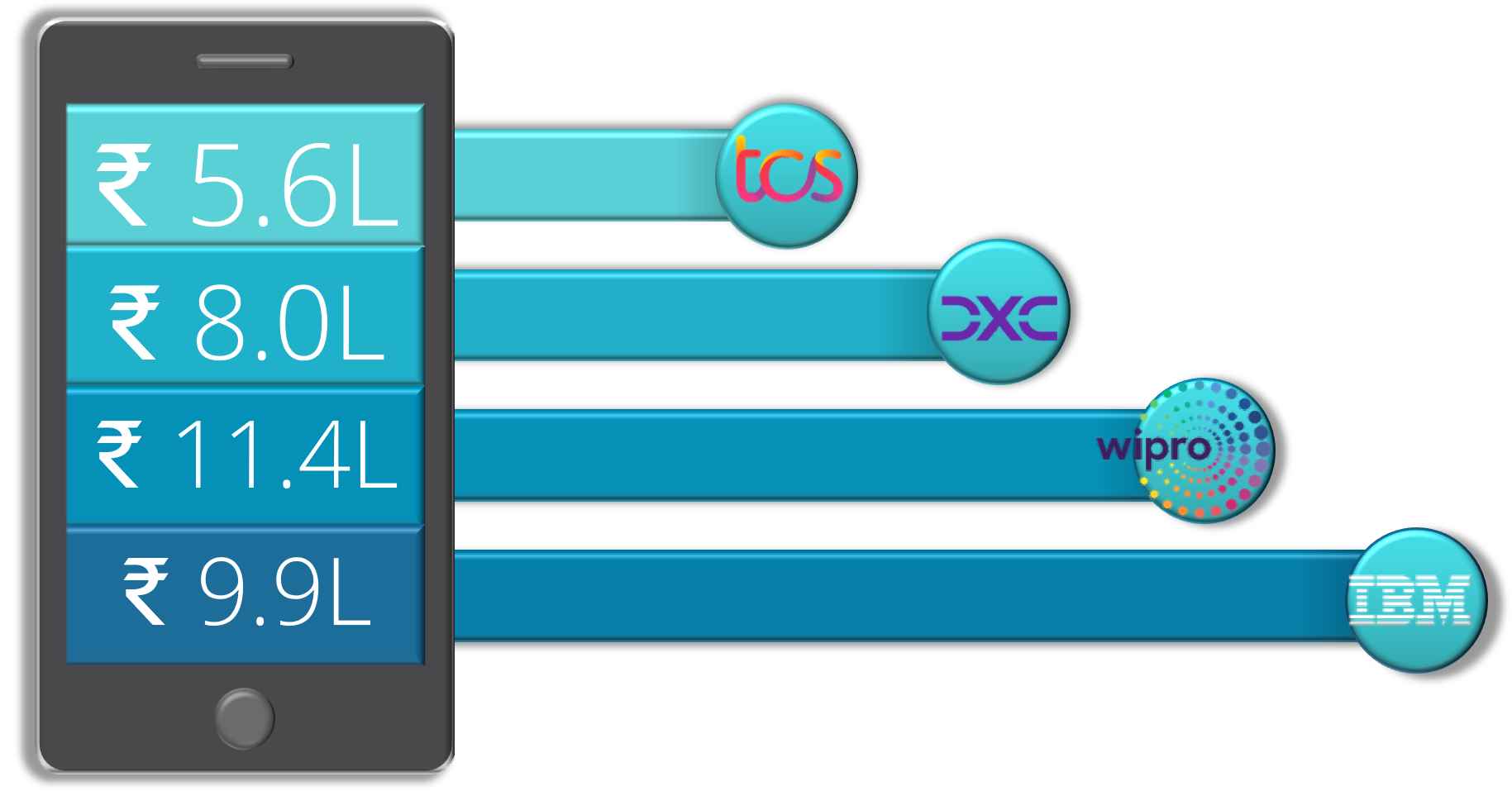 The Path to Become an Azure Administrator
If you want to work as an Azure administrator, you need to first understand the steps to becoming an Azure Administrator. The path is simple to understand and implement for your preparation, so let's take a look:

Learn the necessary skills
If you wish to pursue a career in Azure, you should have the necessary skills. Learn about the necessary abilities for it. Develop the skills and gain competence since they are needed. Most importantly, you must have fundamental cloud computing skills. You should also have extensive knowledge of role-specific abilities such as resource administration for computing, storage, networking, and security.
Get Certified
The Azure certification is one of the most crucial components on your path to an administrator job role on the Azure platform. Official Azure administrator certification is essential for demonstrating your abilities to prospective companies and clients. Earning the certification allows you to demonstrate your experience in Azure system management. Most significantly, you obtain industry-level recognition, and your earnings rise with the official Azure certification. To get started with Azure administration, take the AZ-104 Microsoft Certified Azure Administrator Associate certification exam.
Work with Real-life Projects
Finding and working on real-world project ideas is the ideal way to practice your new skills. Hands-on experience always stands out in any job interview, and this is true for Azure Administrator jobs as well. Real-world projects will show you how to develop and manage virtual machines in Azure, as well as IaaS services, tools, and architecture. You'll also learn how to use Azure APIs to manage data pipelines and combine your models.
There are numerous career prospects in Azure system administration. As an Azure administrator, candidates join an ever-expanding cloud platform that is also enjoying significant success. Most importantly, candidates can find adaptable paths to a career in Azure system administration. To help you become a certified Azure professional, Edureka offers the AZ-104 online certification training course, where you will be working on Azure services such as Storage, Virtual Machines, Cloud Services, Azure Active Directory, advanced Virtual Networking, and Secure Identities through comprehensive hands-on practice.
If you want to learn Azure in detail I suggest you to watch this YouTube video:
Reference:
https://intellipaat.com/blog/how-to-become-azure-administrator/#no3
https://www.whizlabs.com/blog/become-azure-administrator/
https://www.talent.com/salary?job=azure+admin
https://www.dotnettricks.com/learn/azure/azure-administrator-salary
https://www.glassdoor.co.in/Salaries/azure-administrator-salary-SRCH_KO0,19.htm
https://www.ambitionbox.com/profile/microsoft-azure-administrator-salary
I hope you found this Microsoft Azure Administrator Salary in India useful. The subjects covered in this blog are as per the latest facts and statistics required for professionals. If you are interested in mastering Azure, please visit our Edureka website and enroll in the Microsoft Azure Certification Training Course. The Azure training will help you develop the skills to design identity and governance solutions, data storage solutions, business continuity solutions, and infrastructure solutions.