The moment I hear the word 'Linux' a chubby, waddling, cute penguin comes to my mind. The Linux Penguin has more than waddled its way when it comes to operating systems. It has matured and blossomed since its humble beginnings in 1991. Released by a young Finnish student, Linus Torvalds, it has even reached Space Stations and has achieved legendary popularity. Linus Torvalds began a project that later became the Linux kernel. He wrote a program for the hardware he was using and wanted it to be independent of an operating system because he wanted to use the functions of his new PC with an 80386 processor.
Linus Torvalds had wanted to call his invention Freax, a morpheme of 'free', 'freak', and 'x' . But named it 'Linux', which he had in mind but dismissed it as it sounded too egotistical (Linux….Linus)
Interested in Linux Administration? Check out the Live Linux training online.
Let's take a look at how Linux has fared when it comes to career and job opportunities.
Explosive Demand for Linux Talent:
There is a huge demand for Linux talent and employers are going to great lengths to get the best candidates. The explosive demand for Linux talent is intensifying and shows no sign of slowing down. Professionals with Linux skills and cloud computing are sough-after today. This is clearly evident from the the number of job postings recorded in Dice for Linux skills.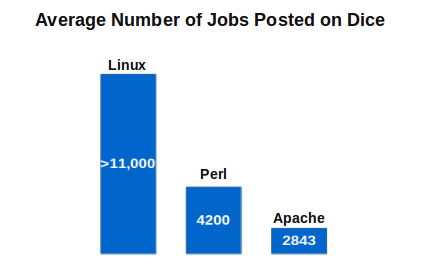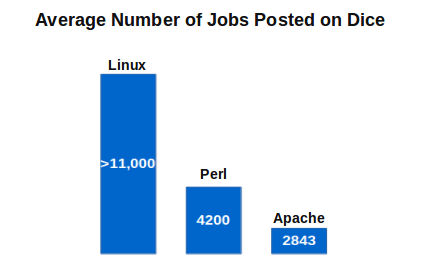 The above image is a clear indicator that the demand for people with Linux skills is increasing. Cloud infrastructure like Amazon Web Service is largely Linux-based, as a result there is an overall growth.
Linux Hiring Frenzy:
The Linux Jobs Report 2014 by Linux foundation shows a sunny picture when it come to demand for Linux skills. According to this report, it's a great time to be a developer or systems administrator with Linux experience. Here are some key findings from this report:
Hiring managers at technology-based companies are focusing more on Linux talent and this has resulted in higher than average salary to those with Linux skills.
Hunting for Linux talent was such a top priority for hiring managers that it was 77%, up from 70% a year ago.
With these set priorities, more than nine in ten hiring managers plan to hire Linux professionals in the coming months.
Forty six percent of hiring managers have plans to increase the number of Linux professionals to be recruited in the next six months, a three-point increase over last year.
Hiring managers are also looking more at professionals with formal training and certifications.

Ninety-seven percent of hiring managers report they will bring on more Linux-skilled professionals compared to other skills in the next six months.
Career in Linux:
Fifteen years ago, if you wanted a Linux job, there were just a handful of companies and even lesser opportunities, but today there are thousands of job openings. This is due to the maturity of Linux as it has proved its pervasiveness, effectiveness and has become the platform of choice for new technologies like Big Data and Cloud Computing.
According to Shravan Goli, president of Dice, the competition for Linux talent is accelerating, as the software is becoming omnipresent. Linux professionals are well positioned in the job market, with 44% of hiring managers saying there is high possibility for them to hire a candidate with Linux certification, and 54% expecting either certification or formal training of their system admin candidates.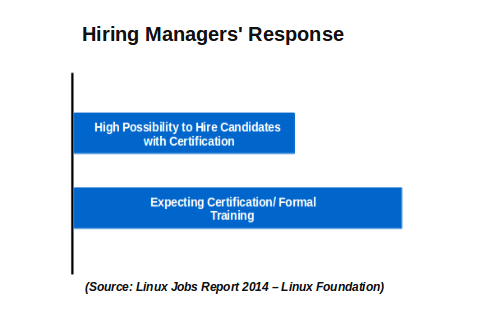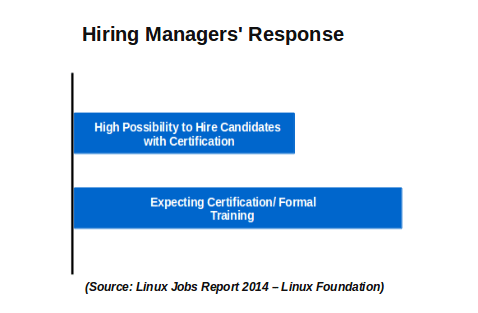 When it comes to career in Linux, there are two options; you can work towards becoming a developer or head over to the administration side. Moreover, the career opportunities are not solely based on Linux platform, it covers wide areas of application.
The areas of expertise that hiring managers are looking for are:
Desktop Application Development
Kernel & Device Drivers Development
Web Development & Deployment
Systems Administration
Systems Architecture/ Engineering
According to Linux Jobs Report 2014, hiring managers are most aggressively concentrating on the following areas;
Networking Administration
Technical Support
Web Server Administration
PERL & python Developers
Ruby on Rails
Device Drivers
Application Developers
PHP & Mysql Developers
Linux System Developer
DBA
Kernel Developers
Out of the above areas, the following are much more in demand:
Also, 86% of Linux professionals have responded that being skilled in Linux has given them more career opportunities and 64% have opted to work with Linux because of its pervasiveness.
Perks for Linux Pros:
As the demand for Linux pros is high, the organizations are offering various incentives to retain and rail in potential talents. Candidates with the right skill are being offered top incentives like:
Salary increases above the company norm
Flexible work schedules or telecommuting
Additional training or certification
According to Dice Salary Survey 2014, Linux professionals have got 5% more than the average salary for tech professionals. On top of this, they also received an average bonus of $10,336, which is a 12% hike from the previous year.
Job Opportunities:
There is no doubt that there is a huge demand for Linux-skilled professionals and when there is a huge demand, the need for well-trained developers and administrators rises just as steeply. In short, Linux has continued to positively impact corporate bottom lines and companies really want Linux-savvy employees and they want them now.
Many Fortune 500 companies have migrated to Linux and open-source softwares and looking for the right skills. The various job positions that require Linux skill are as follows:
Linux Administration

Security Engineers
Technical Support
Linux System Developer
Kernel Developers
Device Drivers
Application Developers
Here's a list of various areas and their corresponding designations given to Linux professionals.
Considering how high up Linux skill is in the list of priorities of hiring managers and coupled with other strong indicators, Linux is here to stay! Not just stay, there are sure-shot signs of it continuing to grow. Linux skill has survived two recessions and still shows good growth. All-in-all it is a good time to be associated with Linux.
Got a question for us? Please mention them in the comments section and we will get back to you.
Related Posts:
Gear up With Linux Fundamentals