Many of us stumble upon the same question, "as a beginner, should I learn Python 3?" If you are seeking the answer too, read this article, as I unravel what Python 3 has to offer. Programming using Python 3 has become the next-gen skill to acquire. No doubt, most entry level programmers are inclined towards completing Python Programming Certification. With rich features and vivid functionality to offer, Python 3 has taken the programming community by storm.
I have covered the following topics to help kick-start your journey to learn Python 3.
What is Python 3?
Python is a free open source, multi-purpose programming language, created by Guido Van Rossum in 1991. Since Python's first release, the language has gone through many changes and improvements. It was built as a successor to programming language ABC. Python's primary advantage was that it had the capability to handle exceptions and interface with an operating system named 'Amoeba'. With time Python language has evolved and grown manifolds. It's time to study Python 3 language in detail.
Why Learn Python 3?
Python has a range of advantages over other programming languages. I have covered a few important advantages of Python, below.
Python supports the re-usability and flexibility of programs. Python supports numerous modules, making easier to implement programs under domains like data analytics, machine learning, artificial intelligence, deep learning, etc.
When compared to other programming languages, Python is reliable and has rich support from its community. It's interpreted nature adds to it being portable and time efficient.
Python follows clear structural specifications for writing its code, making it easy to read and edit. It redefines the cleanliness of code and doesn't follow the traditional programming syntax.
According to recent surveys, it was concluded that Python is the most demanding programming language in the IT market. To start learning Python, you may consider reading more about the Python Institute's PCAP certification and the career path to being a master in Python.
Now that we have spoken about Python 3 features, let us scoot towards a comparison between Python 3 and its predecessor Python 2.
Comparison: Python 2 vs Python 3
After its release in 2008, Python 3 has evolved way more than its predecessor Python 2. Answering whether Python 3 being better than Python 2, is a no-brainer.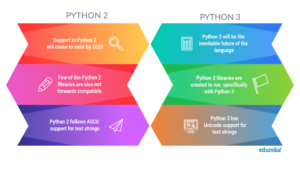 I have described the key differences between Python 3 and Python 2 below:
For example, look at the difference between the print function syntax for Python 2 and Python 3, as stated below.
The latest release of Python is Python 3.6.1. Few key features from the latest release are given below:
We've studied the differences that Python has with its predecessor. Now, it's time to talk about the competitors of Python 3.
Python 3 and its Competitors
Learning the basic differences between Python and the other leading languages like Java, R, Go Lang would help garner Python's upper hand over others.
It is easy and efficient to read Python code. Python also comes bundled with a single line HTTP server setup capability. Whereas Java is complex and it has higher compile time and memory usage.

Python 3 is faster in the execution of shorter codes. R is a programming language that supports the statistical analysis and data mining. Hence it is a field-specific language. R has limitations when it comes to developing web applications.
Python 3 has wide support of packages that allow applicability across different platforms. Go lang has its applications more inclined towards system programming, cloud computing, and web development. Henceforth Go Lang has field-specific applicability.
The graph below shows the top 8 most wanted programming languages and their requirements in the IT market.
Having said that, let me shed some light on the valuable features of Python 3 in detail.
Features of Python 3
Python 3 offers rich functionality making it the most appropriate for solving real-life problems. I have written down a few important features of Python, below:

Let us understand each of these features in detail.
Python is an open source language and is free for use. Download the Python environment from the Python global webpage – http://www.python.org.
Python is portable and can be executed on any platform. Python 3 stores code as a byte code before it is interpreted on a platform.
Python code doesn't need to be compiled. It is interpreted on the machine, it has been executed on.
Python has features of an object-oriented as well as a procedural programming language. It supports the usability of functions, classes, and objects. An object-oriented approach strengthens the diverse application of Python in various fields.
Python is fast to execute and run. It is efficient to develop and maintain scripts in Python. Python's code is easy to read and it's indentation approach keeps the code clean.
Python supports the usability of an array of open source libraries that can be used to implement technologies like Machine learning, Data analytics, Web design, etc.
Few of Python's packages have been described below:
Used to facilitate array handling and complex matrix functions
Used for real-time digital image processing
Used for data analysis
Used for visualization of data
Used to develop applications using Machine learning
Used to build GUI applications
Python has numerous array of applications. Let's have a look at the applications that you can build with Python 3.
Python 3 Applications
Few of the most important domains in which Python is used to develop applications is described below: