The job of Kubernetes Administrator has seen increasing demands over the years, with packages soaring to new highs. In India, a Kubernetes Administrator earns an average of 9.6 LPA. The salary range increases based on skill level and experience. The salary for a Kubernetes Administrator ranges from 4 LPA to 24 LPA and can be considerably higher with more experience. So, for this blog, let's begin by discussing and understanding the role of the Kubernetes Administrator, where we will be discussing the following topics:
Kubernetes Administrator Salary in India
The Kubernetes Administrator role has attracted lots of interest, mostly because of the salary it offers. Because of this, it has motivated many individuals to choose this career path. According to Glassdoor, the national average salary for a Kubernetes Administrator is 10.13 LPA, with 6 LPA being on the lower end, and on the high end, one could earn up to 16 LPA per annum.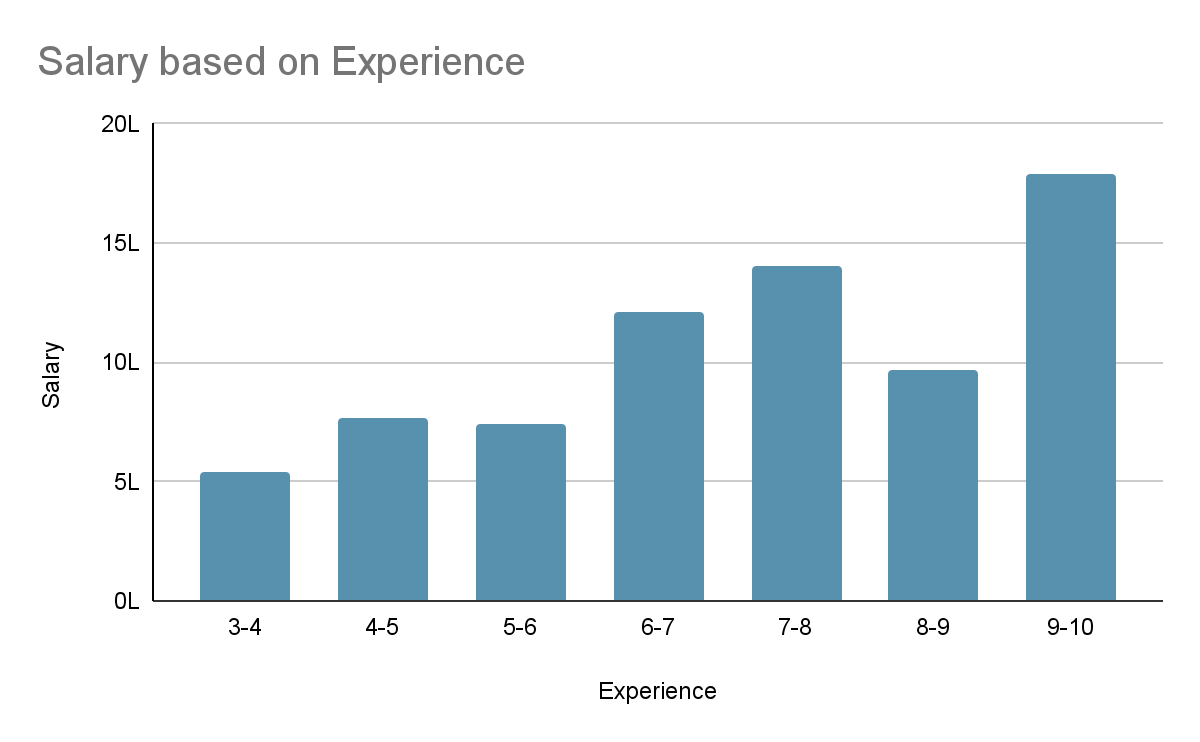 Depending on the experience level, a Kubernetes Administrator with a minimum of 3 to 4 years of experience can make up to 5.4 LPA. A mid-level Kubernetes administrator with 4–7 years of experience can expect to make 12.1 Lakh per annum. A senior-level Kubernetes Administrator with more than 7 years of experience can go on to make a maximum of 17.9 lakh per annum. These numbers show that there is a need in the market for this job and the bright future that this position holds.
Top Skills for Kubernetes Administrators
A Kubernetes-based career requires proficiency in some tools, which are mostly cloud-related. You must be familiar with the UNIX and Windows environments. You should also have knowledge of how to operate Jenkins, AWS, Kubernetes, and Linux administration. Let's look at the primary skills required for becoming a good Kubernetes Administrator.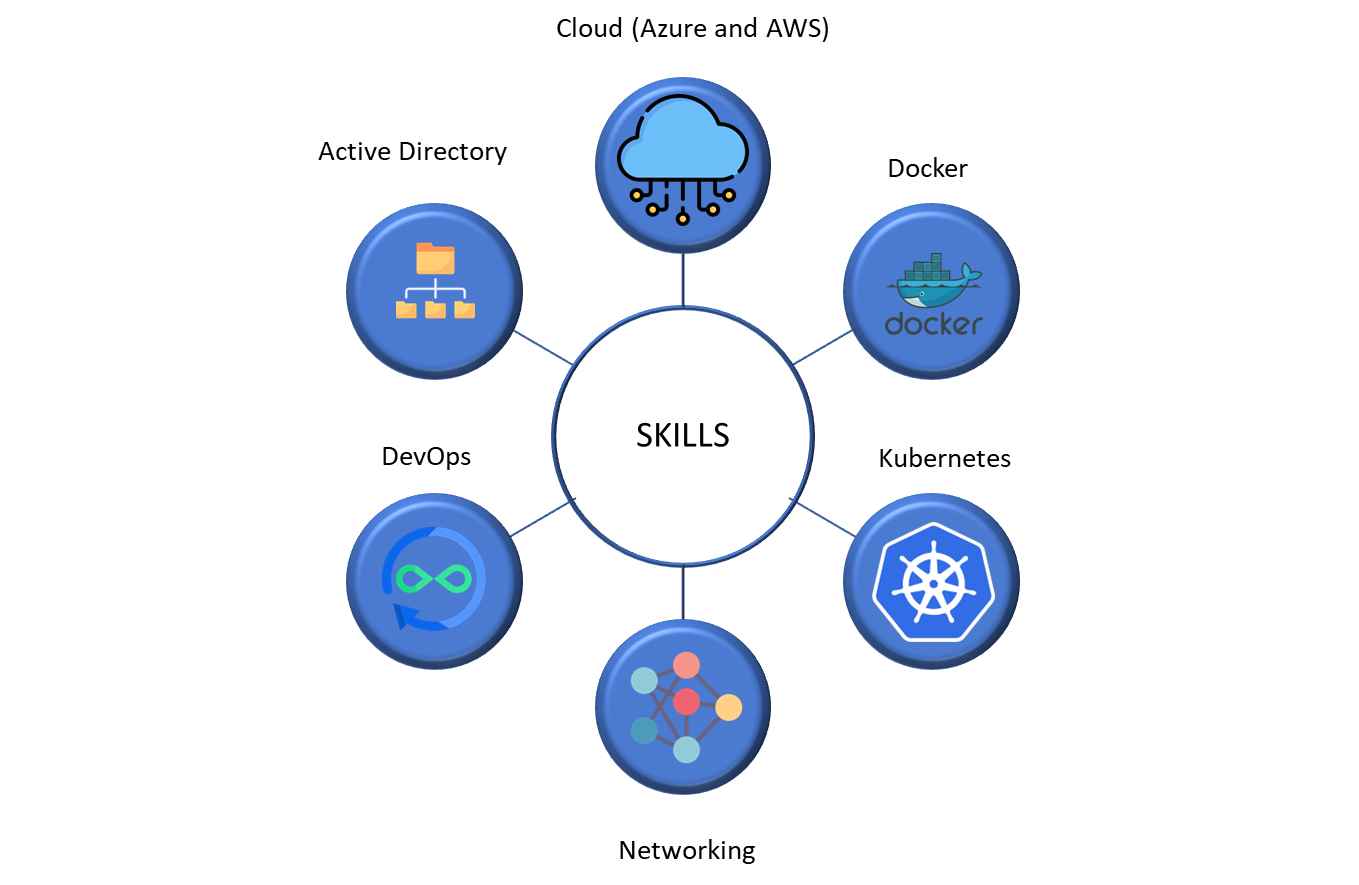 Active Directory: Active Directory is a set of services and databases that connect unique users with network resources. You should have strong experience and understanding of this as it plays an important part when dealing with Azure Active Directory and LDAP. Since Kubernetes integration with Azure follows a very specific set of steps, it is good to have a good understanding of Active Directory.
DevOps: DevOps essentially integrates the processes between software developers and IT teams. It is a set of practices, tools, and philosophies that aim to provide a better workflow. In a cloud environment, Kubernetes plays an important role. However, it is possible for Kubernetes administrators to also know some aspects of DevOps and implement them if need be. It is also good to have a Certified Kubernetes Administrator certification to increase your chances of getting the first interview.
Networking: Knowledge of networking in Windows and Linux are integral to the job of Kubernetes Administrator. On top of it, you should also have knowledge of configuring and administering monitoring tools on Kubernetes clusters such as Prometheus or Grafana. Infrastructure provisioning, maintenance, monitoring, and upgrading is also good to know for Kubernetes administrators. It is also expected that you are proficient in TCP/IP networking and network management for this position.
Kubernetes: Management of Kubernetes clusters is the core responsibility of the Kubernetes Administrator role. You should be familiar with Kubernetes monitoring and load management. It is good to have experience with handling multiple Kubernetes clusters under a single umbrella and with deploying stateful applications.
Docker: Docker is an important tool for Kubernetes Administrators which is mostly used for containerization and virtualization. In some ways, the tools used in DevOps are also the tools used in Kubernetes Administration. So it is good to have knowledge of automation and configuration management frameworks such as Ansible, Puppet, and Chef.
Cloud (Azure and AWS) : Most of the things that run using Kubernetes operate on the cloud infrastructure. Most companies operate either on AWS or the Microsoft Azure cloud. So, it is good to have troubleshooting and deployment experience using these cloud providers. It is also necessary to have extensive experience in building and maintaining large-scale distributed clusters, both on custom-created clusters and on cloud services.
Kubernetes Administrator Job Description
Most renowned companies are looking for a Kubernetes administrator with diverse experience in similar fields. Let's look at some of the job descriptions for Kubernetes administrators based on the qualifications or skills which we have discussed above.
Kubernetes Architect & Engineer-Millennium IMS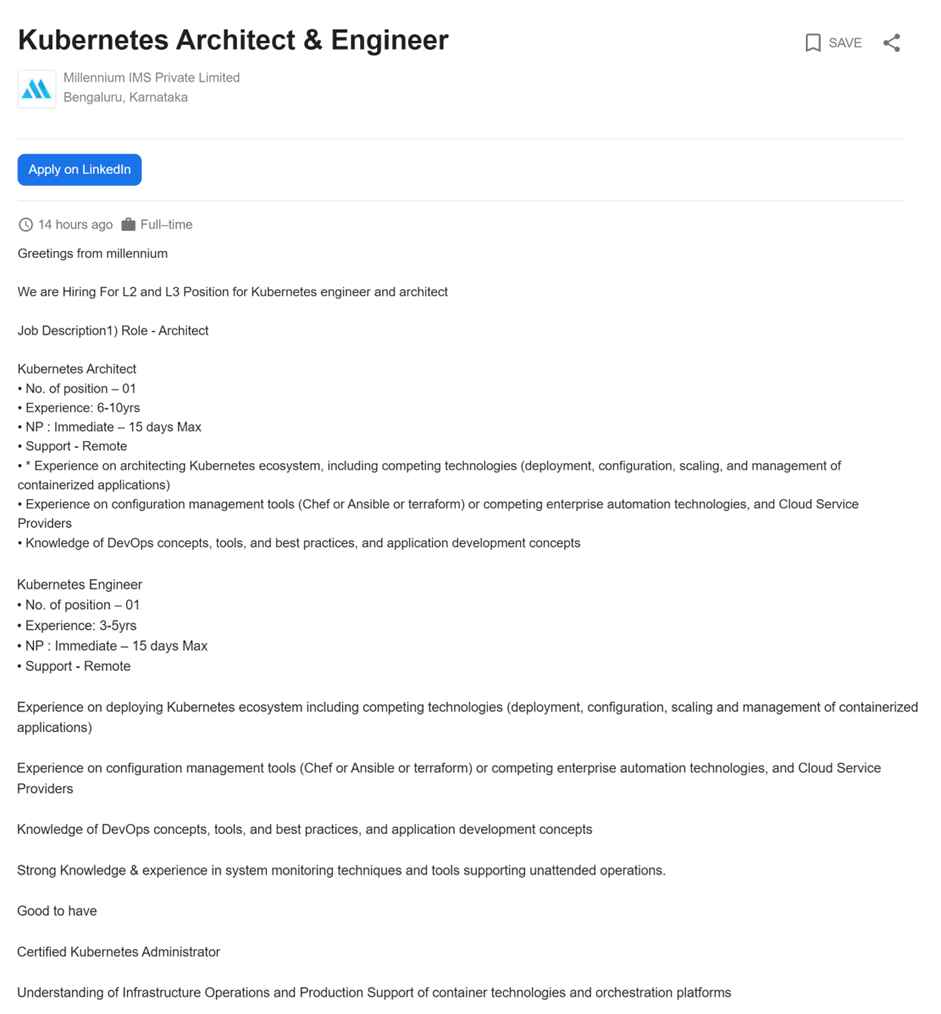 Kubernetes/OpenShift Administrator-TCS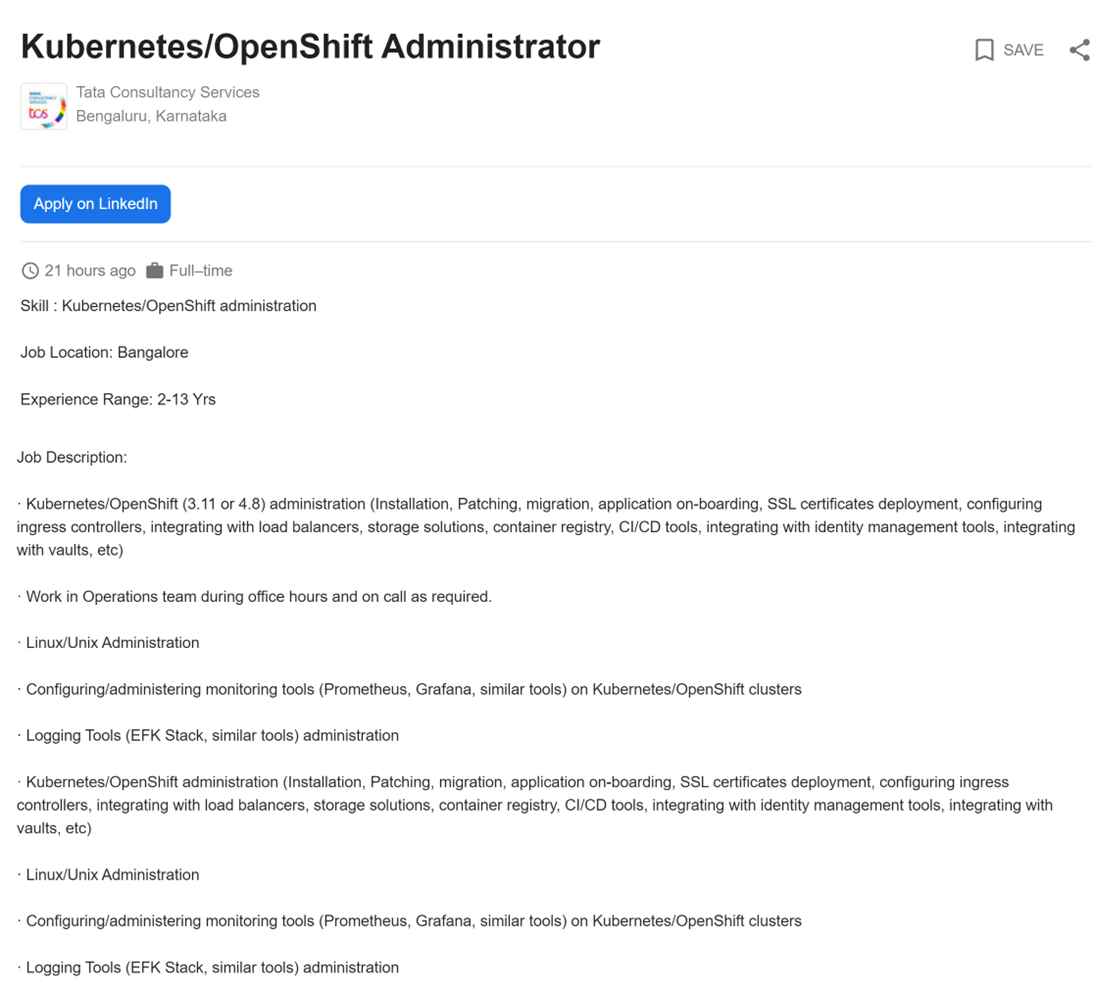 DevOps Engineer with Kubernetes Administration & Infrastructure Provisioning – Cisco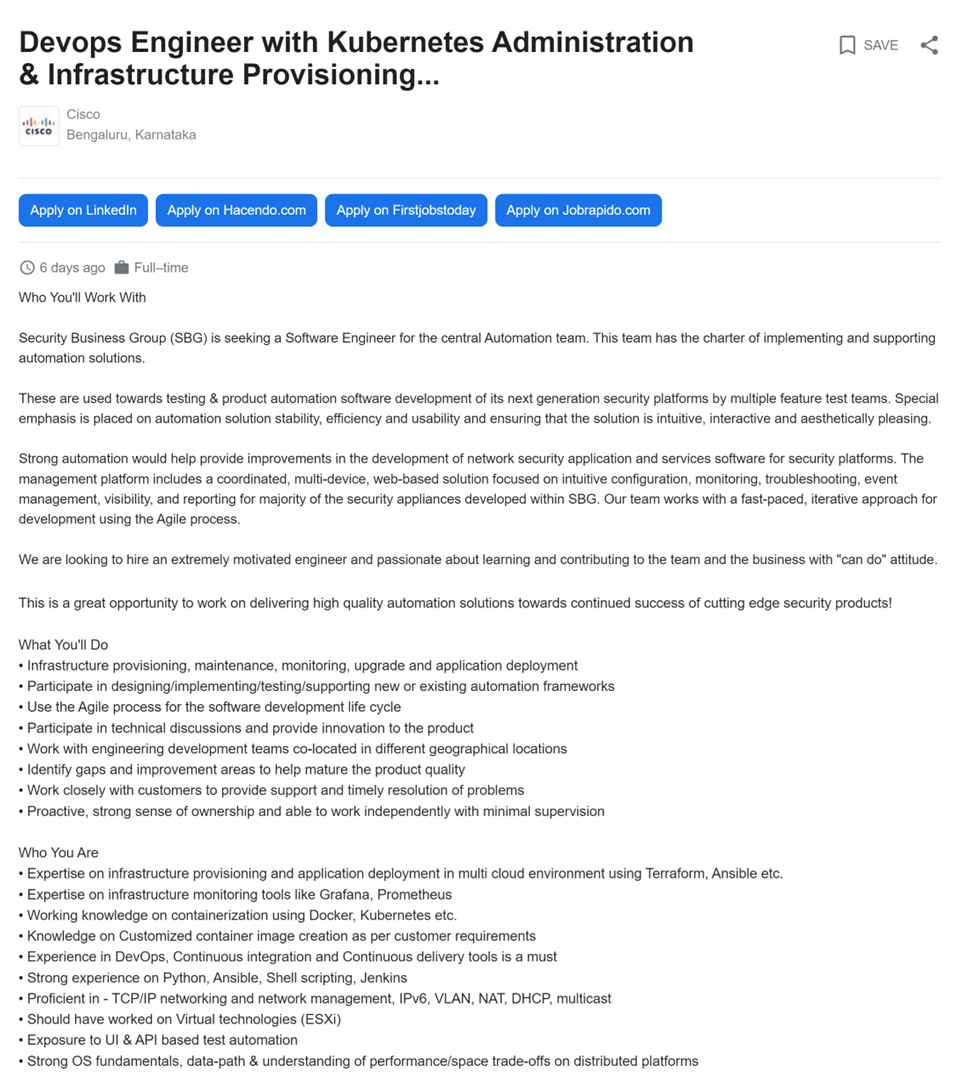 Senior R&D Engineer-Kubernetes Administrator-ABB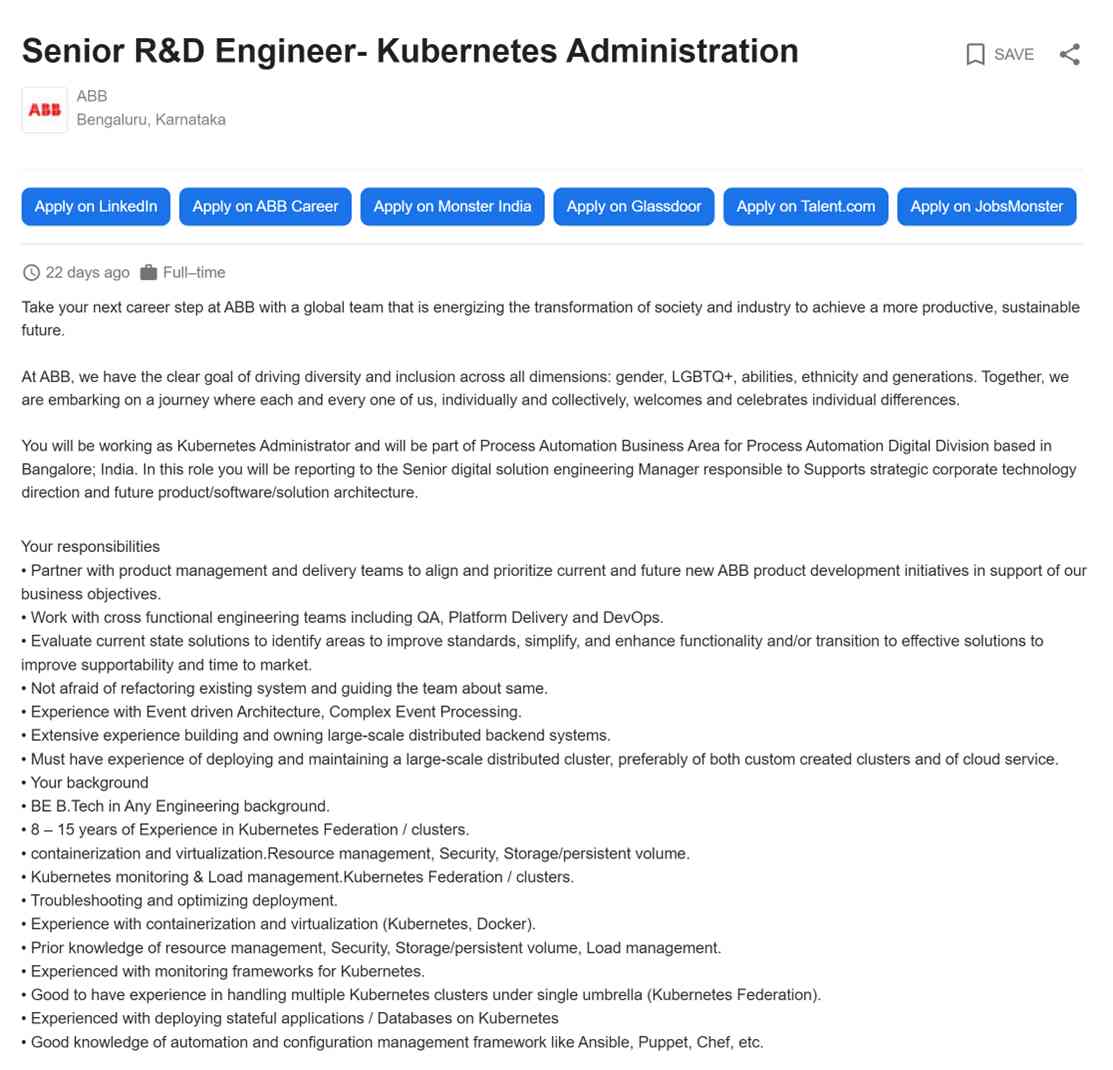 Kubernetes Administrator Job Roles and Salaries
About 73,000+ Kubernetes Administrator job openings are in the United States according to LinkedIn data. However, in India, that number is somewhere around 15,000+ jobs specifically related to Kubernetes Administration.
We will go ahead and look at some of the most popular Kubernetes Administrator job profiles among recruiters.
| | | |
| --- | --- | --- |
| Job Roles | Skills Required | Salary |
| System Administrator | Active Directory, System Administration, Troubleshooting | ₹ 4.0 LPA |
| Oracle Database Administrator | Database Administration, Performance Tuning, Oracle DBA, Unix, Monitoring | ₹ 6.0 LPA |
| Senior System Administrator | VMware, Troubleshooting, DNS, Active Directory, System Administration | ₹ 7.0 LPA |
| Linux System Administrator | Linux System Administration, DNS, Redhat Linux, Apache | ₹ 7.0 LPA |
| Network Administrator | Network Administration, Firewall, Networking, Switching, WAN, LAN, Routing | ₹ 4.5 LPA |
| Senior Administrator | Administration, Windows, Troubleshooting, Networking, Virtualization, Monitoring, Unix, Perl | ₹ 8.2 LPA |
| Windows System Administrator | Windows System Administration, Active Directory, DNS, VMware, DHCP, Windows Server | ₹ 4.1 LPA |
Companies Hiring Kubernetes Administrators

We looked at salaries and job roles above, in addition to the skills required for the Kubernetes Administrator position. Now, let's look at some top companies and how much they are paying for the role of Kubernetes Administrator.
The Path to Becoming a Kubernetes Administrator
You can try to become a Kubernetes Administrator by getting an understanding of the fundamentals. Once you understand them, you can start implementing those fundamentals with some real-time projects. Let's see how you can get started on your journey to becoming a Kubernetes Administrator.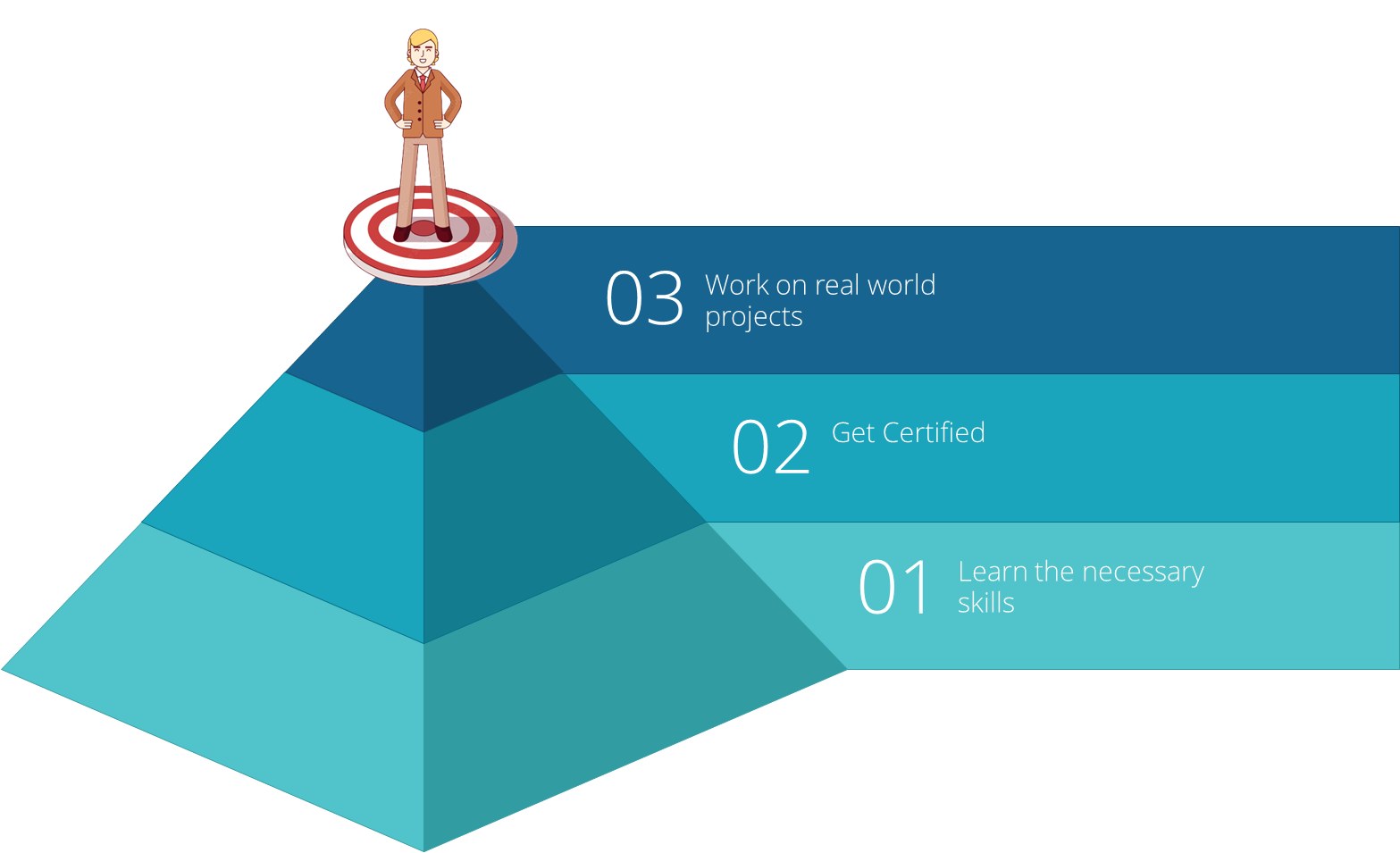 Learn the necessary skills
Starting any journey requires knowledge of the basics. Therefore, get a deep understanding and create a foundation. Develop your skills and apply what you learn. Keep notes and, most importantly, get acquainted with the cloud computing environment. Moreover, being a Kubernetes administrator means that you know other tools as well, such as Docker and Jenkins. You should ideally be good at grasping both the Azure and AWS infrastructure. Learn more and do basic projects to get you started.
Get Certified
If you can get certified, it would help show the recruiters that you have some knowledge of Kubernetes. This is good to showcase your fundamental abilities to understand Kubernetes and how you can manage the environment. This will also enable you to demonstrate your abilities in relation to the Kubernetes Administration. You can also get certified by industry-level certifications to showcase your expertise in understanding how to administer Kubernetes. This is also useful for DevOps, and one could also use the knowledge from Kubernetes administration for DevOps.
Work with Real-life Projects
Understanding the concepts is one thing, and implementing them is entirely different. So, it makes sense for you to do real-life projects. Not only do they help you to It helps you to understand how things work in the real world and how small parts connect together to form a big project. For the administration of Kubernetes, you can start by creating Kubernetes clusters, and start using Jenkins to automate deployment. You can also add these projects to your portfolio and showcase your work to potential employers.
Conclusion
The path to becoming a Kubernetes Administrator is not only attractive in terms of salary, it also opens up new doors for you in the IT industry. The cloud infrastructure is ever-expanding, and this has opened new jobs in various segments inside it. Although the Kubernetes administration is a small part of it, it is clear that Kubernetes is here to stay. As a Kubernetes administrators, candidates will get to experience the ever-changing and expanding cloud network and its management. To help you become better at Kubernetes, Edureka offers a Certified Kubernetes Administration program. Here, you will get to understand and learn how to set up your own Kubernetes clusters, configure networking among pods, and secure it from unauthorized access, with hands-on demonstrations. If you wish to learn Kubernetes in detail then I suggest you watch this YouTube :
Kubernetes Tutorial | Edureka
I hope that you found this blog useful about Kubernetes Administrator Salary in India. The topics discussed in this blog are based on knowledge and facts from industry professionals. If you are interested in the administration of Kubernetes, please visit our Edureka website and enroll in the Kubernetes Certification Training Course. This Kubernetes course helps you in clearing the Certified Kubernetes Administrator (CKA) Exam in the first attempt. This interactive CKA certification is created to help you learn how to set up your own Kubernetes Cluster, configure networking between pods and secure the cluster against unauthorized access. This Kubernetes training online is live, instructor-led, and helps you master key Kubernetes concepts, with hands-on demonstrations which in turn helps you be a certified Kubernetes professional with Edureka.