Let's start off with a brief introduction about what ITIL is actually about. ITIL (formerly known as the Information Technology Infrastructure Library) is a set of practices for IT service management (ITSM) that focuses on coordinating IT services with the needs of the business. ITIL describes processes, procedures, tasks, and checklists which are not specific to the organization. These standards can be implemented by an organization to initiate integration with the organization's strategy, delivering value, and maintaining a minimum level of capability. It allows the organization to establish a baseline from which it can plan, implement, and measure. It is used to demonstrate compliance and to measure improvement.
ITIL was first developed in Great Britain almost 20 years ago to create a set of definitive best practices for use in government data centres. Since then ITIL has been adopted, revised and expanded into an extensive framework for managing IT service delivery in organizations of all sizes and across industries. You can even check out the details of PRINCE2 with the PRINCE2 Foundation.
Let's discuss about the pros of ITIL Certification for professionals and enterprises:
Key Benefits of ITIL Training For Enterprises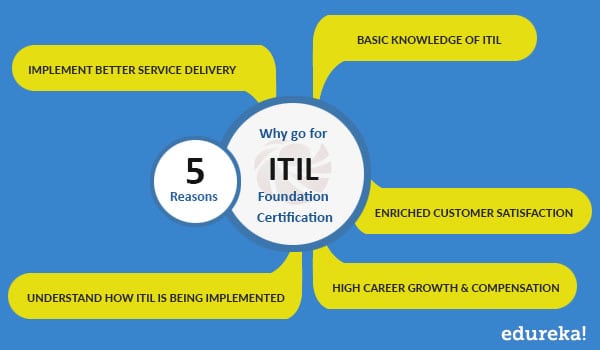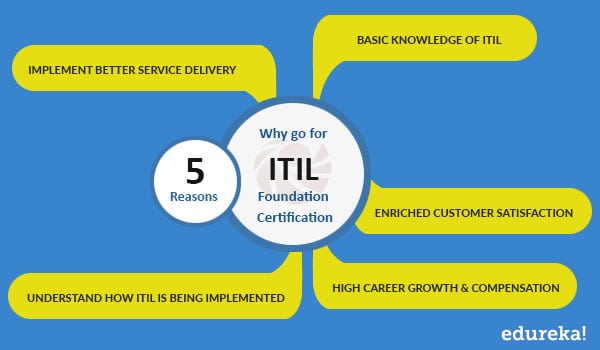 ITIL is now considered to be widely accepted and most approached best practices in the service management industry and has been implemented by countless organizations across the globe. The numerous benefits of ITIL certification make it highly popular and in-demand. Its in-depth knowledge in several areas like service lifecycle sets it apart from other IT service management accreditation.
Here are some of the benefits of ITIL for enterprises:
1. Better perception of IT within business:
ITIL framework helps IT professionals to identify processes, prioritize and manage service improvement opportunities to achieve business needs.
2. Common vocabulary:
With ITIL knowledge, there will be a common vocabulary for ITSM (IT Service Management) so that there are no lapses due to miscommunication.
3. Highly Efficient Team:
ITIL certified employees can automate standard tasks and apply best practice principles to ITSM processes and thereby improve the efficiency of the processes and tasks.
4. Improved Customer Satisfaction:
The ITIL framework empowers ITSM professionals to provide service when and wherever needed and deliver the needs and expectations of customers.
5. Proficient Change Management Team:
The ITIL framework helps in coming up with clear communication avenues for forthcoming releases, which helps to announce new and updated IT services.
6. Lesser disruption of IT services:
The ITIL framework ensures alternate service options are in place to reduce the impact of business outages due to various reasons, as any disruption can negatively impact the organization.
7. Forecast and respond in a cost-effective way:
By using demand management and capacity management techniques from the ITIL framework such as user profiling, off-peak pricing and modeling, certified employees can provide an optimal level of capacity and manage fluctuating demand.
8. Supports New Technology Trends:
ITIL not only supports the existing IT infrastructure but also supports new and upcoming technology trends like the SMAC technology stack.
9. Applicable for Non-IT purposes:
The ITIL methodology for ITSM can also be applied to non-IT business functions, such as facilities, HR, customer service/support, training and financial services.
10. Goes Well With Project Management:
ITIL can be combined with project management methodologies for progressives business outcomes. ITIL helps project management while starting a project.
Why go for ITIL Foundation Certification:
IT is getting constantly updated with new technologies and certification is one of the ways for IT professionals to be up-to-date with the current trends and be open to new opportunities. The Information Technology Infrastructure Library (ITIL) has become the most tangible standard for IT service management frameworks and an ITIL certification will validate your skills and give you the extra edge in your career.
Organizations are looking for ITIL certified professional as they have a wide understanding of the IT scene and can detect any trouble spots quickly. ITIL certification is a valuable credential for IT project managers, who are in the IT service sectors.
Here's is a list of reasons for you to for ITIL Foundation certification:
The certification will give a basic knowledge of the concepts, theories and principles of IT Service Management.
Understand how ITIL is being implemented:
The training will help you understand how ITIL® is implemented in the organization and as a result enhance your performance.
High Career Growth & Compensation
Certified professionals stand apart from the crowd because of their knowledge and skill. As a result, they get better compensation. Their expertise makes them much more preferable than non-certified ones.
Implement Better Service Delivery
ITIL helps the organization in numerous ways, like improving quality and reducing costs by using people, process and technology optimally. ITIL® provides consistency in all of its management process thereby increasing the efficiency in service delivery.
Enriched Customer Satisfaction
ITIL regulations support the service providers to deliver service persistently on Service Level Agreements (SLAs). With the help of ITIL, professionals will be able to recover service faster and ultimately reduce the interruption time of service provided to the customers.
ITIL Job Trend Comparison:
ITIL is quite popular and in demand, but how does it fair with the others? Let's see how ITIL is doing compared to other similar frameworks. The following comparison is from Indeed, which compares ITIL with other frameworks like Cobit and CMMI.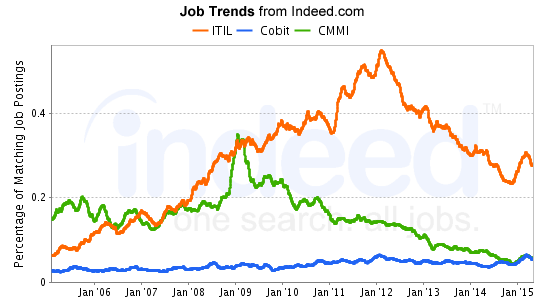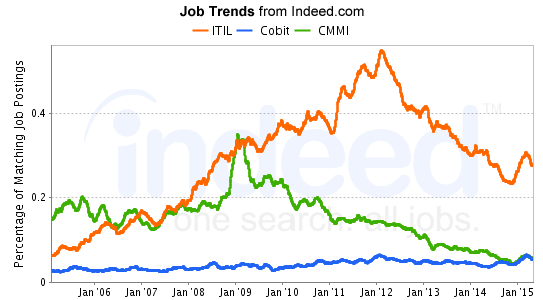 It is pretty evident that ITIL is doing exceedingly well and getting trained in it will be beneficial to your career.
ITIL Salary and Comparison:
According to the 2015 IT Skills and Salary Survey conducted by Global Knowledge and Windows IT Pro, ITIL is one of the top 10 paying certifications. If you're looking for better compensation, then ITIL is the best skill/certification to add to your resume.

According to Indeed, the average salary for an ITIL professional is 121% higher than the average salary of a CMMI professional.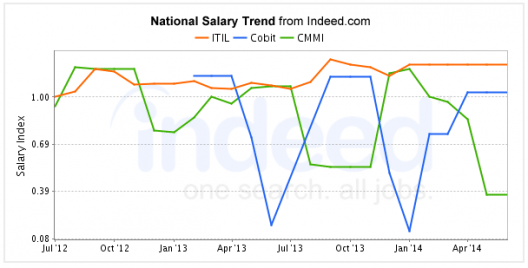 Need more reasons to get certified in ITIL? Read on…
Job Titles that require ITIL Skills:
There are numerous job titles and openings, based on your experience; like 'Entry Level' and 'Mid-Level'. The job titles for them are as follows:
Entry Level:
Process Coordinator
Incident Coordinator
Change Coordinator
Configuration Analyst
A Process Coordinator has the responsibility of making sure that the administrative activities in a process are carried out as planned.
Mid-Level:
Problem Manager
Release Manager
Service Desk Manager
A mid-management level professional will be responsible for managing processes from end-to-end and will have coordinators reporting to them. They would be held accountable for assuring that activities in service management are adhering to the processes.
Here are some more job titles for professionals with certification:
ITIL configuration Manager
ITIL Release Manager
IT Developer
IT Engineer
Project Manager
Business Analyst
Virtualization Architect
SQL DBA
IT Reporting and Metrics Analyst

ITIL trainer
Companies Looking for ITIL Foundation skills:
Previously, only large organizations implemented ITIL framework, but now many small and mid-sized businesses are realizing the advantage of having ITIL-certified employees. The major reason being, no organizations want its IT projects to fail, and small companies cannot afford the loss of productivity, time and money due to poor management and lack of processes.
Here are some companies, both big and small looking for skilled ITIL professionals:
Novant Health
Unisys
Brown Brothers Harriman
Trinity Industries
HP
American Express
General Dynamics
Takeda Pharmaceuticals
Accenture
The World Bank

EMC
Who can go for ITIL Foundation Course:
ITIL is ideal for every aspiring professional who wants to make their career in IT Service Management sector. ITIL is for professionals who would like to know how to enhance the quality of IT service management within an organization. CIOs, IT Managers, System Administrators, IT support teams, Database Administrators, System Analyst, Application Management Team, Application Development Team, Process Owners, Process Practitioners and anyone who needs to be informed about and thereafter contribute to an ongoing service improvement program can definitely go for this certification.
It is not necessary for IT managers, architects and engineers to be ITIL masters but a basic knowledge in ITIL framework can help them understand and support the process.
Prerequisites for ITIL Foundation Certification
Anyone working in an IT service delivery, service management or service desk environment or where IT services are a core competency can take up this certification. Prior Knowledge in IT is sufficient for undergoing the examination. Depending on your professional experience, ITIL® will give you various results.
What's Next After ITIL Foundation Certification – ITIL Career Path:
Many large international organizations such as Microsoft, IBM, Atos, Caterpillar, Shell Oil, Boeing and many more have implemented ITIL and have reported great success, resulting in a huge demand for ITIL skills. Employers are on the look out for professionals with ITIL Course to manage their ITIL framework. So this is the right time to get trained in ITIL Foundation for a phenomenal career growth and job opportunities.
Got a question for us? Mention them in the comments section and we will get back to you.