Hi, I am an IT Professional with 8 years of experience as a database developer. I have working knowledge of shell scripting, though I am not well-versed in Java. I am passionate about emerging technologies and would love to learn Hadoop, as I come across great job opportunities in Hadoop. Do I need to master Java or Python/Perl to get into Hadoop? Please suggest. Thanks!
Time and again, these questions are asked regarding Hadoop and its potentials jobs. In our posts that talk about- Why Hadoop and What is Hadoop all about we answer the basics as to what is Hadoop known for and why you should opt for something as robust as Hadoop. Here, we move on to answering other crucial questions that need immediate answers. This blog attempts to answer questions that every aspiring Hadoop professional wants to know- career, top Hadoop employers, salary structure, job titles, career growth and so on. Are you looking for real-time experience in HDFS commands and concepts, then this Online Big Data course will help to get a real-time project experience from Top Industry Experts.
Here are some facts from IDC that favour the incredible growth of Hadoop and Big Data:
Research firm IDC is predicting a Big Data market that will grow revenue at 31.7 percent a year until it hits the $23.8 billion mark in 2016.
An

IDC forecast

shows that the Big Data technology and services market will grow at a 27% compound annual growth rate (CAGR) to $32.4 billion through 2017 – or at about six times the growth rate of the overall information and communication technology (ICT) market.
IDC sections its report and predictions into servers, storage, networking, software and services, predicting storage will see the biggest growth at a 53.4 % compound annual growth rate.
According to a research by MarketsandMarkets, the worldwide Hadoop & Big Data Analytics market is expected to grow to about $13.9 billion by 2017.
Yearly, Forrester's predictions help us understand what Hadoop has in store for us. Let's take a look at some of their predictions of 2015.
The real-enterprise value of Hadoop has been proved in most of the use cases, including data lakes, traditional and advanced analytics, ETL-less ETL, active-archive, and even some transactional applications. This simply means that Hadoop is going to be a top priority in 2015.
The Hadoop shortage skills will subside soon. Hadoop is not complex at all and it requires the basic understanding of the API being Java. Trying your way in to a new open-source platform and learning the APIs is nothing new to enterprise Java application developers. Hadoop projects will get done faster because the companies own application developers and operations professionals will know the data, the applications, and the business challenges. Additional skills for more complicated applications, such as predictive analytics running inside Hadoop can be built when needed over time.
Hadoop is incredible at all different types of data, from server logs, to call detail records, to video and audio. But when most businesses use data, it is almost always structured, and SQL is the way that structured data becomes useful for a wide audience.
Enterprise software vendors are working towards solving the problems of data management, modeling, and governance.
Top Companies Looking for Hadoop Professionals:
If you surf any of the top job portals, you will find 'n' number of jobs in Hadoop and related technologies. Companies like Google, EMC Corporation, Yahoo, Apple, HortonWorks, Oracle, Amazon, Cloudera, IBM, Cisco, Microsoft and many more have been looking for hadoop professionals. Various positions like product managers, hadoop developers, software testers, database administrators, senior hadoop developers and alike are available
Companies are in need of experienced candidates as well as freshers who have a working knowledge of AWS or open-stack is a big plus point. While some companies are looking for data scientists, for example Facebook or EMC corporation, others are looking for analysts. However, they all require Hadoop as the key skill. Many companies are looking for skilled Hadoop professionals who are capable to manage Big Data in their companies. The job market is very lucrative for people with Hadoop skills and is accelerating at an increasing pace.
Hadoop Is On The Rise!
Endowed with striking benefits such as scalability, robust ecosystem, cost effectiveness, schema-free flexibility to handle both structured and unstructured data, Hadoop is now increasingly being implemented by various organizations.
Hadoop skills are getting more evenly distributed and spreading fast in India and China and are not just limited to the US or the UK.
It's not only Hadoop, it is also its related technologies such as MapReduce, Hive, Pig, Hcatalog, HBase, ZooKeeper that are creating waves, eventually increasing the demand for Hadoop professionals.
Is it important to know Java to know Hadoop?
Many software engineers question the need for Java knowledge to work as a Hadoop professional. The answer is Yes, you need to know Java! But, how much of Java?

A programmer needs to have hands-on experience with Java and good analytical skills to grasp and apply the concepts in Hadoop. In fact, one should also know Linux programming as this is the basics to dive into Hadoop and its related technologies. Moreover, experience in managing databases is icing on the cake!
Job Titles For Hadoop Professionals:
Hadoop job opportunities attract many experienced and talented software engineers who are technically proficient and most importantly are passionate about what they do! Here are some of the jobs in Hadoop:
1. Hadoop Architect:
Sounds very professional, a Hadoop Architect is expected to organize, administer, manages and govern Hadoop on large clusters. He also does documentation for Hadoop based production environment involving Petabytes of data. Hadoop Architect needs to have rich experience in Java, MapReduce, Hive, HBase, PIG, Sqoop, and so on. He also administers Linux/Unix environments and designs Hadoop Architecture involving Cluster node configuration, namenode/datanode, connectivity, etc.
2. Hadoop Developer:
A Hadoop developer is the one who loves programming and wants to make the most out of it! He needs to have a working knowledge of core Java, SQL and any scripting language along with good interpersonal skills. Also, working knowledge of Hadoop related technologies such as Hive, Hbase, Flume helps in accelerating his career growth. We can have Application Developers or Data Developers with respect to Hadoop.
3. Data Scientists:
Data scientist is another tech savvy name of this century which is slowly replacing the title of Business Analyst. These professionals generate, evaluate, spread and integrate the knowledge gathered and stored in Hadoop environments, thus they need to have an in-depth knowledge of business as well as data. They write code, design intelligent analytic models, work with databases, get involved into very complex SQL, and so on. Data scientists are also expected to have experience in SAS, SPSS and programming languages such as R. They are also responsible for spotting the most crucial issues and working on those. Data scientists are different from traditional data analysts in the way that data scientists analyze data from various sources, instead of relying on a single source.
4. Hadoop Administrator:
A Hadoop administrator is primarily involved in administering Hadoop and its database systems. He has a good understanding of Hadoop design principals and extensive knowledge of hardware systems. Hadoop administrator's job involves troubleshooting and resolving issues. He is responsible to maintain large clusters and should have strong scripting skills. His core technologies include Hadoop, MapReduce, Hive, Linux, Java, Database administration and so on.
5. Others:
Apart from the above 4 key jobs titles in Hadoop, there are several other titles ranging from Hadoop Analyst to Hadoop Engineer, Hadoop trainer, Hadoop consultant and so on.
Current jobs in Hadoop:
Browse through the following list of current jobs in Hadoop in India and get ready to enter the big World of Hadoop!
For all those who aspire to work in the US, here is a list of current jobs in Hadoop in the US:
How much are Hadoop Professionals paid?
Hadoop experts can expect a rewarding career graph and a lucrative career. A quick search on Indeed.com shows that the average salary for Hadoop professionals in the USA is $112,000 as of June 30, 2016. This figure is 95% higher than average salaries for all the job postings nationwide. Here's a snapshot of the average Hadoop salary with corresponding job titles.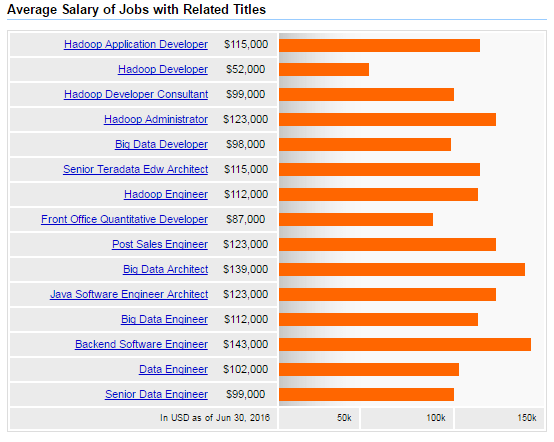 There are more than 13,000 Hadoop jobs listed on Indeed alone for the US market, with companies like Amazon, Capital One, Microsoft and Apple figuring in the list of top recruiters. The job trend for Hadoop looks very promising as suggested by the graph given below.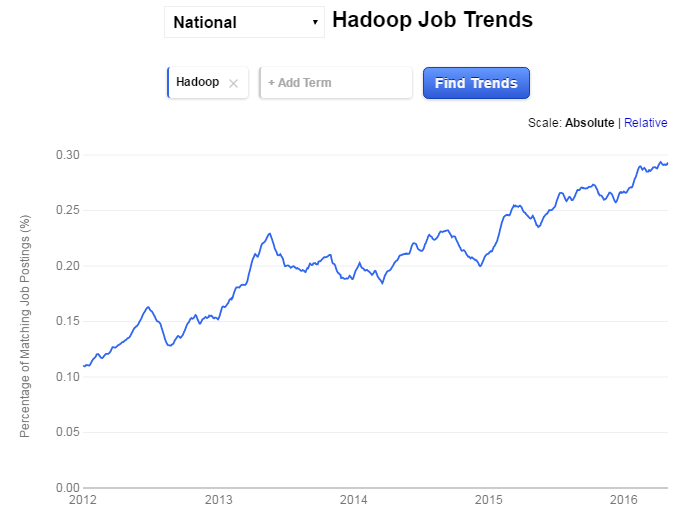 This trend is reflected in India too, with the Big Data Analytics sector in India predicted to witness eight-fold growth to reach $16 billion by 2025 from the current level of $2 billion, according to the National Association of Software and Services Companies (Nasscom). Naukri.com shows Hadoop Developer job salaries between Rs. 3 lakhs on the lower end to 50+ lakhs on the higher end, with pay varying according to experience levels. Indeed.co.in shows that TCS, LinkedIn, Capgemini, Oracle and other leading companies are among organizations recruiting Hadoop professionals. Nowadays, Certification in Big Data is highly recommended by most multinational companies.
A search on itjobswatch.co.uk shows that the median salary for Hadoop professionals in the United Kingdom is £60,000, with a rank change of +50 and a 8% percentage change year-on-year seen since 2015.
By popular opinion, Hadoop experts who know their way around Hadoop Stack and are capable of harnessing machine learning technology can command top jobs and fat pay checks in 2016. It is safe to say that the demand for Hadoop experts and the encouraging salary figures are a global trend. This trend is expected to continue for many years to come and this is the right time to up-skill with Hadoop.
Related Posts:
10 Reasons Why Big Data Analytics is the Best Career Move
Get started with Big Data and Hadoop