Companies dedicate a large part of their annual profits towards traditional and digital advertising efforts to promote a brand. While newspaper and audio visual media still hold great significance, online digital marketing has raced ahead. One such aspect of digital marketing employed by brands in an effort to secure a top-of-mind position is retargeting – a cookie-based technology which follows a user's online behavioural patterns and showcases relevant and targeted information to encourage brand interaction.
However, constant and bombarded retargeting in an effort to secure sales and push for repeat purchases can actually do more harm than good. In an attempt to attract audiences, brands can, in fact, put people off from their purchase decision due to online invasion through poor retargeting strategies. For example, brands like Flipkart and MakeMyTrip regularly use retargeting strategies. Any product that users looked for on the site, be it a piece of apparel or the rate of flight tickets between cities, follows them around on every page they land on. Rather than seeing this as a reminder of the product they were originally looking for, many users get unnerved because they feel that the site is keeping tabs on their online behaviour after having asked them to sign up.
Often, retargeted ads continue to follow them even after the product is no longer in their consideration, making them feel annoyed with the brand's constant and disruptive presence. If not utilized correctly, retargeting can be quite an expensive affair, a bother to online users and a reason for decrease in sales prospects.
Is it a wasted expense?
With the increasing bidding amounts and sky rocketing rates for Adwords, retargeting came to the forefront a while ago. Brands often work with more than one partner to optimise their promotions. However, doubled retargeting exercises done across multiple vendors can end up in unnecessary overlaps targeting the same audience and end up costing more money.
Many vendors claiming to offer the best ROI, employ repetitive means that may end up costing a brand more than what the prospects are worth. It is imperative that a brand develops its own retargeting strategy and budgets and then considers signing on with an external partner for execution.
Possibly a factor of irritation?
Research has shown that persistent and unplanned retargeting are damaging the brand's image in the minds of consumers by making them increasingly uncomfortable about how much companies know about their online activities. It was found that the two primary responses to repetitive retargeting were anger and annoyance. Consumers find that the more an ad is displayed, the more intrusive and aggravating it becomes. While brands attempt to hook in customers through more impressions, they are effectively driving them away by being seen as 'creepy' to audiences who may not understand the fundamentals and functioning of digital marketing.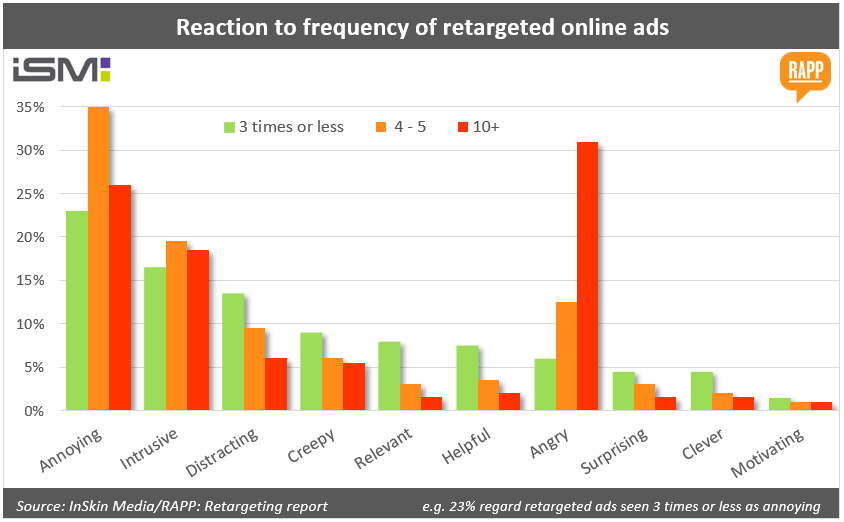 When an ad is shown four to five times, the most common reaction is annoyance. When the same ad is displayed more than 10 times, the reaction turns to anger. Needless to say, this definitely is not a plus point for an effective sales strategy.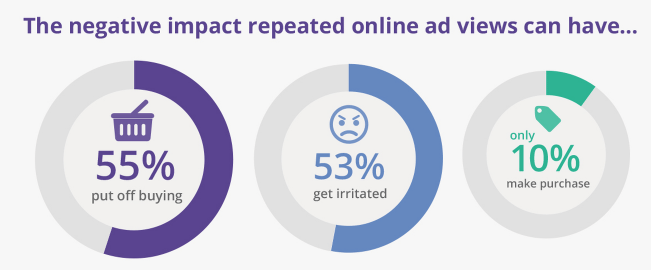 These statistics prove that increasing frequency is not the solution and higher impressions and higher spends could in fact end up costing a brand its profits.
A dent in the buying cycle
The buying cycle is the cyclical process that every buyer goes through from the point of considering to the actual purchase decision. In marketing terms, this buying cycle can be broken down as per AIDA – Awareness, Interest, Desire and Action, i.e. the stages a customer goes through in an average buying cycle. Brands also use the AIDA model to engage with prospective customers and encourage a sale.

It has a funnel effect, where more numbers are available in the attention stage, but they decrease through the process and result in significantly fewer conversions. But this fundamental marketing concept often gets overlooked in a retargeting strategy. Disruptive retargeting can cause buyers to lose interest, become annoyed or buy from a competitor thus going against the ideal marketing model and buying cycle. Keeping an open duration for retargeting can also increase chances of displaying content to a customer who may no longer even be interested in the product.
Improving effectiveness of retargeting
Is retargeting risky? Yes. Can it lead to the death of sales? Possibly. Should it be abandoned? Not at all.
Retargeting can still be a very powerful digital marketing tool if employed in an optimised manner. The key to ensuring an effective retargeting strategy lies in relevance, control and data awareness in terms of retargeting policies, strategies and budgets. It is important to ask the following questions to devise an appropriate strategy:
Who is converting?
What is leading to conversions?
Which methods result in maximum returns on investment?
What is the best means to reach the target audience?
Secondly, it is important to stay relevant at all times by making customisations and refinements. Displaying ads long after a customer has visited the site is not ideal to engage prospects. Neither is it advisable to show content on pages that are disconnected with the brand promise. For example, displaying flight-related ads on fashion based e-commerce sites is not going to make customers take notice. Rather showcasing these ads on a travel or holiday information portal will increase awareness and engagement.
Lastly, it is crucial to be aware of the data metrics and intricate reactions related to retargeting strategy. Research regarding impact of the ads, the effect of an ad on the brand image and reputation and ups and downs in impressions need to be carefully analysed and evaluated to ensure that the campaign does not become obsolete, extraneous or annoying.
Remember, like any customer-oriented business model, retargeting too has a dark side. But this does not mean it needs to be shut down completely. Staying on top of market trends and being sensitive to the needs of customers is what a brand needs to make the best of their retargeting efforts.
Powered by Ivyclique
Got a question for us? Please mention them in the comments section and we will get back to you.
Related Post:
Get Started with Digital Marketing