Getting started with AWS
Amazon has a pay-as-you-go model and will charge the user only for the service used. Here, one can sign up with Amazon Web Services by going to www.amazon.aws.com where we can create an account and also fill the credit card details.
Once authentication and registration is done, we can choose the products as per our requirement. Amazon also provides security mechanism to host applications besides providing private & public key for deployment of applications.
AWS Use Cases
Backup (Archive) – where large amounts of data can be stored and archived
Application Hosting
Media Sharing (Image/Video) – a classic example is Netflix which is hosted in Amazon. Another customer of Amazon is Instagram as well.
Academic Computing – it involves cluster computing. Research Universities use AWS as they require hundreds of servers for research.
Media Distribution
Academic Computing
Search Engines
Social Networking
Scalable Applications
SaaS/PaaS Hosting
Regions and Zones
The Region here denotes the Data-Centre of Amazon. It has 8 Regions where 7 are public and 1 is government cloud accessed by the US Government. They also provide high availability using availability zone. Availability zone is nothing but a physically separated area within a region which means one data centre has multiple availability zone (physically separated).
The diagram below has the distribution of various availability zones.
The application can also be served from two different zones. Let's take an example, where we have one service running from the US (East) and the other from Europe. Here, if one zone goes down due to Natural Calamity or Technical Snags, we can rely on the other zone.
 Amazon Cloud Characteristics
Availability & Reliability
Scalability & Elasticity
Performance
Flexible(Numerous options of Programming, APIs, Access)
Secure
The Various Amazon Web Services: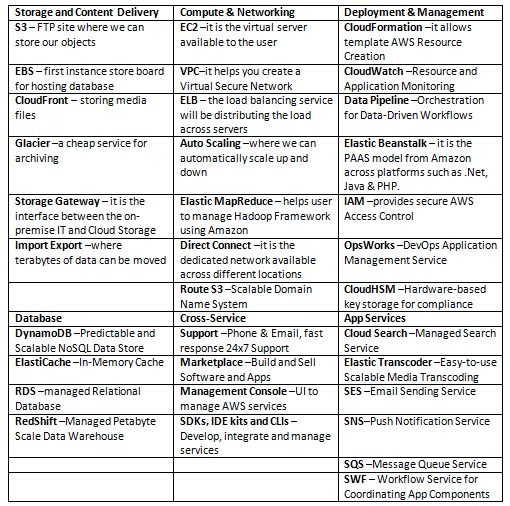 How to Access Amazon
One can access Amazon in the following 4 ways
AWS Management Cons – a GUI console to access various products.
AWS Web service APIs – Which has various APIs.
AWS CLI – The command line interface where user can run commands and use Amazon's services.
AWS SDKs –The Software Development Kits for various platforms are available.
Got a question for us? Mention them in the comments section and we will get back to you.
Related Posts:
6 AWS Cloud Cases which are Revolutionizing Business