Are you considering a career in Business Intelligence domain? Not sure on which path to take for a career growth? Then it is the right time you consider Informatica PowerCenter, market's leading data integration platform. An Informatica Certification can bag you a top job in data integration space. In this blog, we will first appreciate the importance of Informatica in brief and then learn about each of aspect about Informatica Certification: exam structure, pre-requisite, how to register etc. You can learn more from the Informatica powercenter certification.
Why Informatica?
Informatica provides the market's leading data integration platform. Tested on nearly 500,000 combinations of platforms and applications, the data integration platform inter operates with the broadest possible range of disparate standards, systems, and applications. This unbiased and universal view makes Informatica unique in today's market as a leader in the data integration platform. It also makes Informatica the ideal strategic platform for companies looking to solve data integration issues of any size.
To get a better understanding on what Informatica PowerCenter is and its real life applications, I suggest you check out our blog on What is Informatica and Informatica Tutorial.
Which Informatica certification do I take?
Informatica certification is a two levelled structure :
Specialist – To achieve Specialist recognition, a candidate must pass a written exam, proctored in person or via webcam. The Specialist exam validates that the individual understands the product and can apply the skills and capabilities required to contribute to a project as a full team member.

Expert – To reach the Expert level an Informatica Certified Specialist must pass Informatica Velocity Best Practices and Implementation Methodologies Certification. This certification validates that you are able to lead a project implementation team following our best practices.
Some of the major certification exams from Informatica can seen below :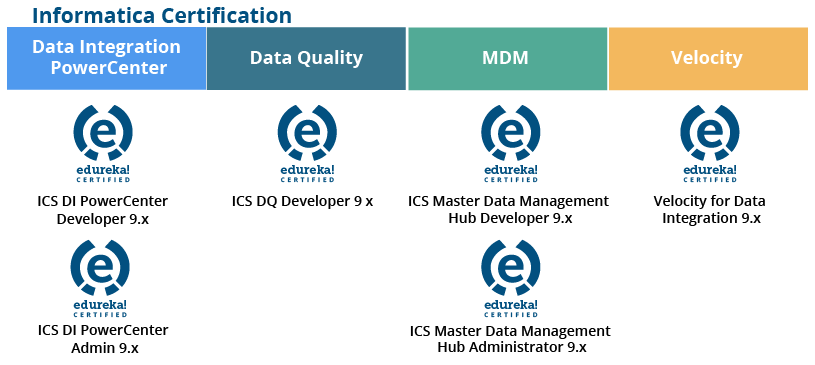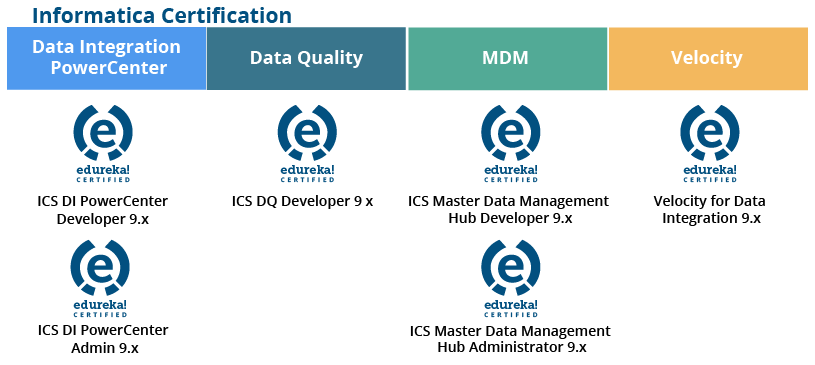 There are various certificates that Informatica offers and among them the most preferred are under Data Integration are two prominent tracks: Administrator and the Developer.
Data Integration: Informatica PowerCenter Administrator
Informatica certified Administrator are the professionals who monitor the environments, monitor and schedule loads(workflows), Recovery or Re-start in loads in case of any failures and Servers Monitoring. They are also responsible to manage Development ,QA and Production environments.
Prerequisites : Fundamental knowledge of SQL and basic Unix along with Informatica PowerCenter Training.
Who should go for this Certification?
Although anyone who is passionate about data integration and ETL in particular can go for this certification. The following professionals typically go for this certification:
Analytics Professionals.

BI/ETL/DW Professionals.

Mainframe Architects.

Individual Contributors in the field of Enterprise Business Intelligence.
Data Integration PowerCenter Developer
Informatica certified Developer are professionals who documents all technical and system specifications documents for all ETL processes, develop all data warehouse models, design and schedule workflows, Test ETL codes.
Prerequisites : Fundamental knowledge of SQL and basic Unix along with Informatica PowerCenter Training.
Who should go for this certification?
The following professionals can go for this Certification:
Software Developers.

BI/ETL/DW Professionals.

Mainframe Developer.

Individual Contributors in the field of Enterprise Business Intelligence.
Exam Structure
This exam measures your competency across installation and configuration, architecture, server maintenance, security, deployment, PowerCenter Repository management, web services, command line utilities and Informatica Velocity Best Practices and Implementation Methodology as a full member of a project implementation team.
Here are a few pointers to the exam:
70 multiple choices questions

Test formats used in this exam are:
Multiple Choice: Select one option that best answers the question or completes the statement

Multiple Response: Select all that apply to best answer the question or complete the statement

True/False: After reading the statement or questions select the best answer
90 minutes allotted to complete the exam

70% is the passing score

Registration fee is USD 240

If you do not pass on your first attempt, You must wait 2 weeks after the exam to take the exam again

You may take the exam up to three times in one year from the date of your first exam attempt

You must pay the full exam fee each time you take the exam.
Exam Test Domains
The test domains and the extent to which they are represented as an estimated percentage of the exam are as follows:

Data Integration PowerCenter Administrator

Data Integration PowerCenter Developer
At the face of it, the exam might look easy since you need to get just 49 out of 70 questions right, and there is no negative marking. But it really gets tricky when there are questions with multiple choice options. For example, you might encounter questions where you would be expected to select three correct answers for one question. In such cases, there is no partial marking so one wrong answer option will spoil the other two options that might be correct.
How do I register for the exam?
The first step is to create a test taker account at Webassessor Make sure you register with your official email address.
Once the account is created, you can log in and register for the exam. It is recommended that you register 3 months in advance so that you get your preferred timings and enough time to prepare.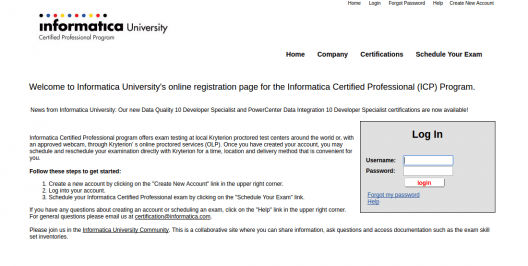 How do I get my results?
You will get your results the moment you finish your exam. You will immediately know if you have passed or failed. You also get a sectional wise performance report. A printable certificate to your registered email id.
What are the Job Prospects?
Being the market leaders in the field of data integration, Informatica PowerCenter is the first choice of organizations into Business Intelligence. Having generated an annual revenue of over 1 Billion dollars in 2015, Informatica clams to have helped organizations save over 5.6 Billion dollars. Bellow is the current job trends seen for Informatica certified professionals :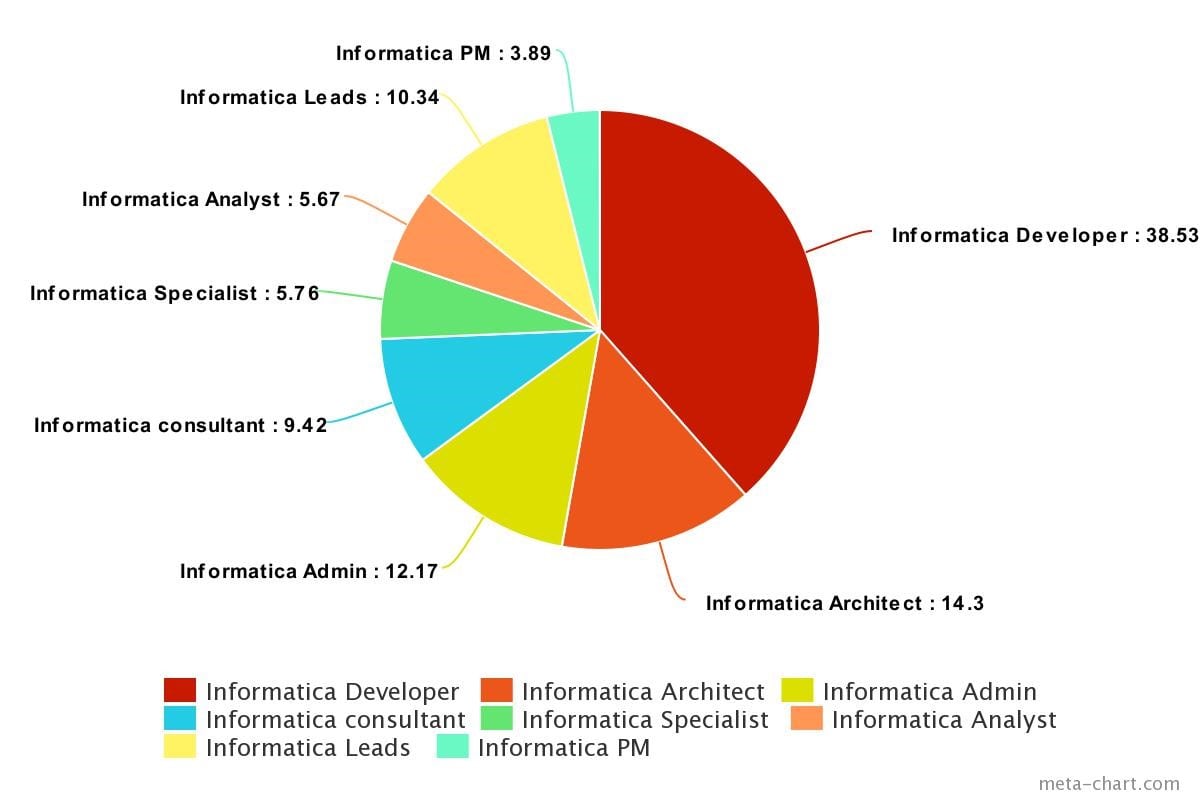 I think this blog might have helped you to give you all the essential information regarding Informatica Certification. Informatica , as we discussed above, has exciting career opportunity. So you can take that first step by getting Informatica Certification.
If you have already decided to take up Informatica Certification and Informatica as a career, I would recommend why don't you have a look at our Informatica Training course page. The Informatica Certification training at Edureka will make you an expert in Informatica through live instructor led sessions and hands-on training using real life use cases.
Got a question for us? Please mention it in the comments section and we will get back to you.