Hadoop is the Future of Big Data
Big Data masters are facing serious challenges in storing, cleaning, and analyzing colossal data sets economically in real time. Increasingly, enterprises are looking for data solutions to turn analysis into insights for making solid decisions. For that, they need data professionals who know how to convert BIG DATA into BIG OPPORTUNITIES. Excerpts from a speech delivered by Hadoop founder Doug cutting at Cloud factory in Banff, Canada are listed below. Clearly the future of big data is Hadoop.
In the future we'll be able to store and process more data than we can now. The enterprises that will do best are those that will best leverage Hadoop. Not only can you afford to store more data in the future, but in many ways, you can't afford not too. Hadoop will get better. More and more data will move out of silo systems and into central systems that provide a variety of tools running on a variety of data sets … essentially an 'enterprise data hub'.
Hadoop – A Must-Have Skill in Data Career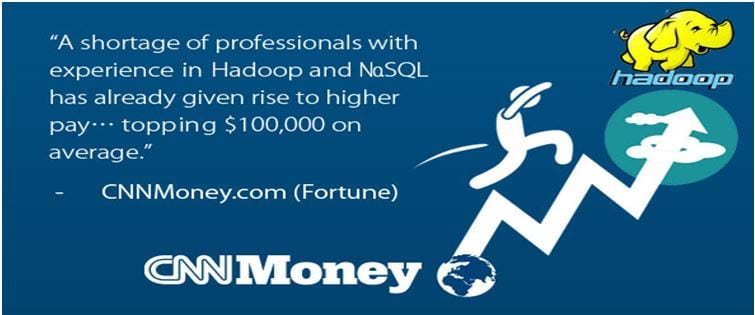 Hadoop leverages the power of horizontal scalability to process big data faster than traditional database management systems like RDBMS and OLAP. Such a progress is enabled by Hadoop's core features, HDFS (Hadoop Distributed File System) and MapReduce.
Skill wise, mastering HADOOP implies mastering BIG DATA – one of the biggest business challenges of the 21st century. Many big enterprises are already betting big on Hadoop as the way to manage BIG DATA. They are ready for exceptionally high pay scales if the right Hadoop talents are available for the lucrative specialization.
Also, many companies are developing business using the Hadoop ecosystem. There are plenty of opportunities around and remuneration is just getting higher and higher due the obvious talent crunch.
Take your data analysis skills to the next level with our cutting-edge Big Data Certification Course.
Find out our Big Data Hadoop Course in Top Cities
Who can go for Hadoop Tutorial ?
Data Administrators and Analysts
Business Analysts
Software Testing
IT Managers,
Professionals with experience in JavaScript
If your domain/job title is not mentioned here, drop us a line in the comments section and we will get back to you.
Hadoop will be a natural career progression for the professionals mentioned above. All they need is a solid Hadoop tutorial covering all the latest updates.
Master the art of data engineering and revolutionize the way organizations process, store, and analyze data with Data Engineer Certification Program
Hadoop Tutorial Makes a Big Difference to your Career
Hadoop's ability to convert big data into manageable data blocks for organizational data processing and analysis is becoming particularly popular.Nevertheless, it is still relatively a new technology in the industry and hands-on experience is most sought after by employers.
Hadoop tutorial imparts knowledge on certain essential component of Hadoop and at the same time provides hands-on experience. Let's take a look at what you will learn after the tutorial:
Hadoop Architecture & Common Utilities
Hadoop Distributed File System (HDFS)
MapReduce
Structured Data Storage with HBase
Cassandra Multi-Master Database
Data Warehousing with Hive
Parallel Programming with Pig
Data Mining with Mahout
Cloud Computing with Amazon Elastic MapReduce
Edureka offer in-depth & interactive Hadoop tutorial with live project exposure. Click here for more information on the curriculum.
Organizations are Increasingly Adopting Hadoop
Presently, big software giants and IT companies have started realizing the importance of Hadoop and are adopting it for their processes. With search engines and social networks dominating the IT space, the humongous amount of data can be put to constructive use with Hadoop. Some of the companies that utilize the Hadoop platform are –
Google
Facebook
Twitter
Linkedin
Pinterest
Exciting Job Opportunities for Hadoop
According to Gartner, Hadoop will be used for most analytics products by 2015 (source: Gartner). In fact, some reports say that organizations are finding it difficult to hire professionals with relevant preparation, often having to rely on third-party training companies. Job opportunities in Hadoop are continuing to show an upward curve, as more and more companies are confident of Hadoop's big data management capabilities. However, an acute shortage of professionals is making it hard to meet the current industry demands. And the trend is likely to continue as per a McKinsey report: "170,000 BIG DATA jobs could go unfilled by 2018 in absence of quality talent." That is where Hadoop can make the biggest difference. Data professionals in some popular enterprises are already attending Hadoop tutorial classes organized by their employers to combat the BIG DATA challenge. For others too, a quality, updated online training program on Hadoop is the only way to get fit for the new market scenario.
Got a question for us?? Mention them in the comments section and we will get back to you.
Related Posts:
Is Big Data the Right Move for You?
Why should a Software Testing Engineer learn Big Data and Hadoop Ecosystem Technologies?
How Essential is Hadoop Training?