You will need more than a generic degree in management or engineering to start a career with a great future. One needs to specialize in niche areas if the person wants to be sought-after by employers and offered excellent positions and salaries. Most people don't have the luxury of attending a post-graduate course after completing their degree. For such persons, the IIT certificate courses are a great help. There are certificate courses in various fields that help upskill you for better job opportunities.
Why Get An IIT Certification?
Before you enroll in one of the IIT certificate courses, you must know why it is important to get your certification from a prestigious institution.
Brand Image
IITs are highly respected institutions both within and beyond India. Certification from an IIT improves your chances of getting a promotion or a new job. A certificate from this institution will add weight to your resume because of its brand image. It will be easy for you to get a job and earn a lot of respect from management and colleagues. Various IIT certificate courses help you specialize in a subject that is relevant to your job.
Stand Out When Seeking A Job
A certification is proof of your deep knowledge of that subject. Employers are today seeking candidates who have specialized in niche areas to immediately be put in that position and start contributing to the organization's progress. Many companies specifically mention the requirement of a certificate when hiring people. When you complete one of the IIT certificate courses, you show yourself as an expert in the subject and will surely stand out among other candidates.
Companies Gain From Certifications
It is not just employees or job-seekers who gain certifications. Companies also have much to benefit from sponsoring their employees to join IIT certificate courses and specialize in a subject. It will help them retain their workers instead of hiring new people for the job. It will save the organization a lot of money and also help earn the loyalty of their staff members. Employees will also be happy to know that companies are taking an interest in their progress and helping them learn new skills.
Better Chances Of Promotion
Nobody wants to stay in the same position for long. Employees are always looking for opportunities to reach higher positions. But experience alone is not enough to get a promotion. One also needs to have certain additional skills to handle a higher responsibility. It may not be easy for people to leave a job and pursue a course to acquire additional capabilities. It is where IIT certificate courses help. These online courses are easy even for working people to complete successfully without taking a break from their jobs.
Opportunity To Network
Whether you are seeking a new job or a career change, having contacts in the same field can help a lot. When you join one of the IIT certificate courses, you meet people from different cultures and even other countries. It will help understand how people with different perspectives view a problem. You can also discuss the problems you face in your job and try to get solutions for them. Moreover, this network will help you find new career opportunities.
Best Certificate Courses And Their Benefits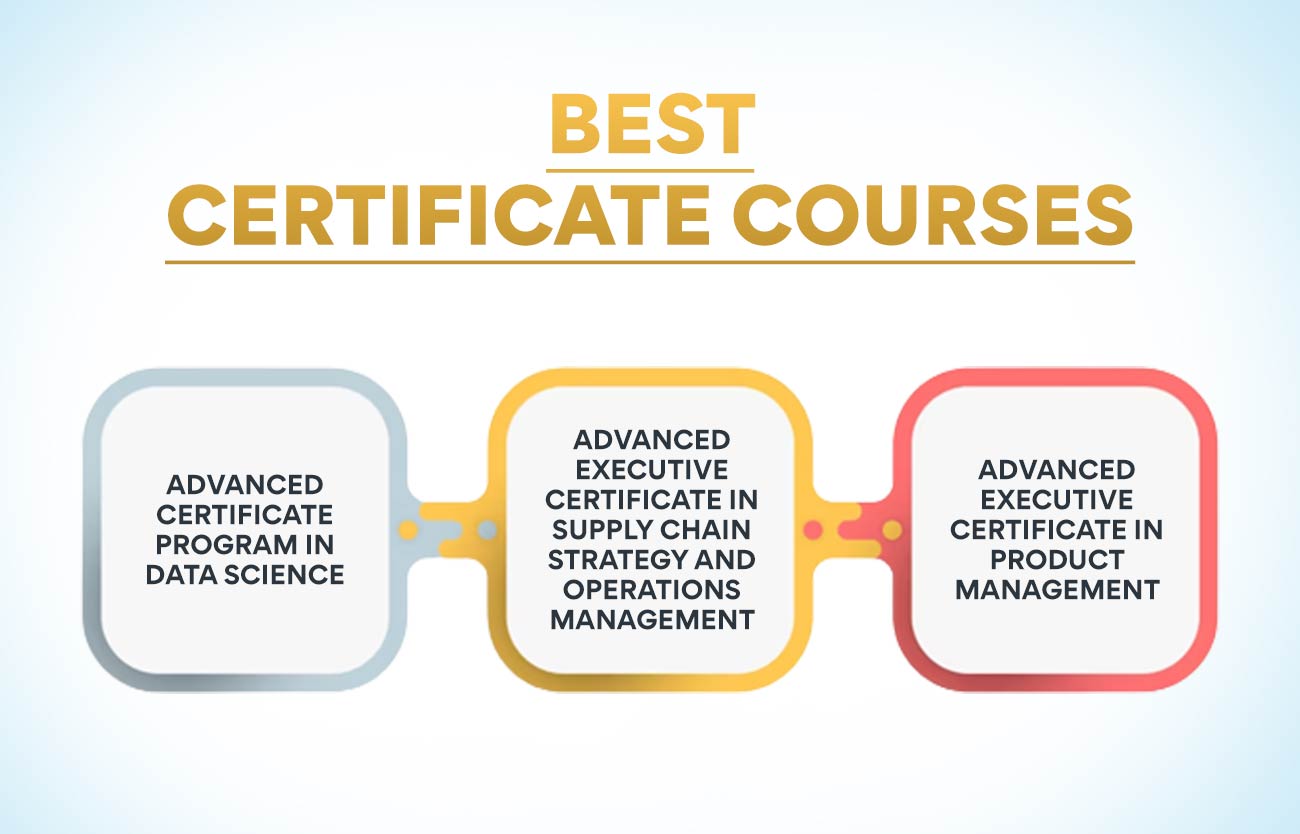 Before you join a certificate course, it is worth knowing what IIT certificate courses are available and how they will benefit you. In this article, we will see the courses that are most relevant now and what prospects they will offer you.
Advanced Certificate Program In Data Science
This program has been formulated in collaboration with the IIT Guwahati. As we all know, IITs are the top technical institutions in the country. The course is made in such a way as to provide the participants with a lot of hands-on experience that makes them experts in handling real-life situations. There are many hours of interactive learning led by an instructor. The students also study various case studies and understand how experts have handled different situations. Data science has a lot of demand and will continue to grow in the future too.
Course Highlights
Live classes led by industry experts

Dedicated teams to resolve student doubts

Curriculum approved by E&ICT and IIT, Guwahati

Case studies, projects, and demos

Certificate from IIT recognized worldwide

Complete placement assistance services
Why Should You Get A Data Science Certificate?
Data science is something that most companies are looking at to improve their decision-making capabilities. It is the reason why this is one of the most sought-after IIT certificate courses in recent times. Let us look at the benefits you gain from attending this course.
Career Growth
Even someone working with data will benefit greatly by earning a certificate in data science from a reputed institution like the IIT. It can boost your career growth greatly. Your employers will be glad to pay you more when they know you have become an expert in the subject by attending a course. You learn many things from attending a program that may not be possible with only practical experience. Your interaction with industry experts in the field will certainly help you find innovative solutions to your data-handling problems.
Freedom And Flexibility
It is one of the IIT certificate courses that can offer you a great amount of freedom of choice in industries. Data science is useful in every industry, and almost all companies, irrespective of their size, are using this to gain valuable insights. Gone are the days of decision-making with guesswork or intuition. More leaders prefer to make decisions based on hard facts that are already available to them. A data science specialist also can work anywhere in the world, as most countries hire data science specialists at high salaries.
Learn About The Latest Tools
Data science is a field that is still evolving. It means that a lot is happening through development and technological change in this subject. One needs to be updated with these latest tools and methods to be able to be efficient in work. The biggest advantage of joining IIT certificate courses in this subject is that you get to familiarise yourself with the latest tools in this field. If you have been working as a data science expert, you may only be working with a particular set of tools. A structured course teaches you all tools.
Learn The Latest Trends
You only learn what you can with limited experience when you work in a company. If you are in a job that takes up most of your time, you don't get the opportunity to learn anything new. Data science is one of the fields that is constantly changing. Different countries are using different methods of using data for their benefit. You can learn this only if you get in touch with people from different countries and companies. The certificate course will keep you abreast of the latest trends in the field.
Show Your Commitment
Most companies nowadays look to retain their existing employees instead of looking at new hires. When you join one of the IIT certificate courses, you give your employer another reason to retain you. You show your commitment to contributing more to your organization's success by learning a new skill even when working. Everyone understands that it is not easy managing office work, family, and studies together. The fact that you have made an effort to complete a course in data science successfully shows your bosses your commitment to the company.
You can learn more about this course and other IIT Guwahati courses from our website. Many other courses help you improve your chances of career advancement.
Advanced Executive Certificate In Supply Chain Strategy And Operations Management
All companies are looking at the best ways to reduce costs and make their product delivery as efficient as possible. As customer expectations on the delivery increase, organizations try to find innovative solutions to satisfy their clients and be ahead of their competitors. Another important aspect that no firm can afford to forget is the quality of the product. Good operations management ensures the quality of the product while also helping in the reduction of cost. There are multiple benefits to enrolling in this course.
Course Highlights
Instructor-led live classes by eminent faculty

Gain practical knowledge with case studies and class exercises

Visit the prestigious IIT Guwahati Campus

Lectures by industry experts for real-life learning

Personalized career support services
Reasons To Learn Supply Chain Management
Excellent Career Opportunities
Supply chain management is one of the critical activities in all firms without which they cannot function. It makes learning the subject in one of the IIT certificate courses very lucrative. There is no shortage of career opportunities once you have trained in the field. There are multiple positions in the supply chain, like vendor management, warehouse management, logistics management, etc. It makes the chances of employment brighter. It also ensures that there is always a chance to move to another company for better career prospects. A person with a certificate in SCM can find jobs very easily.
A Valuable Asset
Everyone at the top management knows that reducing costs and improving profits is vital for the company's survival and growth. They also are aware that the one place where there are ample opportunities for cost reduction is the supply chain. Constant exploration for new vendors, warehouses, and logistics partners can reduce costs on all these fronts. It makes the supply chain manager a valuable asset for the organization. Companies will not like to leave such an important person and will try their best to retain them. It increases your chance for promotions and salary hikes.
An Interesting Job
The supply chain faces issues almost daily. This means that your job will always be challenging, allowing you to use your skills to find the right solutions. Such a job is interesting, and there will never be a boring moment in your professional life. Even if there are no issues at hand, there is always the need to find new ways to improve the supply chain and reduce costs wherever possible. Analyzing data for innovative solutions and implementing them can be an everyday challenge in this job.
Excellent Growth Prospects
As businesses cross the borders of a country, there are more supply chain challenges. This will surely increase the need for supply chain specialists. You will get an opportunity to move into new areas in the job and grow your job prospects. As you learn new skills on the job, you are ready to take up higher responsibilities. This improves the chances of progress in your career and the opportunity to get into higher positions. This is the reason why more people are opting for IIT certificate courses in supply chain management.
Networking Opportunities
Supply chain professionals don't only interact with people inside the company. They are regularly collaborating with suppliers, transport operators, warehouse managers, and distributors. This allows them to develop a network of professionals from various fields. Such networking is excellent for developing your capabilities and also looking for more career opportunities. Having connections with such people will also help you greatly if you plan to start your own company.
Advanced Executive Certificate In Product Management
The success of a product is crucial for a company to achieve its business goals. We see many products that arrive in the market only to go into oblivion a few months later. It is not enough for a company to have a good product. It must be designed well, priced properly, and promoted so that it gets the attention of customers. Product managers handle a product throughout their lifetime and ensure that it brings the desired revenue to the company. This course, backed by IIT, Guwahati, is the best one to make you a product manager.
Highlights Of The Course
Online classes at times convenient for working professionals

Real-life-based learning with live projects

Learn the skills needed to become a product manager

Understand product management process through case studies

Earn a certificate from IIT Guwahati

Get a personalized career support service
Benefits Of Learning Product Management
Play An Active Role
When you learn product management through one of the IIT certificate courses, you get an opportunity to play a main role in the creation and growth of a product. As we know, every company depends on the success of its products to earn revenue and profits. As a product manager, you will be actively involved with the product and be responsible for its success in the market. As a result, you are playing a major role in the company's progress toward achieving its goals. The product manager is responsible for making the product earn profits throughout its lifetime.
Excellent Demand For Product Managers
As all companies need a product manager to ensure the success of their products, there is always good demand for skilled people. Product managers can work across various teams involved in the creation and marketing of an item, and such capabilities make them valuable for the company. They are also involved in finding out the needs of the customer and creating the right product that will satisfy buyer needs. This makes the post a necessary one right from the start of the company. Completing one of the IIT certificate courses in this field can instantly put you on a rewarding career path.
Highly Fulfilling Job
Ask anyone, and they will say that job satisfaction is the first factor they look for when joining a company. This is assured in the case of product managers. Creating a product and seeing it become a success in the market can give you more joy than anything else. The fact that customers have accepted your product and appreciate its features is highly satisfying. As the product manager, you are solely responsible for its success or failure. It gives great happiness knowing that you are highly valued by your employers.
Learn Leadership And Entrepreneurship
A product manager is supposed to know every aspect of creating and selling a product. You must know what the customer needs, how to create a product that is acceptable in the market, and also how to promote it to get buyer acceptance. Knowing all these aspects puts you in a leadership position. The other big advantage of joining IIT certificate courses in product management is that it makes you ready to start your own company. You know everything about creating a product and making it successful in the market.
Summing Up
Most people get stuck at a particular job because they lack the skills to move forward or seek other jobs. Acquiring skills that are required for career advancement is now easy with various certificate courses. These are short-term courses, and they don't require you to leave your job. What you must be careful about when selecting such courses is their quality. If these courses are offered by prestigious institutions, then you can be sure that getting such certifications will d much good for your career.
More information:
Green Supply Chain Management: What It Is and Why It Matters?
Operations Management in Hospitals – Know Crucial Functions
11 Crucial Product Management Metrics and KPIs