The pandemic has stricken a blow to all businesses. Many big corporations are reducing their staff. In such a situation, only those with extra skills will likely retain their jobs. Even if the others get a job, it may not be as lucrative as they had. But those with extra capabilities can continue to get plum posts and earn excellent salaries. What is it that makes these people special? How do they acquire the qualities that others lack? IIM courses for working professionals are the answer to these questions.
Courses offered by the IIMs, like the Executive Development Programme In General Management, can get you your desired job in the company you prefer. To learn more about this course, you can visit our website.
What Are IIMs?
What are IIMs, and why do they have such a high status among the educational institutions in India? These are institutions of excellence that were started to impart world-class education and training in management. They offer Post Graduate Diploma courses, fellowship programmes and short-term development courses in management. These institutes also provide consultancy services to government and private organisations. They are also involved in research in various types of management. There are seven first-generation and six second-generation IIMs spread across the country.
Their research services are useful to various sectors like agriculture, rural development, public systems management, energy, health education, etc. These institutions are on par with the best in the world. They are role models for other institutions in the country. They share their skills and knowledge to improve the quality and standards of management education in India. People prefer to join the IIM courses for working professionals over other B-school courses for various reasons. On many counts, these premier institutions have proven to beat the other management colleges by a huge difference.
Also Read: What Are General Management Courses?
Why Choose IIMs?
There are various reasons why people choose IIMs, even over the top B schools in India.
IIMs have a mature, older student community willing to work hard. They also come from diverse cultures. It makes education at these institutions more beneficial as you can gain much knowledge from the other students. Other B-schools usually prefer younger students who either don't have any work experience or have just worked for a couple of years.

IIMs have an established name in the B-school circuit. It means that even if you are not at the top of the class, you will find a good job. The same is not true with the other B schools because they may admit low-quality students to fill up the seats and make the institution viable.

These premier institutions provide professional education in marketing, finance and general management. The other B schools often concentrate on product or service marketing, sales and distribution, supply chain management or financial services management.

IIMs prefer to take students who can contribute to their academic research. The other management institutions want students who can improve their brand name by coming out with innovative marketing ideas accepted by the industry.

The class size in an IIM course is much smaller than in other institutions. There are usually around forty students in a course, whereas the other management colleges usually have close to 100 students.

The fee structure in IIMs is much lesser than the other B-schools. Moreover, the premier institution of excellence offers financial aid and scholarships for

IIM courses for working professionals

.

IIMs employ foreign faculty who visit India for short visits of two years or so. This greatly helps the students get exposed to new technologies around the world. Other management schools usually hire teachers who live in India permanently.

The alumni network of IIMs is very strong, and they help students get placed in multinational companies. This gives them an edge over others when it comes to employment. Other schools don't follow such practices.

IIMs have research centres for those who are interested in an in-depth study of a subject. These research results are published in the form of books or journals. Such a practice is unheard of i

IIMs are autonomous institutions that can design their courses as they wish. This allows them to keep the programmes up-to-date. The other schools are forced to follow the outdated path.
Benefits Of Studying In An IIM
Getting into an IIM is tough, as the tests and interviews can be difficult. Moreover, there is heavy competition and not enough seats for the huge number of students who apply for them. Though you can get scholarships for the course, the fees in these institutions are quite high. Yet there is always a rush for IIM courses for working professionals because there are great benefits to attending a programme in this institution.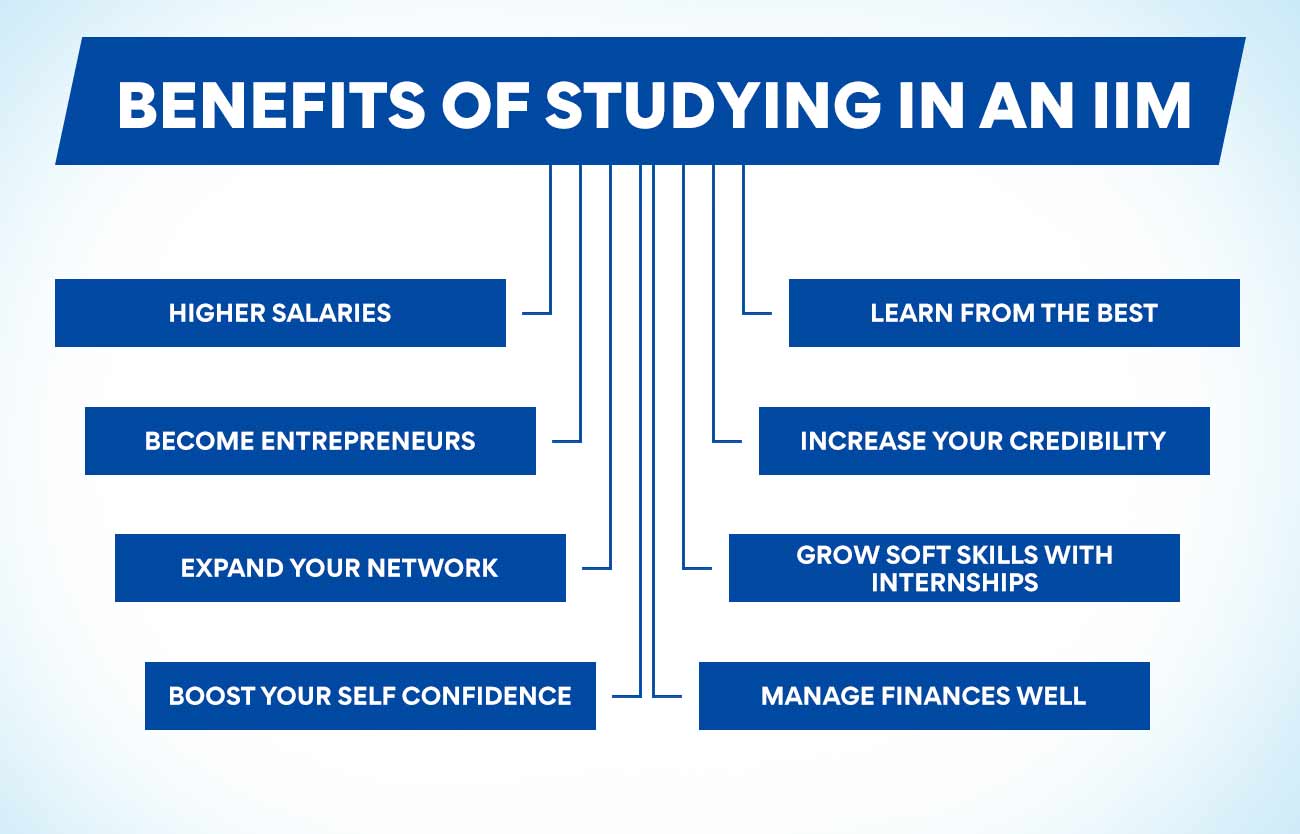 Higher Salaries
One of the advantages of studying in an IIM is that you get a better salary than those who pass out from other B-schools. The salary difference is big enough to push aside all the disadvantages that we saw above. Moreover, one can be sure of getting into the top companies in India once the person secures a certificate from an IIM. The position that an IIM student joins will also be higher than what the other students start at.
Become Entrepreneurs
The IIM courses for working professionals can help people start their own companies. The course prepares the student to face all the difficulties that one must overcome when running a company. There are programmes in the IIMs that mentor the startups founded by their students. They also guide the entrepreneurs in running the firm and taking it to success. The new companies can also get some funding and soft loans.
Expand Your Network
You can get access to a strong network of old students who will help you make a career change if you wish. The alumni can also guide the new graduates to start their firms. There are various clubs for IIM students where you can participate and meet those who have contacts with top companies in the world. This will help you greatly in getting a good job. You can also meet international students as this premier institution gets its share of students from countries around the globe.
Boost Your Self Confidence
Studying in one of the IIM courses for working professionals is a big boost to your self-confidence. The fact that you could get admission to the top B school in the country after competing with many students who write the entrance exam is enough to boost your confidence. Clearing such a tough exam gives you the courage to attempt any project without fear or apprehension.
Also Read: What is the Scope of Macroeconomics in Management?
Learn From The Best
When you attend a course in the IIM, you are learning from the best faculty in India. Those who teach in these institutions hold a PhD in their subject and have mostly done a lot of research on it. This means that you gain from their vast knowledge and can use it in your career. Many foreign professors have experience outside India. You can get to know about various management styles practised in other countries. The course also gives you access to some of the best study material.
Increase Your Credibility
As we all know, IIMs are the top B schools in the country. They are also highly recognised around the world. This will greatly improve your credibility. When attending IIM courses for working professionals, is sure to improve your career prospects. Employers place more trust in a person possessing an IIM certificate. This is because they know the high standards followed by these colleges and the quality of the faculty. The IIM tag can certainly open the doors to better jobs here and abroad.
Grow Soft Skills With Internships
Soft skills like communication, leadership, teamwork, negotiation, etc., are necessary for any management position. You don't just learn these skills in an IIM course. You can use them practically by participating in the internship programmes conducted by the institute. It will help you try your skills in real-life situations and ensure that you have perfected them.
Manage Finances Well
This is not something that will be useful only in your professional life. When you attend IIM courses for working professionals, you become an expert in managing finances. This will help you in your personal life too. You can see the long-term and short-term effects of your spending style. The courses also help you assess risks and deal with market fluctuations in a better way.
Now that you have seen the benefits of studying in IIM, it is time to explore the courses that you can join. The Post Graduate Certificate Course In Human Resource Management offered by IIM Shillong is an excellent online course for those wishing to become HR experts. You can find more details about this course on our website.
How To Choose A Course?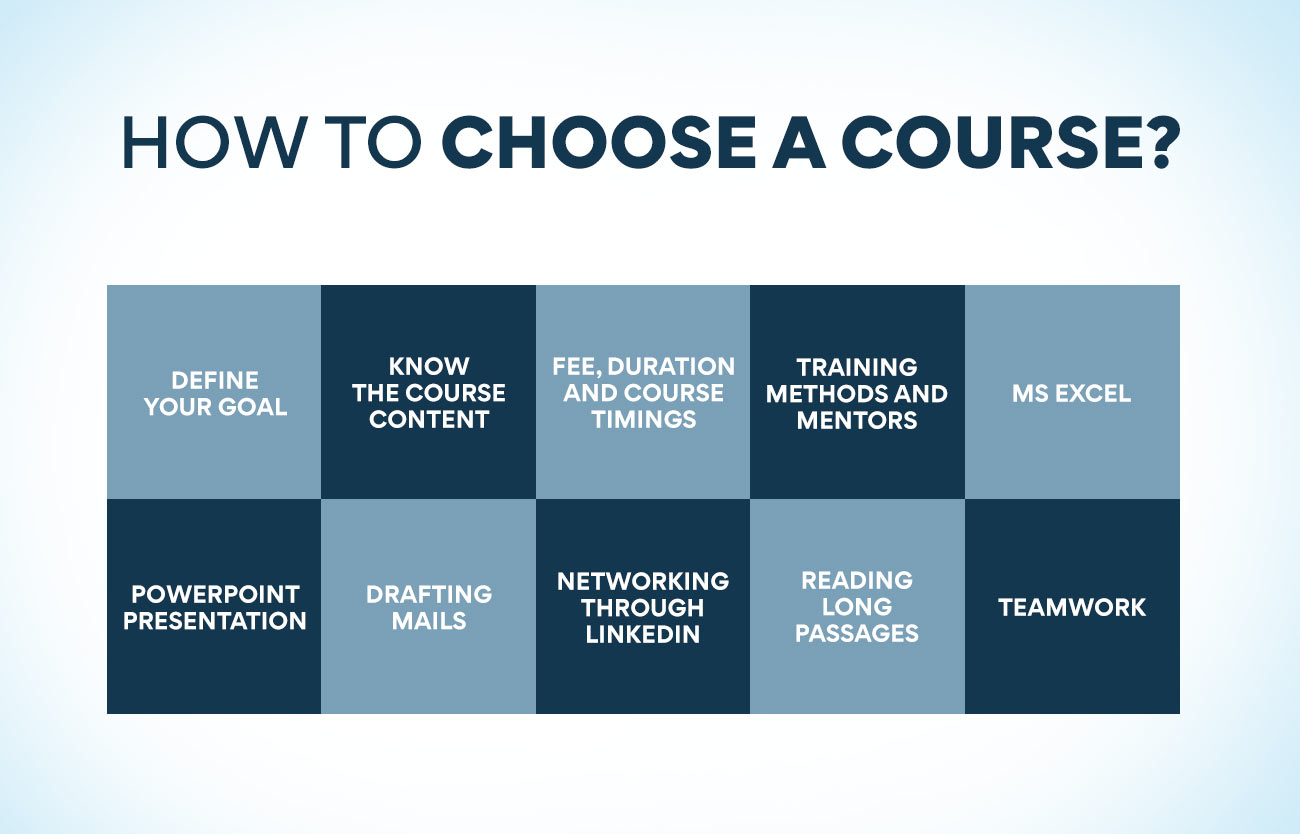 Define Your Goal
The first thing to do before you choose a course is to define your goal. Why are you attending this course? Your aspirations and needs should form the basis for choosing a course. Many IIM courses for working professionals can help you move forward in your profession. Some people join a course because they want to upscale themselves. Others will want to learn new skills and expand their horizons. You must choose whether you want to specialise in skills that you need for your present job or a new career.
Know The Course Content
Once you have defined your objectives for joining IIM courses for working professionals, it is time to see which courses help achieve those goals. Making an in-depth study of the course content will help you know if it is the right one for you. Check whether the course has generic content or it offers specialisations. The course curriculum must suit you as a learner. The advantage of IIM online courses is that they are always updated. This will help you learn the latest skills needed to achieve your professional goals.
Fee, Duration And Course Timings
These are very important when you choose a course. Check the fee structure for the IIM courses for working professionals and see if you can afford them without much strain on your finances. You can also check if your organisation will sponsor you, as they will benefit greatly from your new skills. The other aspect to check is the timings of the classes. As a working professional who probably has a family, it is not easy finding much time for studies. You must see if you can attend the classes without sacrificing your job or family.
Training Methods And Mentors
Joining IIM courses for working professionals is one way to make sure that you learn from highly educated and experienced faculty. However, it is better to look at the mentorship programmes offered by the course. You must also check the training method. Look at how many hours of live classes you will be attending. You must also see what kind of discussions and interactive sessions are included in the course. The inclusion of practical case studies helps you gain experience in real-life scenarios.
We have seen how you must choose a course from the many offered by IIMs across the country. Look for those that are specially meant for the field in which you are already working. Those keen on heading a firm or starting their own company will benefit greatly from the Executive Development Programme In General Management offered by IIM Raipur. The details of the course are available on our website.
Though you will acquire a lot of skills in the IIM courses for working professionals, it is good to train in some skills before joining the course. This will help you sail through the course smoothly and be successful in the campus interviews.
MS Excel
You will learn the basics of MS Excel in your IIM management course as part of the managerial computing topic. However, the rigorous academic schedule may not allow you to gain expertise in Excel formulas. It will be better to gain some knowledge of Excel before you attend the internship programmes. There are many free tutorials available on the internet that can help you gain proficiency in Excel.
Also Read: What are the Types of Business Environment?
PowerPoint Presentation
This skill is essential for making class presentations. It will also help you get a PPO from the firm where you did your internship. Knowledge of PPT is essential for case study competitions. Since most people who join the course are not good at this skill, if you can master it before joining the IIM courses for working professionals, you will have the edge over others. Trying the free PPT courses online can help you become a master in PPT.
Drafting Mails
Drafting effective and impactful emails is essential for any manager. It will be useful even during your internship. That is why it would be better if you could try your hand at drafting some professional emails without any grammatical errors. Adding the Grammarly extension is an excellent way to ensure that your grammar is good. You can learn how to write proper emails by getting tips on the same online.
Networking Through LinkedIn
LinkedIn is a platform that is important for anyone looking for a job, especially at the management level. Having a good network in the portal helps you know the availability of lucrative jobs even if they are not advertised. If you don't have a LinkedIn account yet, it is time to create one and make sure that your profile stands. Search for those who you know and add them to your list.
Reading Long Passages
The IIM courses for working professionals need you to read and prepare many business cases. Each of these will be many pages long, which means slow reading will not help you. You must learn to read long passages in one go, and that too quite fast. It is ideal developing the habit of reading books or editorials before joining IIM. It will help you read faster, and it will also gain you a lot of knowledge on different subjects. Any additional knowledge is good in life.
Teamwork
Many people think they are good at working with others till they are pushed into a group for a common activity. Conflicts often occur when some people work, and others slack off. If you can make a group work and achieve its goals, then it will help you greatly in your job too. It is best to acquire some people skills before joining IIM. It is always a useful skill to possess both in professional and personal lives.
Preparing oneself to be the best in the course helps you complete it successfully. If you plan to join the Post Graduate Certificate Course In Human Resource Management from IIM Shillong, then it is better to acquire a few skills mentioned above. You can visit our website to learn more about this course.
Conclusion
Everyone aims to secure a good job that will both earn well and give job security. The highly volatile job market makes it all the more necessary that you possess a certificate from an institution that is highly regarded by big companies. Completing a course in IIM and getting the certificate is the only thing you need to get into a rewarding career and make sure that there are always employers looking to hire you.
More Information:
What is Business Administration Course?
Business Policy and Strategic Management: An Encyclopedia
What is an Executive MBA For Working Professionals?