Human resources is the term used to describe an organisation's department responsible for managing the company's employees. This includes hiring and firing, employee benefits, payroll, and more. For many companies, human resources are one of the most important departments. After all, employees are a company's most valuable asset. With them, a company can function. If you're pursuing a career in human resources or are just curious about what the job entails, knowing human resource meaning is a must for you to begin with.
What Is The Meaning of Human Resources?
Human Resources (HR) is a company's department responsible for all things related to the employees. HR is essential because they are the ones who make sure that the company is running smoothly and that the employees are happy.
What is Human Resource Management?
Meaning of Human resource management (HRM) is not only limited to recruiting, selecting, onboarding, training, and managing an organisation's employees but is also responsible for employee relations, benefits, and payroll.
The ultimate goal of HRM is to create a workplace where employees are productive, engaged, and committed to the organisation's success. To achieve this, HRM must attract, develop, motivate, and retain the best talent.
HRM functions include: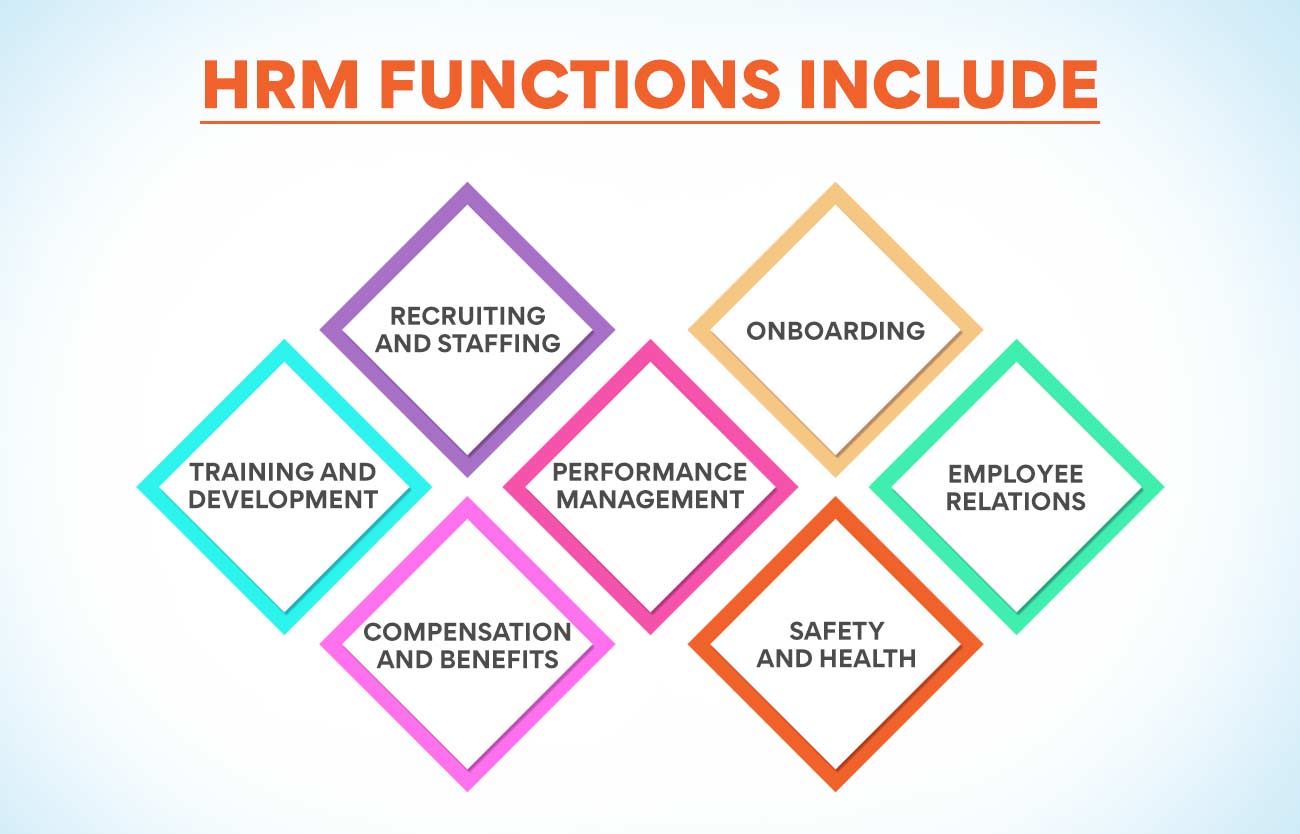 Recruiting and staffing:

Attracting and selecting the best talent for the organisation

Onboarding:

Welcoming and orienting new employees to the organisation

Training and development:

Providing employees with the skills and training they require to be successful in their roles

Performance management:

Managing employee performance through regular feedback and reviews

Employee relations:

Creating a positive work environment and managing communication between employees and management

Compensation and benefits: Developing compensation plans that attract and retain top talent
Safety and health:

Promoting a safe work environment
What Is The Significance of Effective Human Resource Management in Organisations?
There are several key benefits that effective human resource management can bring to an organisation. Perhaps most importantly, it can help to ensure that the organisation has a skilled and motivated workforce. This, in turn, can lead to improved productivity and profitability.
A true understanding of the meaning of human resource management can also help to create a positive working environment for employees. This can reduce staff turnover and absenteeism and improve employee morale and commitment. In addition, it can assist in developing a strong employer brand that can attract high-quality candidates to the organisation.
Finally, effective human resource management can contribute to the overall success of an organisation by ensuring that it complies with employment legislation and meets its health and safety obligations. This protects the organisation from legal action and financial penalties and helps ensure it operates socially responsibly.
What Are The 8 Functions of Human Resources?
Human resources support the organisation's mission, vision, and values.

Human resources attract, develop, and retain a high-performing workforce.

Human resources engage employees in the workplace.

Human resources promote employee well-being.

Human resources manage employee benefits and compensation programs.

Human resources develop and implement policies and procedures that support the organisation's goals.

Human resources partner with other departments to achieve organisational objectives.

Human resources measure, assess, and continuously improve HR programs and services.
What Are The Consequences of A Poor HR Management?
There are several potential consequences for organisations that have poor HR management. These can include high staff turnover, low morale and productivity, and an increased risk of legal action.
Poor HR management can also lead to a lack of clarity around roles and responsibilities, creating confusion and conflict within teams. Additionally, attracting and retaining top talent can be difficult if your organisation is perceived as having poor HR practices.
Ultimately, poor HR management's consequences can significantly negatively impact an organisation's bottom line. It is, therefore, crucial for organisations to ensure they have robust HR systems and processes in place to avoid these pitfalls.
What Are The Challenges Associated With Human Resources?
There are many challenges associated with human resources, but some of the most common ones include the following:
Attracting and retaining top talent

Managing employee performance

Compensation and benefits administration

Compliance with employment laws and regulations

Employee training and development
Also Read: Breaking Down The Scope Of Human Resource Management
Understanding the Meaning of Human Resource and Tackling The Challenges:
Human resources departments are constantly under pressure to get more done with fewer resources. They are being asked to provide more services and support to employees while reducing costs. This can be a tricky balancing act for HR professionals.
There are several ways that HR's challenges can be tackled. One way is to use technology to automate some of the tasks that HR professionals are responsible for. This can allow HR professionals to focus on more strategic tasks.
Another way to tackle HR challenges is to outsource some of the functions that HR professionals are responsible for. This can help to reduce costs while still providing employees with the support they need.
Finally, HR professionals must stay up-to-date on the latest trends and developments in their field. This will allow them to determine new opportunities to improve the efficiency of their department and better serve their employees.
How Can A Professional HR Take A Company Towards Success?
Human resources are essential to any company, and a professional HR can lead a company towards success. Professional HR has several benefits, including reducing turnover, attracting and retaining top talent, and improving communication.
A professional HR can help reduce turnover by identifying problems early on and addressing them before they lead to employee dissatisfaction. They can also help attract and retain top talent by creating a positive work environment and offering competitive benefits. Lastly, they can improve communication by ensuring that all employees know company policies and procedures.
To make a company successful, it is essential to have a professional HR team in place. They will help you reduce turnover, attract and retain top talent, and improve communication.
What Are The Good Traits Of A Successful HR Professional?
A successful HR professional is someone who can manage the people within an organisation effectively. They must communicate verbally and written effectively and build relationships with employees. They must also have strong problem-solving skills and be able to handle difficult situations.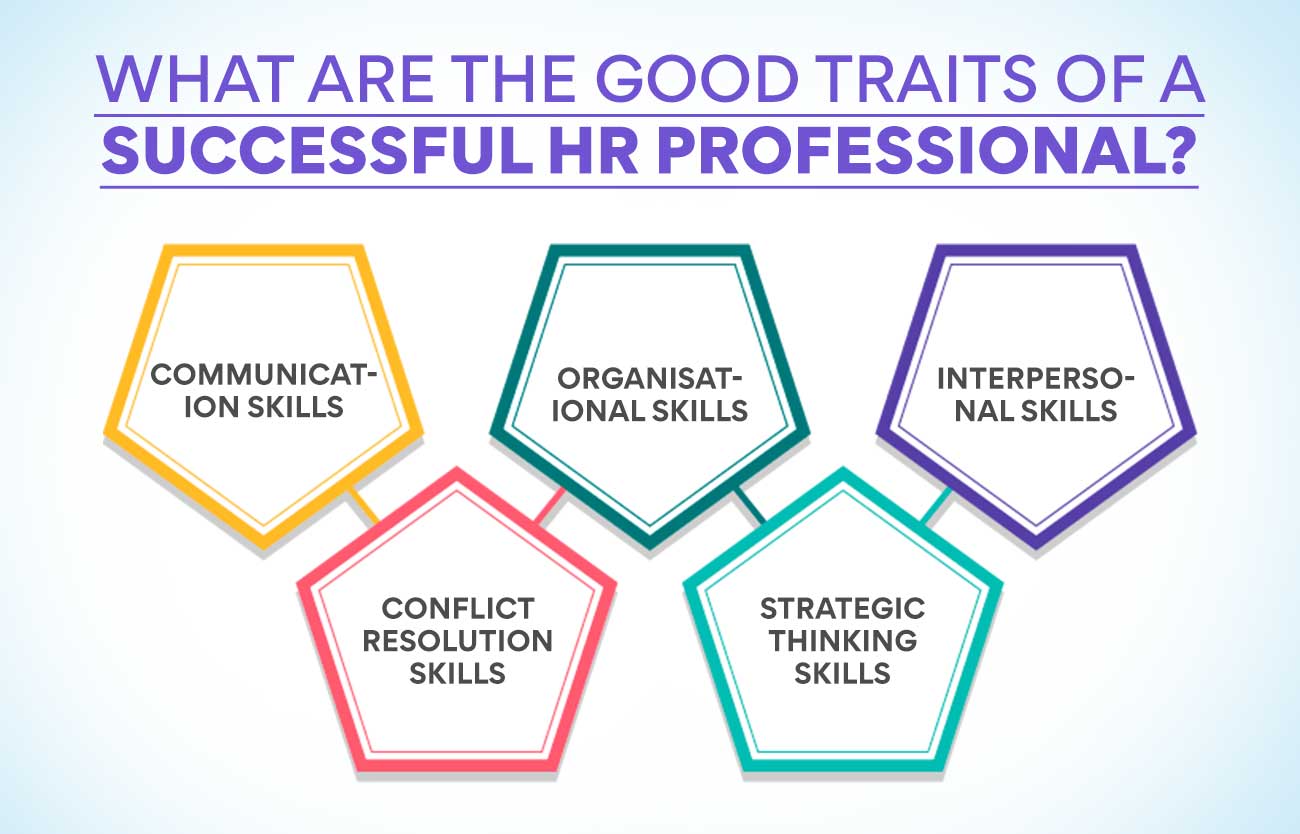 Communication Skills:

A successful HR professional should have excellent communication skills to effectively manage and communicate with employees at all organisational levels.

Organisational Skills:

A successful HR professional should be highly organised to keep track of employee records, benefit programs, and other HR-related information.

Interpersonal Skills:

A successful HR professional should have strong interpersonal skills to build positive relationships with employees and customers alike.

Conflict Resolution Skills:

A successful HR professional should be adept at resolving workplace conflict constructively and positively.

Strategic Thinking Skills:

A successful HR professional should think strategically to develop long-term plans for an organisation's human resources needs.
Best Practices of A Well-Synchronised HR System?
For a human resources department to be effective, it is essential that all of the different aspects of the department are well-coordinated and working together in harmony. This can be a challenge, but some best practices can help ensure your HR system runs smoothly.
You must be to ensure that you have a clear and concise job description for each position within the department. This will help ensure that everyone knows their roles and responsibilities. In addition, you should establish clear lines of communication between all team members so that information can be easily shared.
It is also crucial to keep accurate records of employee performance and development. This will help you identify areas where improvement is needed and provide valuable data that can be used for future planning. Finally, it is essential to provide regular training and development opportunities for your team to continue growing and developing their skills.
Also Read: How To Achieve Optimum Professional Growth
How To Become An Efficient HR Professional?
To become an efficient HR professional, you must always keep these things in mind:
It is important to be well-organised and have a good system in place for tracking employee data.

Effective communication with both employees and managers is crucial in this role.

Being proactive in solving problems and keeping up with current HR trends will help you succeed in this career.
The most important thing for an HR professional to do is to be efficient in their work. This can be done by taking a few specific steps:
Be organised in your work. This means keeping track of deadlines, meetings, and other important events. It also means having a system for filing and tracking employee information.

Be proactive in your work. This includes anticipating problems and taking steps to prevent them from happening. It also means being proactive in solving problems that do arise.

Communicate effectively with employees and managers. This means being transparent when communicating information. It also means listening to others and responding appropriately to their questions or concerns.

Stay up-to-date on new HR laws and regulations. This includes knowing about changes in the law that could impact your company's policies or procedures. It also means keeping up with new trends in the HR field.

Make sure you are efficient in your work by following these tips. Doing so will help you be successful in your career as an HR professional.
Meaning of Human Resource And Its Future Growth Potentials In India
The future growth potential for HR in India is vast. The country has a large population and a rapidly growing economy, both major factors driving the demand for HR services. Additionally, the Indian government is investing heavily in initiatives to improve workforce quality, further increasing the need for HR professionals.
Some areas expected to experience significant growth include employee training and development, recruiting and selection, and employee relations. With the introduction of new technologies and increasing globalisation, HR professionals in India must be adept at using online tools and resources to effectively manage a diverse workforce.
Why Choose An HR Course To Kickstart Your Career?
There are many reasons to study an HR course to kickstart your HR career. Here are some of the key reasons: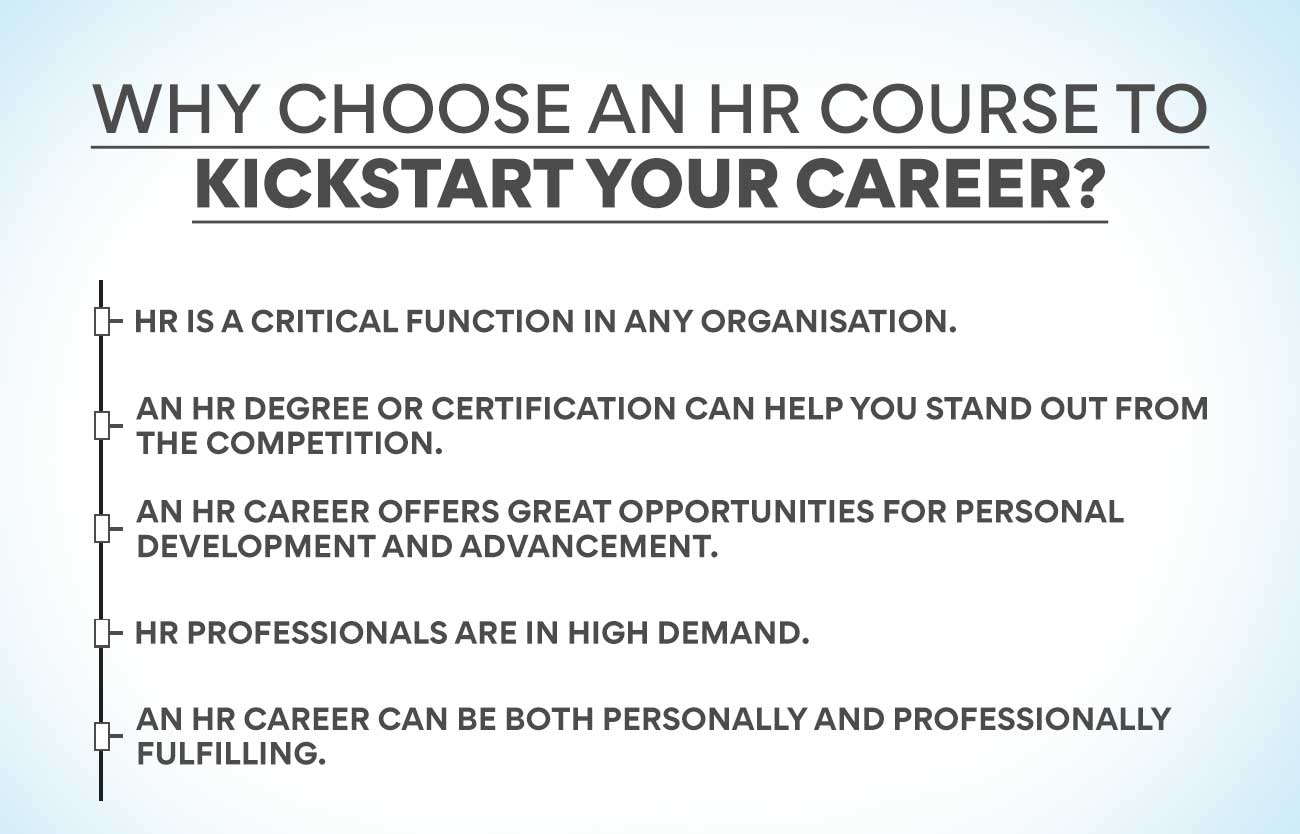 HR is a critical function in any organisation.
HR courses will give you a strong foundation in the principles, practices and meaning of human resource management. You'll learn about the strategic role of HR in organisations, how to attract and retain talent, how to manage employee performance, and how to design and implement effective employee benefit programs.
An HR degree or certification can help you stand out from the competition.
In today's competitive job market, having an HR degree or professional certification can give you a significant advantage over other job candidates. Employers are increasingly looking for candidates with formal training in HR, so completing an HR course and having insight into the meaning of human resource can help you land that dream job.
An HR career offers great opportunities for personal development and advancement.
Human resources is a great option if you're looking for a challenging and rewarding career. You can take many paths within the HR field, such as specialising in recruitment or training and development. And as you gain experience, there are plenty of opportunities for promotion into senior roles such as HR manager or director.
HR professionals are in high demand.
The Bureau of Labor Statistics projects that employment in the human resources field will grow by 7% from 2016 to 2026, which is indeed quicker than the average for all occupations. This growth is driven by factors like the increasing importance of HR in organisational success and the retirement of baby boomers from the workforce.
An HR career can be both personally and professionally fulfilling.
Human resources is a great option if you're looking for a career that is both personally and professionally fulfilling. In your role as an HR professional, you'll have the opportunity to positively impact employees' lives and help organisations achieve their goals.
Conclusion
Human resource is a critical function in any organisation. Without adequate human resources management, recruiting, training, and retaining employees would be difficult. In addition, human resources play an essential role in employee relations, benefits administration and compliance with employment laws. Given the importance of human resources, organisations need to have a dedicated human resources department.
With our Post Graduate Certificate in Human Resource Management, you can set on a fulfilling journey to become a successful and efficient HR professional. Whether you want to switch careers or fine-tune your skills, this course will perfectly meet your needs. Check out the course now to know more.
More Information:
Objectives & Nature of Human Resource Management
Evolution Of Human Resource Management: Past and Future
What is Stakeholder Engagement? Importance, Planning and Implementation