The HR management department plays a crucial role in a company's performance because they choose the people who work for the organisation. Having the right people for every position is critical for a company to achieve its goals. HR managers don't just play the role of recruiting people but also create a better image for the company as an employer. This is very important for getting the best hands to work for the firm. Those who wish to join this important department in a company must know the human resource management salary before they start their careers.
Working in the HR department can be both challenging and satisfying. But you must possess the necessary skills if you want to succeed in that position. The Post Graduate Certificate Course In Human Resource Management is the best program to acquire capabilities for the job and know how to succeed in it.
What Is Human Resources Management
Human resource management can be simply put as managing the affairs of the employees of an organisation. But it is not as simple as that. There are many other complex tasks that these professionals have to perform, and this is the reason the human resource management salary is quite high in most companies. They perform a highly important task of recruiting the right people for every post. Companies strive to appoint people who don't just satisfy the present needs but also are capable of handling future responsibilities. It is in the hands of the HR department to attract such people to the firm.
The HR department also works towards the development of the employees by providing them with regular training to equip them with the latest skills. They also assess the performance of workers and reward them in a manner that will motivate the staff members to put in their best efforts. HR officials provide a good working environment that helps employees to move forward in their careers. These professionals also resolve conflicts that are sure to occur where people from different backgrounds work. The efficiency of these people decides on the human resource management salary they earn.
Salary Levels Of HR Professionals In India
The salary of human resource personnel depends greatly on their skills and experience. As companies realise their importance in taking the firm to its goals, these people are given much importance and good pay. The average salary for man managers is around seven lakhs per annum for a person with around 5-9 years of experience. This amount has been arrived at by getting salary information from those working in this department in various companies. The human resource management salary for a fresher will be much less and will depend on the company and industry.
A person who has less than one year of experience in the job can hope to earn a salary of three to three and a half lakhs per annum. The amount includes bonus and overtime pay. It will vary with location and company. When one has got experience handling people for four years, then the pay will rise to four lakhs. By this time, the official would have acquired more skills too. Someone with an experience of ten to twenty years will be paid around ten lakhs per annum. This is what most HR officials also earn at the end of their careers.
Now that we have seen the human resource management salary in India let us also look at the jobs in this department that pay the most.
HR Jobs That Pay The Best In India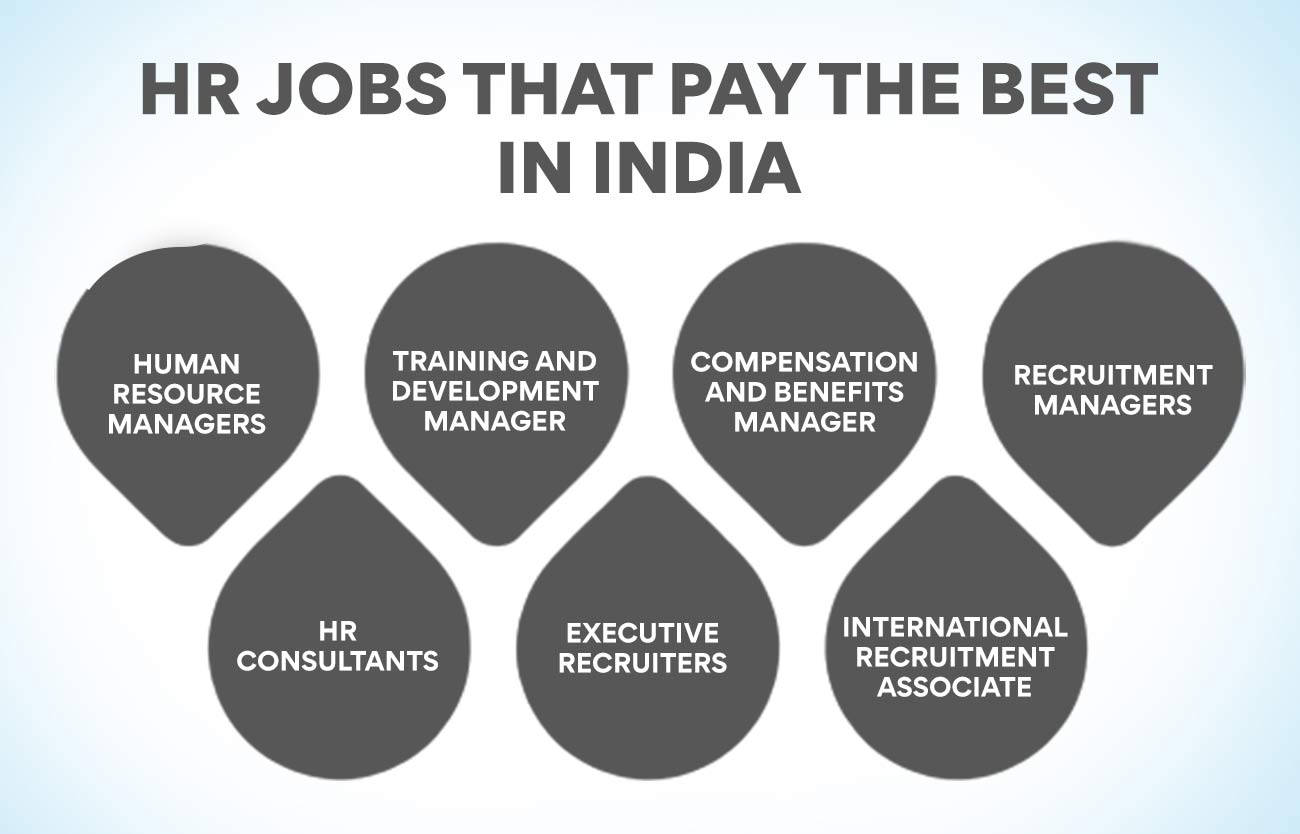 Human Resource Managers
These people are leaders of a team of HR specialists who ensure that the company has the necessary employees with adequate skills to achieve organisation objectives. They are in charge of all issues related to human resources in the firm. These specialists also make sure that all laws regarding workers and company directions are being followed strictly. As they take care of all manpower issues, they must be good at communication and must be able to maintain good relationships with people at all levels. The human resource management salary for these leaders depends on their skills and experience.
These professionals supervise the activities of the HR team like manpower planning, recruiting, training and other people-related activities in the company. An HR manager with experience in the industry can earn an average salary of seven lakhs per annum, depending on their location. Their tasks include:
Supervising the activities of the HR team.

Evaluating human resource programs and plans.

Formulate and evaluate the HR plans and procedures.

Assist in developing HR department systems and objectives.
Training And Development Manager
These professionals play a supportive role by helping employees learn new skills and develop their capabilities. They also guide workers regarding their career paths. Organising orientation sessions for recruits and providing workshops for existing employees form part of their jobs. They also help the workers with personal development. These officials are good at assessing the training needs of each employee and getting the necessary training sessions organised with the top management's permission. These people have a high human resource management salary as they are responsible for upgrading the workers with new skills.
It is the Training and Development Manager who compiles training materials like booklets and manuals. They interact with employees regularly to understand their interest in training programmes and how they have benefited from them. It is necessary for them to know the compliance requirements and convey the same to the workers. These professionals earn around seven lakhs and seventy-five thousand rupees a year. Their duties include:
Regular interaction with trainers, administrators and executives.

Administer and compile data.

Design training materials, programmes and plans.

Test and review the prepared training materials.
Compensation And Benefits Manager
Compensation and benefits are very important HR tasks that have a direct impact on both attracting good hands and retaining them. The compensation and benefits managers are responsible for finalising the salary and benefits policies of a company. They must balance the budgetary constraints of the firm and the demand from the employees. These officials must have a good knowledge of labour laws that regulate the payment of wages to workers. They must also be familiar with the pension, insurance and health benefit regulations. Knowledge of competitors' compensation policies is also essential to do their work efficiently.
These professionals are offered a very high human resource management salary as their work directly impacts the retention of good workers in the company. There is always a demand for those experienced in this work. Those who can work out an unbiased and valid compensation package are in high demand. They earn an average salary of around thirteen lakhs per annum. Their main tasks are:
Designing compensation packages.

To identify and implement new schemes that help retain employees.

Ensuring that the company is compliant with labour laws.

To keep track of existing salary trends in the industry.
Also Read: What is Strategic Human Resource Management? Definition and Examples
Recruitment Managers
These professionals are responsible for ensuring that all vacancies in the company are filled and that there are enough skilled people to fulfil the company's staffing needs. They work directly under the HR manager or directors of the company. They must regularly interact with all department heads to know their staffing requirements. These officials must know how to attract good candidates to the company. They must be familiar with sources where they can find the best hands in the market. Their crucial role in bringing efficient people to the company earns them a good human resources management salary.
Recruitment managers must be regularly present on various social media platforms to locate good candidates who may not have applied for a job in the firm. They must know how to identify high-potential candidates from among numerous applicants. These officials must possess good interviewing skills both in person and by video calls. They are paid around five lakhs per annum, but the amount increases as they achieve higher positions. Their responsibilities include:
Finding good sources for getting the best candidates.

Screening applications and selecting the good ones for the interview.

Identifying the most suitable persons for the job.

Regular interaction with department heads to understand staffing requirements.
HR Consultants
They work on a contractual basis with companies and help HR officials find the right candidates to fill vacancies. These professionals understand the staffing requirements of the firm they work for. They also devise policies, employment structures, benefits packages and incentive schemes for the organisation. HR consultants study the employee strength in a company and advise the firm about increasing or decreasing the numbers to achieve better efficiency and reduced costs. These professionals can also help companies deal with conflicts with workers. They also keep track of the salary trends in particular industries they deal with.
They don't earn a regular human resource management salary from the firm but can earn up to four lakhs per annum working on a contract basis. Associating with more companies and knowing the right sources for good candidates can help the consultant earn more. Their regular duties include:
Recruiting employees and planning staff requirements for companies.

Provide training and development for staff members.

Ensure that companies follow labour laws and other regulations.

Help companies establish good working conditions for workers.
Executive Recruiters
Unlike HR consultants, these professionals only take up the recruitment of senior executives for corporations and non-profit organisations. They must possess a good knowledge of the industry they are hiring people for. They must convince an executive at a senior level to leave the company they are working for and join another one. They must also possess excellent communication skills to communicate a company's merits to a prospective employee. The executive recruiter must also understand the cultural environment of a company before recommending a person for employment.
Executive recruiters are usually paid a retainer fee by the company they find people for. In some cases, they also get a percentage of the salary of the new executive. These professionals can earn around four to five lakhs per annum as retainer fees. They must complete the following tasks:
Identify and recruit senior officials through various channels.

Evaluate prospective candidates according to their skills.

Ensure that the persons selected are compatible with the new company.

Organising confidential interviews and scrutinising references.
International Recruitment Associate
As the name suggests, these professionals take the responsibility of hiring people across different countries. They do all tasks of an HR manager, like posting jobs, screening applications, conducting interviews and hiring people as per company requirements. They also finalise compensation packages depending on the country they recruit people and the salary standards in those countries. Their human resource management salary depends on their contacts in different countries and how well they can fulfil staffing requirements. They also maintain various HR records in different nations.
They are also tasked with explaining company policies to prospective recruits. These professionals ensure that all onboarding processes are completed as required. HR associates must also make sure that the company complies with all rules related to employment, retirement, benefits and healthcare plans. Their average salary in India is between four and five lakhs per annum. They must:
Communicate with prospective candidates.

Verify academic records, check references and provide employee contracts.

Conduct employee orientations.

Explain benefits to recruits.
Also Read: Breaking Down The Scope Of Human Resource Management
Apart from the above, there are higher posts that are mostly taken up by HR officials rising the ladder in the same company. But sometimes these jobs are also given to people from other companies with many years of experience in similar industries. The salaries for these senior positions are much higher and vary with company and location. You can learn a lot about the opportunities in this profession and the human resource management salary by joining the Post Graduate Certificate Course in Human Resource Management. A visit to our website can enlighten you more about the course.
Conclusion
Human resource management is both interesting and highly challenging. If you are someone who feels empathetic to others' causes, then this is an excellent job for you. HR management is all about dealing with employees and making sure that they enjoy good working conditions and benefits. The job enables you to guide employees in their career paths and help them succeed in their jobs. The HR manager also helps the company achieve its goals by recruiting the right people and providing the necessary training for existing staff members.
More Information:
Objectives & Nature of Human Resource Management
Evolution Of Human Resource Management: Past and Future
Understanding Talent Management And Its Importance