The staff is a company's most valuable asset; thus, the HR team must know its advantages and disadvantages. To maintain employee satisfaction— essential to a successful business—the HR staff must make important decisions. And these choices are frequently based on analytics and HR indicators. Organisations may use HR metrics and analytics to assess the efficacy and efficiency of HR policy. The distinction between HR metrics and analytics is sometimes unclear. In this article, we'll discuss both concepts and how they differ.
Understanding Human Resources
Human resource is a function that focuses on people, as the name indicates. It is the department handling all employee-related issues in any firm. The ultimate demonstration of the HR team's accomplishments is human resource analytics, often known as HR analytics, which goes beyond issuing offer letters and onboarding new personnel. HR Metrics and Analytics may change how HR functions when applied effectively, providing the team with insights and enabling it to proactively and effectively contribute to the organisation's bottom line.
All about HR Metrics and Analytics
Key Performance Indicators (KPIs) for people operations are often known as HR metrics. It enables companies to assess productivity, effectiveness, and the results of alterations to business procedures. Businesses monitor them to evaluate and boost productivity, engagement, and performance. All workforce processes, including hiring, wage compensation, stint and labour, training, engagement, and retention, are measured by HR teams.
On the other hand, HR Analytics entails using various analytical processes on the internal human capital of the firm to enhance employee retention and productivity. Investing in human capital assets via HR Analytics may help achieve four main goals:
producing income,

cutting costs,

reducing risks,

carrying out strategic objectives
Using statistical approaches, these objectives are accomplished using integrated HR, talent development, financial, and operational data which forms a part of the HR Metrics. With the help of this technique, HR frequently collects data and links it with corporate goals. By doing this, they can demonstrate quantitatively how HR efforts are advancing the objectives and strategy of the company. In simple words, the sole purpose of HR analytics is to gather pertinent data and then use this data to make well-informed decisions about improving human capital assets.
HR metrics and analytics often go hand-in-hand. When used together, it provides information about what is occurring inside the organisation based on quantifiable, concrete facts. These indicators aid in evaluating the worth and efficiency of HR activities and give historical data to help guide decision-making in the future. Several HR indicators are to track, including headcount, turnover, diversity, recognition, retention, recruiting, employer brand, engagement, and more. These are the major categories, and one may delve further into each to deconstruct further information.
Importance of HR Metrics and Analytics
Now that we have an understanding of the fact that HR Analytics is among the crucial step towards the growth and development of any organisation. Today, with the world being driven by data, human resources analytics highlights the pain points faced by the department and provides suitable and customised solutions to manage the organisation's human capital. Through training their HR professionals, companies try to remain competitive while creating plans and goals for the financial year. These plans often regard recruitment, training and development of employees to attract and retain the best possible talent in the market.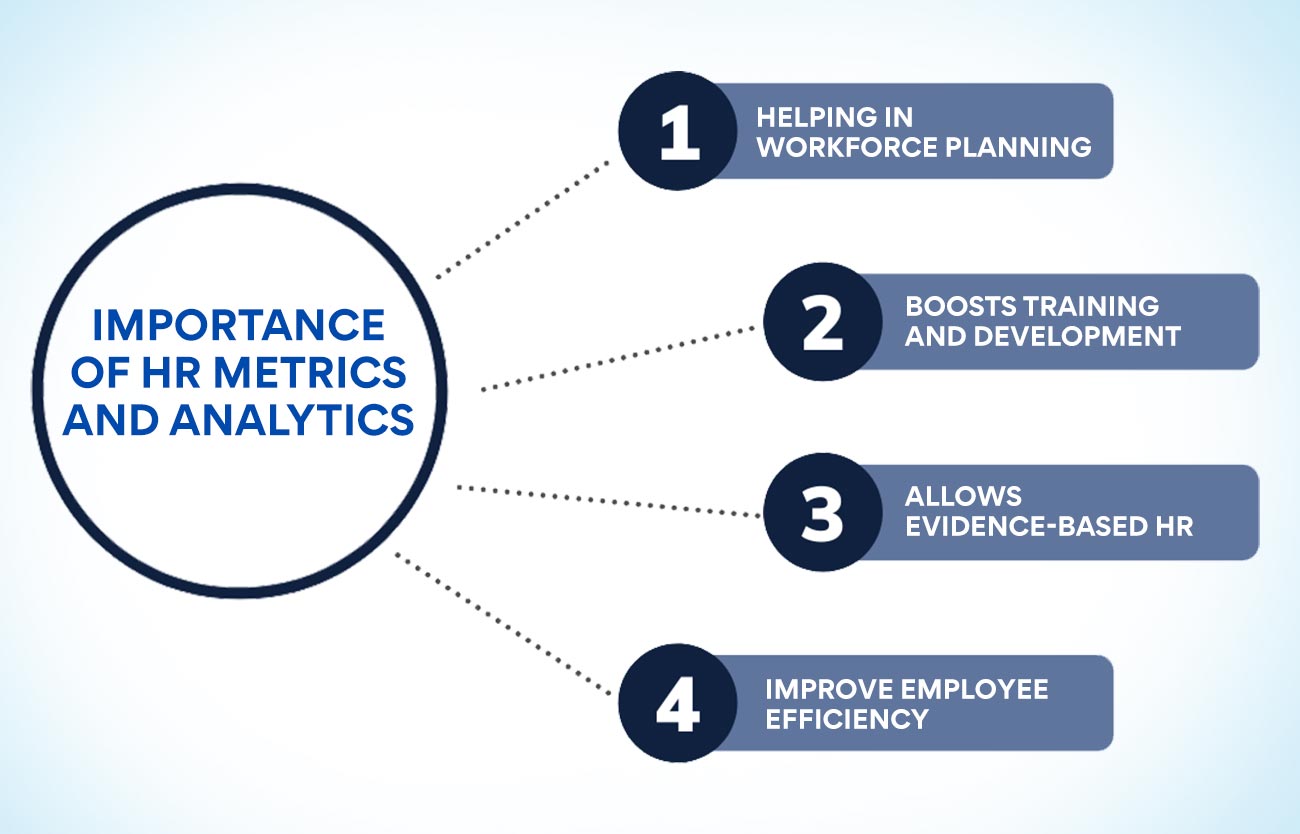 Helping in workforce planning –

Through optimal utilisation of HR analytics, an organisation can determine and understand trends ahead of the competition. It is done to put down the objectives behind recruitment and retention.

Boosts training and development –

HR analytics provides the HR department with refined data and trends to understand the areas wherein the organisation's employees require training and retaining the employees.

Allows evidence-based HR –

HR departments during the ancient corporate time have been disregarded as biased and infamous. With data-driven technology, HR can decide on other important things.

Improve Employee efficiency –

With the help of

HR metrics and analytics

, an organisation can understand the efficiency and development of personnel across them.
Types of HR metrics and analytics
HR metrics and analytics can be under the umbrella of four other tools or methods. Each analytics brings a different question and offers various insights into the topic. One can choose a method based on the requirements of your organisation and what is based solely on needs. To understand the type of analytics, we have briefly put down each of them under the following –
Descriptive Analytics

– This analytics is based on past events and always asks what happened. It analyses the data set based on the collections of past trends, figures and data. It usually takes on descriptive data along with basic statistical tools.

Diagnostic Analytics

– here, one can find answers to 'why did it happen?'. Once the data crosses the descriptive stage, it will move to know what was the cause behind the past events. For example, it can be the top five reasons employees resigned during the financial year.

Predictive Analytics

–

As the name suggests, this type of analytics is focused towards forecasting the future events and roles of the data collected. HR analytics under this type tries to correlate past and present trends to discuss the future. It always talks about 'what can happen'.

Prescriptive Analytics –

After a prescription about suggestions and forecasting, it is important to plan for the future. For example, it can help the organisation plan for hiring more to meet the objectives promptly. In this stage, the question asked is, 'what will happen'.
Also Read: Stress Management in HRM: Why is it Crucial?
What are some examples of HR metrics and analytics?
Some of the commonly used and easily measurable HR metrics and analytics are as follows:
Revenue per Employee

– Total revenue earned by the company divided by the total employee count.

Offer Acceptance Rate

– Number of offers accepted by the applicants divided by the total number of offers extended.

Training Expense

– Average amount paid by the company on training each employee.

Absenteeism

– Employee absenteeism for a specific period divided by the total number of workers.

Involuntary Turnover Rate

– Layoffs or reductions in the staff divided by the average number of employees.

Voluntary Turnover Rate

– Dividing the number of workers who willingly depart the company from the workforce.
How do organisations use the concept of HR Metrics and Analytics?
With the world moving aggressively towards digitisation, businesses are leaving no stone unturned to develop and grow digitally. Human resources, an essential part of an organisation, is steadily equipping itself. Today, every decision taken within the business environment is based on data and analysis. HR metrics and analytics consist of various elements – initially, a database is prepared through data collection. Then, all the data must be studied and measured along with standard norms the organisation sets through historical data.
This will give patterns and trends between the past and future and give a forecast analysis of future outcomes. This result will allow organisations to implement these analytical insights for decision-making processes. However, it is crucial to collect relevant data – to derive it, a series of steps have to be performed. A detailed representation of HR analytics and its working is given below: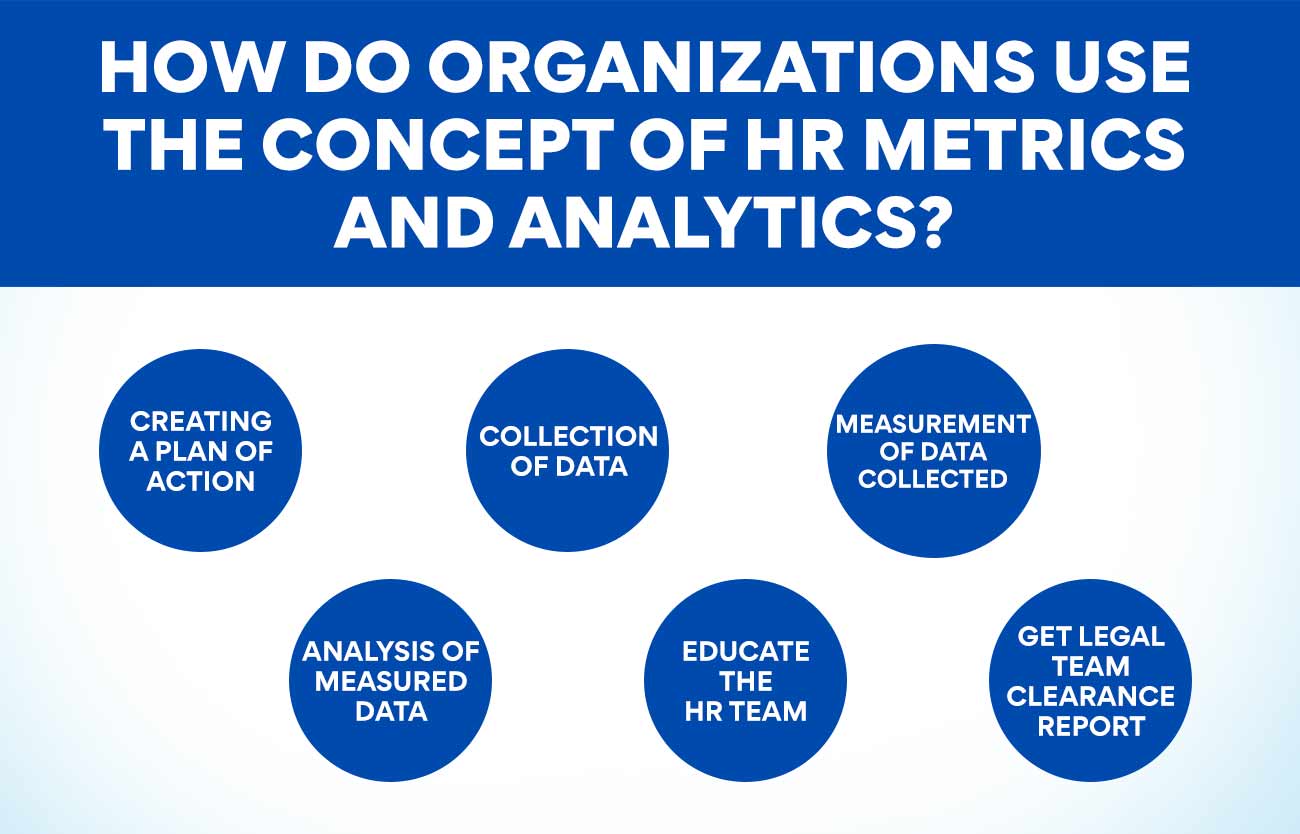 Creating a Plan of Action
To use HR Analytics effectively, it is important to understand the problem areas where it is required. After determining the, it should be ranked in order of the most required to least required. Along with this, a detailed representation of these problems should be put together to understand which HR analytics would be suited for the cause.
Once the focus areas are determined, one can work towards the collection of data from various HR sources like recruitment, training, personnel management and evaluation of performances. These data may include the profiles of the current and past employees, performance, training, retention, engagement and absenteeism, to name a few. The data collected should be available readily through the HR team or tech methods such as cloud- a based integration systems. It should follow the result needed. Once the data is collected, it has to be refined and organised to get clear information to support the further process.
Measurement of Data Collected
After collecting the data through various sources, the relevant and refined data must be measured and compared. This stage is more scientific, and organisations should involve data scientists to measure and compare the database. The HR analytics uses the collected data against the organisation's standard measurement goals (a pre-decided required standard) that need to be achieved. It also uses historical numbers and norms to understand the current trends and further analyse the data. For example – an organisation can measure the absenteeism rate only if the standard acceptable absenteeism is defined based on history and standard company rules.
Also Read: Why is Human Resource Planning Compulsory For A Company's Growth?
Analysis of Measured Data
All the refined data, measured and compared on various grounds, is analysed in this stage. The detailed analysis is based on identifying any trends and patterns that may have been identified. This allows the organisation to understand the cause of problem areas or patterns that have become a problem. Some of the HR analytical measurements that the organisation's human resource department can utilise are turnover, absenteeism and performance efficiency.
It is only possible for some HR team members to be equipped with HR analytics tools and methods. It is the responsibility of the manager and senior authorities to provide the HR personnel with adequate knowledge of the digitisation of the processes.
Get Legal team clearance Report

.
Another crucial step towards completing the HR analytics process is ensuring that data collection and analysis are compiled with the underlining company laws. An organisation, at all times, should be clear and transparent on the data collected under them. Some of the points to keep in mind while working on sensitive data are – getting the consent of the past and present personnel of the organisation before using data from them, consent of third-party software from IT Security, putting forward the objective and intention behind the collection and interpretation of the data collected and various other internal and external rules.
Benefits of HR metrics and analytics
HR metrics research is needed for every company to succeed in the market. With these indicators, HR can more easily get the greatest performance out of each candidate and make smarter decisions based on preliminary data. Every firm must have a training procedure, and flaws in this procedure might result in serious issues and raise expenditures. Additionally, HR metrics and analytics ensure that all employees receive better training and take advantage of all available training opportunities. The following are some advantages of employing these metrics:
Optimise your workforce allocation choices

Predict the outcomes of the organisation's suggested reforms. increase employee retention and happiness

Boost HR effectiveness

Cut back on compliance risks

Boost HR initiatives' return on investment
Differences between HR Metrics and Analytics
Human resources metrics and analytics are two powerful tools that, when combined, give organisations a wealth of information and feedback while saving them time and money. Metrics highlight possible dangers and show whether parts of the business operations as required. However, measurements alone do not offer the necessary data for defining future goals. HR Analytics comes into play here. When HR analytics uses the specific information that HR metrics give, they collectively provide a path toward viable solutions.
The Bottom Line
Historically, the HR department has been considered only to be related to hiring and onboarding new candidates. But with the development in the HR metrics and analytics space, companies have realised that there are a lot of other responsibilities for an HR professional. Companies are proactively choosing these KPIs to make informed decisions about the company's goals. This has also resulted in many more companies recognising their employee's contributions and rewarding them for the same. Aspiring HR professionals can enrol in a year-long HR management course from one of the trusted institutions to upskill their people management skills and be good team players in their careers.
More Information:
HR Analytics: What Is It and How To Use It?
Talent Management: Models and Key Fundamentals
Top 16 Qualities Of HR Manager You Must Know