We discussed about Agile Methodology and the importance of PMI-ACP ® in our previous post. In this post, we will understand the significance of PMI-ACP® in the project management field and the positive differences it brings to your career.
Main Reasons to get a PMI-ACP® Certification:
Agile is a new technology from the software industry meant to replace the complicated old business techniques. Hence the importance of the PMI-ACP® Certification exam which can actually make you ready for the latest challenges in the software profession and in business initiatives. The PMI-ACP® exam provides an edge mainly because of three big reasons – Career options, Salary and Improving job comprehension.
Most of the work conducted on a large scale is based on projects, the structure and format of which are always evolving with time. It is due to this reason that the word "Agile" has become the perfect definition for the project management professionals.
Let's look at the reasons in detail now.
Better Salary for PMI-ACP :
In this competitive field, the more skills you master, the better you're able to deliver excellent work. It has also been found out that there are companies who place a premium on some of their employees who can run a project successfully with the least amount of supervision. It must be remembered that this PMI-ACP Certification Exam can guarantee this premium.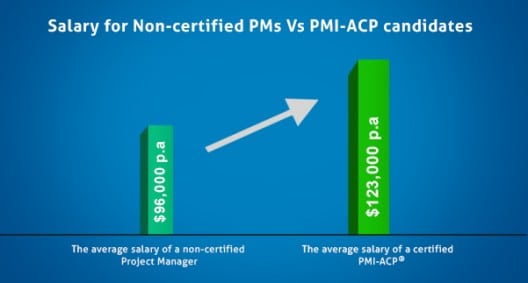 The salary of a certified PMI-ACP is about 28% higher than that a non-certified professional. PMI-ACPs are highly valued in the industry, which is why they receive such a higher pay. There is no doubt that becoming certified as a PMI-ACP certainly pays off.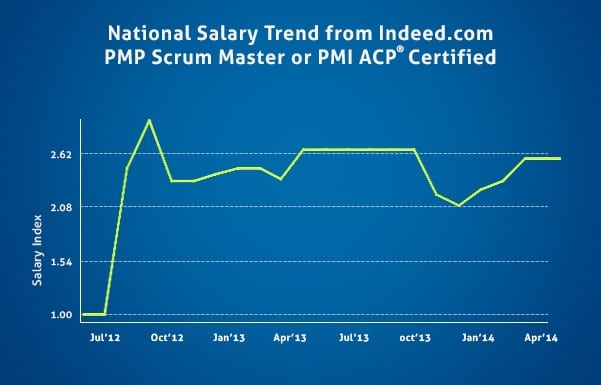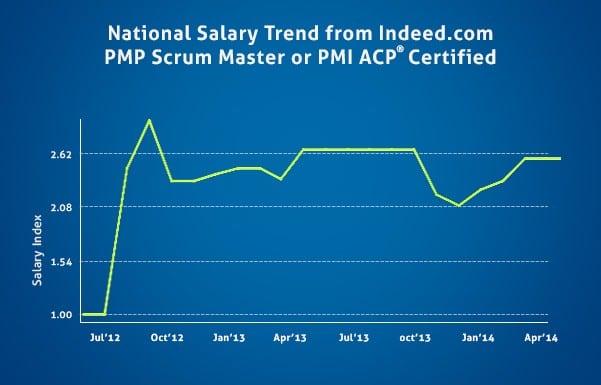 The above salary trend indicates that the PMI-ACPs are enjoying a steady premium salary.
How is the Demand for PMI-ACP® ?
There is currently a shortage of professionals who understand Agile correctly and are able to implement the process in the current Project Management sense. Therefore for professionals who already have an understanding of Agile as developers or Project Managers, PMI-ACP® provide a platform to showcase their credentials.
The Agile community is growing and the world has begun to heavily implement Agile methodology at a rapid pace to execute projects in a dynamic environment.
PMI-ACP® is one of the few certifications which crosses the methodological boundaries and does not focus on only one of the methods (usually Scrum). Agile on the other hand is an overarching framework that is a collection of methods such as Scrum, XP, Lean, Kanban, Chrystal Clear, DSDM, and more.
Most companies tend to use multiple or a blend of these methodologies so the PMI-ACP® certification provides a more comprehensive coverage of these tools, skills and knowledge areas.
The certification requires demonstration of actual experience with Agile instead of being training related only. Instead of only attending training and being certified (actually referred to as a 'certificate' in the certification arena) you have to demonstrate experience with Agile and pass a comprehensive examination with an accredited certification body.
As a professional organization, PMI is credible and the best positioned to bring some standardization and certification rigor to what is now a relative young and inconsistent field. Prior to this there was not a single best agile certification. The most popular previous certification was the Certified Scrum Master (CSM) and that is: 1) unique to Scrum and 2) so easy to achieve to be almost meaningless in the industry.
Job Trends for PMI-ACP®: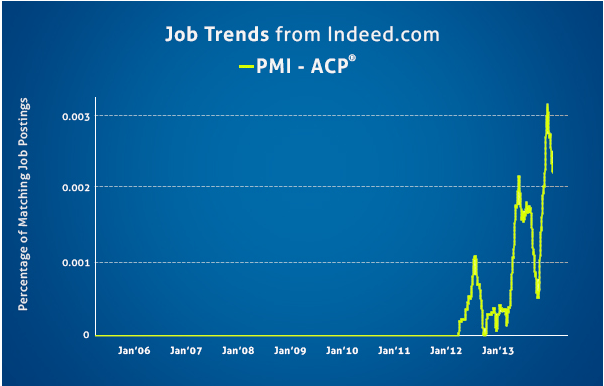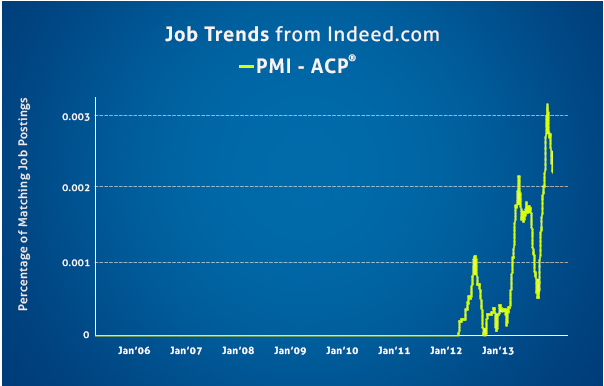 Indeed clearly indicates that the job trends for PMI-Agile Certified Professionals (PMI-ACP® ) are on the rise and subsequently there is a need for such skilled professionals.
Different Jobs Requiring PMI-ACP® & their Salaries:
A PMI-Agile Certified Practitioner(PMI-ACP® ) can choose among various job titles that requires his skills. The various job titles for a PMI-ACP® are:
PMP Scrum Master
Technical Business Analyst
Agile Coach
Project Manager
A search on popular job site indeed.com indicates the salary for the above job titles requiring PMI-ACP Certified Professionals.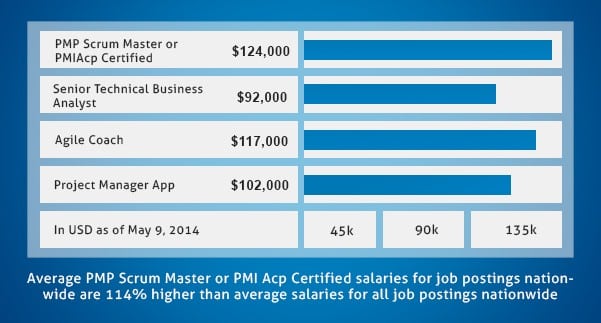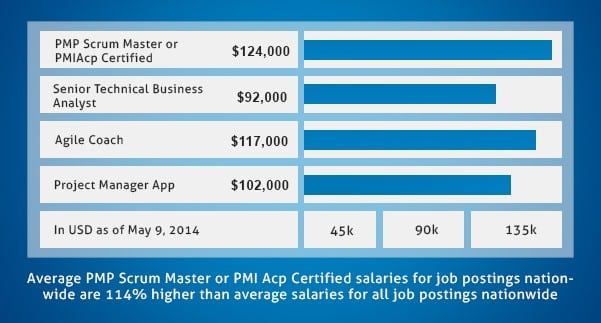 Improving Job comprehension:
The biggest advantage of this exam according to experts is that since there is more skill involved that can be applied in fewer time than before, people with such certification actually could lead a comparatively less stressful life.
Most of those people who have qualified for this job are of the opinion that they have a better understanding of what they have to do and how to execute it in comparison to the situation before this certification exam.
Conclusion:
PMI-ACP® is one of the Newest but most comprehensive and in-demand certifications offered by the PMI. PMI-ACP® offers a holistic study of the complete Agile Methodology rather than focusing on one singular method. This makes it a in-demand and popular career choice which has immense job opportunities.
Got a question for us? Mention it in the comments section and we will get back to you.
Related Post:
Agile Methodology and Importance of PMI-ACP®
PMI-ACP is a registered mark of Project Management Institute, Inc. Edureka is a Global PMI® REP: ID 4021