Politics doesn't interest me but I can definitely draw inspiration from the way digital marketing and social media were used for the Obama campaign five years ago. And how can we forget the 2014 Lok Sabha elections where Narendra Modi's team effectively used social media and digital marketing to build brand Modi?
In both the campaigns, they implemented social media strategy to reach out to a massive number of people and inspired voters to vote for them. The results were obvious for everyone to see and emulate!
Traditional marketing or advertisement in print, posters, banners, cutouts, and graffiti are getting less effective as more and more people are online and on social media. With the option of measuring or tracking data effectively through social media tools, most of the prudent marketers or business owners or PR professionals are going the digital way. And why not? A proper tracking system enables marketers to measure the exact number of "actions" that came from the campaign.
But how do we put together our social media efforts along with our business objectives?
Let's put it in just two simple steps:
# 1: Determine success metrics
Do you think your social media strategy alone can take you to greater heights? Not really!
To have a campaign that is not only successful but also measurable, you need to have clear objectives. It can be either increasing the number of visitors to your website or getting leads, which finally gets converted.
But how do we do that? You can easily measure these objectives by determining your success metrics, which includes the reach or interactions or conversions.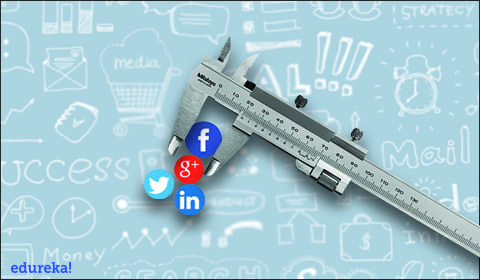 Reach:
Going by the number of posts that we see on social media today, it is unlikely that all your followers or fans will see all your posts every time. The higher your reach across social media, the higher is your capability to entice or influence your followers or fans to take 'specific actions'. Therefore, it is essential that you follow a strategy where you will reach your fans to the maximum.
Interactions:
Reach alone will not give you any results if you are not able to engage your fans with retweets, comments, likes or shares. This is the most important goal in social media marketing. Only after you have set a benchmark for the engagement, you can actually calculate the real engagement.
However, to check whether your interactions are increasing or decreasing, you need to check out the percentage not just the total number of likes or shares.
Let's say your interaction metrics reveal 1 million engaged users in just a month with 2 million followers. This presents a pretty good picture, but again in two months if you just see 2 million interactions, it means it is not scaling. With the number of followers increasing by the day, your number of engagements must increase as well.
Studies reveal that there are higher chances of followers or fans recommending a brand if they interact quite often with a brand on social media.
Conversions:
The most important part boils down to conversion. If you have the data for visitors and conversions separately, you can easily figure out the metrics. Again, the conversion metrics may vary for various brands. For some it can be an email sign up while for others it may come down to sales.
# 2: Test & Experiment
It's always important to remember that if you are determining the metrics for the first time, your strategy results might come as a shock or as an insight. What you actually thought to be performing well might be bringing in poor results. So, the best option to check the effectiveness of your strategy would be to test and experiment.
Again, testing can be effective if you select your channel well and define your target audience. Run an A/B test and determine what works and what doesn't. For instance, when you opt for testing your strategy, you can measure the results to see which version worked best and thereafter validate your strategy. Once they are proven, you can easily measure and iterate before scaling it up accordingly.
The cycle can be as simple as this: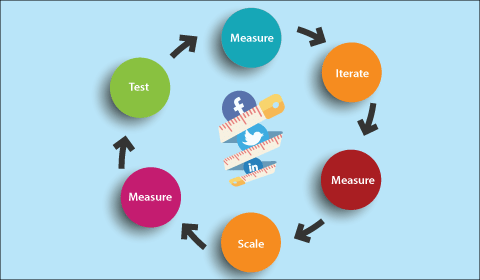 Conclusion:
Testing and experimenting might take a little effort, but with the right approach you will be able to hit the bull's eye. If you can understand what works and what doesn't, you can not only improve your strategy but also save a lot of time and resources and eventually improve your ROI.
But remember ROI is not about sales alone. It is also about transparency, establishing your brand and goodwill besides opening up doors of communications for customers or clients. Remember how brand Modi was built?  And if you have a solid product, your ROI will prove that the effort you are putting on your social media is paying off.
Got a question for us? Please mention it in the comments section and we will get back to you.
Related Posts:
Get Started with Measuring Social Media ROI