The biggest challenge for any company is to ensure that their brand is searchable, visible and available to potential clients. Brands desire that when audiences are looking for a product or service online, they should discover their brand and not their competitors. Ensuring that brands appear as a top result upon search was once attributed to high-end SEO and costly pay per click options. Many marketers also promoted the importance and necessity of paid advertising tactics to drive customers.
But this does not necessarily hold true. Sometimes you can boost your brand's visibility and attain high organic traffic through focused tactics that will need you to spend nothing but your time. However, following regular marketing tactics by making content available to audiences is not enough. What you need is a strategic content marketing plan to generate high volumes of organic traffic.
Let's take a look at some statistics shaping the content marketing industry in 2015:
Companies spend, on average, 25% of total marketing budgets on content marketing. (Heidi Cohen)
The top three reasons consumers share content online are to entertain (44%); to educate (25%); and to reflect their identity – e.g. families, friendships, values, etc. (20%) (MarketingProfs)
Now that we have established the importance of content marketing, we need to learn how brands develop refined marketing strategies that draw attention and drive sufficient amount of organic traffic.
The Growth Of Inbound Marketing
In this field, more and more agencies are recognizing the importance of inbound marketing over paid advertising strategies to drive higher organic traffic. Inbound marketing involves strategies that bring the customer in rather than the marketer reaching out to the customer. Inbound marketing earns the audience's attention by piquing their interest by providing them with relevant and interesting content. This is the foundation for drawing in organic leads. Since inbound marketing involves giving customers exactly what they want to see, it reduces the chance of a user ignoring or sidelining the communication.
79% of companies that have a blog reported a positive ROI for inbound marketing in 2013. (Hubspot)
54% more leads are generated by inbound tactics than traditional paid marketing. (Hubspot – State Of Inbound)
To create a successful traffic-driven content marketing strategy, brands can use a simple five-step approach that will ensure maximum eyeballs and increased engagement with relevant audiences.
1. Develop Detailed Buyer Personas
Buyer personas are a fictional, generalized broad outline of relevant customers. Chalking out such a representation gives a clearer picture of buyer behavior and helps you tailor content to suit their specific needs, habits and interests. It is necessary to extensively investigate the target audience to create wholesome buyer personas. A brand needs to know the target customers' demographics, job profile, gender, relevant information such as hobbies and areas of interest. For example, for a new apparel brand targeted towards teenagers, a brand persona may read as:
Age – 15 to 19 years
Currently studying in high school/college
Female
Lives in suburbs with parents
Monthly spending – Rs. 6000 approximately
Fun loving, plenty of friends
Enjoys going out for movies, shopping at malls, hanging out at coffee shops
Very active on social media accounts like Facebook, Instagram, Twitter, Pinterest, Vine
Such a broad outline can help a brand picture exactly whom they are selling to, and what would be the best channels to interact with the customer. The more research about the target segment, the more detailed a brand persona will be. Then it's time to develop keywords that would be attractive to such a buyer persona. For example, in this case 'back-to-school fashion' or 'casual high street fashion' may be relevant keywords that will attract the target audience.
2. Decide On Themes, Topics And Keywords
The target audience entirely defines what content should be developed by a brand and where it should be published. Organic traffic is generated when customers seek out information and engage with content that interests them. To ensure maximum organic traffic, a brand needs to cover topics that this specific niche of readers is searching for. Once the topics have been identified based on research about the customer's interests, online habits etc., it is important to generate keywords that will pull in the crowd. It has been found that long-tail keywords are more effective to generate high volumes of organic readers. For example, if a travel company wants to market itself, generic keywords such as 'travel' or 'camping' may not be as effective as using specific keywords such as 'guided mountain climbing tours' or 'family camping trips' which are crafted around a niche making them more consumable.
3. Identify Preferred Content Of Various Buyer Personas
The objective behind developing buyer personas is to understand what kind of content can be targeted at them. A brand needs to identify which means of content is the most preferred for a large segment of their buyer personas. According to research by the Content Marketing Institute, companies who are successful at content marketing employ a wider variety of content types as compared to others, and on an average use 15 different approaches. Below is a representation of some of the most preferred types of content that brands can utilize.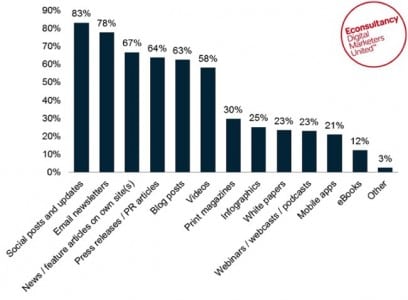 4. Develop A Characteristic Personality And Style
Over time, it is important to develop a unique content style that readers will associate with the brand. Moulding the brand with a personality that is similar to its buyers will attract more readers who can associate and engage with the content. It could also benefit the brand to use one platform at a higher pace than others. For example, National Geographic, the international magazine, publishes a lot of photographs from experts, travellers and researchers around the world. To bank on this visual medium, NatGeo extensively uses Instagram as a channel to engage with their audiences and provide them with back stories and more pictures that were possibly not published in the magazine. NatGeo has also developed its own personality through the content. It is adventurous, nature loving, educational and enthusiastic. It focuses on finding the unexplored and untapped beauty of nature and showcasing them to fellow travel and environment enthusiasts. This ensures that like-minded people regularly keep check on the brand's profile with expectations of something new, leading to inadvertent organic traffic.
5. Encourage Backlinks
Pages that include incoming hyperlinks that connect a brand's page to another website are prioritized by Google and receive a higher organic ranking thus encouraging increased customer response. Backlinks act as a fundamental variable in search algorithms and are crucial for organic search marketing strategies. It is essential however that these backlinks come from a credible, verifiable source and amplify the brand by adding diversified opinions and influencing its content and readers. Developing an effective backlink strategy comprises of three components: Ensure that a link comes from a relevant source, is written by an authoritative or influential person, and diversifies the page to add value to the brand's content while driving organic traffic.
Once a brand has completed this entire approach, what is next? Answer: Doing it all over again. Effective content marketing relies on consistent and sustained efforts to draw in audiences. When a brand gives customers content to look forward to, they will keep coming back.
The content marketing program at Edureka can help you understand the market and boost branding, organic site traffic and conversion rates. Generating organic traffic is a slow moving and systematic process that can be learned only when practiced. It is necessary to constantly engage, evolve, refine and rework to keep the numbers rolling in.
Powered by Ivyclique
Got a question for us? Please mention them in the comments section and we will get back to you.
Related Post:
Get Started with Search Engine Optimization