Did you know that by the end of 2020, around 15% of the number of jobs is going to increase? With the growing demand for RPA, getting yourself certified is one of the most important steps that you must take to upskill your career. UiPath training and Automation Anywhere training are two most sought training you can enroll in to get step by step solutions to get certified as an RPA Developer. This article will, however, give you a gist about the professions in RPA and how to become an RPA Developer.
The following topics will be covered in this article:
Let's get started!
Who is an RPA Developer?
Robotic Process Automation is a technology wherein you have to automate manual tasks using the RPA tools present in the market. RPA Developers are designers of those automation tasks, with hands-on experience in the top tools. They work for startups to hyper-growth companies and are responsible for designing automation based on the clients' requirements.
Once, the automation is designed and is ready to be rolled out into the production, an RPA Developer needs to make sure that the designed automation is achieving the desired results. In case, the designed automation fails to achieve the desired goals, the automation goes back into the RPA Lifecycle. So, an RPA Developer is someone who is responsible for the complete automation task to be successful by working at the various stages of the RPA lifecycle.
RPA Job Trends
The following figure illustrates the number of jobs in the United Kingdom.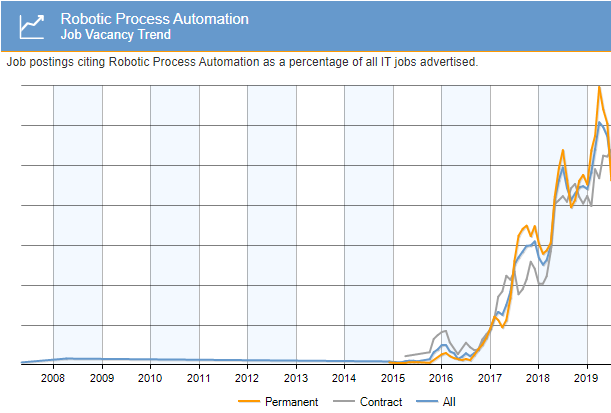 As you can see the numbers are quite good. RPA Developer career opportunities will only shoot through the roof, both start-ups and well-established companies such as IBM, Infosys, KPMG are offering lucrative salaries to RPA Developers. According to Gartner, it is estimated that around a total of $2.4 billion will be spent by 2022, and 85 percent of large organizations will have deployed RPA in some of the other forms. So, it is an obvious fact all the industries are looking for professionals who can easily adapt the RPA technology as quickly as possible and automate the manual tasks.
Now, that you know the job vacancies available for the RPA Developer let us look into the salary trends for the same. The salary of an RPA Developer can vary on the various parameters, but I will discuss the salary based on few parameters only.
Find out our RPA with UiPath Certification Course in Top Cities
RPA Developer Salary
On average, an RPA Developer can expect a salary of ₹5,53,498 (IND) or $92,773 (US). Apart from being an RPA Developer, there are also various other positions. So, refer to the following table, for the salaries of other job roles you can opt for in the field of robotic process automation.
According to Indeed.com, the below table illustrates the salaries of different job profiles in the United States.
| | |
| --- | --- |
| Job Profile | Expected Salary |
| RPA Process Analyst | $72,895 |
| Automation Engineer/ Developer | $90,282 |
| Sr. RPA Developer | $98,968 |
| RPA Lead | $123,680 |
| RPA Solutions Architect | $108,299 |
Similar to that of United States, let us look at the salaries for the same job profiles in India. [Source: Indeed]
| | |
| --- | --- |
| Job Profile | Expected Salary |
| RPA Process Analyst | ₹ 5,48,689 |
| Automation Engineer/ Developer | ₹ 5,90,046 |
| Sr. RPA Developer | ₹ 7,69,557 |
| RPA Lead | ₹ 11,26,184 |
| RPA Solutions Architect | ₹ 10,11,717 |
Furthermore, if you wish to get an idea about RPA Developer's salary, then you can refer to my article on RPA Developer's salary.
So, now that you know the job trends and the expected salaries, let us go a step forward and see a sample description for an RPA Developer, to understand the top skills you must acquire to become one.
Job Description
When I started my research about the skill set of an RPA Developer, I went through a couple of job descriptions on platforms like Glassdoor and Indeed to check what exactly top tier companies look for in an RPA Developer. Let's take a look at a sample job description of an RPA Developer: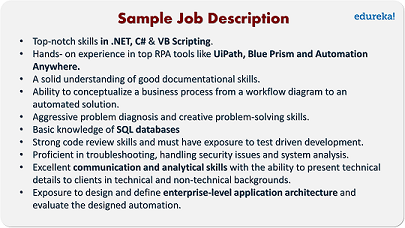 This job description gives us an understanding of what exactly companies expect from an RPA Developer and what are the skills needed to become an RPA Developer. To make it easier for you, I've listed down the key takeaways from the job descriptions in the below section.
Skills Required
An RPA Developer must be able to understand the clients' requirements and design the automation based on the requirements, and the IT standards. Some of the common skills required are as follows:
Hands-on experience in top RPA tools like

UiPath,

Blue Prism, and

Automation Anywhere.

Strong problem solving and analytical skills

Constant

communication with other business partners to develop and deploy their ideas. Also, ensure that there is a clear establishment of what can be created within what time-frame and what are its requirements.
Good knowledge of the RPA lifecycle and how to produce automation.
Exposure to

SQL databases
Know how to design technical specification document for RPA Projects

Experience with analysis, design, and implementation of the process. Also, an RPA Developer must have the skills to understand business and technical requirements.

A basic understanding of Lean Six Sigma process methodologies would be beneficial.
Now that we know what all skills are required, let me give you a road map on how to become an RPA Developer.
How to become an RPA Developer?
Starting out in the quest to become an RPA Developer, you must take a structured approach to master all your skills. Refer to the image below: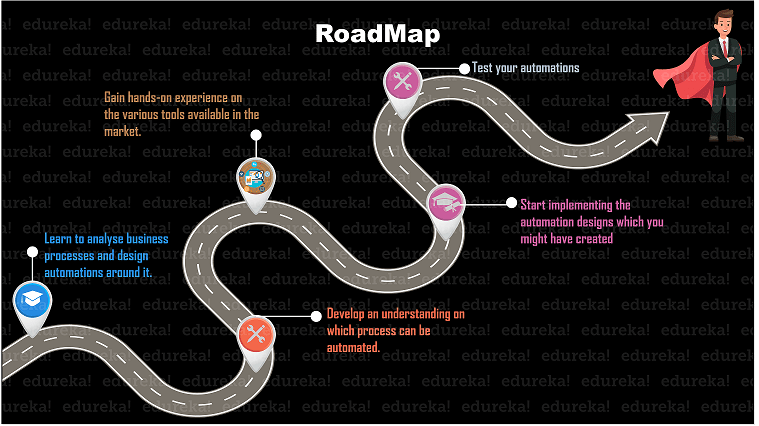 With this, we have come to the end of this article. I hope you guys enjoyed this article and understood how to progress your career in RPA.
Are you looking to know more about RPA and pursuing a career in Automation? You should check for our RPA Developer Course. The training courses include live instructor-led training, industry Use cases, and hands-on live projects. This training program will help you become confident in RPA and will help you get the job you've always wanted.
Got a question for us? Please mention it in the comments section of this article and we will get back to you.