With half of the world's population who can easily access the internet, it's easier to promote your business online. With so many people working and shopping online, it's no wonder that it has moved to the forefront of the Digital Marketing department's priorities. So, this article on How to Become a Digital Marketer will guide your way to flourish as a triumphant Digital Marketer.
Let's begin!
Who is a Digital Marketer?
A Digital Marketer is the person responsible for developing, implementing and managing marketing campaigns that promote your company and its products and/or services.
These people identify and evaluate new digital technologies and use Web analytics tools to measure site traffic to better optimize marketing campaigns, email marketing, social media and display and search advertising.
Digital Marketers are born from a vast online presence. And also they help in developing marketing strategies for their company. They also help in managing ad campaigns, SEO, social media and many more.
They are also responsible for tracking the KPIs (Key Performance Indicator) in order to measure the success of the organization.
Digital Marketing Executive, Digital Manager, SEO Manager, SEM Specialist, Social Media Marketing Manager and so on are a few notable job roles in the Digital Marketing domain.
Why choose Digital Marketing?
Digital Marketing is well known for its low-cost investment and also gives you the power to brand your company name. It is that field that has plenty of room for tech, creative thinking.
Here are a few reasons why you should shift your focus towards Digital Marketing now!
Digital Marketing is more cost-effective.
You can increase the interaction with the audience.
Digital Marketing provides a better ROI for your marketing investments.

It helps generate better revenues.
You'll be paid really well.
Getting people's trust is important and using Digital Marketing, your job is made easy.
These are some intrinsic reasons why you should definitely go for a career in Digital Marketing. Now that you've understood why you need Digital Marketing, let's have a look at Certifications that help shaping your career in this field.
Pertinent Certifications
To become a lucrative Digital Marketer, you need to certified from renown institutes. We at Edureka have come up with the Masters Program in Digital Marketing forged in partnership with IMT, Ghaziabad. This certification training is exclusive for freshers who want to build their career in Digital Marketing.
Here, you'll not only be trained by the booming industry professionals but also you'll be given lifetime access to this course and live-instructor led sessions. This will help you get a hold of what you'll be learning.
Now, talking about the Certifications you should consider to bag yourself a promising job under the Digital Marketing umbrella.
Google AdWords Certification
Social Media Marketing Certification
Content Marketing Certification
Google Analytics Certification
These are a few certified courses you should take up to become a good Digital Marketer.
Edureka's Post-Graduate Program covers everything from scratch. All these certified courses fall under this expertly curated program.

You'll learn about Content Marketing, Social Media Marketing, Email Marketing, Mobile Marketing, SEO and Digital Campaigns. Also, at the end of each session, you'll have assignments that will increase your chances of being practical and will get you hired.
At the end of the course curriculum, you'll have the certification of pride, your Digital Marketing Certificate.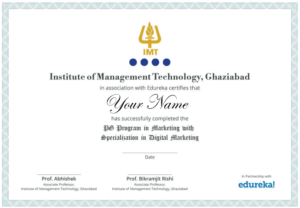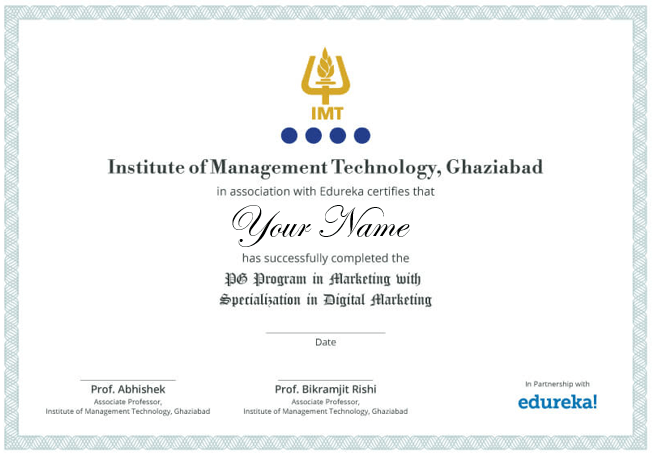 With this in hand, you can easily get into any top companies as Digital Marketing Manager or executive.
Now that you know the certifications you should take up, let's move ahead and explore the job roles and the salary of a Digital Marketer.
Job roles and salary
Digital Marketing is one such domain where there are enormous job opportunities. So, let's have a look at the job roles and the corresponding pay scale for it.
Digital Marketing Manager: The major role of a Digital Marketing Manager is to enhance awareness about your brand in the digital space by developing, implementing, and managing marketing campaigns to promote the products of a company.
The average salary for a Digital Marketing Manager in the US is $65,488 and in India is Rs. 512,473.
SEO Manager: The role of an SEO specialist is to rank a website page on the search engines to increase the website's traffic, compile performances report using Google Analytics and conducting on-page and off-page optimization for the company's blog.
The average salary for SEO Manager in the US is $67,475 and in India it is Rs.509,090.
Social Media Marketing Expert: A social media expert is responsible for combining marketing and social media management to enhance the brand's presence on social media, interaction with audiences, and promoting the brand's content.
The average salary for a Social Media Manager in the US is $49,881. And in India it is Rs.366,271.
Content Manager: A content manager is responsible for managing the company's blog, marketing campaigns, guest blogging, email communications, video marketing, copywriting, etc.
The average salary for a Content Manager in the US is $57,734 and in India it is Rs. 572,510
SEM Specialist: An SEM specialist targets the number of leads and clicks from the given marketing budget, manages bid, conducts keyword research, analysis, ad copywriting, and tests ad campaigns.
The average salary for an SEM specialist in the US is $47,186 and in India it is Rs.366,634.
This is about the salary and the hot job roles in the field of Digital Marketing.
How to become a Digital Marketer?
Now, focusing on the important part of this discussion, we'll see how to become a Digital Marketer.
Having desires skillset and the right guidance, you'll be able to become a good Digital Marketer.
Mastering these skills, you'll definitely be able to become a successful Digital Marketer.
Now, the roadmap to success looks like this.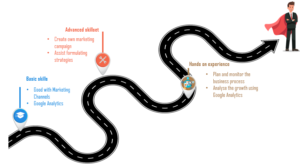 With this information on how to become a Digital Marketer, you'll certainly be able to pull up the stunt of having a great future in this domain.
And also, with this, we come to the end of this article on "How to become a Digital Marketer". I hope you guys are clear with the topics that are covered, which as per my knowledge would really help you out in your quest. If you have any queries, please put them across in the comment section and we'll get back to you.
If you wish to enroll for a complete course on Digital Marketing Certification Training, Edureka has a specially curated PG Program in Marketing with Specialization in Digital Marketing which will help you gain expertise in various digital media aspects like Keyword Planning, SEO, Social Media Marketing, Search Engine Marketing, Email Marketing, Affiliate Marketing, and Google Analytics.