Being a Certified Scrum Master comes with its own set of merits. With Agile becoming standard practice at most companies, scrum masters are in great demand. Hence, there is no better time than now to get the Scrum Master Certification.
Scrum is a powerful, lightweight framework for implementing agile processes in software development and other iterative projects.
In this blog, we shall discuss how to become a Scrum Master through the following concepts;
Before we talk about how to get there, let's begin with the basics.
Who is a Scrum Master?
According to the Scrum Guide, the Scrum Master is "a facilitator for the team and the product owner. Rather than manage the team, the Scrum Master works to assist both the scrum team and the product owner."
Here's a simple analogy to understand what it is a Scrum Master does.
Problem
Consider there are number of people in a room and they have to queue up according to their respective heights, taking a minimum amount of time possible.
Now, there are two possible ways to approach this problem.
Solution 1: The Supervisor Approach
In this approach, one person takes up the responsibility of organising the others into a queue. This method takes up too much time and leaves no room for the people to think for themselves.

Solution 2: The Scrum Master Approach
In this approach, the Scrum Master allows a team to self-organise while only making final changes quickly. He/She facilitates AGILE principles and does not micromanage the entire process.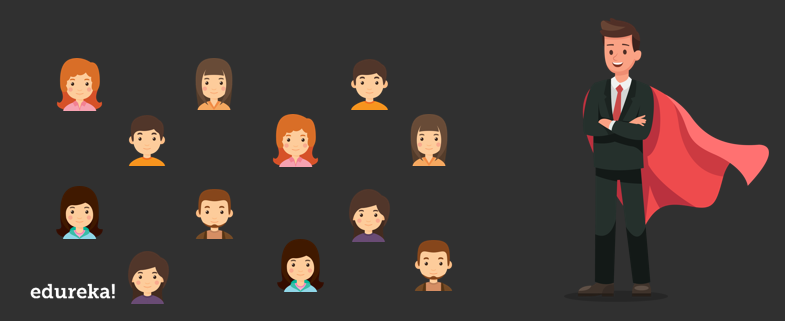 This consumes less time and the team grows by self-discovery and learning to think for themselves.
Scrum, basically replaces the programmed algorithmic approach with a one of self-learning and self-discovery. It provides people with the space to think and self-organise. This helps them react appropriately to the unpredictable nature of the impediments in software development.
Why should you be interested in becoming a Scrum Master?
As the person leading the implementation of Scrum and forming effective scrum teams in software development projects, the Scrum Master earns an annual salary of between $70,000 and $100,000 p.a, depending on their work, experience and geography. The Scrum Master is a team leader, consultant, and/or product manager. One's employment and career opportunities increase dramatically by being a Certified Scrum Master.
How to get Certified as a Scrum Master?
For professionals interested in getting Certified as Scrum Masters, it is mandatory to take a 2-day course priced at around $1,000.
After completing the course, applicants have 30 to 90 days to take the Scrum Master Accredited Certificate Program, a multiple-choice-type online examination that can be taken from any part of the world on your respective desktops. The test has 50 questions that you should be able to attempt within 60 minutes.
To clear the examination and be accredited as a Certified Scrum Master, you must answer at least 60 per cent of the questions correctly. This should not worry you, as the success rate is 98% for this examination.
The procedure consists of the following steps;
1. Attend a 2-day CSM seminar/symposium
2. Register online for the Scrum Master Accredited Certification Program in the next 30 to 90 days
3. Upon successful registration, you shall receive your Exam Access Code instantly online
4. Take the online test from a location of your choice and answer the 50 multiple-choice questions
5. Get a Lifetime and International valid Scrum Master Accredited Certification Document via the Scrum Alliance instantly online in a .pdf format.
About the CSM Exam
The exam certification costs $29 in total, and there are no hidden costs involved.
The syllabus consists of the following topics;
Scrum Roles
Scrum Fundamentals
History of Scrum
Backlogs
Sprints
How to Plan releases and sprints
Impediments that can arise during a Sprint
Scalability of Scrum
Conducting Daily Scrums, Reviews and Retrospectives
Creating Tasks and Reports
Organization and Team Building
While the Scrum Master Certification exam can be done online, all applicants must attend the in-class course, because the program requires candidates to interact with one another in a live format. The physical interaction is also essential for students to learn how to manage projects in a natural environment, without any intervention.
Edureka offers best-in-class training in Scrum to help you build a solid foundation and pass the exam in your first attempt.
Is Scrum Training Necessary?
Yes.
Scrum training is beneficial to anyone and everyone on the scrum team. It empowers them with the tools they need to immediately accelerate team-building as they master the art and science of incremental delivery. As such candidates receive training that is geared towards helping them discover the essential roles and practices that define Scrum. Scrum is used by numerous successful agile teams across the globe.
Through this training, candidates should become well versed in the practical steps they need to take to form a high-performance team and successfully evade the pitfalls that new agile teams often encounter.

Employing a Certified Scrum Master is beneficial to employers, employees, and freelancers, alike. For employees and freelancers, it serves as evidence of competence, boosts their employability and career opportunities. For employers, it helps to improve the efficiency of their work teams and processes, as well as the quality of their product and deliver customer satisfaction.
Who can take up the CSM Exam?
The CSM Certification is designed to provide students with a strong foundation in Scrum. It delivers able guides with people skills to form successful organizations.
The stakeholders benefit from learning about its implementation for program or project management. And the target demographic includes everyone who aspires to work in an organisation from team leads, product managers, development managers, and project managers to developers, architects, analysts and testers.
This brings me to the end of my blog on "How to become a Certified Scrum Master". Got a question for us? Please mention it in the comments section of this "How to become a Certified Scrum Master?" article and we will get back to you as soon as possible.