Connecting with customers and delivering an exceptional experience is crucial to the success of any business, whether they are present on social media or not. Industries that service customers directly like retail, travel, hospitality, fashion and many others have benefited by using online tools to provide exceptional customer experiences. Predictive intelligence analytics is one such tool.
What is predictive intelligence?
Very simply put, predictive intelligence is the technique of analytics that helps in delivering unique experiences to each online user. Closely observing what a customer / user is doing online, analyzing his behavior pattern and storing that information to profile a customer's data is a part of the process. Predictive intelligence is all about using this valuable information to deliver specific content to the user in real-time to influence his experience and decision-making.
Winning, converting and retaining customers in the world of big data needs deeper insights into their consumption patterns. This can be done through research of their online shopping behavior to be able to predict their next move. In this post, we have identified specific reasons as to why predictive intelligence can drive an exceptional customer experience.
We'll go through the journey of a customer wanting to buy a Bluetooth speaker and see how predictive analytics helps in driving exceptional customer experience at each stage:
Drives better engagement levels
As a customer, would you prefer being offered something that is available to all users or a tailor-made offer that has been customized based on your location, recent online research and predicted needs? The latter, I guess. Companies that use predictive tools to segment customers, identify niches and predict future behaviors, will race ahead in the marketing field.
Over time, a company has a bank of data that it can pull out deep insights from. This data coupled with user behavior information can actually tell you what the customer is going to do next.
Consider the case of a customer who searches for Bluetooth speakers on Google and reaches a site. As he narrows down to certain options based on some specifications, he is presented with a wider choice of similar models, thus getting him engaged further into the process. He decides to revisit the site again the next day.
Creates personalized experiences
Once a marketer has captured certain behavioral data related to the customer, he can match the customer profile with algorithms to arrive at the best-personalized response provided to the customer in real-time. Two aspects can be personalized:
1. Content: Once there is some connect established with the customer and you know what he's thinking, offering personalized content will soar his experience levels. Imagine receiving curated content from the blog library or even customized banner ads and graphics! This is a big step forward in leaving a positive impression on your customers.
The site may also provide an option to the customer to define his content preferences and go a level deeper to describe what product he is looking for. For example, what kind of an environment he intends to use the speakers in, the price bracket, features etc.
2. Product Choices: If you are able to offer personalized product choices and recommendations from the very early stages of the buying cycle, chances are that customers will get converted from online window shoppers to buyers very soon.
When the customer revisits the site the next day, he will be pleasantly surprised to see a discount coupon for speakers being presented to him and the browser window shows him exactly those models that he had narrowed down the previous day, thus providing personalized content and choices.
Goes beyond the sale
Predictive intelligence analytics also makes it possible for you to automate your next move based on the purchase made by the customer.
After the sale has been detected by the system, an automated email goes to the customer suggesting the exact model of some sound boosters to accompany the speaker model he has selected. This kind of targeted marketing is only possible with real-time data of the customer's moves.
How are e-commerce players taking advantage of this tool?
A recent survey indicates that 'Smart selling fuelled by predictive analytics will jump 77% among high performing sales organizations in the next 12-18 months'. (Salesforce Research)
The graphic illustration provided below demonstrates that high performing sales organizations use predictive analytics four times more than under-performing ones.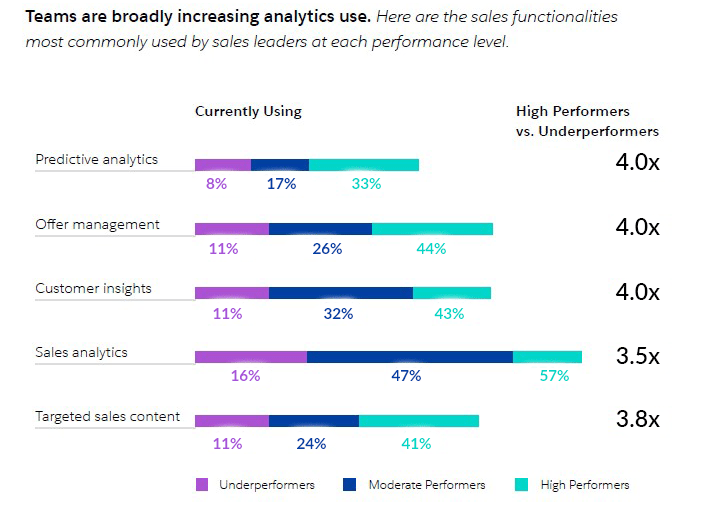 (Salesforce Research)
Numerous e-commerce players are benefiting tremendously from predictive analytics tools. Let's take a look at some of the benefits:
Increase in revenue by helping sales teams become better at qualifying leads and improving engagement levels.
Personalized promotion campaigns that will do well for segments of customers by correlating data from numerous sources.
Real-time pricing is supported by predictive analytics that helps e-commerce players to optimize prices and maximize profits.
Minimizing threshold inventory levels, which can help merchants to re-allocate funds lying invested in slowly moving dead stock to products with a higher demand potential
Large retailers like Walmart have invested in predictive analytics tools to curb fraud. Whilst this field has a long way to go before it becomes a mature practice, about 16% of respondents in a research by the Aberdeen Group are already using it for fraud management.
Getting the customer service model right has been no easy feat. Predictive intelligence provides data which helps in building a model suited to the specific customer service needs of each player, thereby controlling costs.
The graphic below depicts how Amazon uses predictive intelligence to develop efficient models for their sales force to develop better-qualified leads and to effectively understand consumer behavior: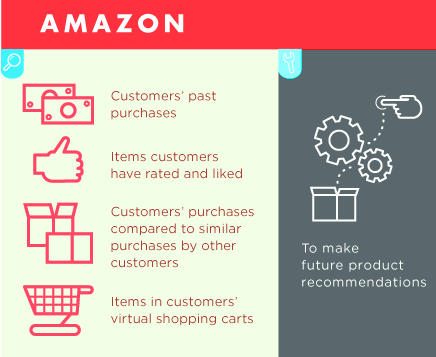 (Conversion XL)
Predictive intelligence makes mass marketing possible on a one-one basis which is every marketer's dream.
Powered by Ivyclique
Got a question for us? Please mention them in the comments section and we will get back to you. 
Related Post:
Get Started with CRM Salesforce for Beginners