Consider this fact; your every like on Facebook, every Tweet on Twitter, every photo shared on Instagram, all the videos watched on YouTube, every product bought on Amazon, and all other actions online add to the pile of data generated in the world everyday. Brands are willing to pay an arm and a leg to analyze this Big Data to derive actionable consumer insights that will help them influence your purchasing decisions and grow their businesses. This is just a tiny speck of what's possible in the world of Big Data. In such a scenario, developers who can build the technology/ work with frameworks to tame this Big Data and administrators who can manage these frameworks are kings indeed!
By last count, Big Data investments are predicted to account for over $46 billion in 2016 alone, with investments further expected to grow at a CAGR of 12% over the next four years, according to the "Big Data Market: 2016 – 2030 – Opportunities, Challenges, Strategies, Industry Verticals & Forecasts" report. Apache Hadoop has emerged as a popular and successful platform for handling Big Data and the popularity does not show any sign of waning. Hadoop is today 'the' standard for storing, processing and analyzing hundreds of Terabytes and Petabytes of data, and mastering the Hadoop framework will give you access to an abundance of Hadoop job opportunities that will take your career to the next level.
Hadoop Job Opportunities
With Hadoop becoming the predominant platform for data management and analytics and the demand for skilled professionals outpacing the supply, opportunities for Hadoop Developers and Hadoop Administrators has shot through the roof. Cloudera mentions on their website that Hadoop is expected to be at the core of more than half of all analytics software within the next two years. The career opportunity in Hadoop is immense, and skilling-up with Hadoop is the smartest career move of this decade. Big Data and Hadoop skills feature in all lists of hot professional skills and industry outlook reports for the coming year. Read about the hottest tech skills to master in 2016 here.
In fact, the management-consulting firm McKinsey & Co. also warns of a serious shortage of skilled Big Data workers. According to McKinsey, "by 2018, the United States alone could face a shortage of 140,000 to 190,000 people with deep analytical skills as well as 1.5 million managers and analysts with the know-how to use the analysis of Big Data to make effective decisions."
If we had to narrow down to the core Hadoop skills that will get you top Big Data and Hadoop jobs, they would be HDFS, MapReduce, Flume, Oozie, Hive, Pig, HBase, and YARN. Experts also suggest that machine learning is also in high demand this year. We have said it once and we will say it again – Hadoop skills can open doors to a plethora of career opportunities that span the length and breadth of Big Data implementation.
Hadoop Job Salaries
Hadoop experts can expect a rewarding career graph and a lucrative career. A quick search on Indeed.com shows that the average salary for Hadoop professionals in the USA is $112,000 as of June 30, 2016. This figure is 95% higher than average salaries for all the job postings nationwide. Here's a snapshot of the average Hadoop salary with corresponding job titles.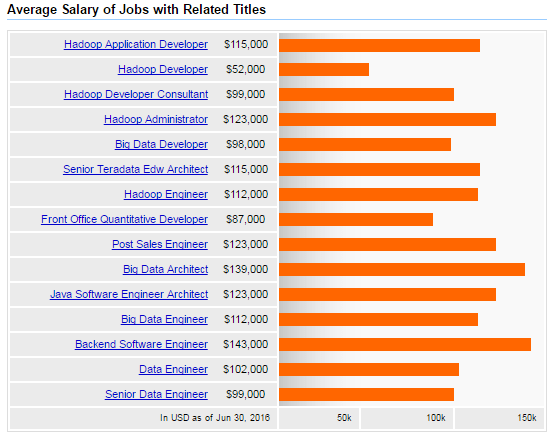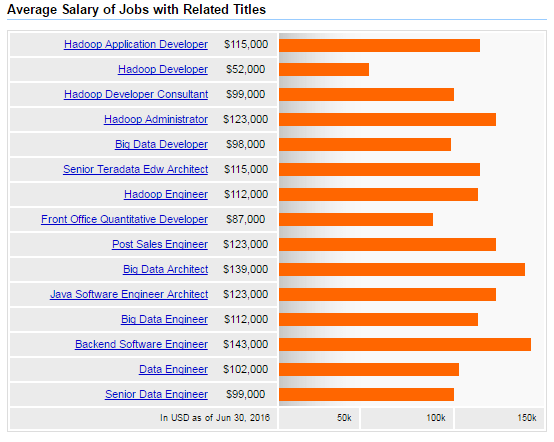 Source: Indeed.com
There are more than 13,000 Hadoop jobs listed on Indeed alone for the US market, with companies like Amazon, Capital One, Microsoft and Apple figuring in the list of top recruiters. The job trend for Hadoop looks very promising as suggested by the graph given below.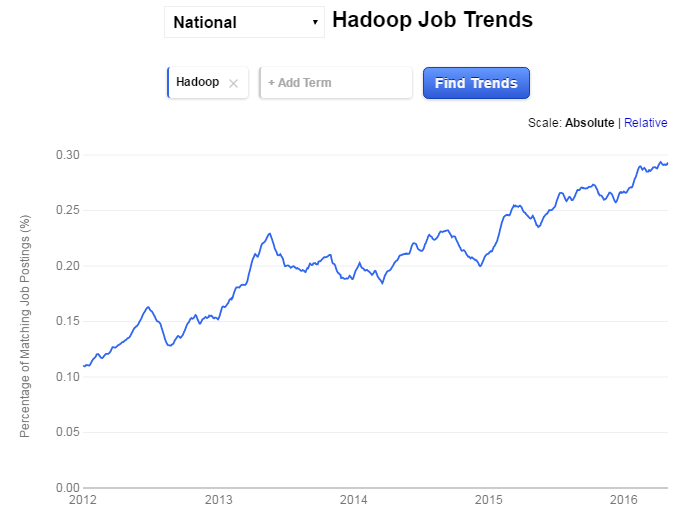 Source: Indeed.com
This trend is reflected in India too, with the Big Data Analytics sector in India predicted to witness eight-fold growth to reach $16 billion by 2025 from the current level of $2 billion, according to the National Association of Software and Services Companies (Nasscom). Naukri.com shows Hadoop Developer job salaries between Rs. 3 lakhs on the lower end to 50+ lakhs on the higher end, with pay varying according to experience levels. Indeed.co.in shows that TCS, LinkedIn, Capgemini, Oracle and other leading companies are among organizations recruiting Hadoop professionals.
A search on itjobswatch.co.uk shows that the median salary for Hadoop professionals in the United Kingdom is £60,000, with a rank change of +50 and a 8% percentage change year-on-year seen since 2015.
By popular opinion, Hadoop experts who know their way around Hadoop Stack and are capable of harnessing machine learning technology can command top jobs and fat pay checks in 2016. It is safe to say that the demand for Hadoop experts and the encouraging salary figures are a global trend. This trend is expected to continue for many years to come and this is the right time to up-skill with Hadoop.
Hadoop Job Roles
There is plenty of opportunity for career progression in Big Data, and Apache Hadoop arms you to climb the career ladder quickly and surely. Find out about Hadoop Developer job responsibilities in this blog. A few popular Hadoop job titles are:
Hadoop Developer
Hadoop Administrator
Data Engineer
Big Data Developer
Big Data Architect
Work experience and focus on core Big Data areas can equip you to scale up your career and bag other high-paying jobs such as Big Data Analyst, Data Science and Big Data Consultant, among others. Certification also adds to your resume and gets you recognized as a qualified Hadoop expert. Cloudera certification and Edureka Hadoop certification are among the sought-after Hadoop qualifications that can equip you with skills to bag top Hadoop jobs. Check out the Edureka Hadoop course and certification here.
The Future of Hadoop
Hadoop is still going strong and will continue to do so for many years to come. In spite of competing programming models and frameworks entering the market, Hadoop has held its ground in terms of its usage and popularity. The usage of Big Data / Hadoop and in turn the maturity of the job markets vary across the globe. While developed countries have mature Big Data job markets, the job markets in developing countries such as India, China and Brazil etc. are quickly catching up with the opportunities. While Big Data and Hadoop are being adapted to IoT and machine learning in developed countries, these technologies are being used to tackle developmental needs such as analyzing crime rates, consumer behavior and in the expanding financial sector in developing countries.
With usage and needs varying from country to country, it can be said that there can never be a boring day in the life of a Hadoop expert. The opportunity in Hadoop is aplenty and learning this framework will get you on the fast-track to success. Prepare to ride the next wave of Big Data; up-skill with Hadoop now!
Edureka has a specially curated live and interactive Big Data and Hadoop course that will help you become a Hadoop expert by learning concepts like MapReduce, Yarn, Pig, Hive, HBase, Oozie, Flume and Sqoop. New batches are starting soon, check them out here.
Got a question for us? Please mention it in the comments section and we will get back to you.
Related Posts:
10 Hottest Tech Skills to Master in 2020