We have reached the 3rd part of our Project Management Professional® series with PMP® Exam Preparation. The previous two posts dealt with your Career Prospects with PMP® Certification  and what's covered in PMP® Tutorials.
As you know, the world is becoming increasingly globalized and with rapidly advancing technologies, projects of large and small scale are being undertaken. This has created a requirement for specialist individuals and a huge demand for people who are skilled enough to integrate the different aspects of a project. Currently, demand for project management professionals are not matched by availability of resources with relevant project management skills. This has created an unparalleled opportunity for professionals seeking great career opportunities and growth to build valuable project management skill and PMP® Certification is one of the most sought after credentials out there.
Steps in preparing for PMP® Exam:
Preparing for PMP® Exams has two parts namely registering with a training institute and self study.
Step 1: Register:
As a pre-requisite for the PMP® certification, PMI® requires all candidates attend a mandatory 35 hour Project Management Education. For more information on this, please check the course we offer for PMP here.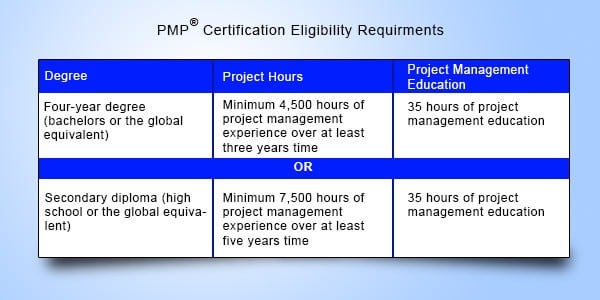 Training is the first and important step in preparing for the PMP® examination.
The 35 hour training session assists the candidates in various ways such as:
Reviewing the PMP® course
Exam preparation guidance. Edureka provides help with filling up the PMP® application form for the exams.
Live industry examples
Assessing exam readiness by providing test questions
Providing reference material and online resources
Interactive training sessions conducted online or offline by Project Mangers with industry experience.
A good platform to interact with Project Managers to get practical insights in the domain of Project Management.
Option to opt for classroom sessions or online training. Edureka provides online training for 2.5 hours a day spanning two weeks.
 Self Study:
Getting trained is mandatory; however we suggest some tips to strengthen your knowledge while attending the training:
Reference Books: For Reference beyond the training we recommend few books for PMP® certification exam preparation. PMBOK® Guide is the considered the Bible for PMP® preparations. Keep PMBOK® Guide as a reference only. Head first PMP 3rd Edition by O'Reilly provides practical examples without overburdening you with Jargon and Data.  PMP® Exam Preparations by Rita Mulcahy provides in-depth knowledge for every concept.
Mock Exams: Mock exams are a great way to do that. Edureka PMP® training course provides you with 5 free online PMP® mock exams. It's mandatory to attempt at least 4-5 mock tests before the actual exam day.
Notes: Always develop and maintain your own personal notes with rough diagrams and flowcharts. Training institutes such as Edureka provides 24X7 support along with lifetime access to all the recorded class sessions with the LMS or Learning Management System. This allows you to brush up on the sessions and clear any queries.
Understanding the pattern of the exam: The PMP® exam has 200 questions out of which 25 questions are dummy/test questions and your results will not be evaluated on them. They are used by PMI® to understand if they can use those questions for future exams and also to assess the level of difficulty of the question.
Study Groups: It's helpful to have likeminded people around with a common goal of cracking the PMP®.  It helps in ideating, exchanging notes and sharing any best learning methodologies.
De-stress: Yoga and Meditation relieve stress and as we all know a happy and rejuvenated mind is always more productive.
ON EXAM DAY:
PMP® exams are usually attempted online by most candidates barring few who take the paper-based format available at select locations. PMI® has tied up with Prometric, a leading testing agency to conduct the computer based tests.
On the day of the exam ensure that you:
Attempt the questions steadily. Mark the ones you doubt and return to unanswered questions at any time during the exam.
The Prometric online testing tool provides an inbuilt calculator which can be used for any numerical calculation.
We hope our write-up will assist you in developing your PMP® exam preparation strategy. To conclude, the increasing demand for project management professionals and the exceptional salary levels in the profession make the project management profession highly desirable to job seekers.
PMP is a registered mark of Project Management Institute, Inc. Edureka is a Global PMI® REP: ID 402
Got a question for us? Mention them in the comments section and we will get back to you.1 
Related Posts:
How PMP® certification boosts your career