Social media has become a common place for like-minded to share thoughts, ideas and opinions. Thanks to social networking sites like Facebook, Twitter, Instagram and others, it is now a roundup of more than 100 million users to share information about themselves. Organizations have taken note of this and have started to leverage social media to their advantage while investing minimal financial resources. It is gaining prominence as an element of marketing strategy as organizations are adding social media as a part of their strategy to improve brand visibility and create new opportunities. Regardless of it being online or offline, it can definitely influence brand recognition.
Why do you need these tools?
There are so many social networks, but there is also a limit on your budget. The next set of questions that come up is – how to allocate your budget? On what basis should you do it? Which social media do you invest in? Which trends have high staying power?
Read on to find out how to figure this out:

A social media marketer's job is not just about tweeting and sharing on Facebook and other social networks. They are also instrumental in finding out strategies to drive big results. This is where ROI comes into the scene. In actuality a lot of social media marketers talk about ROI, endlessly discussing it but very few actually measuring it.  ROI is now an essential metric and needs to be measured to know what works for your organization or which one of your brainstormed gameplan is reaping benefits.
With the advent of analytics and other measurement tools, organizations can now use social media as a marketing tool and at the same time use the data to enhance their marketing campaigns. The reality is not as easy as it sounds and it is not straightforward as all your likes, shares and followers getting converted into revenue.
Hard Facts about Measuring Social Media ROI:
Before we head on to the meat of the topic, people must understand and accept the fact that social media is not just about sharing or getting followers or likes,  but deals with a lot of numbers. If you are passionate about social media marketing, then numbers are way to go. This might come as a rude awakening to those who hate numbers, but the future of social media is all about math, metrics and moolah!!
Tools for Measuring Social Media ROI:
Putting a dollar value becomes crucial when you have made investments in your social media marketing. Here's a review of tools to help you measure the social media marketing ROI and thereby justify the current game plan or think about cutting down or pumping more investments.
1. Facebook Insights: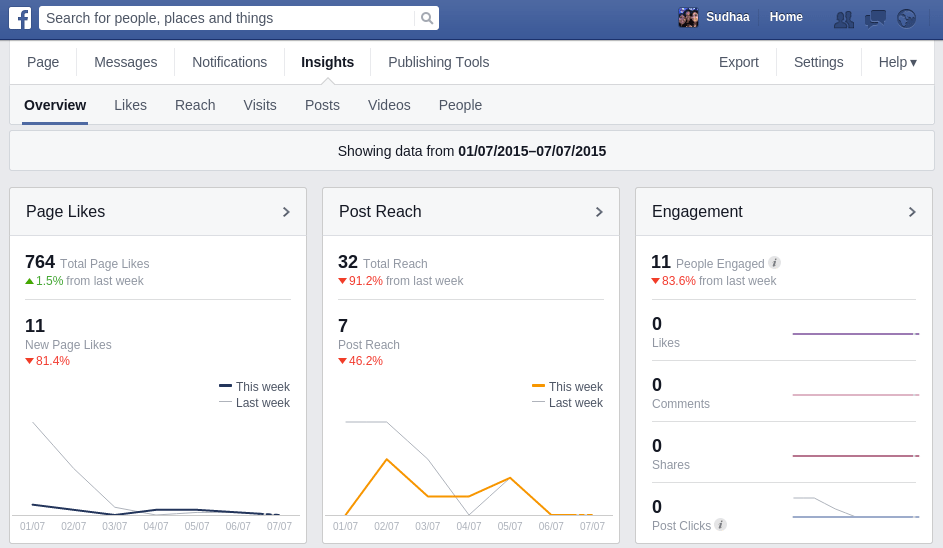 The Facebook insights dashboard gives you all the data on your page performance and lets you understand your target audience. It lets you understand how people are engaging with your page, know which posts have the most engagement and find out when your audiences are most active. You can use this info when publishing your posts to get maximum reach. You can also look at each of your post and find out which is the most liked, shared and commented.  Metrics like Post Reach, Engagements and Page Likes are considered when measuring the performance of the page.
2. Klout:
Klout is a free tool that lets you measure your influence on social networking sites like Twitter, Facebook, Google+ and others. Klout has become the standard for measuring influence and allows you to measure your brand recognition online. It provides analysis of social media sites, measuring the size of the network, the content you have shared and how many people have interacted. Klout comes up with a score, a number which ranges  between 10 and 100. This number is a reflection of your brand's social influence. So, the higher the better!
3. Google Analytics:
In order to measure the ROI, it is important to understand the direct relationship between social media and sales. Google has made it very easy to track this through Google Analytics. It gives users an aggregate view of the brand's online stance. The Social Reports in Google Analytics measures the outcome and impact of your campaigns and gives you a comprehensive report. The report gives in-depth information about social networks that are driving the most traffic that results in conversions, a.k.a. ROI. Other features like Social Value Graph allows you to compare your social media campaign to other sources and the Pages Report identifies which content is popular.
4. Twitter Analytics:
The Tweet activity dashboard in Twitter is a tool that can be used to learn more about your Tweets. It gives you info like real-time engagement, Tweet activity, trends and a detailed view of the number of retweets, replies, favorites, follows or clicks for a particular tweet. This dashboard allows you to download Tweet metrics. In case your twitter account doesn't come with Analytics, all you have to do is log in to analytics.twitter.com with your Twitter username and password to turn on the analytics for your account.
5. Bitly:
Bitly allows you to shorten URLs and at the same time capture data that will help you optimize your marketing tactics to drive engagement. The analytics dashboard gives you information like number of clicks, source of the traffic, geographical location and devices used.
6. Google URL Shortener: 
The Google URL shortener gives you the number of clicks for a particular link. When clicking on 'Details' you can access insights for a single URL. The insights include information on the source of traffic, geographical location, platforms and devices.
7. Hubspot:
Hubspot is a platform that  helps you prioritize your engagement, and delivers real social ROI, amongst other inbound marketing tools. HubSpot's Social Inbox shows the activities such as likes, favorites, +1's and retweets of the shared content in the connected social networking accounts. The Social Report breaks down your social media strategy with analytics on your shared content and their impact. You can compare your organization's social analytics against other HubSpot customers with similar social reach with our benchmark data. With the data from Social Reports, you can invest in platforms and channels that work best for you.
8. Hootsuite:
Hootsuite offers a complete package where you can manage content and measure the engagement in one place. It allows you to measure and analyze the reach of the shared content in social media. The reports are easy-to-grasp and helps to prove which social media strategy is working, through real-time insights and powerful social intelligence.
With these tools of the trade you can effectively measure social media ROI and come up with the right marketing strategies.
Feel free to add more to this list by commenting below. Got a question for us? Please mention them in the comments section.
Related Posts:
Get Started With Measuring Social Media ROI