Is guerrilla marketing linked to guerrilla warfare in any way? Surprisingly, yes! In guerrilla warfare, armed civilians resorted to small tactics to beat their enemy. Guerrilla marketing is the same, but on the marketing battleground. Explained simply, guerrilla marketing is a strategy adopted by marketers that involves low-cost unconventional marketing tactics that yield maximum results.
Guerrilla marketing is about: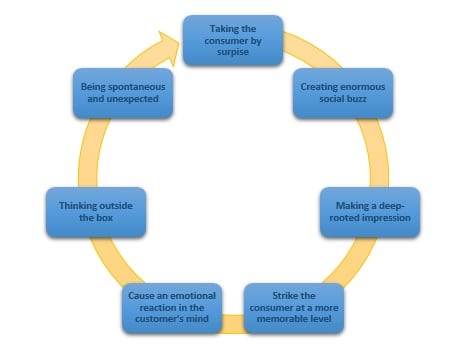 The above graphic depicts that guerrilla marketing is all about leaving a lasting impression on the consumers mind. It targets the consumer's senses at a more personal level with a larger impact than regular marketing efforts.
Guerrilla marketing is ideal for:
Ideal for smaller sized businesses that work on reaching a large audience through minimal investment, guerrilla marketing is also used by larger players in their mass marketing campaigns.
Attracting audience through activities performed on streets, public places, shopping malls, and parks and plays areas etc. is the main technique of guerrilla marketing. By this way, marketers can reach a huge group of audience at the same time.
The 6 techniques of guerrilla marketing:
#1 Ambient marketing
You may have at some point noticed an ad on an unusual thing or somewhere where you would not normally find it. Such form of advertising is called ambient marketing. One point to note is that ambient marketing does not necessarily have to be outdoors. A well-crafted ambient advertisement is one that has a well thought out message combined with an effective media.
For example, Scotch-Brite, a 3M group company used ambient marketing when they displayed a large version of their product on the façade of a building near a famous stadium in Madrid city.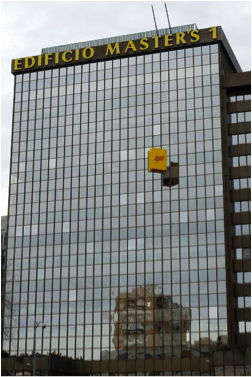 (Source: Creative Guerrilla Marketing)
#2 Ambush marketing
As the name suggests, ambush marketing involves the activities performed to ambush or weaken the sponsorship of a competitor who has legal right over an event. When done well, it creates an impression in the mind of viewers that the team who has ambushed are the real event sponsors and not the other way round.
For example, Burger King ambushed its competitor KFC by putting up this hoarding without legally infringing laws.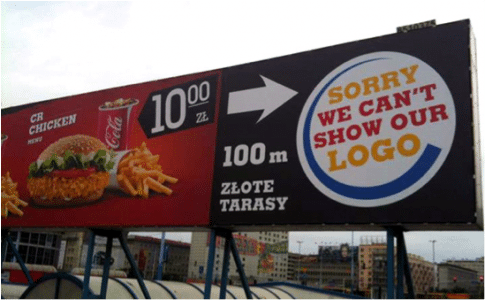 (Source: Printsome)
#3 Undercover / stealth marketing
In stealth marketing, a product is marketed to the public without them being aware. Nowadays, the internet is a huge platform for stealth marketing. Certain influencers are paid to spread positive messages about the marketer's products. Very often, marketers also disguise themselves as peers amongst their target audience and indirectly market a product.
For example, in 2002 Sony came out with a campaign whereby actors guised as regular civilians walked around a town. They requested passers by to click a photo of them and while doing so, would show-off their new phone with its cool features, thereby marketing it.
#4 Viral marketing
Digital marketing, when done through word-of-mouth, is called viral marketing. You may have heard about certain tweets or videos going 'viral'. This is what viral marketing is all about. Sharing through social media and through friends makes such marketing spiels' reach large number of people. Very often, guerrilla marketing and viral marketing go hand in hand as a lot of other guerrilla marketing campaigns can turn viral too.
For example, a low-budget movie 'Paranormal Activity' went on to become one of the biggest earners of all time. It's viral marketing campaign urged viewers to demand that the movie be played in their city. This was because it was initially only released in a few cities. Once it became viral, the rest as they say is history.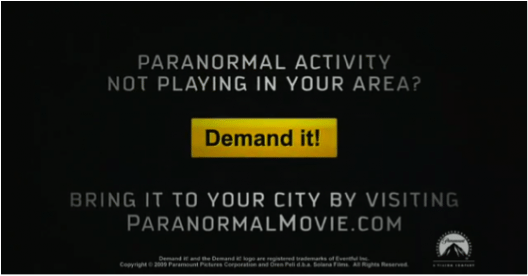 (Source: Ignite Social Media)
#5 Street marketing
As the name indicates, street marketing is marketing done on streets or public places. This does not mean the usage of billboards. Street marketing applies multiple tools to obtain direct contact with customers. Street painting, 3D street art etc. are often used to create an emotional impact on the customer's mind.
For example, the Asian Paints street painting campaign below created an impactful image of color and paints in the minds of customers.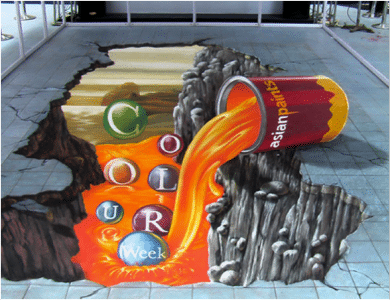 (Source: Creative Guerrilla Marketing)
#6 Astroturfing
Creating something that is actually based on an impression and not a fact is called Astroturfing. Marketers use this technique to create an impression or an artificial buzz of a popular movement. Politicians engage in astroturfing quite often, especially during election campaigns. They may even go to the extent of writing fake blogs or 'flogs' of satisfied customers.
Not every company can go ahead and hire the best in class. Sometimes, results are expected even after budget cuts and low cash flows. In such situations, an impactful guerrilla marketing campaign can really set the ball rolling. It just has to be well augmented with innovation, imagination and creativity.
Powered by Ivyclique
Got a question for us? Please mention them in the comments section and we will get back to you. 
Related Posts:
Get Started With Digital Marketing