Project management is a niche skill that has always been in demand due to the scale and complexity of projects being undertaken in this techno-industrial age. Learn all about how to improve your career prospects with the PMP course.
What PMI® Report has to say about the growing demand for PMP® Credential Holders
Market research is undertaken every now and then to forecast the requirements for Project Managers in the industry. PMI®, which conducts the Project Management Professional® examination, has been doing specific research in this area and its annual reports showcase the growing demand for individuals in the Project Management Domain.
As per the 2014 report release by PMI®, there will be a high demand for practitioners of project management. The demand would be in terms of:
Opportunities Offered
Skills required
These demands would also vary based on:
Industry Sector
Geographic Location
Example: In developing economies like India and China, there is a huge requirement for Project Management Professionals in IT and Manufacturing respectively. China for example does not have effectively implemented project management processes in their industries. This is forcing local industries and global Chinese companies to have it integrated with lieu of complying with the demands of the global clientele.
In countries still recovering from the global meltdown, there is an increased need for Project Management Professionals to think strategically and deploy projects effectively. Further understanding of these concepts can be acquired from the PMP training course.
Industries with growing demand for Project Management Professionals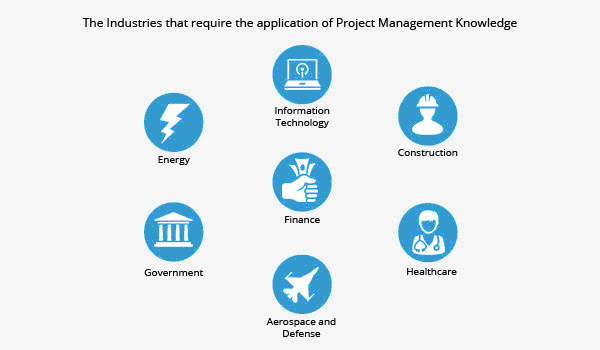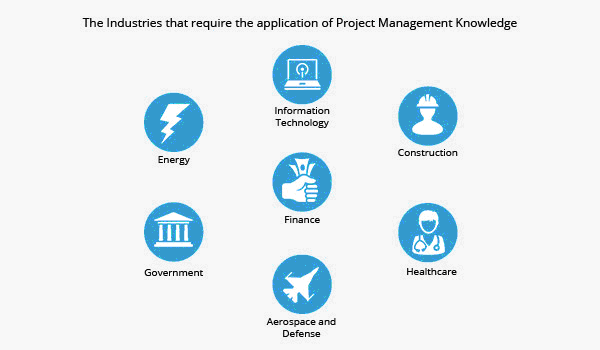 Energy
The world community is more cohesively talking about the need for non-renewable energy. This has led to large number of projects being undertaken in these areas:
Solar energy
Wind energy
Geothermal energy
There will be huge demands for the project professionals in these areas.
At the same time, one can't write off traditional energy sources. Discoveries of newer oil fields and advances in fossil fuel extraction technology are leading to a number of large scale projects being undertaken.
Example: An untapped oil field off the coast of Brazil has been recently discovered and there's potential to make it one of the biggest oil producers. However, Brazil lacks skilled workforce leave alone Project Management Professionals. This gap is being addressed by importing skilled Project Management Professionals in these long term projects. Similar demand is being generated in Europe where energy fields have been recently discovered in the North Sea region. Therefore there is huge potential in this sector.
Healthcare
Improving care and lowering costs is the main focus area of this industry. In the United States, the Patient Protection and Affordable Care Act has spurred competition in the insurance sector, forcing companies to innovate in order to win customers. The need to cut down costs, increase efficiencies and enhancing customer experience will be an important driver for private insurers in the immediate future.
According to CIO Insight, Project managers with strong IT skills will find opportunities in healthcare projects that use mobile devices, social media and data analytics to unify service across multiple channels.
By 2017 Mobile Healthcare is expected to generate revenue of USD 23 billion and projects that capture healthcare data and use it to improve healthcare delivery with lower operational costs are going to be undertaken. And therefore Project Managers with experience in the following will be in much demand:
Software Development lifecycle
Large scale budget management
Cross-functional projects
This trend is being noted in both developed economies as well as developing economies such as South Asia, Africa and Southern America where the middle class is demanding better access to healthcare facilities.
Construction
Construction industry is projected to increase by more than 70 percent to US$15 trillion by 2025, and it will be concentrated in three countries: China, the United States and India.
For project managers with experience in the construction industry, the job market in Asia is the place to be, as Project Management processes are not very mature in these geographies. India, whose population growth has outpaced the growth of its infrastructure, has a shortage of professionals and the demand will go up to 3 million professionals by 2022. The country needs approximately 1 million skilled project managers to fill gaps in large construction projects that require high degrees of independence and complex regulatory compliance.
Get a complete understanding of project management from the Step By Step Guide To Filling The PMP Application Form.
Information Technology
Tech remains a powerful job engine with no signs of slowing. In the United States, technology outpaces all other industries in employment growth by three to one. Multinational IT corporations based in the United States are rapidly taking over smaller IT companies and expanding into emerging markets in Asia, the Middle East and Africa.
As the companies take on multitude of employees from various cultural backgrounds, it has a strong need for project managers with a standardized set of skills to undertake system reorganizations and turning strategic vision into tangible goals and effective output.
IT project managers need to be:
Good at understanding the political culture and principles of the organization they work for
Have ability to think and act strategically
Have experience on architecture led Project Management
Countries with growing demand for Project Management Professionals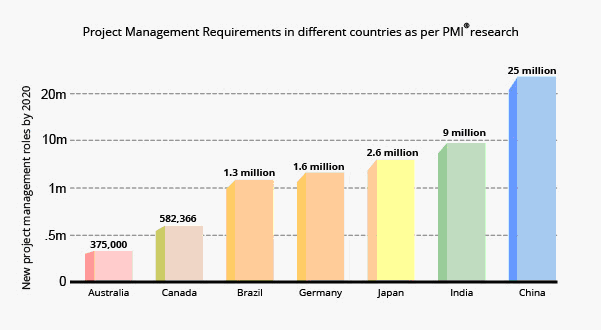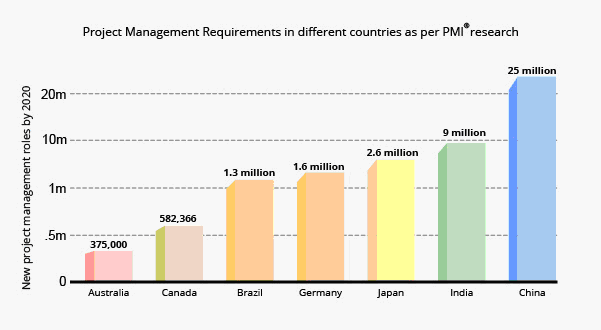 Canada
582,366 new project management roles are projected to be needed by 2020.
Brazil
The country's 10-year energy plan will attract US$133 billion in investments. About two-thirds of employers in Brazil report that they can't find enough workers with the right skills. More than 1.3 million new project management roles are expected to be needed by 2020.
North Sea
Deep-sea oil drilling in the North Sea region was expected to create 50,000 new jobs in 2013 alone. By 2030, the North Sea will need 100,000 new workers with college degrees in Finance and Project Management.
Germany
More than 1.6 million new project management roles are projected to be needed in the country by 2020.
India
The US$100 billion Delhi-Mumbai industrial corridor development project is India's largest-ever infrastructure project. Nearly 9 million new project management roles are projected to be needed by 2020.
China
China boasts the world's largest high-speed rail system: 10,463 kilometers (6,501 miles) of tracks. With an annual investment of US$100 billion, the country plans to complete 18,000 kilometers (11,185 miles) of track by 2015 and 120,000 kilometers (74,565 miles) of high-speed rail by 2020. Nearly 25 million project management roles are projected to be created by 2020.
Australia
Australia has three operating liquefied natural gas projects and seven more under construction, representing an investment of more than AU$200 billion. A corresponding labor shortage in Australia translates to higher salaries for Project Managers there. More than 375,000 new project management roles are projected to be needed by 2020.
Japan
According to PMI's Project Management Talent Gap Report, 2.6 million new project management roles are expected to be created by 2020.
There is no doubt that PMP Training in Chennai brings with it amazing job opportunities. The PMP® Certification examination is a grueling process and therefore do check out the exam preparation course offered by Edureka. With online training by certified instructors with experience in the project management industry, lifetime access to recorded classes, and 24X7 support, this course is a sure fire way to crack the exam.
Related Posts in PMP:
Guide to PMP® exam preparation.
Cracking PMP® exams with structured tutorials.
PMP is a registered mark of Project Management Institute, Inc. Edureka is a Global PMI® REP: ID 4021