It is more than just fresh graduates and employees with less experience who wish to improve their skill sets and gain more knowledge of the subject. Even those with quite a few years of experience working in a particular department can look to gain more expertise in the field. They may not be able to attend a full-time course to add a certificate to their qualification. But that should not prevent them from enriching their resumes. Online executive MBA for working professionals specifically caters to such people who wish to continue their learning even while working.
An excellent course for such employees is the Executive Post Graduate Program In HRM offered by reputed institutions. The course aims to improve their expertise in the subject without disturbing their official duties. You can learn more about this course on our website.
What Is An Executive MBA For Working Professionals?
An executive MBA or EMBA, as it is known in various institutions, is meant for professionals who have already put in more than ten years in a job. Some people have worked in the HR department for quite a few years but are stuck in one position as they don't possess the necessary certificates. These people cannot leave work and attend a full-time MBA course. The Executive MBA for working professionals has been created for these people. The course considers their work times and arranges classes that don't disturb their professional life.
The EMBA course is usually conducted as a mix of evening and weekend classes. These are online classes specifically meant for the convenience of those working full-time in senior positions. Full-day classes or workshops are sometimes held on holidays. The unique feature of the EMBA is that the discussions are more mature and advanced. It is because those who attend the course already have rich real-life experience. In addition to the regular master's degree, the executive MBA for working professionals equips the participants with more advanced skill sets.
Difference Between EMBA And MBA
So how does the executive MBA for working professionals differ from the regular MBA course? The main difference is that the regular course needs the person to attend classes full time, whereas the EMBA classes happen during evenings or weekends. An important difference is the level of immersion in the graduate school experience. The EMBA courses offer more customisation of classes suitable for experienced people. Regular MBA classes don't allow the participant to attend full-time office jobs, whereas the other course specifically targets those who are working.
An MBA course doesn't necessarily require work experience though many institutions prefer to take those who have been working for two to five years. But the executive MBA for working professionals needs the course participants to have at least ten years of employment experience. One can usually find that the average experience of those joining the EMBA course is around fourteen years. Another difference is that most people joining this course get the fee sponsored by the company they work for. It is because the organisation benefits from the knowledge the person gains from this course.
Advantages Of Acquiring An Executive MBA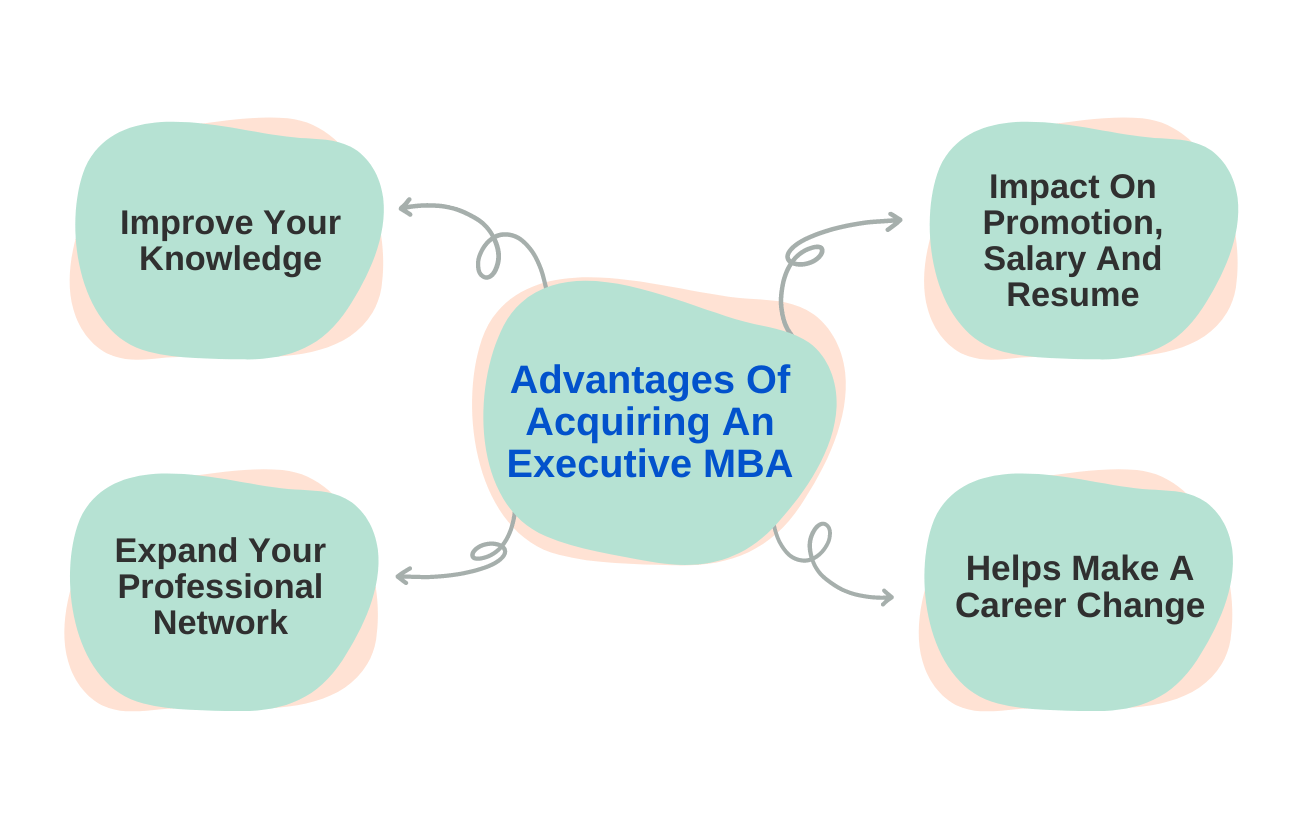 Impact On Promotion, Salary And Resume
The biggest gain from attending the executive MBA for working professionals is that you add a highly valuable degree to your resume. This degree will enhance your job and salary potential if you plan to move from the existing company for better career prospects. You get this benefit without any break in your employment. The company you plan to join will be happy to note your enthusiasm for gaining knowledge without taking off from your work. This degree is surely a jewel in your resume that employers will highly value.
Even if you don't want to move to another firm, your career prospects are better with this degree. You can use the additional skills you learned in the course in your present job. It will certainly improve your performance and attract the attention of the top management. They will certainly give you better consideration for the next promotion. Companies will not want to lose someone who has acquired so many new skills without taking off from work. The executive MBA for working professionals offers a better chance of a salary hike in the present company.
Helps Make A Career Change
Those looking for a career change will benefit greatly by attending the Executive MBA for working professionals as it can teach the person additional skills. The new skills will help one change the industry or location. The practical experience you gain through case studies and live projects will build upon your professional experience and prepare you for new challenges. It will help you move in a new direction professionally. The EMBA programme also allows you to meet other senior professionals who can provide a lead to better jobs.
Many people gain experience in the field they are working in and want to start a business independently. Attending the EMBA programme will equip them with the necessary skills to run a business. The executive MBA for working professionals is also very useful for those looking to start their businesses. The contacts you develop during the course can also come in handy when you are on your own. You may get help in sourcing materials or finding new markets for your products.
Also Read: How To Achieve Optimum Professional Growth
Expand Your Professional Network
It is possible that people working in a company for ten or fifteen years don't develop many contacts outside the firm. Some positions don't necessarily allow people to interact with those outside the company. This will greatly limit the opportunity to mix with professionals from other regions in the country or from abroad. When you attend the executive MBA for working professionals, there may be participants from various countries. It will expose you to new methods of handling situations. You will also learn techniques that you are not familiar with.
Another advantage of expanding your network is that you will create more opportunities for yourself to change careers. You will likely meet people from other industries that offer more lucrative jobs. It will pave the way for better salaries and lifestyles. The people you mingle with in the executive MBA for working professionals can teach you much more than what the professors do. There can be very senior people from whom you will hear real-life experiences and how they overcame difficulties similar to those you face in your company.
Improve Your Knowledge
Those working in a department may gain a lot of knowledge due to experience. But the fast pace at which technology is changing needs one to constantly learn new things to be efficient at work. Such knowledge cannot be gained at work. They need to be acquired by attending a regular course. The executive MBA for working professionals is a good place to expand your expertise in various subjects. It is a good place to hone your skills and go deeper into subjects you have learned through experience.
Attending the executive MBA for working professionals also puts you along with others who are in similar fields. This helps you learn many things from their experience. There can be those who have mastered skills that are not taught in the course. You get a chance to learn those also from your classmates and share your knowledge with them. The programme also allows you to clear doubts that you might have had while working. The highly educated faculty will give solutions to problems that you face at work.
When you enrol for the Executive Post Graduate Programme In HRM, you will be much better prepared to take up higher responsibilities. The coach teaches skills in using new technologies. Many real-life case studies in the programme help you work better in an executive position. You can get more details about this course on our website.
Preparing For The EMBA Admission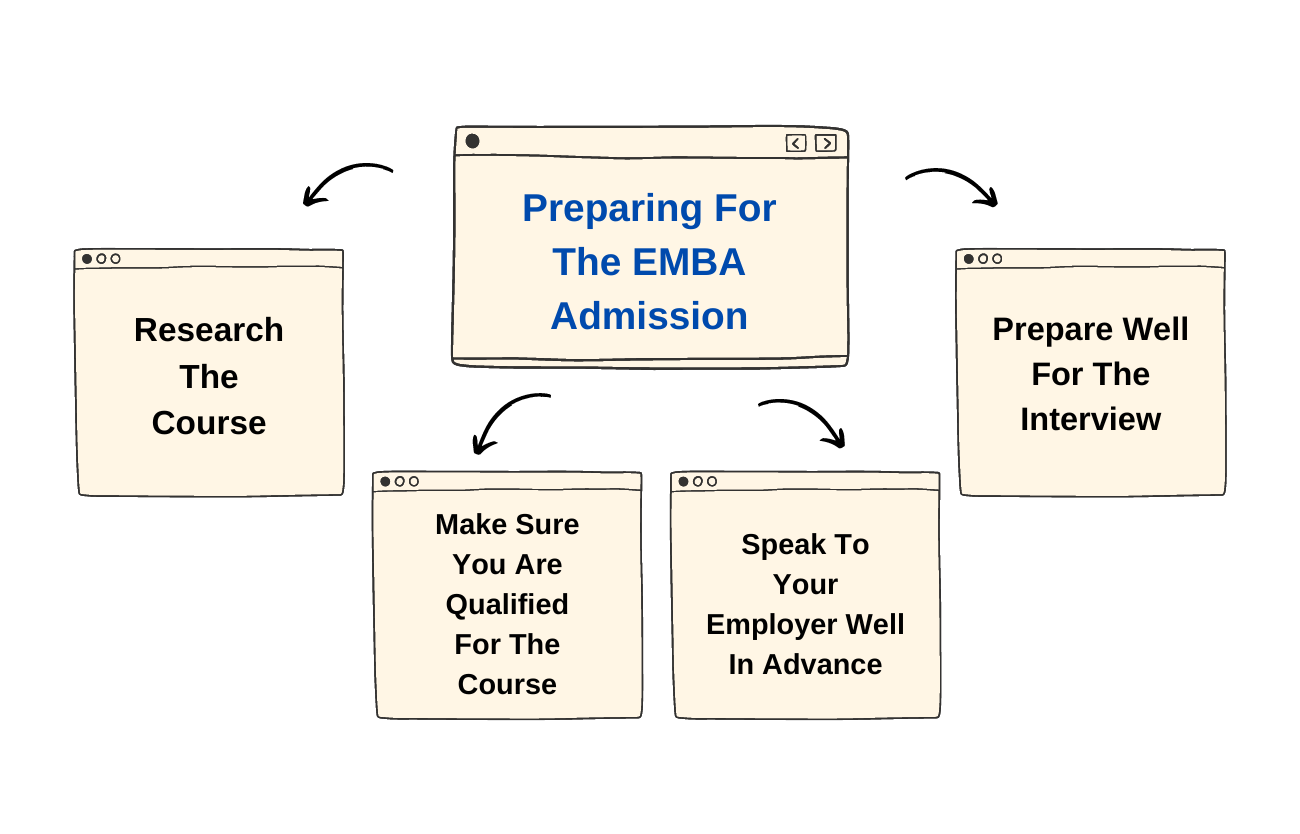 Research The Course
When attending an executive MBA course, must help you perform your duties better in your job. This means that the course must teach subjects that are relevant to your job. It is essential to see what subjects are taught and which topics are given more importance in the programme. It is best to select a course that teaches subjects that are essential for your job. As you will be spending a lot of your time, money and effort on this course, it is best to choose one that will give you the maximum benefit.
Make Sure You Are Qualified For The Course
Most executive MBAs for working professionals require you to have a minimum qualification, experience and subject knowledge. As one of the most important features of this course is the interaction between people at a senior level, you will be tested to ensure that you have enough expertise to offer something to the other participants. You must also have the necessary subject knowledge to complete the course. It is necessary to check the experience requirement of the particular course and make sure you have it.
Also Read: Using Digital Business Management For Better Profitability
Speak To Your Employer Well In Advance
The executive MBA for working professionals will need you to dedicate a good amount of time. It is better to speak with your employer about your intention of joining the course and taking time off when you need to visit the campus for classes. Many institutions also need a letter from the employer confirming that you can take time off for the course. In many cases, the company may sponsor the fee for the course. The management will be able to decide and process the payment only if you tell them well in advance.
Prepare Well For The Interview
Most schools offering the executive MBA for working professionals are very careful about who they admit for the course. They prefer every participant to contribute actively to the success of the programme. They choose the people based on their performance at the interview. You should go well prepared to show your skills and knowledge. The interviewers are more likely to ask questions about your present job and your professional goals. You may also be asked to show your management capabilities by presenting a hypothetical situation.
Qualities Needed To Succeed In The EMBA Course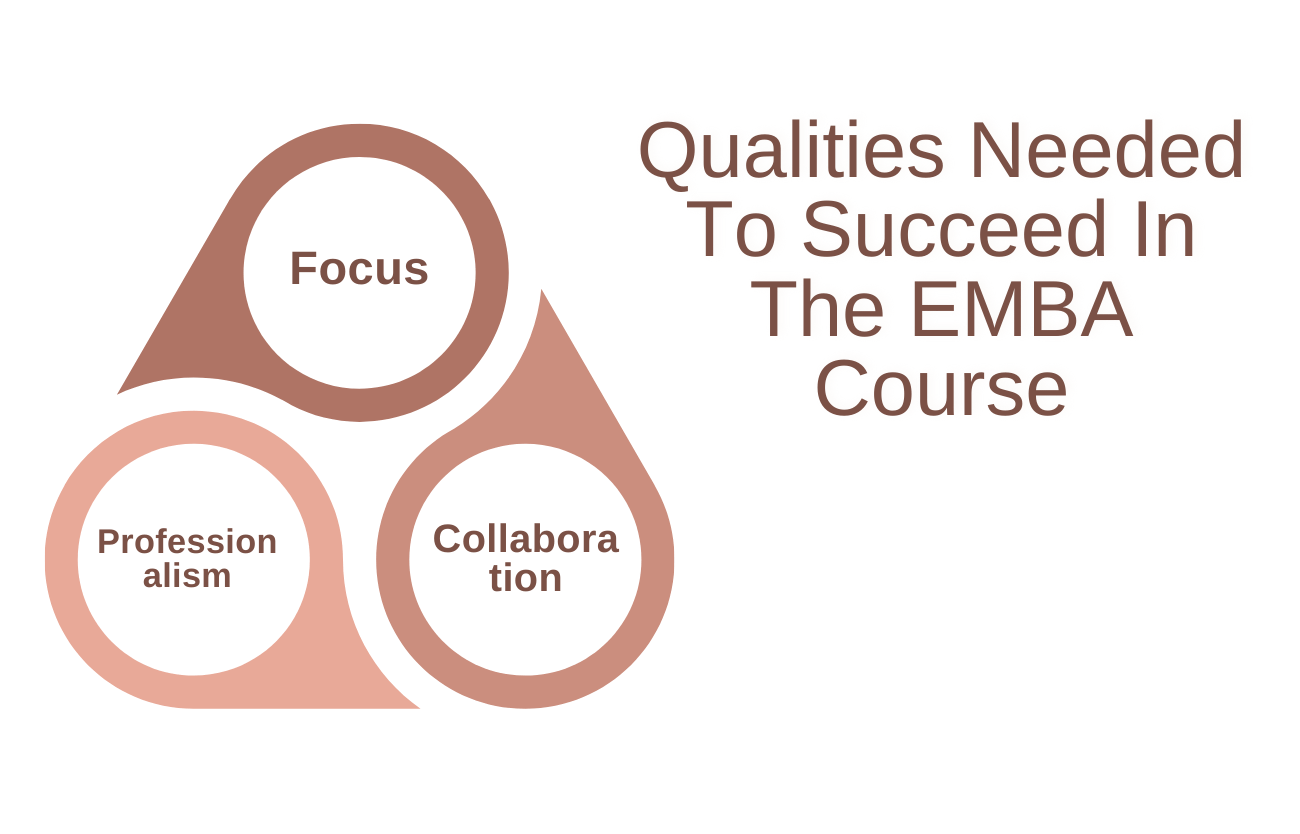 Focus
When you enrol for the course, you already have a full-time job that keeps you busy throughout. Most of you will also have families that need your time and presence. The course will take away your evenings and weekends as that is when most of the classes are conducted. Another factor you must consider is that after so many years of working, it may be difficult to take an exam. You must make sure that you have a complete focus on the course if you want to complete it successfully.
Professionalism
Those who join the executive MBA for working professionals would have put in at least ten years of experience in their professions. A good number of them will be holding managerial positions and will be taking up higher posts after the course. Moreover, you may be representing your company in the course. Displaying professionalism is essential to show that you are serious about the course and look forward to actively participating in all activities.
Collaboration
Some of those who join the course may be working in managerial positions and are used to giving orders. But one of the main features of the course is collaborating with others and sharing experiences. There will also be activities that need you to be part of a team. It is essential to exhibit the ability to collaborate in the course.
The Executive Post Graduate Programme in HRM is an excellent course to gain the skills needed for your next career move. You can get more details about the course on our website.
Conclusion
There are a lot of opportunities at the senior management level for those who have the capabilities to handle the position. Mere experience in the job is not enough to handle such posts in this fast-paced business environment. You must also acquire the skills needed at the higher management level. This can be obtained by attending an advanced management course that caters to senior managers. You must find a suitable programme that is most suitable for your needs.
More Information:
Business Policy and Strategic Management: An Encyclopedia
What Are IIM Certificate Courses & How To Choose The Best?
Best IIT Certificate Courses For Working Professionals in 2023