In today's fast paced digital world, a lot of attention and importance is being given to Big Data and analytics to drive performance and profits for any company. Currently, many organizations rely on various analytics tools to consolidate unstructured data that can help with their business and marketing objectives. But in some cases, these analytical platforms may fall short. In cases where large scale research is required and high amounts of data need to be managed, companies need a powerful and agile analytical platform that serves as the data backbone. This is where Teradata fits in perfectly.
Teradata is one of the largest players in the data warehousing market. The analytical platform is held by the organization called Teradata Corporation and it is used to consolidate data from various sources to help make marketing analysis a whole lot easier for large scale organizations.
What Is Teradata?
Teradata is a relational database management system that is based on symmetric multiprocessing technology to help manage large data warehousing operations. The primary focus of the Teradata platform is to help companies organize and boost their analytical capabilities in order to further consolidate their core business objectives.
Teradata combines new-age multiprocessing technology with communication networking to form parallel processing systems that operate with high efficiency. The Teradata platform acts as a singular data source that houses multiple large requests simultaneously from different client applications for the execution of complex queries.
Unlike other analytical software that often fail in one direction when scaled in another, Teradata is fully scalable irrespective of the volume of data and operation executions. Teradata also offers load distribution among multiple users as well as parallel efficiency, and has the ability to execute tasks with a maximum of 265 joins. With such optimized functioning and ability to perform tasks with high amounts of volume, most large organizations prefer operating on the Teradata platform.
The Evolution of Teradata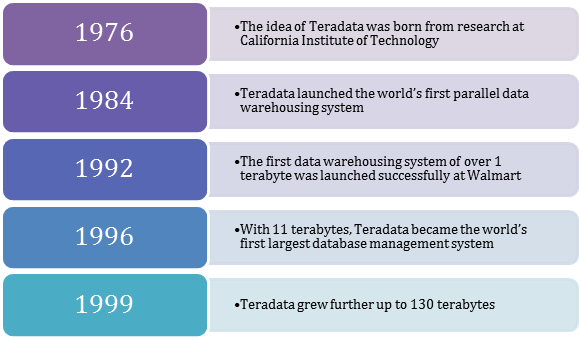 Over the next few years, the Teradata database management system continued to grow and the company acquired many other companies such as Claraview, Aprimo, Aster Data Systems, Hadapt etc. Today, it is the largest, global data management tool available.
Who Is Suited For A Career In Teradata?
With many organizations prioritizing digital marketing, careers around Big Data and analytics have become the most favored options today. Every company is looking for experts who can help them achieve better results and create an edge over competitors. Since Teradata is a more technical and large scale competitor in the market, not many individuals are qualified to operate it, making the few elite ones the most wanted in the analytics career space.
A Teradata manager is responsible for all aspects of database acquisition and analytics from development, to tests and even production. Collecting information, analyzing data and determining the importance of different statistics are important facets of this role. A job in Teradata management is suited for someone who is immensely passionate about analysis and data processing, understanding and managing parallel processing structures, complex algorithms and all kinds of code.
What Career Paths Are Available In Teradata?
A career in Teradata can be challenging and exciting at the same time. For those who are interested in database management and analytics, the growth curve continues to rise rapidly in this field and Teradata will enable a lot of learning and knowledge in the sector of marketing and core business strategies in the digital age.
Career paths in Teradata include Teradata development and database administration (also known as DBA). As a Teradata Developer, one is required to maintain all the functions for database administration; on the other hand, DBA is responsible for the smooth functioning of the day-to-day administration of the Teradata processes.
The Teradata developer is a more technically sound role and involves creating and managing complex and high quality solutions to clients through data warehousing, data analytics and proficiency in writing SQL (Structured Query Language) for managing the collated data.
The Database Administrator ensures that the Teradata environment runs without a glitch. The responsibility of the administrator is to create and establish structured roles to ensure that the Teradata processes function at optimal levels. The DBA is also responsible for quality control and auditing to ensure appropriate usage of data to ensure accurate results. The DBA dons many hats by working with different teams such as designers and developers to fine tune the functioning of the Teradata processes and also to resolve issues that occur in a professional and technical work environment.
Edureka offers a course on mastering Teradata to help you become an expert in data warehousing through innovative course delivery, real-time case studies and industry-relevant assignments. This course encompasses architecture, indexing, SQL and more to help you mold yourself into a sought after Teradata expert.
Powered by Ivyclique
Got a question for us? Please mention them in the comments section and we will get back to you.
Related Posts:
Get Started with Mastering Teradata