Supply Chain Management (SCM) is a tactical, operational and strategic role, driven by internal as well as external influences. It is a critical component of business that helps to increase efficiency and profitability through different vendor management tactics. SCM is an integral clog in every business, as it deals with complex challenges, operational issues and managing the overall functioning of multiple systems. Even the smallest of errors can cause the entire system to crash. Hence it is essential to keep the supply chain running smoothly and efficiently. And the more efficient it becomes, the more it boosts the productivity and profitability of a company.
Critical elements of SCM
To understand the functioning of SCM, it is essential to understand its structure. SCM consists of 4 main elements that help the clock ticking:
1. Demand Management
Focusing on the needs of customers rather than just the production process, is a necessary element known as demand management. Demand management mandates that the lead organization take responsibility in a group of companies or partners, to make the others aware of customer demands and encourage them to optimize operations and add value to the final product. Through increased awareness about customer needs and efficient collaboration, the entire supply chain can become more competitive and efficient, leading to better business opportunities.
2. Communication
Open communication is the key to efficient SCM systems. When all members are able to share information, understand new developments, respond to changes and be aware of all the marketing and supply channels, business opportunities and supply levels automatically increase.
3. Integration
Developing single-point information networks for all involved members can help reduce inventory costs and boost productivity.. Integrated processes allow members to securely access and share supply and demand information thus enabling better communication, leading lead to systematic operations.
4. Collaboration
Collaboration is crucial in strengthening the relationship between vendors and companies, improving teamwork and operational efficiency, leading to an overall increase in business. Through collaboration, companies can work jointly, conduct training programs, and undertake product development initiatives to consistently boost the supply chain.
But supply chain management is a mutually dependent machine, and there are bound to be some uncertainties, with multiple components trying to work in tandem.
Uncertainties in SCM
Underlying uncertainties in SCM refers to problematic situations where the objectives are unclear and it is difficult to make a decision. Uncertainties in supply chain management are caused by lack of information or understanding of the processes, lack of information processing capabilities, and lack of effective control actions on the supply chain behavior.
In supply chain management, uncertainties mainly affect one or more of these specific areas:
Added costs
Increased inventory levels
Increased lead times
Reduced speed to market
Companies can address these uncertainties in multiple ways and optimize them to increase productivity. Listed below are some of the most efficient practices adopted by organizations to safeguard against these problems:
Engaging smaller and focused teams to minimize risks and drive closure
Reducing overall cycle time by deploying effective integrated planning systems that can predict outcomes and uncertainties thus helping companies become more proactive
Analyzing and eliminating inefficient processes at regular intervals to ensure optimal functioning and output
Preparing and implementing a strong risk-management strategy to regularly monitor the supply chain
Building relationships with backup suppliers and vendors to arrest possibility of uncertainties
Appointing teams to focus on planning, collaboration, technology and overall operational excellence
Recognizing and reporting risk profiles that enable the company to build contingency plans to tackle unexpected changes
Uncertainties need to be considered right from the planning stage and should be incorporated in the strategic plan of supply chain management.
Apple – A Case Study
Apple is known for its technology, innovation and design. But the lesser known behind-the-scenes operation of Apple is powered by an equally fascinating supply chain.
Apple's supply chain can be divided into two parts – planning, and manufacturing and distribution. Apple's supply chain planning is all about the new product development process. It integrates research and development, marketing and planning to introduce new products by acquiring the necessary licenses and 3rd party businesses.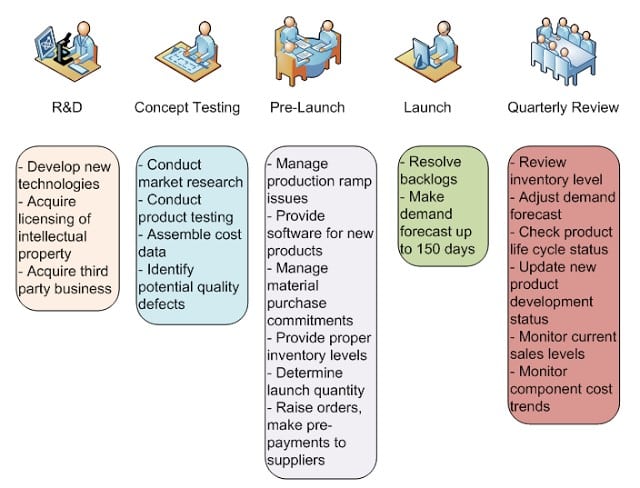 (Source: SupplyChainOpz)
Upon securing the necessary raw materials it moves to the second phase of manufacturing and distribution. Apple acquires all its raw material from varied sources and ships it to the centrally located manufacturing plant in China. Once assembled, the plant directly ships the finished product to buyers who purchase it from the Apple Online Store, reducing shipping costs. For those purchasing from retail stores, the products are shipped and stored at a central warehouse in California and are directly supplied to vendors. This eliminates excess inventory. Once the products reach the end of their lifecycle, customers can send them back to the nearest Apple store, where they are collected along with the other unsold products for recycling.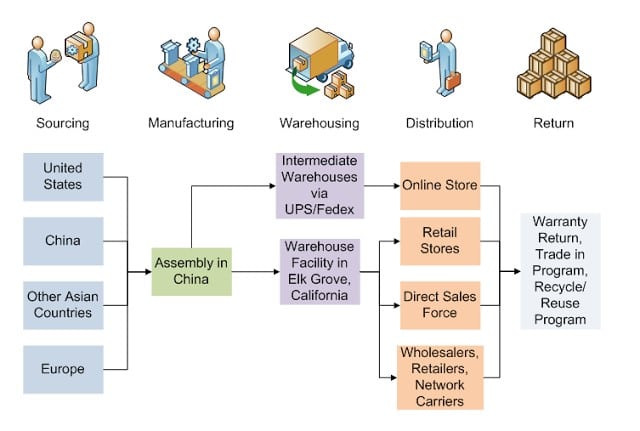 (Source: SupplyChainOpz)
Supply chain management is a detail-oriented, process-driven structure that needs to function with impeccable clockwork. With dependent systems and organizations, it is essential that the management of the processes is optimized and efficient.
A top-down and systematic approach is required to improve productivity within a supply chain. A firm and stable leadership can help to smoothen the rough edges and shape up processes. Through effective communication, standardized processes, empowerment of workforce and developmental training programs, member organizations and employees can work in unison to create a highly productive, efficient and performance-oriented supply chain.
Powered by Ivyclique
Got a question for us? Please mention them in the comments section and we will get back to you.
Related Post: