Started in 2012, the Edureka YouTube channel has become the ultimate stop for tech enthusiasts. This is the story of our channel that started from a simple recording and later expanded into fortune and fame with a community of 1 Million YouTube subscribers. So, let's begin…
Where the Journey to 1 Million YouTube Subscribers Began
The first time you do something is a powerful experience. It marks the beginning of something new and exciting, yet more than a little scary.
28 June 2012, the idea of creating a YouTube channel dawned upon our Co-founders, Kapil Tyagi and Lovleen Bhatia. The most important aspect for them to create this channel was to make technology learning accessible and up to date.
Edureka started its YouTube channel by uploading a simple recording of one of our live sessions on the most trending technology back then – Big Data Hadoop. The session was conducted by our CEO himself. There were no fancy film crews, no editing, no modern equipment. It was just a guy talking passionately about Big Data Hadoop. It was a three and a half-hour-long video and they weren't sure if people would stick around to watch the entire video. The reality was a lot messier than this neat little tale and the founders spent few sleepless nights, worried about the reception of the 1st video.
But to their surprise, the video performed outstandingly well. It got unexpected number of views and likes that fueled the channel's growth. It subsequently increased the sales of our courses and completely filled out the Big Data Hadoop course batch in no time. That is when our founders realized the power of YouTube content. They discovered when content is engaging, people choose to stay and watch it, no matter how long it is. This video gave Edureka the kick start it needed at that point in time and last year it became our first video to cross 1 Million views on YouTube.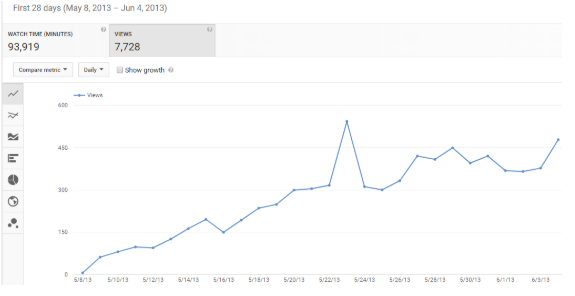 The video crossed more than 500 views in the first 28 days which was a big feat back when YouTube was still in its infancy.

Today, it has more than 1 Million views
Discovering What it's Like to Go Viral…
Between 2012 to 2015, Edureka team learned to create content around the topics that our audience was passionate about and showed high demand. We saw that a solid base of content could help make the most of the conversations already happening around a product, category or interest area, providing a springboard for engaging with your audience.
So, we started creating and uploading more visual content on the latest technologies on YouTube, regularly. We were still in the experimental phase, uploading different recordings of our live sessions and observing how they performed. Although we did not have a particular tool to measure our success at this point in time, we considered the number of subscribers as the benchmark.
We encouraged viral marketing through YouTube which simply increased the number of subscribers and viewers on our YouTube channel over a period of time. It was amazing that without having to spend a single penny on promotions, we still managed to grab the audience's eyeballs and build a family of 100,000 subscribers. At this point, we were pretty clear that YouTube is going to be a game-changer for us in the future. We still have our first 100,000 Silver Play Button sent by YouTube, hanging proudly on our office wall.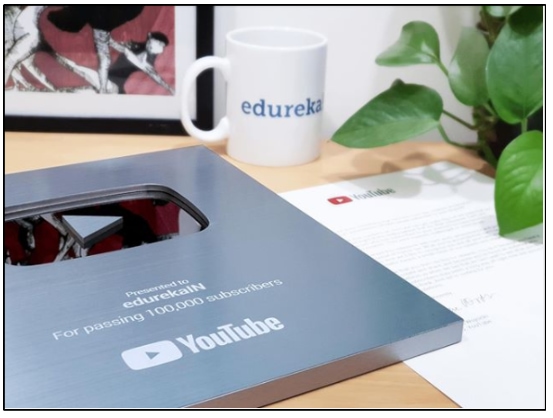 Slowly we understood how important branding was and that a channel without a focus was less likely to grow an audience, or gain significant numbers of subscribers. We wanted to get our audience hooked which required tailoring of our content to match our ultimate goal.
Hence, the real game began in August 2016 when we realized that we needed a bigger content marketing team with smart people who could produce more quality content in less time. And so the hiring began. Soon we had a full-fledged team of content marketers, video editors, and creative designers and we were all set to start generating engaging and useful content for our audience. The content marketing team was led by our in-house experts Vineet, Awanish, and Vardhan, who were mentored by our co-founder Lovleen Bhatia.
The next challenge was to build expertise, reputation and credibility in the industry. So, we tried to figure out what the most popular YouTube videos to make were by checking out different channels related to our niche and closely observing which videos were working well for them. There was a lot of pressure to get things right. We'll be honest here: most of that pressure came from us, as we wanted to get our first official YouTube video as near perfect as possible. Because we were worried that if we change direction later, we'll be seen as a flake.
To cope up with all that pressure, we put up a strategy in place and planned out our first YouTube video. We targeted the most in-demand technology of that year – DevOps, and started creating our first official video content on "What is DevOps". A whole lot of effort was put in to create this video. The content was changed almost a hundred times. There were around 50 retakes and the video was edited around 15 times before we got the final cut. Here is what Vardhan (currently the Community Manager at Edureka) the research analyst behind the video, has to say about his experience on the creation –
"From experience, I can say that re-inventing the wheel is the best feeling ever. It's like bringing the same (massive) impact all over again. There was no board with a road-map of how it's done. I felt like an artist, listening to that marvel."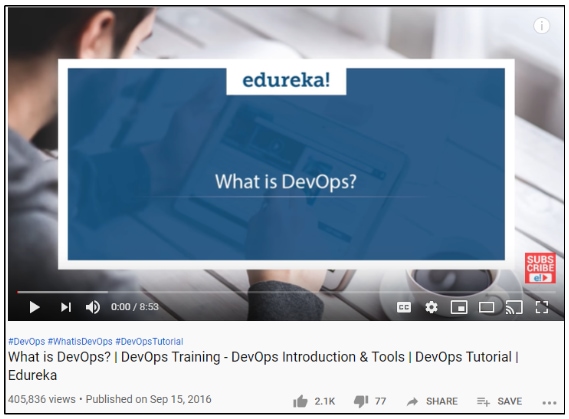 But in the end, it was all worth the effort. This video gave us 100 likes in no time (which was a very big thing for us back then). We were appreciated by our subscribers in the comment section. There were actual requests to create more content like this. A lot of our subscribers who were inactive were now actively participating. The video created a huge buzz and got us the much-needed publicity which taught us how quality videos are an important touchstone in a brand's story. And creating a quality video requires a great idea, a proper script, a creative approach, and a fan base to push it. Or, if you're lucky, all you need is a really great idea!
This brings us to our next section, Efforts Made by Our Content Marketing Team, the Tactics that Moved the Needle
By this time, we understood that to create content for a brand on YouTube, it is important to think about what people want to see. They want stories that they can comment on. They want instructional videos that provide value. They want videos that make them want to save them and view later. They want content that they can share.
In order to drive engagement for your brand, you need to understand what your customers want from you and then deliver it. We learned that if there's one thing that will kill a channel quickly, it's being inconsistent. We had to build our momentum, and really start to get somewhere. We had to maintain a consistent posting schedule that we could stick to.
So, we did our research and dug the most in-demand technologies that people wanted to learn about. These technologies were – DevOps, Hadoop, Tableau, Python, Selenium, and Amazon Web Services. We had three different teams working on different technologies by now. So, these in-demand technologies were distributed among these teams who started creating quality content on them. We started posting this content on a daily basis, rarely missing a single day. Sometimes we even posted multiple videos. The plan was to make our viewers understand that there's always going to be something new for them to watch. This would push them to become a reliable subscriber who would interact with the brand for the long term.
With time, our videos started ranking on YouTube search and by posting quality content consistently, we managed to increase our subscriber count.
The strategy was now very clear to us. Dig out the most searched keywords – create quality content on these keywords – upload! With this, we were able to crack the correlation between our efforts and outcomes. As soon as any of our videos performed well, it automatically increased the traffic on the content page which in turn increased the number of leads for that course.
By the year 2017, we were on track with our subscribers and our videos were performing really well. We had already hit half a million subscribers. The only problem was the videos we made were not useful to all the 500,000 subscribers. And it was only fair, because why would an AWS engineer be interested in learning about Tableau or why would a DevOps engineer be interested to learn about Apache Hadoop. Why was this little situation bad for our channel? Well, it was creating a lot of inactive subscribers that no brand wants.
Hence, we needed a plan to make these subscribers active. So, we came up with the idea of generating some specific content that would be of great value to all our subscribers. This included topics like
The moment we started creating this kind of content, our subscriber count shot up again. More people were now learning and engaging. We were getting inspiring stories of learners, comments, likes, and shares. The videos performed better than what we had expected.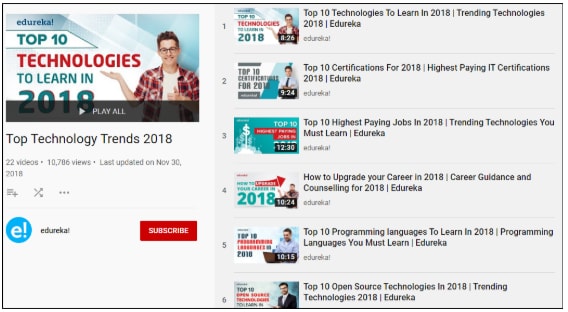 Comments from our subscribers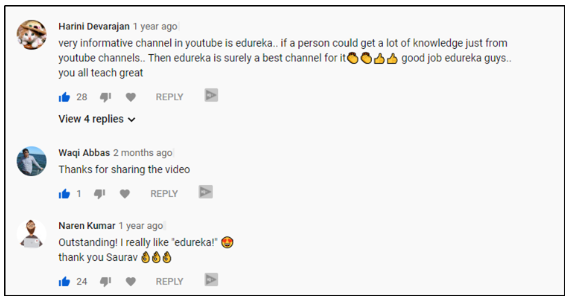 We could now see the 1 million YouTube subscribers milestone clearly. But, we needed that one last push. Something exciting that would work in less time. This is when we came across the amazing live session feature of YouTube. YouTube Live is a convenient way to reach your audience in real-time. Whether you're streaming a video game, hosting a live Q&A, or teaching a class, the YouTube Live suite of tools helps you manage your stream and interact with your audience in real-time.
YouTube live streaming fostered more engagement for us. We observed that when a large group of people is watching a live stream concurrently, it is a more social experience than when they watch an on-demand video in their own time. Social connections and interaction during a live event are attainable and extremely valuable. The audience is connected to the event itself. The live event is the one commonality that the entire audience shares and can talk about.
Another thing that's great about live events is that we can monitor engagement and social conversations in real-time. This helped us uncover whether or not our intended message is being received and, if it isn't, we could change it based on the cues received from the engaged audience. As we kept conducting more and more valuable live sessions, viewers continued to crave and consume more of our live videos, due to which the possibilities continued to expand for us.
Another awesome YouTube feature we put our efforts into was the YouTube Community. With the YouTube Community, we were able to share things like text posts, images, GIFs, contests, polls and all other types of content with our subscribers. And the followers, on their side, hit a thumbs up or down on each post and made comments which increased the engagements.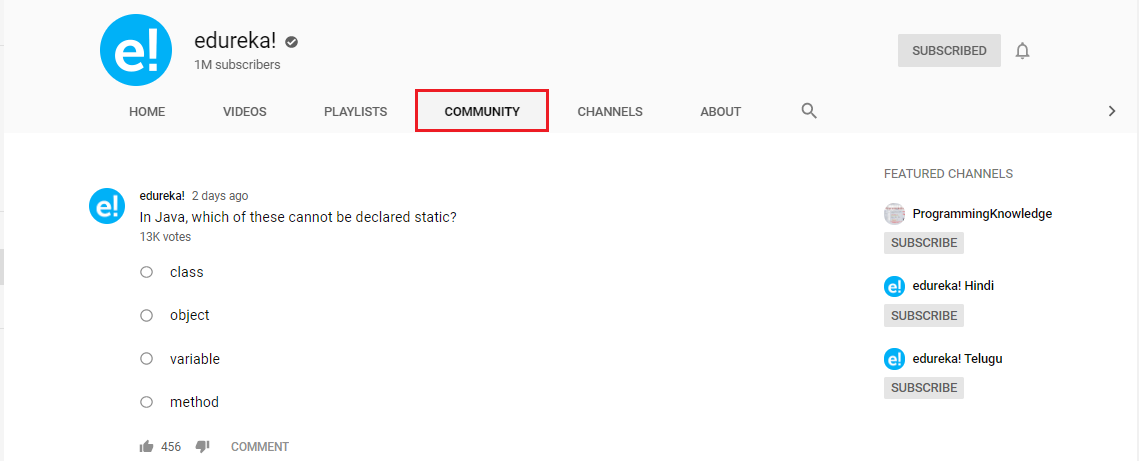 Moreover, the subscribers were now able to see all of this information in the "Subscriptions" feed in their YouTube Mobile App. They also received push notifications on these posts from us if they hit the bell icon.
YouTube Community stood out to be a great feature for us to talk to our subscribers directly and strengthen our bond with them. YouTube Community helped us build that strong connection between our creators and fans.
And with all these strategies, Edureka built its YouTube Marketing, thanks to the wise decision made by the initial creators of our YouTube channel, who used the opportunity to create a brand identity. One thing we learned on our journey is that if you keep waiting for the perfect idea or the right moment, you'll never find it. The secret behind nailing your first YouTube video is to simply do it and keep on doing it.
Remember, not every video is going to be internet gold, but it helps to have a team of professionals with an eye for what will work and how it would couple with your marketing goals. There are no escalators; there are only staircases to success. There is no substitute for hard work. Being a hit on YouTube requires a lot of effort. You need to listen to your audience and be authentic, relevant, regular and reliable. At least that's what worked for us.
In the end, we would like to thank the Edureka 1 million YouTube subscribers for making us what we are today. Here are a couple of subscribers who we would like to give a shout-out to for their amazing support.
Meet Keval Bhatt – The subscriber who has been attending all of our live sessions religiously for 2 years.

Mohammed Ajax Quadri – The subscriber who is always keen to learn more.