Edureka learners have spoken! Here's a small collection of Edureka reviews from Quora and Google + that testify to the quality of Edureka training. These unbiased reviews have been written by learners who learnt industry-relevant skills and achieved their career goals through Edureka courses.
It's encouraging to see how our training has benefited professionals in all walks of life and equipped them to charge ahead in their career. This is what keeps us going, day after day. Every review is a pat on the back of an Edureka employee who has gone above and beyond the call of duty. We are humbled!
We'd like to thank each and every learner who has taken the time out to review us and spread the word in the learning community.


Check out more Edureka reviews on Quora here.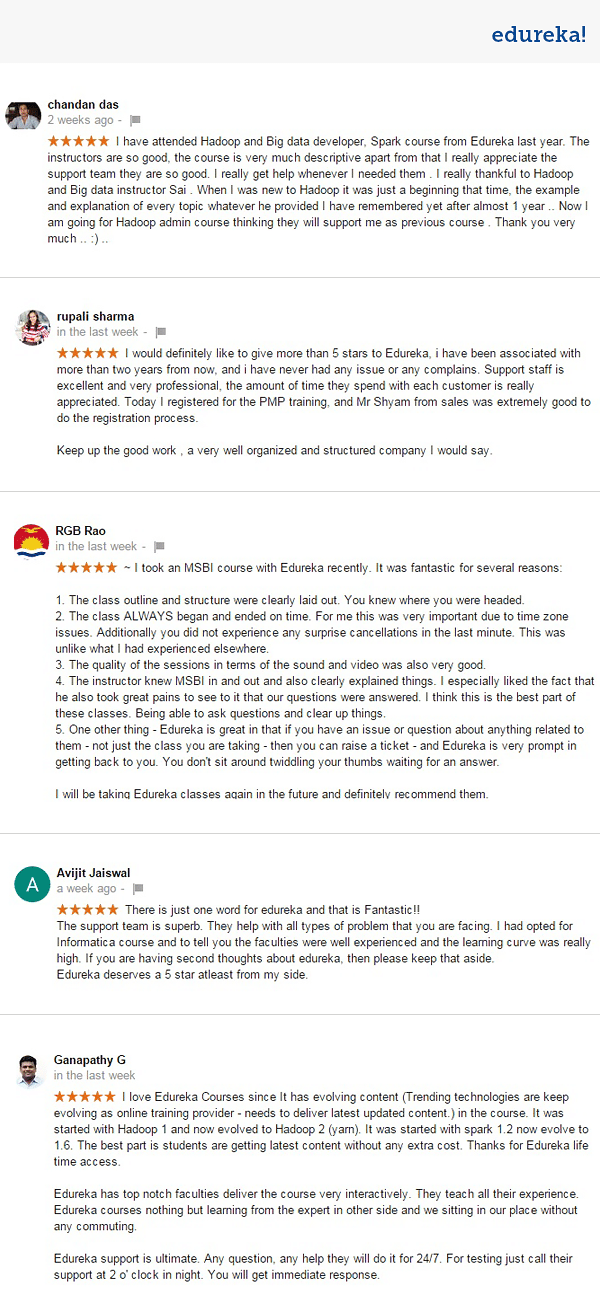 Check out more Edureka reviews on Google+ here
Edureka is a live and interactive e-learning platform that is revolutionizing professional online education. Edureka's instructor-led courses are specially curated by industry experts and supported by online resources, along with 24×7 on-demand support. As on February 2016, more than 250,000 learners have up-skilled themselves on the Edureka platform, with 50,000 + hours of live classes. Edureka has 85+ courses across various technology domains.

Got a question for us? Please mention it in the comments section and we will get back to you.
Related Posts: