A quote from Benjamin Franklin says:
Tell me and I forget, teach me and I may remember, involve me and I will learn.
We, at Edureka, brought this quote to life for Infosys Finacle Employees.
We organized and conducted an Employee Engagement Program (Learning Carnival) at Finacle for better engagement and involvement of the workforce. The sole purpose of the event was to gather Finacle employees and perk up their interest in recreational activities.
Event Locations:
Conducted effectively at Infosys Campuses:
Bangalore – 23rd & 24th January 2020
Pune – 30th January 2020
Chennai – 6th February 2020
Hyderabad – 13th & 14th February 2020
Our Employee Engagement Setup @ Different Locations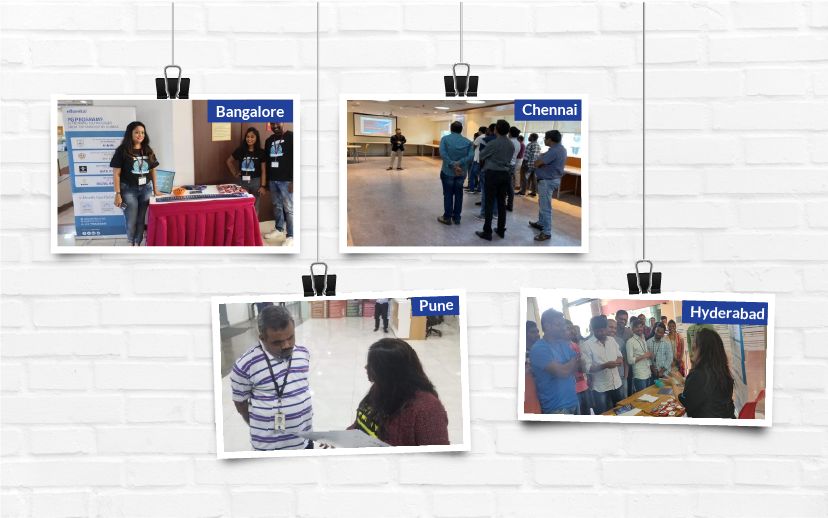 Gamification in e-Learning has become increasingly popular. It offers a wide range of benefits for learners and can help in making the overall e-Learning experience not only more enjoyable but more effective too. Hence, we, at Edureka, successfully conducted gamification of learning which was well received by Infosys Finacle techies.
Activities Organized
Tech Talk by Industry Expert
On-Premise Skill test
Learning Game/Fun activity
Rewards and Recognition
The Industry Challenges Edureka Addressed
As we see and realize, the wave of upskilling has struck the IT industry like a revolution. Hence, there is an urgent need for IT professionals to stay informed and constantly familiarize with new technological changes via upskilling. For this to happen, Finacle has shown a massive interest in partnering with Edureka and encouraged its workforce to improve its existing tech skills.
Apart from the eLearning process, corporate professionals also worry about certain essential features of their respective learning partners, online or offline. This is where Edureka steps in to guide Finacle employees with an enlightening and fun session of employee engagement.
Edureka Event Highlights
Edureka focused on major 4 types of content to engage Finacle employees:
1. Tech Talk By Industry Experts
The Tech Talk Conducted at Finacle touch based on some of the pointers pertaining to Artificial Intelligence:
Is Artificial Intelligence Dangerous?
Applications of AI
AI Subsets (Machine Learning and Deep Learning)
Introduction to Machine Learning (ML)
Types of Machine Learning
2. On-Premise Skills Test
Finacle employees across different locations were quite prepared to take the following pivotal Skill Assessment Test. They were eager to find out their level of expertise in their handpicked technologies.
Edureka stepped out of the ordinary to make the test interesting. They allowed Finacle employees to pick and choose their favorite technology skills from the available list of technologies by means of QR code. More than 500 employees in total showed enthusiasm in getting their skills assessed by organizers through the unique test method.
3. Employee Engagement Games & Recreational Activities
To make the engagement fun and amusing, Edureka also created snippets and hints for employees to guess the technology. This was also one of the compelling highlights of the Finacle event.

4. Rewards & Recognition
Employees who performed exceptionally well in the Skill Assessment Tests were awarded several prizes by the senior members of the L&D Team. There were 3 prizes in place:

Outstanding Performance – Skill Test Certificate + Live Virtual Classes worth

₹ 20,000

along with Goodies
Excellence Performance – Skill Test Certificate + Self-Paced Courses worth

₹ 8,000

along with Goodies
Top Performer – Skill Test Certificate + Goodies
Likewise, we had conducted an Employee Engagement Program at Infosys EdgeVerve. Check out, here.
Is your organization looking for a corporate learning partner? Reach out to us at corp@edureka.co or give us a call at +91-86606 74718
Want to know more about our corporate offering? Click here.