While predicting the required computer power, there can be two scenarios, you may over-estimate the requirement, and buy stacks of servers which will not be of any use, or you may under-estimate the usage, which will lead to the crashing of your application. In this AWS EC2 Tutorial we will understand all the key concepts and instance creation in the following sequence:
Introduction to AWS EC2
Amazon Elastic Compute Cloud, EC2 is a web service from Amazon that provides re-sizable compute services in the cloud. They are re-sizable because you can quickly scale up or scale down the number of server instances you are using if your computing requirements change.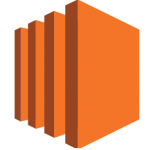 An instance is a virtual server for running applications on Amazon's EC2. It can also be understood like a tiny part of a larger computer, a tiny part which has its own Hard drive, network connection, OS etc. But it is actually all virtual. You can have multiple "tiny" computers on a single physical machine, and all these tiny machines are called Instances.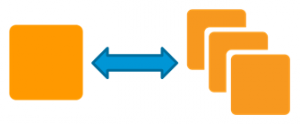 Why AWS EC2 ?

Suppose you are a developer, and since you want to work independently you buy some servers, you estimated the correct capacity, and the computing power is enough. Now, you have to look after the updation of security patches every day, you have to troubleshoot any problem which might occur at a back end level in the servers and so on.
But if you buy an EC2 instance, you don't have to worry about any of these things as it will all be managed by Amazon; you just have to focus on your application. That too, at a fraction of a cost that you were incurring earlier! Isn't that interesting?
How to run systems in EC2?
Login to your AWS account and click on AWS EC2.

Under create instance, click on launch instance.
Now you have to select an Amazon Machine Image (AMI), AMIs are templates of OS and they provide the information needed to launch an instance.
When we want to launch an instance we have to specify which AMI we want to use. It could be Ubuntu, windows server etc.
The AMIs could be preconfigured or you can configure it on your own according to your requirements.

For preconfigured AMIs you have to select it from AWS marketplace.

For setting up your own, go to quick-start and select one.
While configuring you will reach a point where you have to select an EBS storage option. Elastic Block Storage (EBS) is a persistent block level storage volumes which are used with EC2.

Check out our AWS Certification Training in Top Cities
Types of EC2 Computing Instances
Computing is a very broad term, the nature of your task decides what kind of computing you need. Therefore, AWS EC2 offers 5 types of instances which are as follows:
General Instances

For applications that require a balance of performance and cost.

E.g email responding systems, where you need a prompt response as well as the it should be cost effective, since it doesn't require much processing.
Compute Instances

For applications that require a lot of processing from the CPU.

E.g analysis of data from a stream of data, like Twitter stream
Memory Instances

For applications that are heavy in nature, therefore, require a lot of RAM.

E.g when your system needs a lot of applications running in the background i.e multitasking.
Storage Instances

For applications that are huge in size or have a data set that occupies a lot of space.

E.g When your application is of huge size.
GPU Instances

For applications that require some heavy graphics rendering.
Now, every instance type has a set of instances which are optimized for different workloads:
| | | | | |
| --- | --- | --- | --- | --- |
| General Instances | Compute Instances | Memory Instances | Storage Instances | GPU Instances |
| | | | | |
Now that you know about the different types of instances, let's learn about the steps involved in instance creation in this AWS EC2 Tutorial.
AWS EC2 Tutorial: Steps for Instance Creation
Next in this AWS EC2 Tutorial, let's understand the whole EC2 instance creation process through a use case in which we'll be creating an Ubuntu instance for a test environment.
Login to AWS Management Console.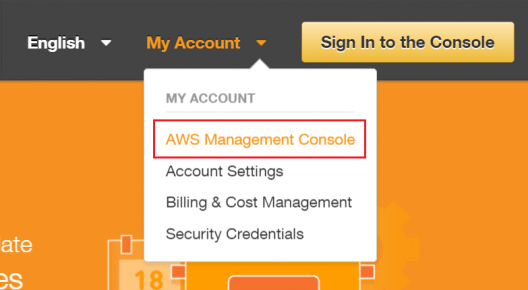 Select your preferred Region. Next,

Select a region from the drop down, the selection of the region can be done on the basis of the criteria discussed earlier in the blog.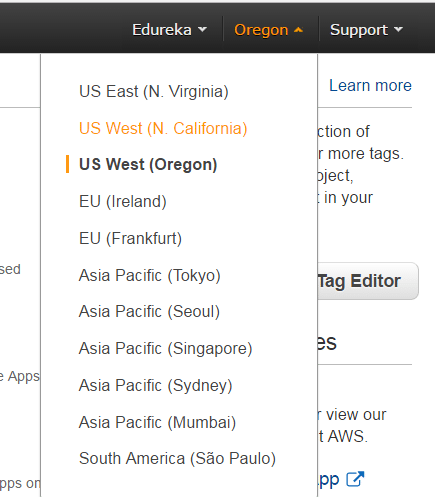 Select EC2 Service

Click EC2 under Compute section. This will take you to EC2 dashboard.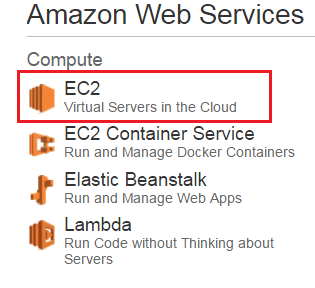 Select an AMI : because you require a Linux instance, in the row for the basic 64-bit Ubuntu AMI, click Select.

Select t2.micro instance, which is free tier eligible.


Configure Instance Details.
Configure all the details and then click on add storage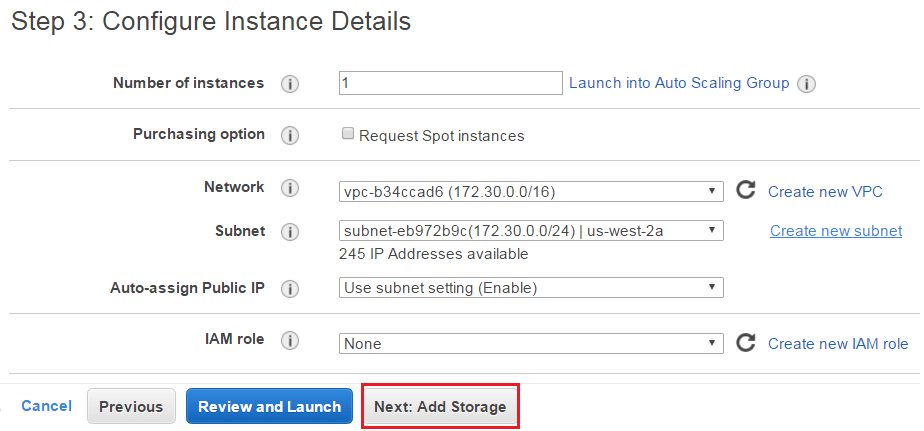 Type a name for your AWS EC2 instance in the value box. This name, more correctly known as tag, will appear in the console when the instance launches. It makes it easy to keep track of running machines in a complex environment. Use a name that you can easily recognize and remember.


Review and Launch an Instance
Verify the details that you have configured to launch an instance.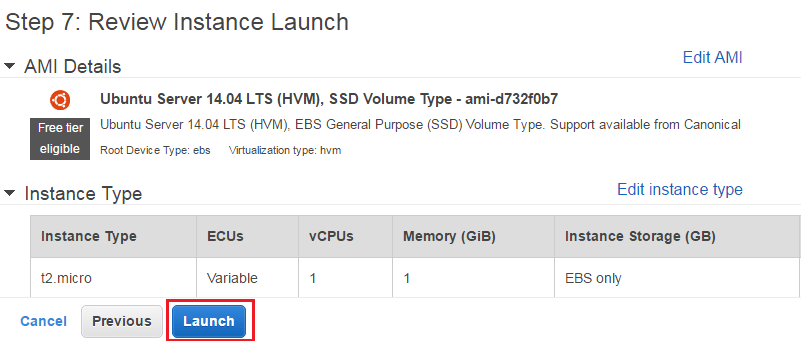 Create a Key Pair & launch an Instance
Next in this AWS EC2 Tutorial, select the option 'Create a new key pair' and give a name of a key pair. After that, download it in your system and save it for future use.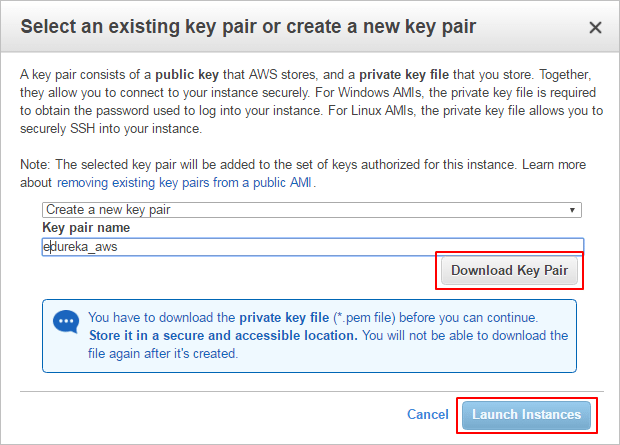 Check the details of a launched instance.

Converting Your Private Key Using PuTTYgen
PuTTY does not natively support the private key format (.pem) generated by Amazon EC2. PuTTY has a tool called PuTTYgen, which can convert keys to the required PuTTY format (.ppk). You must convert your private key into this format (.ppk) before attempting to connect to your instance using PuTTY.
Click Load. By default, PuTTYgen displays only files with the extension .ppk. To locate your .pem file, select the option to display files of all types.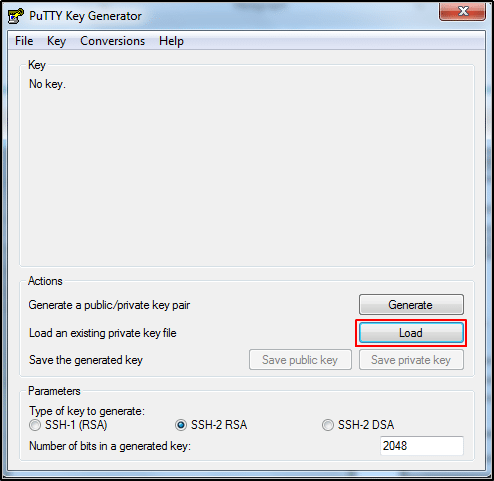 Select your.pem file for the key pair that you specified when you launch your instance, and then click Open. Click OK to dismiss the confirmation dialog box.

Click Save private key to save the key in the format that PuTTY can use. PuTTYgen displays a warning about saving the key without a passphrase. Click Yes.

Specify the same name for the key that you used for the key pair (for example, my-key-pair). PuTTY automatically adds the. ppk file extension.
Connect to EC2 instance using SSH and PuTTY
Open PuTTY.exe

In the Host Name box, enter Public IP of your instance.

In the Category list, expand SSH.

Click Auth (don't expand it).

In the Private Key file for authentication box, browse to the PPK file that you downloaded and double-click it.

Click Open.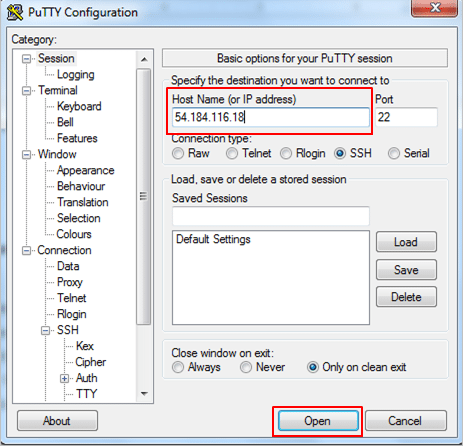 Type in Ubuntu when prompted for login ID.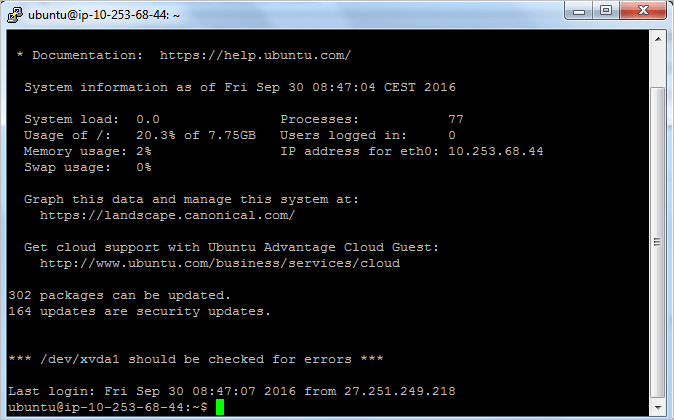 Congratulations! You have launched an Ubuntu Instance successfully.
Here's a short AWS EC2 tutorial Video that explains Amazon AMI EC2, Demo on AMI creation, Security groups, Key pairs, Elastic IP vs Public IP and a Demo to launch an EC2 Instance etc. This AWS EC2 tutorial is very important for those who want to become AWS Certified Solutions Architect.
AWS EC2 Tutorial For Beginners | AWS Certified Solutions Architect Tutorial | AWS Training | Edureka
I hope you enjoyed this deep dive into AWS EC2 Tutorial. It is one of the most sought-after skills sets that recruiters look for in an AWS Solution Architect Professional. Here's a collection of AWS Architect interview questions to help you prepare for your next AWS job interview. Another interesting read which you can check out is AWS S3 Tutorial and for a broader perspective of AWS, check out our Amazon AWS Tutorial.
If you found this AWS EC2 Tutorial relevant, you can check out Edureka's live and instructor-led course on AWS Certified Solutions Architect Training, co-created by industry practitioners.