When it comes to learning Hadoop, this is a very common question that comes to the mind of each & every learner i.e., "Do I need Java to learn Hadoop". This blog will help you in clarifying all your doubts.
Do You Need Java to Learn Hadoop?
A simple answer to this question is – NO, knowledge of Java is not mandatory to learn Hadoop.
You might be aware that Hadoop is written in Java, but, on contrary, I would like to tell you, the Hadoop ecosystem is fairly designed to cater different professionals who are coming from different backgrounds.
Talking about the professionals from non-programming background Hadoop ecosystem provides various tools, which they can leverage to process Big Data stored in Hadoop. Without Java knowledge, you will get Online big data courses easily.
Two important Hadoop components endorse the fact that you can work with Hadoop without having functional knowledge of Java – Pig and Hive.
Pig is a high-level data flow language and execution framework for parallel computation, while Hive is a data warehouse infrastructure that provides data summarization and ad-hoc querying. Pig is widely used by researchers and programmers while Hive is favorite among data analysts.
One interesting fact for you:
10 lines of Pig = approx. 200 lines of Java code. Check out this blog for a Pig demo.
So, without writing complex Java code, you can achieve the same implementations very easily using Pig. Again talking about SQL, it was widely used by Facebook engineers and analysts, therefore, Facebook developed Hive to provide SQL-like queries on the top of Hadoop.
These languages are easy to learn, and more than 80% of Hadoop projects revolve around them.
How to Align Yourself with Hadoop Jobs
In order to explore job roles related to Hadoop without having Java as a prerequisite, you need to just orient yourself to two critical aspects of Hadoop; Storage and Processing. For a job around Hadoop storage, you can learn how Hadoop cluster functions, and how Hadoop makes its data secure and stable. For this, knowing the various nuances of the Hadoop Distributed File System (HDFS) and HBase, i.e., Hadoop's distributed NoSQL database, will help tremendously.
If you choose to work on the processing side of Hadoop, you have Pig and Hive at your disposal, that automatically convert your code in the backend to work with the Java-based MapReduce cluster programming model.
So, without running MapReduce, you can still control the entire life cycle of your project. As long as you master Pig and Hive, along with HDFS and HBase, Java can take a backseat. Learn more about Big Data and its applications from the Azure Data Engineering Certification.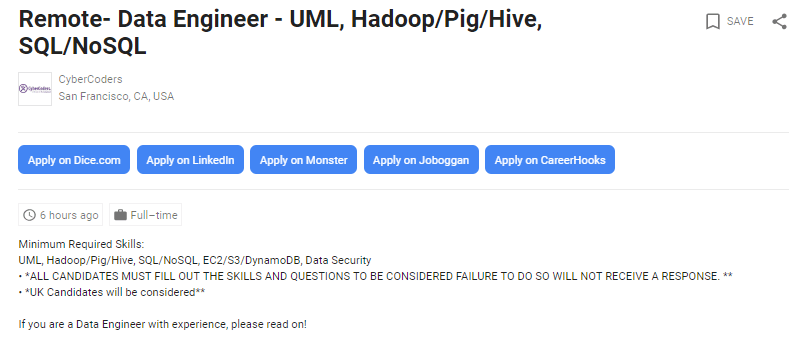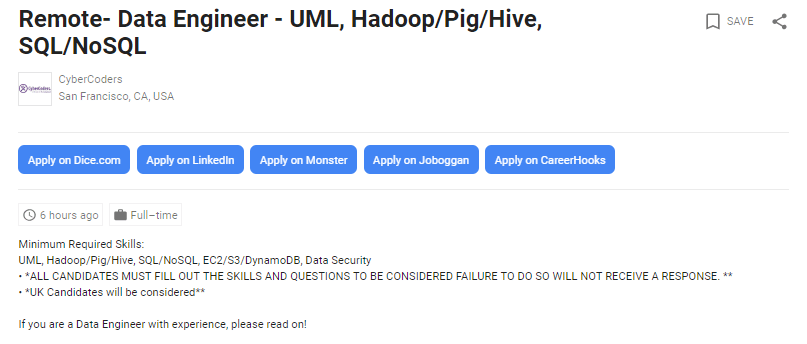 I hope this image proves my points.
The Big Data and Hadoop training course from Edureka is designed to enhance your knowledge and skills to become a successful Hadoop developer. Click this Big Data course in case you wish to know more.
Rare Requirements for Java coding
However, Java coding is needed if you wish to add user-defined functions to Pig, Hive and other tools. This is required only if you wish to create custom input/output formats. We are happy to inform that this requirement is a rarity.
Another rare scenario where basic Java coding might be necessary is for debugging. In the rare event of a Hadoop program crashing, you might need to debug the program using Java.
Still not convinced that you can learn Hadoop without knowing Java? Watch the webinar below and learn how Hadoop is relevant for a person from a non-programming background! You can even check out the details of Big Data with the Azure Data Engineering Training in Singapore.
Edureka is a global e-learning platform for live, instructor-led training in trending technologies. They offer short term courses supported by online resources, along with 24×7 lifetime support. Edureka has an unwavering commitment to help working professionals keep up with changing technologies and to cater to academic institutions' inability to keep pace with changing needs. With an existing learner community in more than 100 countries, Edureka's vision is to make learning easy, interesting, affordable and accessible to millions of learners across the globe.
Related Posts:
Get Started with Big Data and Hadoop
Different components of Hadoop Ecosystem