Everything is going digital and so are financial services. Gone are the days when you had to carry money when going out. A mobile phone is sufficient to take care of all your daily financial needs. All banking services are within your palm. There is no need to go to a bank to get your transactions done. You can deposit, transfer, withdraw or invest money using digital devices. Digital financial serviceshave expanded greatly in India, and people have accepted them with open arms. Their convenience and safety prompt more people to move to these methods.
Financial Services And Their Need
There are numerous types of financial services that help people manage money. Individuals can use banks to save their money and earn interest from them. Keeping a lot of cash at home can be dangerous, whereas banks are secure. The other service that people use a lot is making payments for things they buy. They can either give cash or use an instrument like a cheque. Banks also provide other facilities like making payments for utilities like electricity charges. The other important function of banks is to provide loans for various purposes.
Other tasks that financial services help people to perform include investing in stocks and securities. One can buy or sell shares using a bank account. Making cash transfers to others is also possible using a bank's facilities. Hire purchase schemes these institutions offer help people buy goods and pay for them later. All these services need you to have a bank account. Banking infrastructure was not available everywhere, making it difficult for many to use these facilities. The introduction of digital financial serviceshas enabled everyone to have a bank account.
Our course Advanced Executive Certificate course in Digital Business Management deals extensively with the use of digital financial services. A visit to the website will offer you more details about the course.
What Are Digital Financial Services?
The spread of the internet and the availability of affordable smartphones have made it easy for many to use various digital services. People can obtain a lot of information from the internet. It is possible to communicate with people across the world at an affordable price. Technology enables people to get entertainment inside their homes without having to go anywhere. But the main benefit of digitalisation comes from digital financial services. One need not go anywhere to make a financial transaction. All one needs is a smartphone and reliable internet services.
All financial transactions done using a digital device are called digital financial services. There is a range of such services offered by banks and other institutions. The most common service that has become highly popular is shopping. It is possible to buy stuff using your mobile phone and a service provider app. Probably the earliest digital instruments were cards and ATMs. Credit and debit cards facilitate payment for various purposes. ATMs are used for the withdrawal of money from bank accounts. Recently they have also been upgraded to accept cash deposits into a bank account.
Types Of Digital Financial Services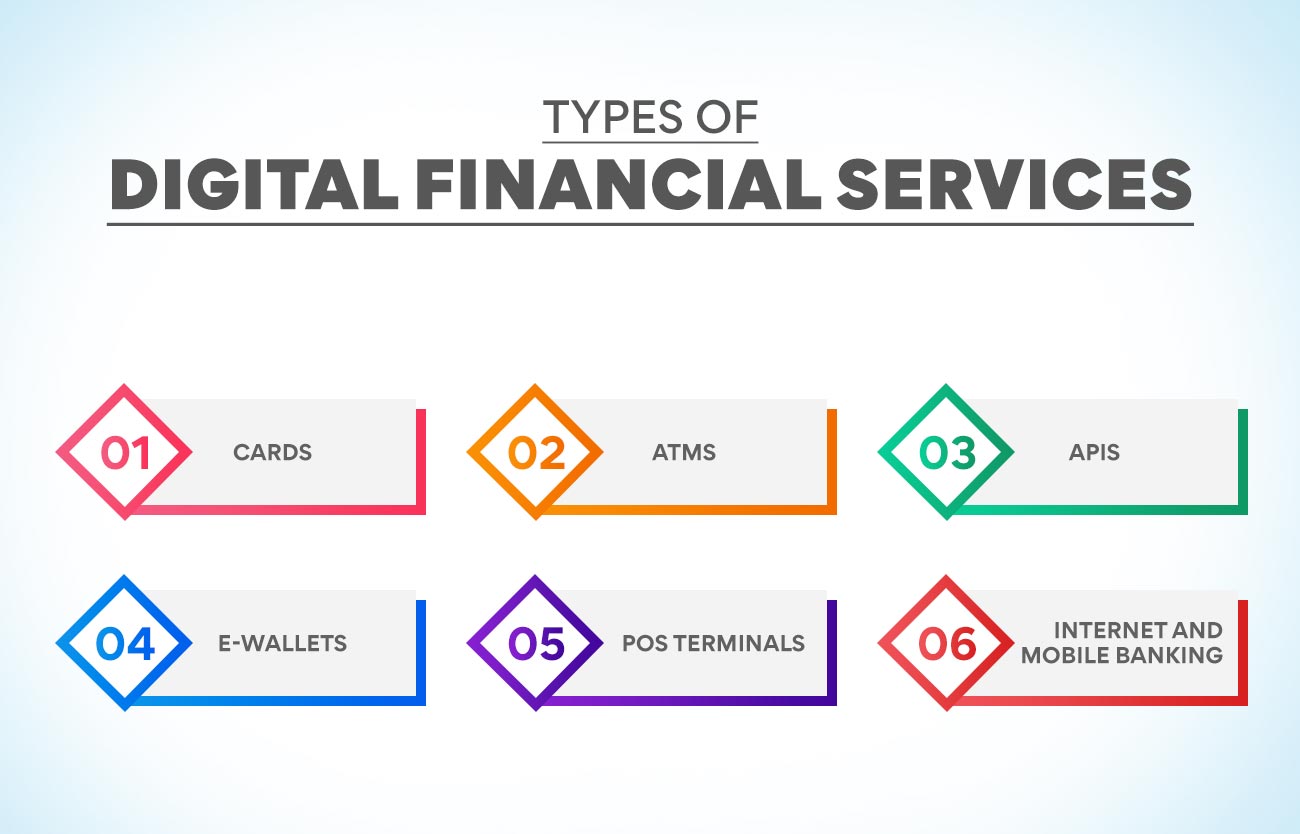 Cards
Cards are the most popular type of digital financial service that is used by a maximum number of people. There are debit, credit and prepaid cards. The bank where the customer has account issues a debit card. This card helps the person to transact for various purposes. Customers can use debit cards for the purchase of goods or payment for services. They can use this card through a POS device or on a website. The amount paid using a debit card is immediately debited from the person's account.
Credit cards are issued by banks too. These cards help customers use more money than what is available in their bank accounts. You can also use this for the purchase of goods or services similar to the debit card. There is a limit to which cardholders can avail of credit from the bank. They must repay the money within a specified time. You can withdraw money using this card. A prepaid card has an amount loaded into it, and the holder can spend that amount at shops or online.
ATMs
ATMs are kiosks that help people to do financial transactions. They are specific for different banks, though most of these machines allow the use of any debit or credit card to withdraw money. ATMs make it unnecessary for people to travel to the banks. Moreover, there are no long queues like that in a bank branch. These centres are available in almost all major areas of a city. You don't need a passbook. It is another one of the older digital financial servicesthat have helped people in urgent need of money.
Customers can get various other services at ATMs. They can deposit money into bank accounts using a debit card or registered mobile number. Knowing the account balance and getting a mini-statement of the transactions is also possible. Customers can use these machines to transfer funds and deposit money into other people's accounts. It almost serves all the purposes of a bank branch without the hassle of having to go to the branch. Customers can use these machines to transact in any bank account. In many ATMs, they can also get their passbooks printed.
APIs
UPI, or Unified Payments Interface, is a platform that includes many banking services. You can send and receive money using the UPI ID and a PIN. One doesn't have to know the receiver's bank details to send money. The UPI ID is enough. It is not necessary to feed the bank account details or IFSC code to transfer money to another person. This was developed by the National Payments Corporation of India. It is one of the digital financial services that has made money transfers and online purchases of goods very easy, simple and quick.
The UPI ID is created on the platform and is specific to the bank account. The PIN can be set by the user. Many apps support the UPI system. You can install one of these on your mobile phone and use it for a variety of transactions. This makes online payments fast and easy. You can also use this service to purchase goods online. The funds are immediately transferred to the shop. APIs can also be used when doing physical shopping. You can also pay for mobile recharges and utilities using this facility.
E-Wallets
E-Wallets are applications that help you pay for shopping, transfer funds and track your payment history. It helps store all financial information. One doesn't need to carry a wallet. You can use the wireless capabilities of the mobile device to make financial transactions. It is also possible to store card information in e-wallets to make purchases. The difference between this and UPI is that this is not linked to your bank account, and one must load money into the wallet for payments. It is another one of the most popularly used digital financial services.
PoS Terminals
These are devices that we commonly see at supermarkets and petrol bunks. Though we may not know them by this name, almost all of us use them regularly. These are the machines that you swipe credit or debit cards in. These devices were manual ones with card details imprinted on receipts and the customer's signature taken on them. Over the years, these have been digitised and using them has become very simple. In most modern machines, one doesn't even need to swipe. Cards that come with wireless access need to be placed near these machines to complete transactions.
Internet And Mobile Banking
Most banks today allow you to log in to your account on a desktop, laptop or mobile phone. There are dedicated apps for these banks where you perform a variety of transactions. Most mobile banking apps also boast a UPI. Customers of the bank can make payments for shopping using the mobile app. One can also pay for various services from the banking portal. You can know your account balance using the mobile banking app. With the introduction of many other easier digital methods, availing of digital financial services through the bank's app or website is reduced.
The above is a list of common methods people use for financial transactions. To know more about such digital services, it is best to join the Advanced Executive Certificate course in Digital Business Management. Our website will show you that the course has a separate module to teach digital financial services.
The Main Components Of Digital Transactions
An important component of digital financial services is the transactional platform. These platforms help you transact from bank accounts or credit cards. There are many details that you can get from these platforms. These are the basic components of any digital transaction. The next is the device. Mobile phones are fast becoming the most used device for financial transactions now. POS machines are also gadgets that help you make payments at shops and supermarkets. Retail agents are elements that help in communicating the transaction details. They help convert cash into electronic data and back.
The Advantages Of Digital Financial Services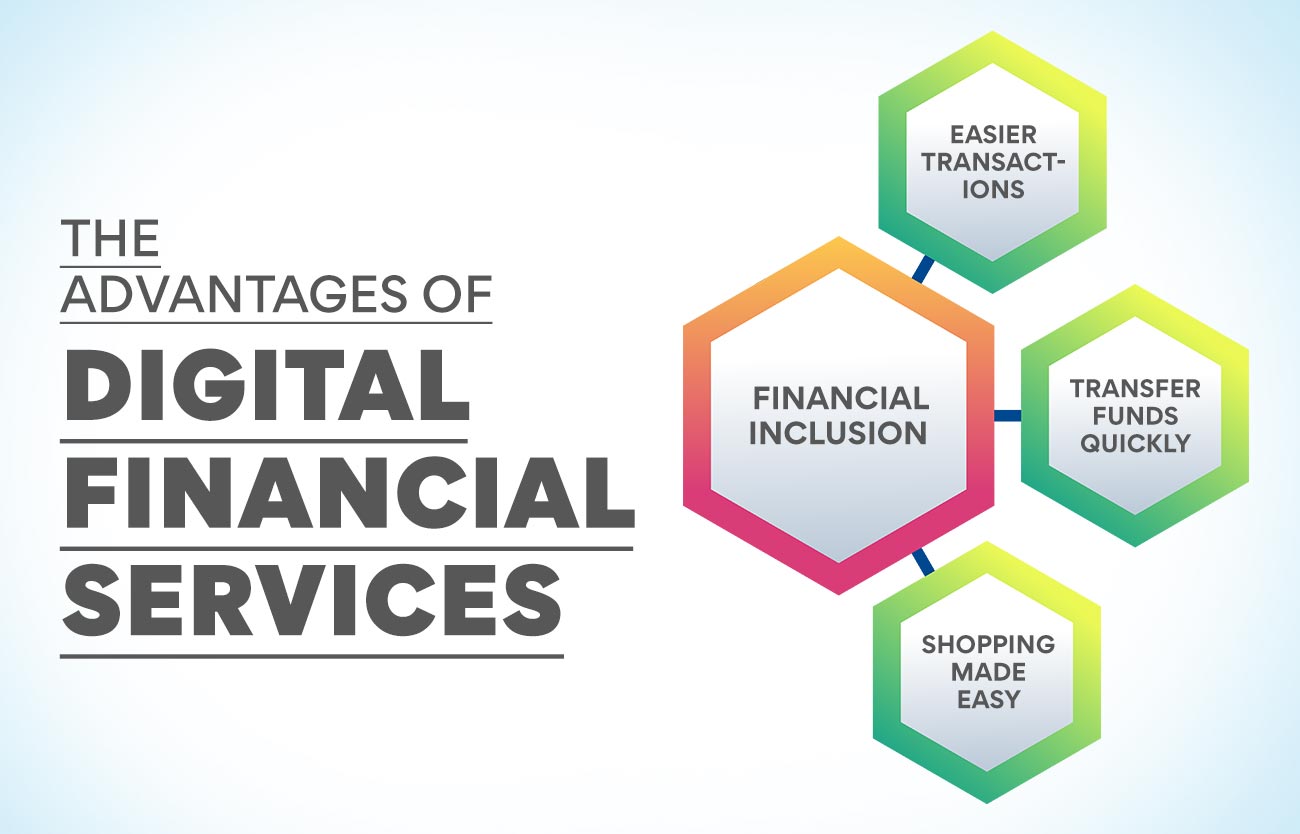 Financial Inclusion
Before the introduction of digital financial services, there were a large number of people who didn't have any access to banks or their services. Most of these people have been included in the official banking system thanks to digital services. Even without a branch, banks can offer people in remote villages many services. People can transfer funds using mobile devices. They are also able to purchase things online using digital platforms. They can know their account balance and also use many savings facilities using bank applications.
Easier Transactions
Most of us who have used banking services before digitalisation know how frustrating it can be at times. There are long queues, and it takes a good part of your day to get any work done at the bank. For those with no branches close by, a whole day will be lost in getting banking work done. People have often availed leave at work to complete bank work. With the introduction of digital financial services, everything can be done from wherever you are. There is no need to find a branch to do your transactions.
Transfer Funds Quickly
Whether you want to transfer cash to a friend in need or give your share of a dinner bill, mobile apps allow you to do them quickly. In most cases, one doesn't even have to know the bank details of the receiver. All you need is the phone number of the person. These transfers happen within seconds, and your friend can use the money immediately. You don't have to go through cumbersome paperwork to give money to someone. Digital financial services make the transfer of funds easy and quick.
Shopping Made Easy
Did you see a dress that you love to own? Are you not carrying enough cash? No problem. You can use any digital option to pay for your purchase. Almost all shops today accept payment from UPIs. All that needs to be done is to scan a QR code. It doesn't even take as much time as it does to count the cash and give the balance. Cards are another option for making purchases in shops or online platforms. You can also use digital financial services to make payments for various government utilities like electricity and rail bookings.
You can learn everything about digital financial services from our course Advanced Executive Certificate course in Digital Business Management. Those who want to know more can visit the website.
Summing Up
Modern technology is found in almost every sphere of life. But where it is being used the most today is in financial services. Even people who are not tech-savvy can use simple digital financial services using their mobile phones. It is not only easy to use these services but also costs less and is much safer than physical transactions. More people avail of banking services thanks to digitalisation.