What is Digital Economy? Every business in this world is on an unending quest to digitize their businesses for a wider reach and technological upgradation. The trend for brick-and-mortar businesses has been on the downtrend, and the situation has worsened after the world was struck by a pandemic.
However, since change is the only constant, people were successful in forming a system of transactions and communications that enabled them to interact with various stakeholders online.
But that is not all there is to understand about this digitized ecosystem that has allowed businesses to scale up rapidly without barriers. Here is everything you need to know about the digital economy and the doors it opens for professionals.
What Exactly Is The Digital Economy?
The world is exceedingly getting dependent on the web infrastructure to conduct transactions and interactions online. All these recurring interactions form a cohort of online transactions that form the digital economy.
In simpler words, every single rupee that you spend for placing various orders fuels the digital economy. The most essential cog in this entire digital infrastructure is the hyperconnectivity between people that has passed every geographical barrier.
This connectivity has allowed the business to scale up globally by forming digital alliances with international partners, thus leaping towards upgraded infrastructures and better intra-organization cultures.
What Forms The Digital Economy?
While there are many moving elements in the digital economy, there are three distinguishing elements that set the digital economy apart. These include: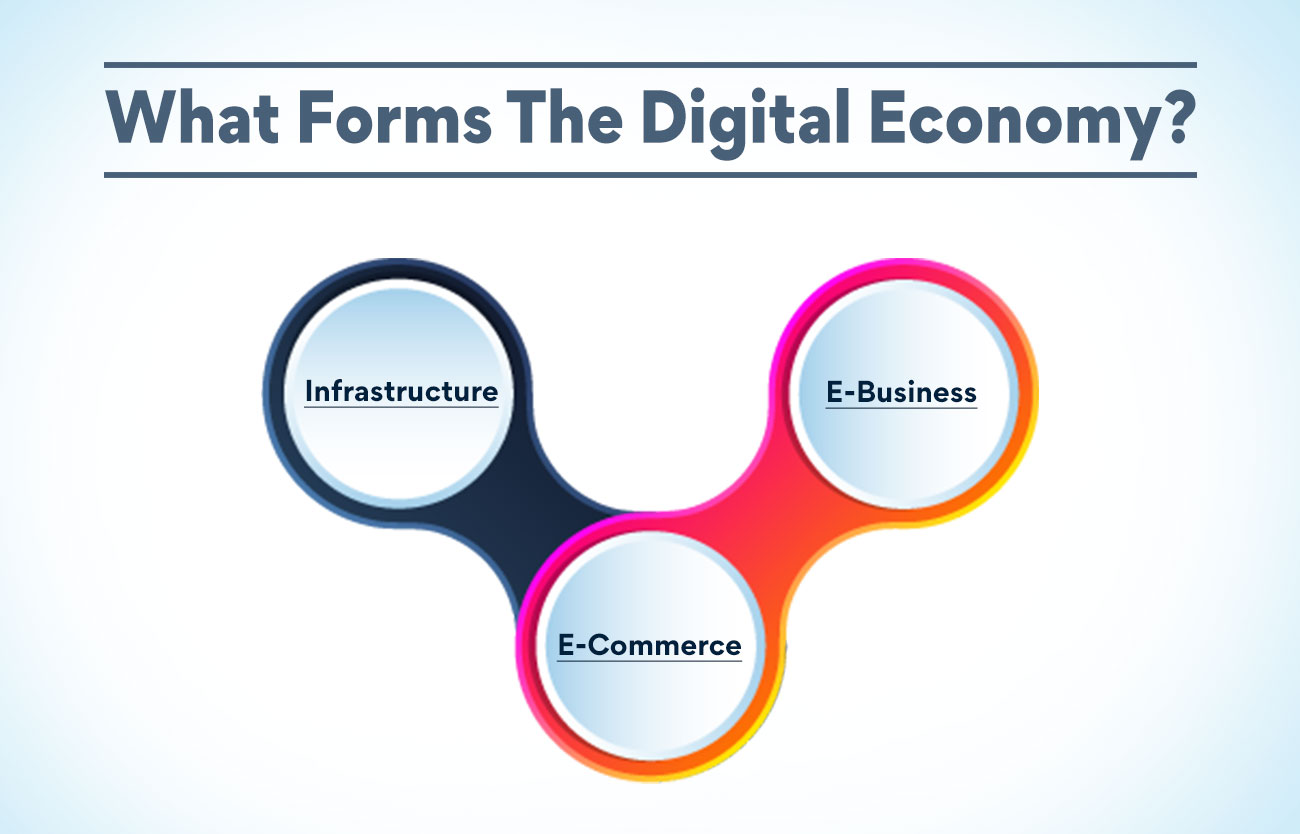 The scope of conducting business operations has been revamped with the help of technology and automation. With the help of new software and hardware, processes are getting highly efficient with equally skilled human capital to manage them.
There are specialists for each domain that control the processes towards perfection. The field of digital business management is on the rise, and if it is something that you find interesting, you can check out our Advanced Executive Certificate in Digital Business Management.
Many tools and software efficient services to businesses concerning automation and data tracking. Data is the most important goldmine of the 21st century, and with the help of tracking and CRM software, each online business can capitalize on this data.
Since both the business and the customer are present online, it becomes easier for organizations to target these users at any time of the day. The same cannot be true in the traditional setup as it requires physical interaction.
As a result, every digitally powered organization can cater to its customers better by understanding their needs and then delivering accordingly. This USP has raised an alarm for every traditional business to make a shift online.
The process of buying and selling goods online is termed E-Commerce. It comprises all the users and platforms that enable the users to buy and sell goods using the internet and web infrastructure.
While physical interactions are necessary for some professional services, more and more businesses have taken their products and services online. Some businesses like gyms and fitness centres that were deemed to be only traditional also broke through to experiment with online models that allow users to experience much more comfort.
Owing to the massive reach that businesses enjoy online, the world became a canvas for young entrepreneurs to come up with fascinating ideas that solve critical problems. The trend of online marketplaces spiked up with each business focusing on its digital presence.
If you think E-Commerce is your cup of tea, you can learn more and upskill yourself in Digital business management via our course Advanced Executive Certificate in Digital Business Management.
Also Read: What is Digital Business? An Introduction
What Are The Advantages Of The Digital Economy?
While the online infrastructure might seem daunting, it comes with a lucrative set of advantages that attracts business owners. Here is a glimpse of these advantages that come along with the digital economy:
Since there are various ways to present and circulate information online, every consumer is awarded the opportunity to make an informed choice. All the social channels alongside the website allow brands to form deeper connections with users.
Adding to the information provided by the company, every prospective customer can look for information that comes from other customers in the form of reviews and testimonials. This part of the digital infrastructure is called User Generated Content which adds to the credibility of the business.
Once the user is satisfied after gathering enough information and comparing all their choices, it becomes easier for them to select the brand which fulfils their needs.
Even though the business and the customers never really indulge in a physical interaction, the distance between the two stakeholders has been significantly reduced. Almost all companies provide round-the-clock support with dedicated lines of communication.
With technological advancement, companies have integrated the process of consumer grievance redressal into their applications and websites. Now, users can simply get connected with an executive to get instant remedial responses.
As mentioned earlier in the article, the geographical barriers have been uplifted after the emergence of online marketplaces where users can sit in any corner of the world and perform transactions.
This has resulted in a massive opportunity for businesses to now showcase their catalogues to a global audience. The product philosophy is restored where consumers would go to any extent for retrieving the things that resonate with their mindset while enjoying the comforts of their own homes.
As much as this narrative is true for legacy businesses and renowned brands, MSMEs have also been enjoying the benefits of this infrastructure. The presence of online marketplaces like Amazon has rekindled the fire of creation, where people are solving unique problems with recurring offerings.
Since the digital infrastructure is accessible to anyone with an active internet connection, it resides at a high vulnerability point concerning threats and breaches. As a consequence, the security of this infrastructure has been placed at the heart of its development.
Every transaction is secured by an encrypted gateway which makes the entire funnel bulletproof of any misdoing. These measures have generated trust amongst the users to make the process of adaptation quicker and more long-lasting.
The transactions only form a part of the whole with increasingly secure websites making an entrance. Everything including the user's credentials is shrouded with multiple layers of security, thus making the digital fortress impossible to penetrate.
The Scope Of The Digital Economy
After understanding and comprehending the benefits of the digital economy, it is crucial to gauge the areas in which it will refurbish. As a working professional, these insights can help you to make the right career choices that are relevant to the modern economy.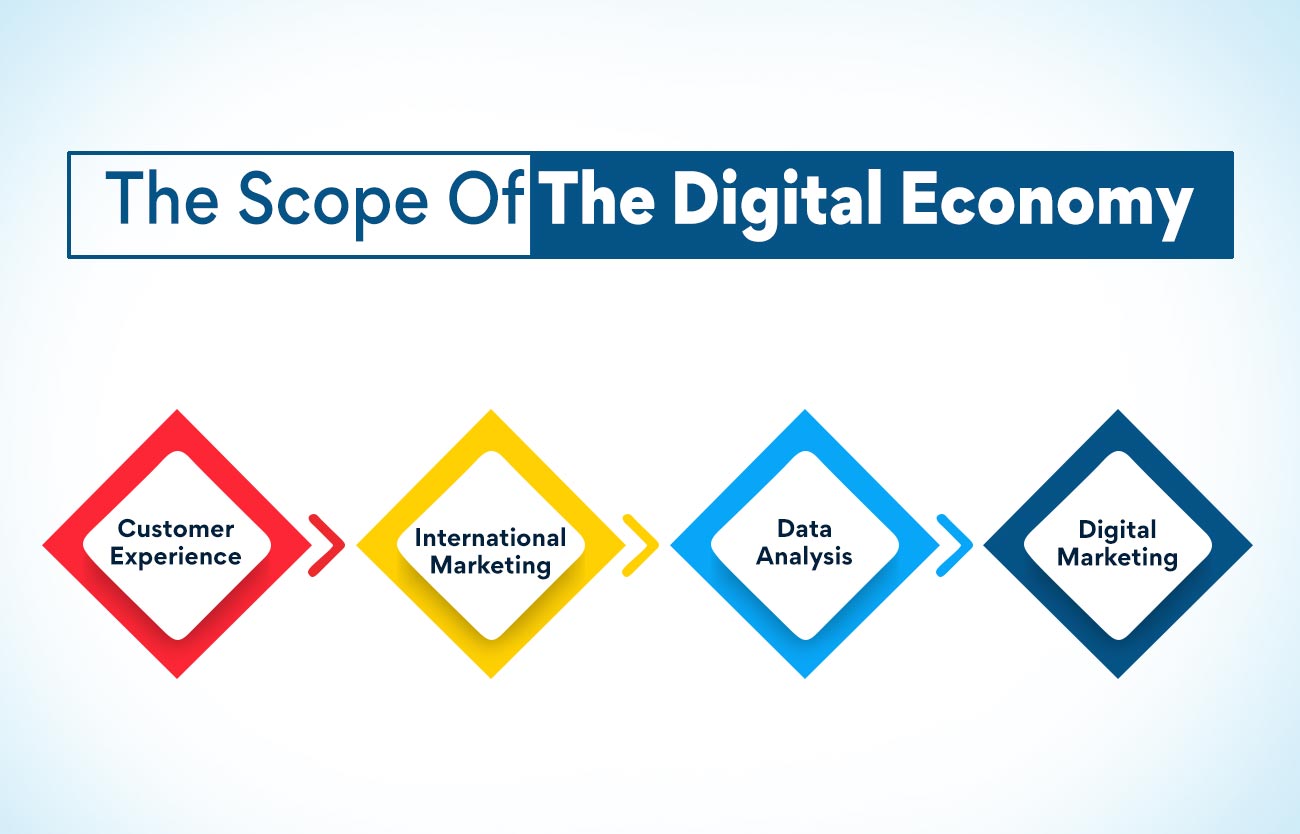 Here are the domains that are looking at a digital overhaul:
The scope of customer experience has been redefined with the help of digital infrastructure being put in place. Companies are coming up with incessant ways to communicate with their target audience, and the techniques have been bearing results.
Big tech companies like Apple have displayed the entire functionality of their products via their website whereas furniture companies now have an option to place the items in a 3D way to check how it looks!
Adding to that, the consumer grievance journey has also been automated to an extent where users don't have to wait for days before they get a chance to address their issues. Instant redressal methods have further increased the faith of every user in this new paradigm.
With every brand looking standing at the threshold of the digital entrance, the field of international marketing has been booming like never before. Since each company wants to put their best foot forward in uncharted terrain, they look at hiring professionals to mediate the journey.
The brands look towards developing a bond with the audience in their active way which is also the most rewarding option. The target audiences are studied thoroughly to determine what will work, and what will not.
The scope of international marketing begins at the planning of each specific campaign, only to further deep dive into the logistics, execution, measurement, and then analysis.
All these steps are performed by different experts who have a single skill set towards perfection. If these fields ignite a spark in your head, then you can explore our advanced executive course in digital business management !
In the olden days, it was quite difficult to survey many people together owing to the restrictions and time barriers in collecting responses. However, in today's digital world, every move of the user is trackable on the web.
It might be quite fascinating to see ads related to the stuff that you talk about daily, it is not a coincidence but a digital marketer who has found you as a fit for their product. While the data tracking might feel invasive, it invites the companies to look at your problems.
This allows the companies to follow a user-centric approach which helps in delivering stellar products that add value to the user's life. It also helps them to present their offering in a way that can match your frequency.
Since the canvas of the internet is open for everyone to paint, many companies are stunning users with products they never knew could be required. Many breakthrough technologies are making it big by marketing themselves in a way never done before.
Brands are capitalizing on techniques such as moment marketing, guerilla marketing, performance marketing and many others to attract eyeballs since the market is getting denser with new players getting added to the roster.
Digital marketing helps companies to capitalize on their niche until they gain enough goodwill to target the masses in general. It is quickly replacing the traditional print media with its excessive reach and impressions, something that was a dream back in the time.

Also Read: What is Digital Leadership? Why is it important?
How Can You Make The Most Of This Revolution As A Working Professional?
While the entire scenario might seem highly appealing to you, there is a certain threshold that you need to achieve before breaking free. Here are some of the things that you should do to extract all the available benefits:
If you are a working professional with an undergraduate college degree, you can start planning to master a specific discipline with the help of a postgraduate programme at a good university.
This experience will allow you to study the deeper insights of the field while exposing you to other professionals who may have different sets of skills. It will also allow you to build upon your network to further achieve growth in your professional trajectory.
In case you do not have the bandwidth to undergo a rigorous full-time programme, you can opt for a part-time digital certification to enhance your current levels of knowledge. It will also allow you to experiment with interesting ideas while you continue to work at your job.
There are a variety of courses online, however, you should always seek to sign up for a credible name in the specific industry that you have targeted. This measure will allow you to distinguish between the courses that will add value versus the ones which will not.
You can also explore a wide variety of these advanced and efficient certificate programmes at our website! It will help you to choose between several courses that have been designed specifically according to the current needs of the market.
Final Words
The digital revolution is inevitable, and thus all business owners are in a hurry to join this parallel realm while they have the time. If you are looking to skill up, the time is now!
More Information:
Using Digital Business Management For Better Profitability
Traditional vs Digital Marketing: Key Differences and Similarities