Recently, the term that we hear the most is "digital". Almost everything has gone digital, which simply means they use the most modern technology. Businesses are no different. They have also been adopting new technologies to make processes efficient and reduce loss. Almost all departments in a firm have many automated jobs with very little human interference. The main aim of digitisation is to improve revenues and create new value-added opportunities. Many companies have already started using the digital business management model to improve customer experience and profitability.
What is Digital Business Management?
In simple terms, digital business management is the incorporation of digital technology to improve existing processes. The use of the internet and apps to facilitate remote working doesn't mean the company is going digital. It is the gradual movement from the traditional way of working to using the most modern technology in all aspects of a business. The use of AI helps in improving customer experience. Data analytics enables companies to use existing data to arrive at better decisions for the future. Productivity apps help organisations automate workflow and make them more efficient.
Some of the technologies that are being used widely in digital business management are AI, Machine Learning, IoT, Virtual Reality, Augmented Reality, Blockchain, 5G, etc. Depending on their level of automation, different companies will have their own definition of what digital business means. It is not enough that the establishments use a few software programs and apps. There must be a deliberate transformation from manual processes to digital ones. It should make the company become more customer-centric and technology-focused. Every department in the firm must adopt these modern methods of management.
The Aim Of Going Digital
Why do companies adopt the digital business management model? Most business leaders mention the following four qualities that they hope to achieve by using technology.
Flexibility
Being flexible is a necessity today. The pandemic has taught us that there may be situations when businesses will have to think about totally innovative ways of working. Technology helped companies adopt the work-from-home model smoothly. Most of the firms did not face any serious trouble with this transformation. They are now going back to the work-from-office method without any hiccups. Moving to digital business management will help organisations become flexible to adapt to any situation.
Scalability
The fluctuations in the market need companies to be scalable. They must be able to increase or decrease resources as and when required. A firm focused on technology can easily add or remove employees in a department as the need arises. Using modern devices, they can also scale up or down their communication requirements without having to invest money. As businesses grow, there will arise a need to increase their data storage capacities to a large extent. A company using digital business management can easily add or reduce its capacities by using cloud storage.
Adaptability
Transforming to digital business management improves adaptability. Moving to such an environment requires a cultural change among the employees. They must be able to let go of traditional methods and move quickly to new ones. Getting everyone onboard in the process brings about a quality of adaptability among the employees. This characteristic is highly useful in a world that is quickly changing.
Quality
Without exceptional quality standards in both products and services, no company can survive. It is no use going digital just for the sake of modernising. Such a change must help improve the overall quality standards of the firm. Only with this can the organisation add value by using new technologies. It is essential to be fully aware of this while making the transformation to digital business management. Quality improvement must be seen throughout the company and not just in areas that touch the customers.
To know more about what a company can aim to achieve by adopting digital technologies, join our Advanced Executive Certificate course in Digital Business Management. You can learn more about the course on our website.
Important Components Of A Digital Business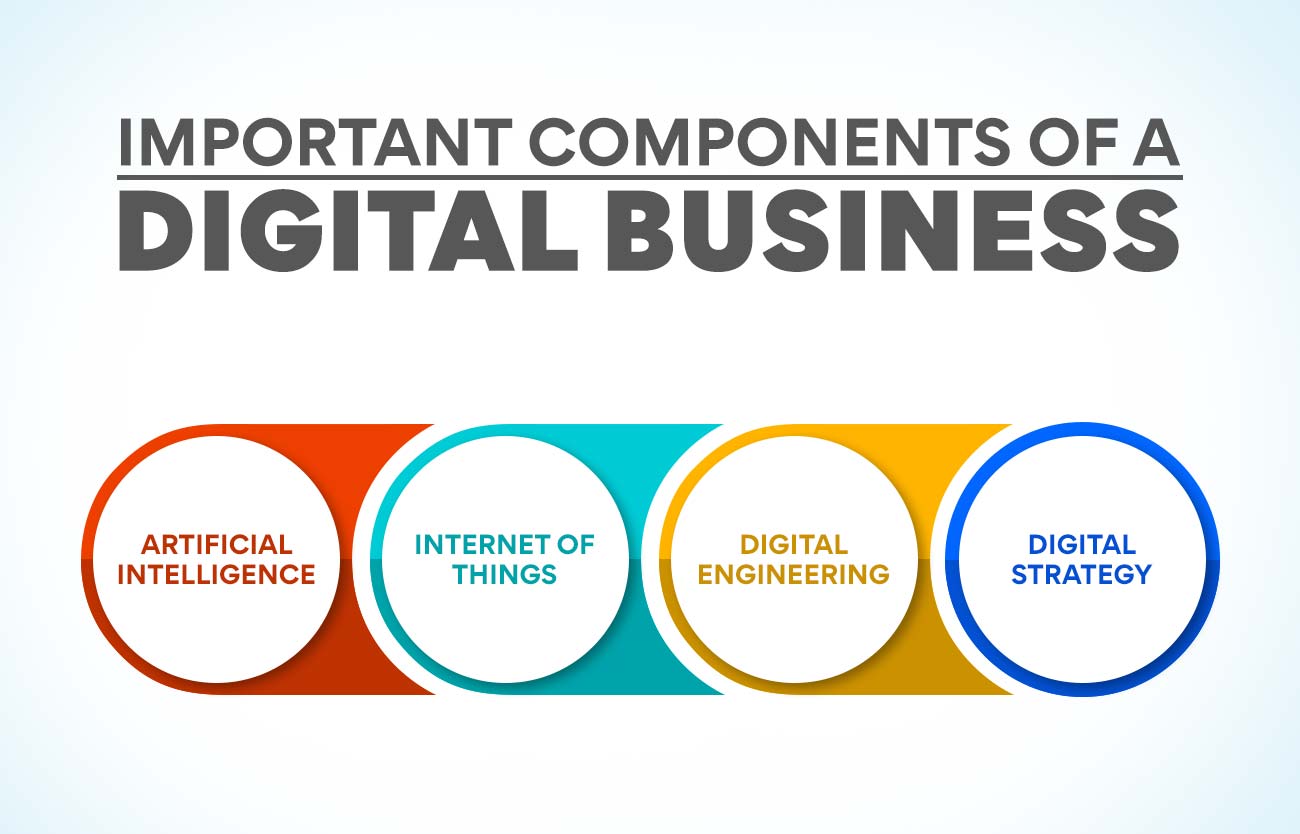 Artificial Intelligence
This technology helps companies anticipate customer needs. It also helps in correctly forecasting sales. Organisations can also find the reasons for many events and get the right solutions for various problems.
Internet Of Things
This is a modern technology that helps machines to communicate with each other. There are various ways in which this helps in implementing digital business management. Companies can know about problems with machinery well in advance before any breakdown happens. With the introduction of 5G, companies can use this technology in a much more beneficial manner.
Digital Engineering
Companies can use this to transform customer journeys. It also helps in launching new products and enabling rapid innovation.
Digital Strategy
As there is the proliferation of digital technology across industries, customers have also raised their level of expectations from a company. A digital strategy helps to meet all customers' needs and keeps the firm above its competitors.
The Steps To Becoming A Digital Business
Know The Reason
Firstly a company must know why it is moving towards digital business management. All establishments are different, and the one that is initiating the process of digitalisation must know what the core reason for adopting the new technology is. For some, it could be for giving customers a better experience. Some others may implement it to improve their processes.
Review The Existing Set-Up
Companies must first know where they stand before adopting digital business management. If they are using digital technology in some areas, it is essential to see if it is working well and if the firm benefits from it. The officials in charge of the transformation must analyse the digital tools and technology the company presently has.
Find The Gaps
Once you have analysed the available digital tools, it is necessary to look at the gaps. Where are the areas that can be improved using modern technology? Will digital business management help to extract better value from customer data? Is it going to improve customer engagement and increase customer retention?
Are Employees Skilled?
There is no use going digital if there is nobody to use the technology to get the maximum benefit. The company must have staff members who can handle digital tools to bring a change in the operation. If there are no skilled persons, then the management must first think about upskilling the employees before moving to digital business management.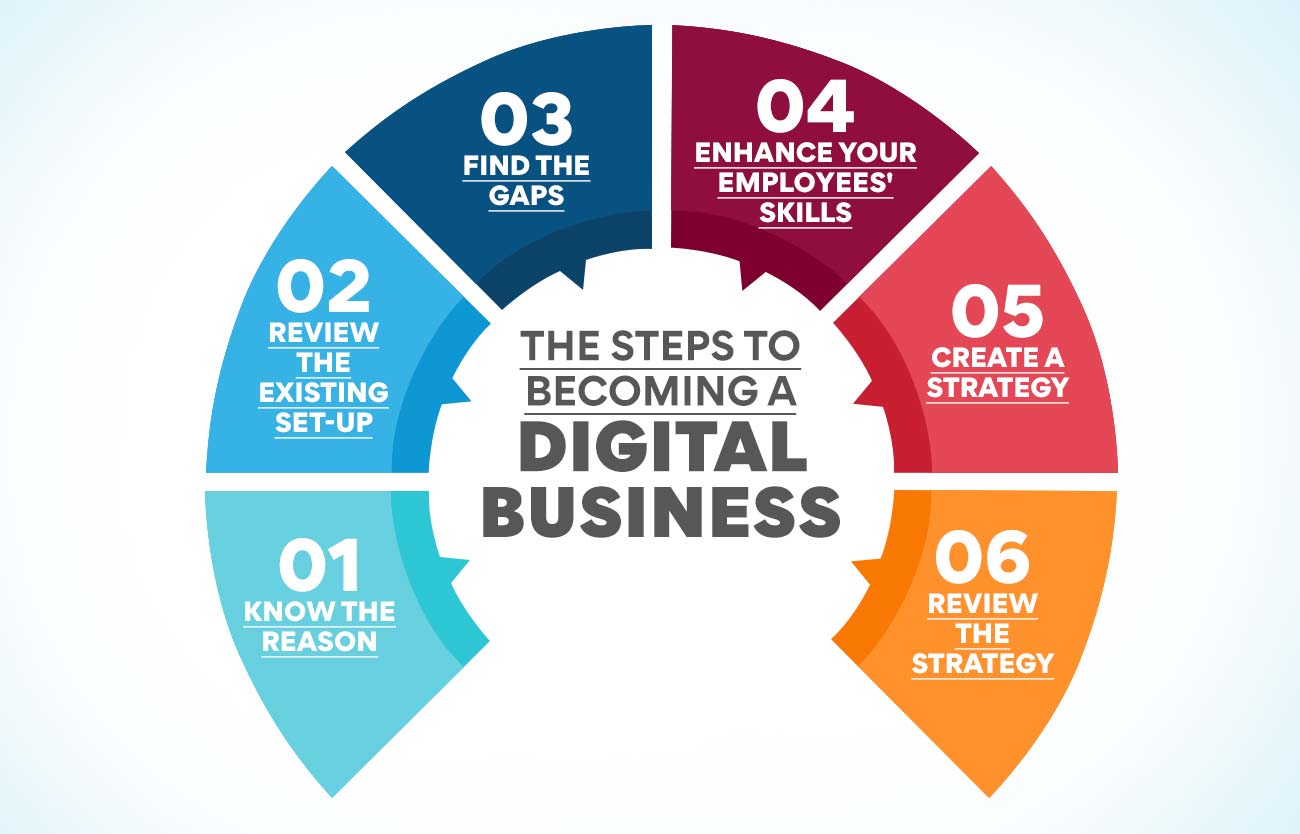 Create A Strategy
Once all the above points have been checked, and the company has arrived at what they need to do, then it is time to formulate a clear strategy to implement the transformation. There should be a roadmap to follow. Those in charge of the process must also devise KPIs to help know the progress made.
Review The Strategy
Market conditions and customer requirements keep changing. This means that the digital transformation strategy cannot be rigid. You must be able to review it periodically and see if there is any need to change the methods. Agility is highly essential when moving towards digital business management, and the business must be able to change and adapt.
Above is a brief description of how a company can embrace digitalisation and improve its efficiency and profitability. You can learn the detailed process in the Advanced Executive Certificate Course in Digital Business Management offered by Edureka. A visit to the website will help you know more details about the course.
The Benefits Of Digitalisation Of Business
It is not enough to know the steps to the digital transformation of a business. One must also know what advantages the firm will get from digitalisation.
Streamlining Processes
Every company is looking at ways to streamline its processes and make them more efficient. Efficiency is measured in terms of the time, effort, and money spent on completing a task. One of the biggest benefits of digital business management is that it makes processes faster, less expensive, and more accurate. When there is lesser human interference, there are lesser chances of errors. The cost is also lower. Moreover, when you automate processes, the company achieves greater transparency and fairness. The outcome of every task is more reliable when digitalisation is implemented.
Higher Productivity
Higher productivity leads to improved profits. There are many repetitive tasks done by the human workforce in a company. It is not only a waste of their skills but leads to more errors. Once these are automated, the people can be used for more creative and productive work. They will also be happy using their skills to the maximum benefit of the organisation. They can focus their capabilities on finding innovative solutions that will save money and reduce errors. Digital business management improves the productivity of the staff members.
Better Management Of Resources
Company owners are looking at ways to maximise the use of all the resources. Digitalisation helps in having the right resources in the right place. Cloud computing helps to share resources across different business units in the company. It also helps firms pay only for the resources they use, saving a lot of money. Organisations don't have to invest in hardware or software when using the cloud computing method. IoT is another technology that helps use resources in a better way. It enables the tracking of resources in real-time and using them optimally.
Improved Resilience And Agility
Market conditions are changing rapidly, and companies need to be able to cope with them. Digital business management helps organisations stay agile and adapt to changes quickly. In such an environment, all the processes are responsive and correct themselves depending on the situation. Companies are using blockchain technology to streamline their supply chain. They are able to manage information more efficiently.
Increased Transparency
Transparency of processes is critical for the growth of a business. Higher management and stakeholders must be able to see what is happening in the company. It helps them have more faith in the employees of the firm. When they can see things happening in real-time, it makes it easy for them to provide solutions to problems immediately. Digital business management enables all employees to be aware of their duties constantly. Processes become more efficient and fast.
Improved Consistency
Consistency is crucial for maintaining quality. Companies need to be consistent in all their operations. When production is consistent, the quality of the product will be the same and there will be lesser complaints from customers. Automation helps maintain the same method of completing tasks as there is no human interference. Being consistent in customer service also helps the firm greatly because all the clients will receive the same support from the company.
Better Market Presence
All businesses need a strong online presence as more customers are moving to the internet in search of their needs. Even if they don't necessarily make their purchases online, customers go to the internet to search and understand a product. A responsive website helps companies get more leads. A strong presence on social media platforms enables better engagement with customers. Being visible online improves brand presence and recall. Marketing is one area where digital business management provides a lot of benefits.
Improved Customer Engagement
In a competitive marketplace, companies need to ensure that they are constantly in touch with their customers. They must find every opportunity to engage with clients and seek out their opinions. Digitalization helps firms to interact with customers over various platforms. Being active on social media helps organisations to know what is being discussed by people in their customer segment. Data analytics is a technology that is used to create precise customer profiles. Customers will get a more personalised experience.
You can learn more about automation, and its advantages through our Advanced Executive Certificate Course in Digital Business Management. Visit our website to get more course details.
Conclusion
With the market becoming more globalised and competitive, companies cannot survive without changing their way of working. Modern technology helps firms improve their processes and reduce costs. This results in greater efficiency in all departments. Digital business management helps organisations improve their efficiency and remain competitive. Employees are also happy because they can channelise their creativity to find innovative solutions to new problems. Customers are also benefited as they get a better experience and service with digital solutions.