Like many, if you are in the pursuit of a lucrative DevOps career and a probable DevOps Certification, then it becomes very crucial to have sound knowledge of DevOps Tools. This is because these tools form an integral part of your learning path of DevOps. Before I proceed further I will strongly recommend you to go through the following blogs:
Top 10 reasons to learn DevOps
Now let us have a quick look at the points that I will discuss in this blog and they are as follows:
1. DevOps Tools

The above image shows the various sub-stages of DevOps and the tools used in each of them. Each of the tools in DevOps is bound to a particular phase of DevOps. Now let us discuss the phases of DevOps and the tool that is used in that phase. All of these phases together constitute the DevOps lifecycle.
Check out our DevOps Certification in Top Cities
2. DevOps Phases
The following are the various phases of the DevOps lifecycle.
Continuous Development
Continuous Testing
CI(Continuous Integration)
CD(Continuous Deployment)
Continuous Monitoring

Now let us discuss these phases one by one.
Phase 1: Continuous Development
Tools used: Git, SVN, CVS, Mercurial
Description: Git
Git plays a crucial role when it comes to managing the code that the collaborators contribute to the shared repository. This code is then pulled for performing continuous integration to create a build and test it on the test server and eventually deploy it on the production.

Git enables the communication between the development and the operations team. When you are working on a large project with a huge number of collaborators, it becomes very critical to have communication between the collaborators while making changes in the project.
Commit messages in Git play a vital role in communicating among the team. The bits and pieces that we all deploy lie in the Git. To be successful in DevOps, you need to have all of the communication in Version Control.
To know more about Git, you can check out the following blogs:
The next phase after Continuous Development is Continuous Integration
Phase 2: Continuous Integration
Tools: Jenkins, TeamCity, Travis
Description: Jenkins
Jenkins is an open-source automation tool that is written in Java with plugins built for Continuous Integration purposes. Jenkins builds and tests your software continuously making it easier for developers to integrate changes to the project, and making it easier for users to obtain a fresh build. It also allows continuous delivery of your software by integrating with a large number of testing and deployment technologies.

With Jenkins, organizations can fasten the software development process through automation. Jenkins integrates development life-cycle processes such as build, document, test, package, stage, deploy, static analysis and much more.
Jenkins achieves Continuous Integration with the use of plugins. Plugins allow the integration of Various DevOps stages. If you want to integrate a particular tool, you just need to install the plugins for that tool. There are numerous plugins in Jenkins such as Git, Maven 2 project, Amazon EC2, HTML publisher, etc.
If want to know more about Jenkins, then you can have a look at the following blog:
After Continuous Integration, the next phase is Continuous Testing.
Phase 3: Continuous Testing
Tools used: Jenkins, Selenium TestNG, JUnit
Description: Selenium

Selenium is an open-source tool that is used for the purpose of automating the tests carried out on web browsers. Open-source simply means that you do not need to pay anything for the licensing cost and this is a major advantage over other testing tools. Other reasons behind Selenium's ever-growing popularity are as follows:
The test scripts can be written in any of these programming languages such as Java, Python, C#, PHP, Ruby, Perl & .Net

You can carry out the tests in any of these OS such as Windows, Mac or Linux

Also, you can carry out the tests using any browser such as Mozilla Firefox, Internet Explorer, Google Chrome, Safari or Opera

It can be easily integrated with tools such as TestNG & JUnit for managing test cases and generating reports

It can also be integrated with Maven, Jenkins & Docker to achieve Continuous Testing
If at all you are interested to know more about Selenium then you can check the following blogs:
After you do the Continuous Testing, the application now moves into the Continuous Deployment phase.
Phase 4: Continuous Deployment
Tools Used: Configuration Management Tools – Chef, Puppet, Ansible and Containerization – Docker, Vagrant
Description: Ansible and Docker
Ansible:
If you think of infrastructure as part of the application i.e as Infrastructure as Code (IaC), then stability and performance become normative. Infrastructure as Code is simply the process of managing and provisioning computing infrastructure and their configuration through machine-processable definition files.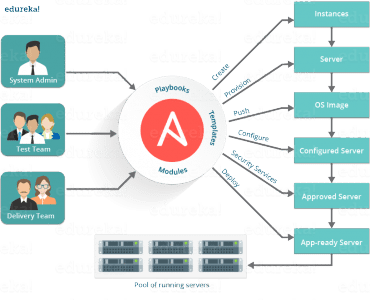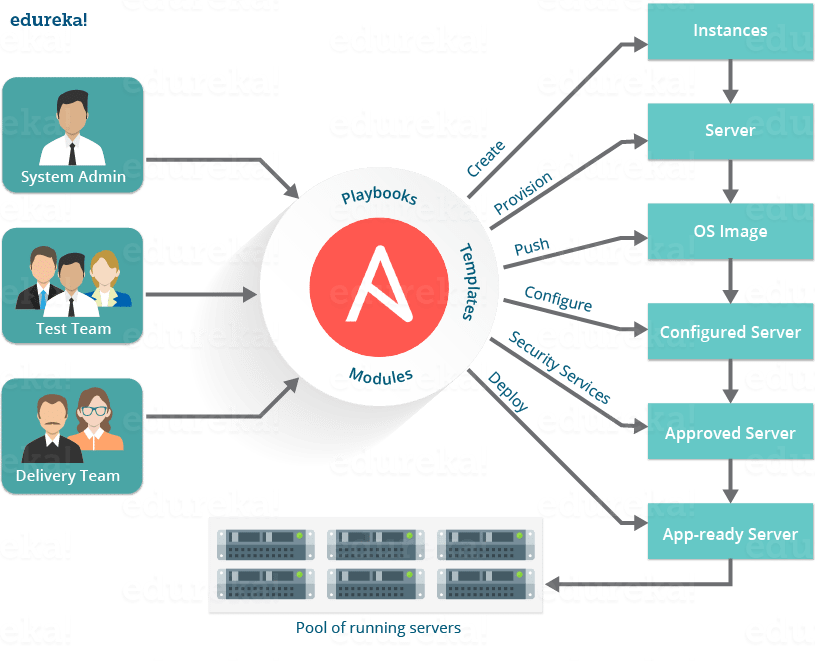 This is where Ansible automation plays a crucial role and stands out among its peers. In DevOps, System admins work closely with developers, there is an improvement in the development velocity, and you spend more time in doing activities like performance tuning, experimenting, and doing the right things, and you spend less time is fixing problems.
To know more about Ansible you can have a look at the following blogs:
Docker:
Docker is a platform that packages an application and all its dependencies together in the form of containers. This containerization aspect of Docker assures you that the application can work in any environment.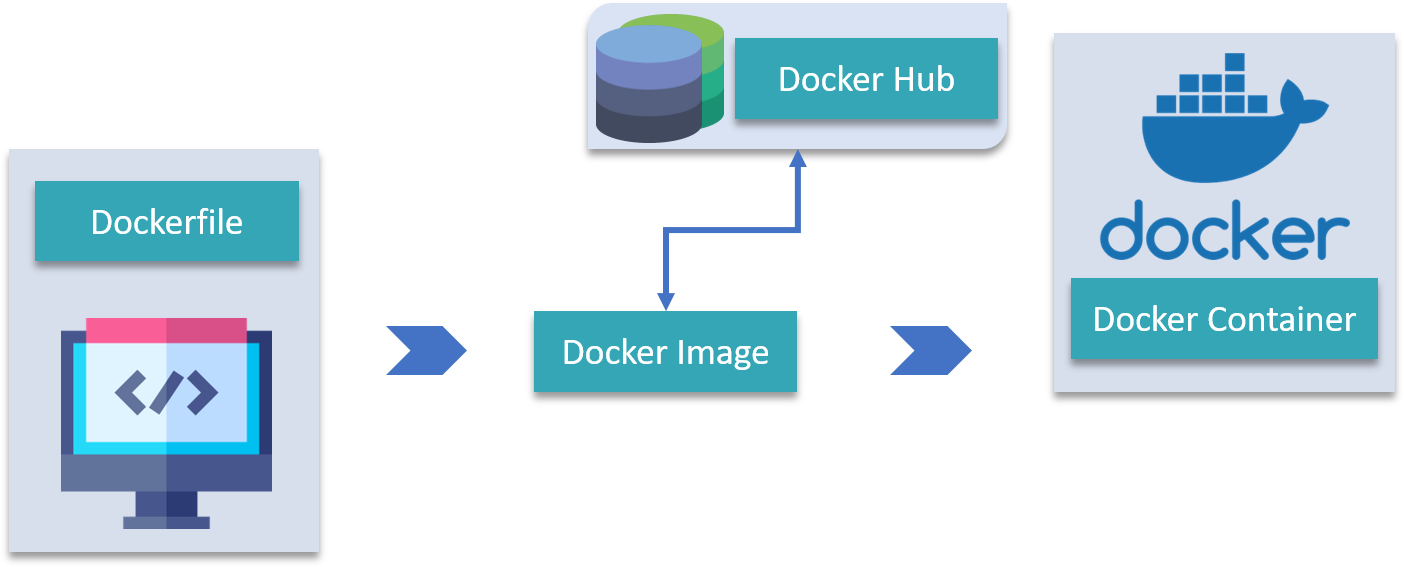 As you can see in the diagram, each and every application runs on separate containers and has its own set of dependencies & libraries. This makes sure that each application is independent of other applications, giving developers surety that they can build applications that will not interfere with one another.
So a developer can build a container that can have different applications installed on it and give it to the QA team. Then the QA team would only need to run the container to replicate the developer's environment.
If you wish to explore Docker further then you can have a look at the following blogs:
Once you deploy the application, then it is necessary to monitor the performance of the application. This happens in the Continuous Monitoring phase of DevOps.
Phase 5: Continuous Monitoring
Tools Used: Splunk, ELK Stack, Nagios, New Relic
Description: Nagios

Nagios is used for the purpose of continuous monitoring of systems, applications, services, and business processes, etc in a DevOps culture. In case of a failure, Nagios can proactively alert the technical staff of the problem. This allows them to begin remediation processes before outages affect business processes, end-users, or customers. With Nagios, you don't have to explain why an unseen infrastructure outage affects your organization's bottom line.
If you want to know more about Nagios then you can check the following blog:
With this, I have covered all of the DevOps phases and the tool used in each of these phases. So this was all from my side in this blog on DevOps Tools. I hope you now have a fair idea about the various DevOps tools.
If you're searching for a demanding and rewarding career. Whether you've worked in DevOps or are new to the field, the Professional Certificate Program in DevOps is what you need to learn how to succeed. From the basic to the most advanced techniques, we cover everything. You can also check out our DevOps Engineer Course. It will help you to gain expertise in DevOps tools.
Got a question for us? Please mention it in the comments section and we will get back to you.