According to a recent survey, the DevOps market will surpass $20 billion by 2026, expanding at a CAGR of 24.7% between 2019 and 2026. As a result, companies of all sizes and industries are adopting the technique and making hiring DevOps engineers a top priority. Today we find the requirement for DevOps engineers has reached sky-high with firms here in India as their salary in India ranges between ₹ 4.1 Lakhs to ₹ 15 Lakhs with an average annual salary of ₹ 7 Lakhs. This blog will provide you with a complete overview of the DevOps Engineer Salary based on experiences, geography, and many more. The following topics will be covered as we move forward.

DevOps Engineer Salary
According to Glassdoor, the national average salary for a DevOps Engineer in India is Rs. 7,00,000 per annum.

In the United States, the national average salary for a DevOps Engineer is $1,10,728 per annum.

Well, it is a known fact that people in different countries get different pay for the same work. Let's see how much the salary of a DevOps Engineer varies based on geography. Here's the list of the DevOps Engineer salary for the following major countries:
| | |
| --- | --- |
| Countries | Salary Range per annum |
| India | Rs. 4 lakhs to Rs. 15 lakhs |
| US | 80,000USD to 2,00,000USD |
| UK | £29,000 to £67,000 |
| UAE | AED 15,000 to AED 54,000 |
| Australia | AUD 130,000 to AUD150,000 |
| Canada | CAD115,000 to CAD 156,000 |
| Singapore | $75,000 to $98,474 |
| Germany | $24,000 to $1,90,000 |
| Philippines | ₱110,000 to ₱180,825 |
DevOps Engineer Salary Based on Experience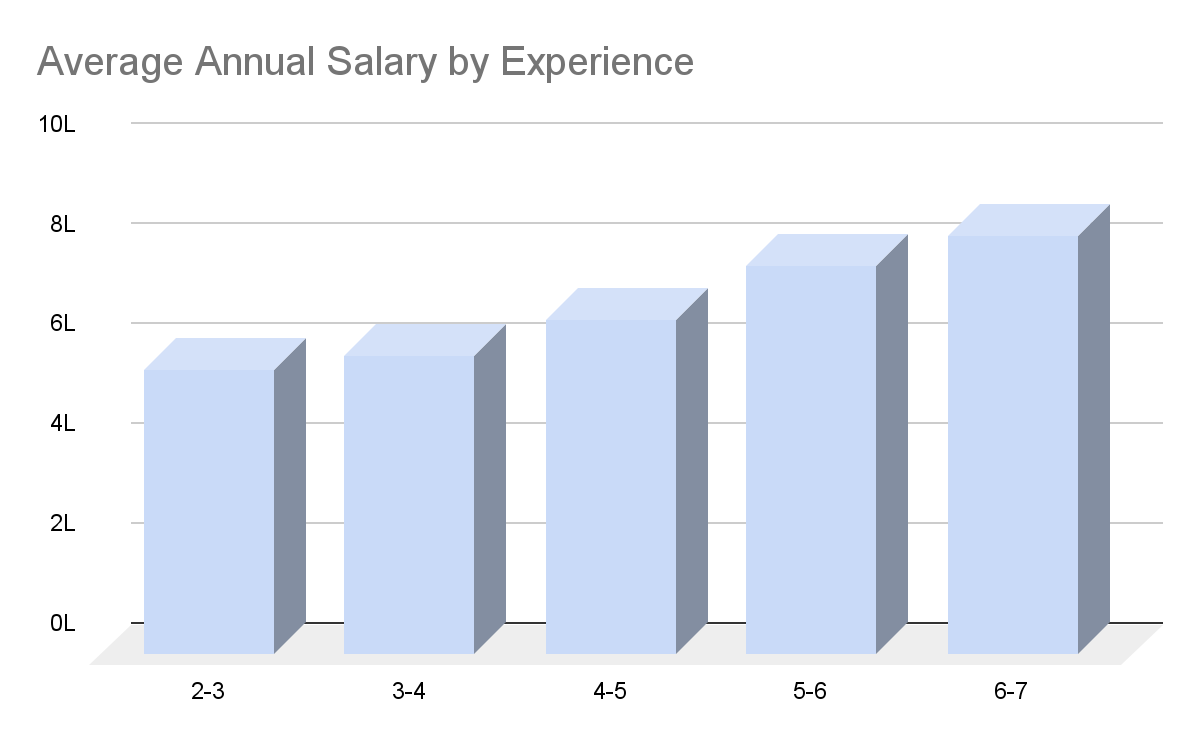 Based on experience, a DevOps Engineer with 2-3 years of experience can make approximately 5.7L/year. If he/she has 3-4 years of experience then they can earn around 6L per year. A DevOps Engineer with 4+ years of experience, on the other hand, can earn roughly 12.7L/year. These numbers accurately indicate a bright career as an DevOps Engineer.
DevOps Engineer Salary and Similar Job Roles
According to LinkedIn, there are over 23,000+ DevOps Engineer job openings at the top companies in India. In India, however, there are over 36,000+ job openings for DevOps engineers. Now let us look at similar job roles
| | | |
| --- | --- | --- |
| Job Roles | Skills Required | Salary per annum |
| Project Engineer | Agile, cloud, HTML, testing, etc | 4.1L |
| System Engineer | Linux, automation tools, VMware, etc | 4.3L |
| Senior Engineer | Python, Linux, Automation, Agile, etc | 6.5L |
| DevOps Engineer | DevOps, Linux, Kubernetes, Automation, etc | 7L |
| Release Engineer | Release management, configuration management, Linux, etc | 7L |
| Lead Engineer | Python, Agile, automation tools, Linux, etc | 10.3L |
| Software Development Engineer | Agile, Linux, Programming, Data Structures, etc | 10.4 |
DevOps Engineer Salary Based on Company
Here is a list of DevOps Engineer salaries offered by major companies that are actively hiring DevOps Engineers.
| | |
| --- | --- |
| Company | Salary Range Per Annum |
| Tata Consultancy Services | 4.2L- 8L |
| Tech Mahindra | 4.1L- 8L |
| Wipro | 3.8L- 9.5L |
| IBM | 4.2L-11.9L |
| Accenture | 4.6L- 11.7L |
| Capgemini | 4.5L- 10.5L |
| HCL Tech | 4.2L- 10L |
Top Skills for Devops Engineers
As companies seek to stay ahead of their competition through DevOps-related technologies, demand for DevOps Engineers is surging. Leading job search portals like indeed.com have witnessed a 75% rise in listings of DevOps jobs, and social media sites like LinkedIn have recorded a 50% increase in mentions of DevOps as a skill. Based on 13,999 jobs the most in demanding skills required to become a DevOps Engineer are as follows:

DevOps Engineer Job Description
DevOps Engineer- HCL Technologies

DevOps Technology Analyst- Infosys


Frequently Asked Questions
By this I come to the end of this post on DevOps Engineer Salary. If you're in search of a career that's both demanding and rewarding. No matter whether you've worked in DevOps or are new to the field, the DevOps Certification is precisely the thing you need to learn the methods to be successful. From the basic to the most advanced methods, we cover everything.
I would recommend you to check out the following blogs as well:
Got a question on this topic, mention it in the comments section.
If you are looking for online structured training in DevOps, Edureka has created a top-class DevOps Certification course on DevOps that helps you master the various DevOps processes and tools. Also check out the DevOps Engineer Course curriculum is designed after extensive research on 5000+ DevOps Job Descriptions. It includes 2000+ hours of interactive learning and 12 courses, this will set you on the path of becoming a successful DevOps Engineer.