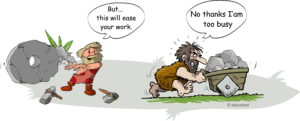 Looking to become or hire a DevOps Engineer? Wait my friend; before you proceed any further and understand the core responsibilities of a DevOps Engineer, let me make things clearer to you. You can often listen to two great misconceptions tied to DevOps culture that do a great harm; people think that:
DevOps engineers are Sysadmin who can even code and are the ones who are solely responsible for system uptime

Sysadmins are not necessary for a DevOps environment since developers take over system admin tasks
And you know what, both are WRONG!!