DevOps is a philosophy that merges operations with development and demands a linked tool-chain of technologies to facilitate collaborative change. According to Gartner, organizations around the world are increasingly adopting the DevOps culture and by the end of 2016, 25 percent of top global 2000 organizations would have adopted DevOps as a mainstream strategy. This opens up myriad opportunities around DevOps careers. There are a variety of general and specialized job roles that one can take up, based on the DevOps philosophy. In this blog post let's discuss DevOps Engineer career path and how to bag top DevOps jobs.
Even though it is still in infancy, DevOps has brought the entire software industry on the brink of a revolution. With fast changing dynamics of the IT industry, developers who have no idea about admin or ops and admins or ops people who don't develop will become less and less valuable to the organization.
DevOps will transform a person with a single skill into a person with multidisciplinary skills that includes coding, infrastructure and configuration, testing, build and release. Since it is not confined to any specific technology, people working in DevOps environment continuously work with, integrate, and automating different technologies.
DevOps Engineer Career Path
DevOps practitioners are among the highest paid IT professionals today, and the market demand for them is growing rapidly because organizations using DevOps practices are overwhelmingly high-functioning. According to a very recent report published by Puppetlabs: State Of DevOps Report, organizations using the DevOps approach deploy code up to 30 times more frequently than their competitors, and 50 percent fewer deployments fail.
In the last two years, listings for DevOps jobs on Indeed.com increased 75 percent. On LinkedIn.com, mentions of DevOps as a skill increased 50 percent. In a recent survey by Puppetlabs, half of their 4,000-plus respondents (in more than 90 countries) said their companies consider DevOps skills when hiring.
Ready to take your career to the next level in the world of DevOps? Join our comprehensive DevOps Engineer Certification Course today and become a master of automation, continuous integration, and continuous delivery. Unlock the skills and knowledge needed to excel in this high-demand field. Don't miss out on this opportunity to transform your career. Enroll now and embark on your journey to becoming a DevOps expert!
Check out our DevOps Certification in Top Cities
DevOps Salary
As it is evident in the Indeed.com graph below, DevOps jobs began skyrocketing around middle of 2015, and shot through the roof towards end of the year.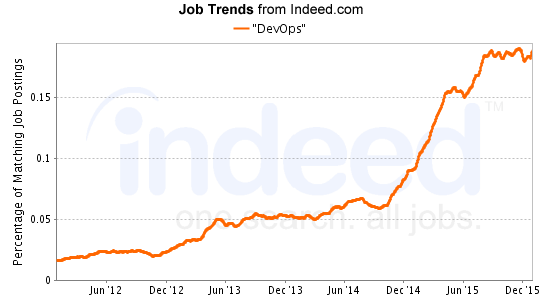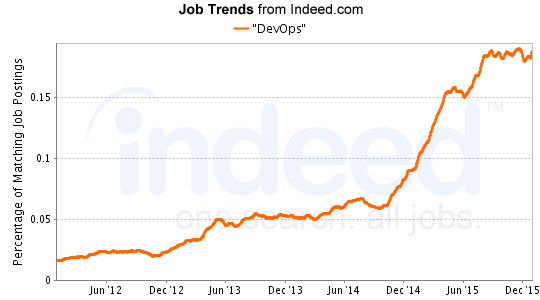 Salaries for DevOps related jobs saw an upward surge in the US, coinciding with the boom in in 2015. The surge still continues.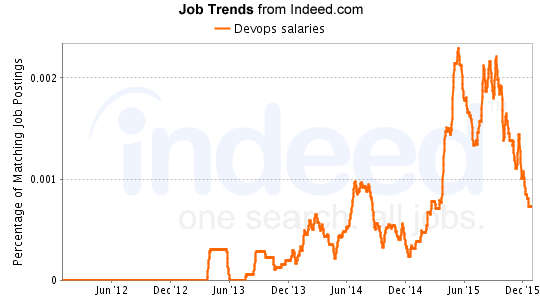 According to PayScale.com, salaries for professionals working on DevOps related jobs in California are upwards of $94,000.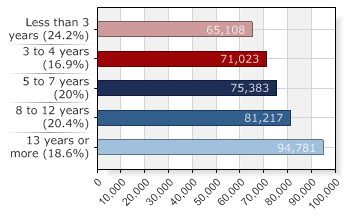 Strangely, unlike jobs in other technologies, DevOps is witnessing an interesting trend. All the popular job titles on DevOps share very similar job opportunities. For instance, if a project management role saw 65,760 openings, budgeting roles provided 64,859 openings. Jobs around popular DevOps tool – Chef – were marginally higher at 69,478.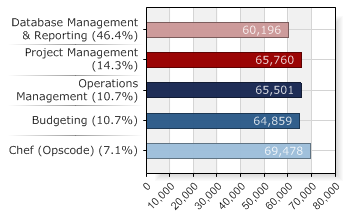 DevOps Roles and Responsibilities
New job roles are emerging around the DevOps philosophy. Some of them are:
DevOps Architect
Automation Engineer
Software Tester
Security Engineer
Integration Specialist
Release Manager
What began as a framework and ideology for bringing together two diametrically opposite schools of thought within the same organization, is today a popular career path with perks and growth opportunities increasing by the day. There's never been a better time to explore a DevOps Engineer career path.
Because of the enormous demand for DevOps experts, this exciting venture could be exactly what you're seeking if you're searching for a demanding and rewarding career.
No matter whether you've worked in DevOps or are new to the field, the DevOps Post Graduate Program is precisely the thing you need to learn the methods to be successful.
From the basic to the most advanced methods, we cover everything.
Edureka has specially curated DevOps Online Training that helps you master concepts around Puppet, Jenkins, Ansible, SaltStack, and Chef among others. New batches are starting soon!!
Got a question for us? Please mention them in the comments section and we will get back to you.
Related Posts:
Top DevOps Interview Questions for 2016