A Data Scientist or a Data Analyst has became the most sought after and challenging profile across all business sectors. This is one of the fastest growing job postings around the world as confirmed by Indeed database. So much so that it's been labelled as the "Sexiest Job of the 21st century" and the "Rock Stars of IT world". After all, who will not dream of a dynamic career full of achievements, admiration and of course a huge pay package at the end of the month.  But it's also important to remember that all good things come with a price.
Here, the price basically refers to the challenges that Data Scientist career demands to rule the skies in a real sense. Being a Data Scientist means you have to wear many feathers to in your hat and be a master of many things and jack of many more things.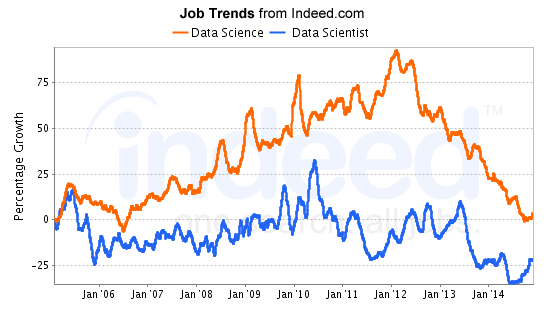 Are You Born to be a Data Scientist?
Well. That's very crucial and tricky to answer. But one has to get a fair reply to it before embarking on the journey of a data scientist.  There has to be some specific skill sets if one really wants to crack the code as a Data Scientist. Though all skills can be learned at any point of time but it's always good to have some individual affinities for some specific job types. So that you can live your life doing what you love.
To quote Mark van Rijmenam,  founder of the BigData-Startups platform:
"Data Scientists need to have statistical, mathematical, predictive modelling as well as business strategy skills to build the algorithms necessary to ask the right questions and find the right answers. They also need to be able to communicate their findings, orally and visually. They need to understand how the products are developed and even more important, as big data touches the privacy of consumers, they need to have a set of ethical responsibilities"
Below are the top six essential soft skills for every "would be" data scientist.
Analytical ability
Exceptional communication skills
Visualization and presentation skills
Able to work within a Team
Strategic Acumen
Problem-solving skills
Now it's time to ask yourself whether you are a good fit to take your career ahead as a Data Scientist.
Actions Speak Louder Than Academics
For a Data Scientist, qualification will not matter as much as your work efficiency. You have to prove yourself at every junction of your career. Definitely, getting a degree in Science/Statistics/Mathematics/Computer will help but only to take the first step. Once you enter into the world of data science you should have the ability to be the king.
Krishna Gopinathan, the founder of Global Analytics Holdings, feels every data scientist must introspect about some basic questions in order to achieve the business goal. These are as follows:
How the business works
How it collects its data
How it intends to use this data
What it hopes to achieve from these analyses
To be a successful data scientist you have to align yourself with the business objectives of the organization and continuously work towards  meeting the target.
Honing Skills is the Key to Success
Apart from these above skillsets it's also vital to hone your technical skills and keep abreast of the latest IT trends which will help you excel. Some of the hard skills that are in high demand are Hadoop, Cloud Computing with AWS, expertise in databases like NoSQL, Cassandra, Hive and HBase; or in programming languages like R Analytics or Pig. So, expertise on these IT skills are imperative to get a quick response from employers.
Last but not the least, in order to progress in data science you have to cultivate an eagerness and understanding of the data analytic industry at large. There are many social media platforms, forums, blogs where you can engage, participate and learn from other industry leaders to get a hang on the latest data science trends. Besides, there are many more resources that are freely available on the web such as e-books, articles, PDFs which will definitely help you.
Edureka has a specially curated Data Science course which helps you gain expertise in Machine Learning Algorithms like K-Means Clustering, Decision Trees, Random Forest, Naive Bayes. You'll learn the concepts of Statistics, Time Series, Text Mining and an introduction to Deep Learning as well. New batches for this course are starting soon!!
Got a question for us? Please mention them in the comments section and we will get back to you.
Related Posts:
Applying Hadoop with Data Science